News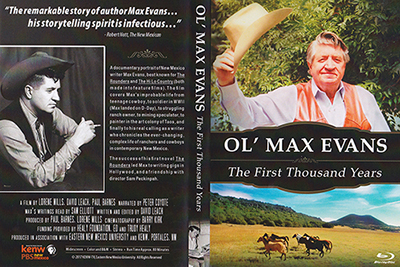 A new documentary film published by New Mexico PBS affilliate KENW-TV, Ol Max Evans: The First Thousand Years, uses Max's archival photography scanned and provided by Tim to the filmmakers, along with Tim's photo "Big Boy's Hat." With narration by Peter Coyote and Sam Elliott, the 80-minute film highlights many of Max's stories that Tim shared in his 2011 Max Evans features for New Mexico Magazine and Western Horseman.
---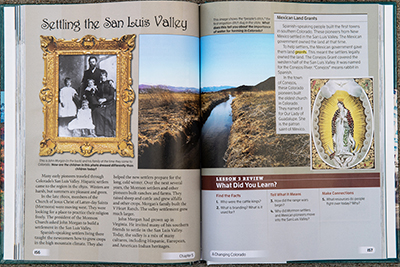 Tim's photograph of "The People's Ditch" anchors a two-page spread in The Colorado Story, the just-released 2nd edition of the Colorado history textbook used in schools throughout the state. The oldest acequia (irrigation canal) still in use in Colorado, The People's Ditch was hand-dug by the first residents of San Luis in 1852. Tim's photo originally accompanied his four-part travel series for The Chronicle-News, "Exploring the San Luis Valley."
---
Since 2011, Tim's photography has been included in every year's New Mexico True Adventure Guide, published by New Mexico Magazine to draw people to the state's many attractions. The 2019 guide uses Tim's photos from three regions of the state, including his usual northeast (Capulin Volcano National Monument, above, page 130), plus the southeast (Fort Stanton, page 18), and northwest (Gallup's legendary El Rancho Hotel, page 118). The travel guide is available free at the state's many visitor centers, at hotels and restaurants throughout the state, and online from New Mexico Tourism Department.
---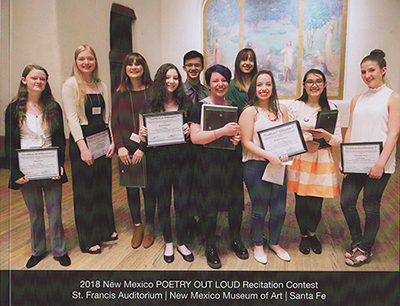 For the fourth consecutive year, Tim has been hired by New Mexico Arts as the official photographer of New Mexico's Poetry Out Loud state finals at St. Francis Auditorium on the Santa Fe Plaza Sunday, March 10, 2019. Before and after the competition rounds, Tim will work a long shot list of participants with the help of photo assistant and wrangler, Christina Boyce. During the competition, Tim will be the only person allowed to shoot pictures. Meantime, NMA has published its beautiful annual book using Tim's photography to document last year's contest.
---
New Mexico Department of Agriculture has published the 2019 edition of Enchanted Agriculture, Food & Cuisine: A Guide to New Mexico Food and Farms, using Tim's portrait of New Mexico novelist Max Evans to illustrate a feature on the state's annual Rounders Award, "Honoring Icons of Western Culture." Available in both traditional magazine and online web edition, the feature begins on page 16. Tim photographed Evans for Western Horseman following an earlier feature for New Mexico Magazine.
---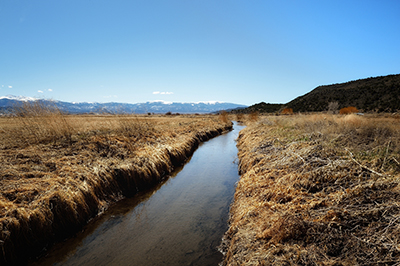 Tim's photo of "The People's Ditch"--Colorado's oldest continuously used acequia--will be included in a new Colorado textbook published in 2019. The hand-dug irrigation ditch in San Luis has been used by farmers since 1852. The Utah publisher found the photo in Tim's five-part San Luis Valley travel series originally published in The Chronicle-News.
---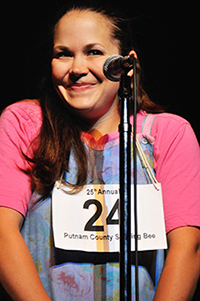 Multi-talented actress and singer Jillian Solano has worked with Tim to add a dozen photos to her professional portfolio as she prepares to jump back into the theater world after devoting a few years to being a working mother. Based in Omaha with kids and husband Dreyson Solano, another Raton native, Jill selected images from Tim's Shuler Theater photography circa 2009-2013, years when she was a beloved presence in comedies, dramas, and musicals on the Shuler stage.
---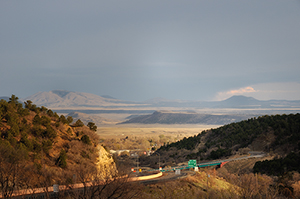 Albuquerque's Sandia Foundation has licensed Tim's "Raton Pass" photo for a documentary film honoring its longtime director, John Perovich, a 1942 graduate of Raton High School.
---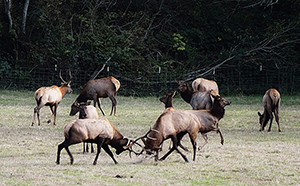 KCET-TV producers are using Tim's photo "Elk Tussle" in an upcoming episode of the documentary series California Coastal Trail. The episode will explore the California coastal redwoods, along the state's far northwest corner, where Tim photographed the elk in Del Norte Coast Redwoods State Park in the autumn of 2017.
---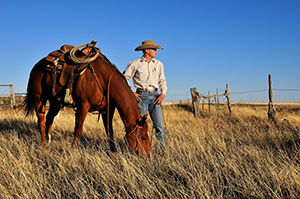 Tim recently created a catalog of the remaining Framed Artworks that he has in stock, along with an accompanying proof sheet of the images themselves. He wrote about the project here at his TKP Blog.
---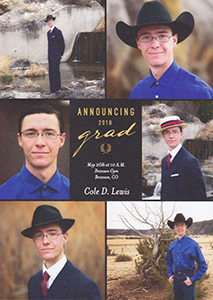 Cole Lewis sent out a great announcement to mark his May 2018 graduation from Branson High School, just across the Colorado border from his family's ranch outside Folsom, New Mexico, where Cole worked with Tim to create a unique photo portfolio.
√
---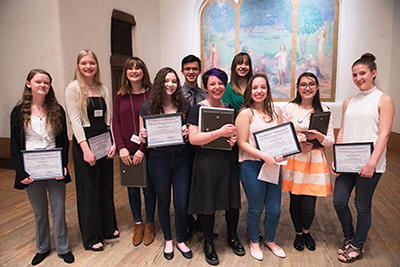 For the third consecutive year, Tim was the official photographer for the 2018 New Mexico Poetry Out Loud competition at the historic St. Francis Auditorium, in the New Mexico Museum of Art on the Santa Fe Plaza. As the only person allowed to shoot photos during the competition, Tim provides a visual record of each year's event for newspapers, magazines, websites, and the annual book produced by New Mexico Arts, whose website offers photo albums of each of the past four competitions.
---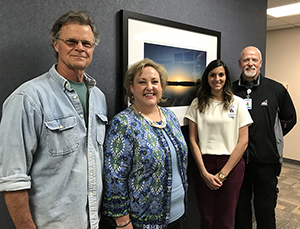 Tim's "Oasis State Park at Sunrise" now hangs in a front waiting room at Roosevelt General Hospital in Portales, New Mexico, his fifth installation under the state's innovative Art in Public Places (AIPP) program. Oasis State Park is just west of Portales, giving a sense that the photograph's sun is rising directly over the hospital. More details here.
---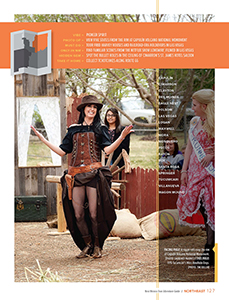 For the ninth consecutive year, the new 2018 New Mexico True Adventure Guide features Tim's photography. Distributed at visitor centers, hotels, restaurants and travel stops throughout the state, it's also mailed around the world by New Mexico Tourism Department. Published by New Mexico Magazine, the annual visitor guide highlights destinations and events around the state, including Tucumcari Rawhide Days on page 127 in this year's guide, with Tim's full-page photo of the Miss Rawhide competition.
---
New Mexico Museums & Historic Sites, Winter Guide 2017-2018, features Tim's photograph of the state's annual Poetry Out Loud competition in St. Francis Auditorium on the Santa Fe Plaza. Tim's photo of the event's winners was previous distributed nationally as the cover of New Mexico Arts' 2016 photo book of the competition, sponsored by National Endowment for the Arts and the Poetry Foundation.s
---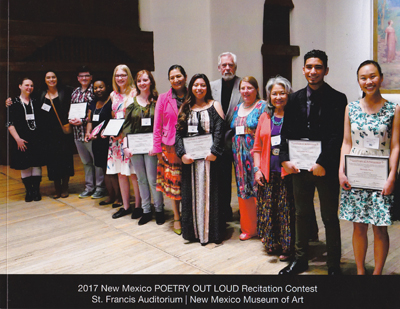 New Mexico Arts has published its annual photo book of the Poetry Out Loud competition held each spring in St. Francis Auditorium on the Santa Fe Plaza. It's Tim's second year as official event photographer--and the only photographer allowed to shoot during the competition. Featuring 27 of Tim's photographs, the 2017 book has been distributed to schools throughout New Mexico and to Poetry Out Loud officials with the sponsoring National Endowment for the Arts in Washington, D.C., where the national finals are held each May.
---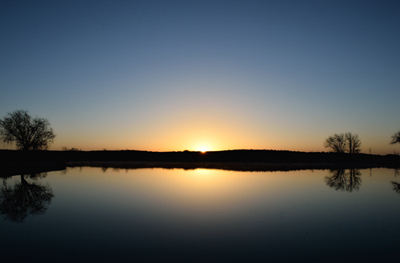 Roosevelt General Hospital in Portales has purchased a large framed print of Tim's "Oasis State Park at Sunrise" through an innovative New Mexico Arts grant program. The photo portrays the park just outside Portales. Slated for installation in February 2018, it will be Tim's fifth public purchase and installation through New Mexico's Art in Public Places program.
---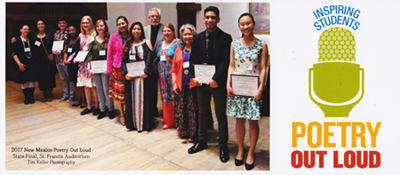 As the official photographer of New Mexico's Poetry Out Loud program the past two years, Tim's photos are used in promotions throughout the state, and for the national program co-sponsored by the National Endowment for the Arts and the Poetry Foundation. As the 2017-2018 season opens, New Mexico Arts has published Tim's photo of the 2017 state finalists at Santa Fe's St. Francis Auditorium for its promotional card sent to high school English teachers and students throughout the state.
---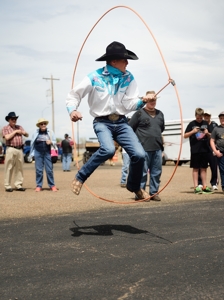 Texas trick roper Brice Chapman is among hundreds of performers lined up for this year's National Folk Festival in Greensboro, North Carolina, September 8-10, 2017. The festival has licensed Tim's photo of Chapman for its website. Tim photographed Chapman performing at Tucumcari Rawhide Days.
---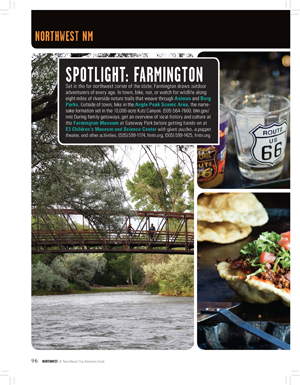 The 2017 edition of New Mexico True Adventure Guide arrived late but is now available in tall stacks at state visitor centers, hotels, and tourist destinations throughout New Mexico. This is the eighth consecutive year that Tim's photography has been featured in the tourism-and-travel guide. Three of Tim's five photos are half-page or larger, including the Farmington footbridge over the Chama River above. For the first time, Tim's photos illustrate three regions around New Mexico. Find Tim's notes and photos here with links to the online travel guide and free online ordering.
---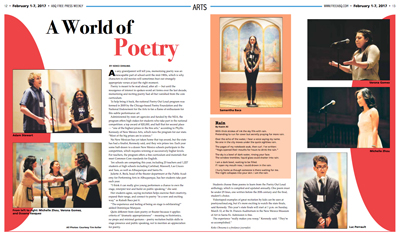 Tim's photography is featured in a double-spread centerfold in the Albuquerque Free Press celebrating New Mexico Arts' vibrant Poetry Out Loud student recitation program, which annually holds a statewide competition that sends one victorious student to represent New Mexico in the national competition in Washington, D.C. As the event's official photographer, Tim is the only one allowed to shoot during the competition. Last year, 24 of Tim's shots were featured in a book commemorating the event. Tim returns in March 2017 for his second round as official photographer.
---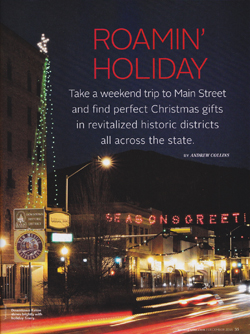 Tim's downtown Raton Christmas photo leads off New Mexico Magazine's "Main Street Christmas" feature in the December 2016 issue. Cleverly titled "Roamin' Holiday," the article visits Farmington, Carlsbad, Las Vegas, and Raton, previewing holiday events and showcasing unique small-town shopping opportunities. Tim's photo of "A Christmas Carol" showcases Raton's landmark Shuler Theater, which the magazine last featured in Tim's April 2015 feature, "On with the Show.",
---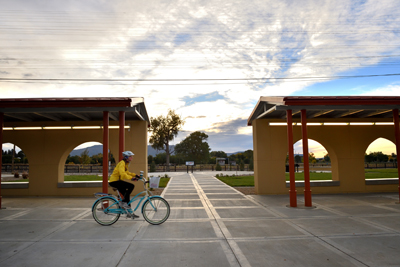 After designing and building the new multi-modal transportation center at Raton's depot on historic First Street, Albuquerque architect Anissa Hogeland and her company Anissa Construction hired Tim to create a photographic portfolio. Shooting at sunrise and sunset, sometimes high atop a ten-foot ladder, Tim included images of passengers transferring from an Amtrak train to a Greyhound bus to portray the beautiful new facility in action. Tim posted his notes and 16 of the images here at his photography blog.
---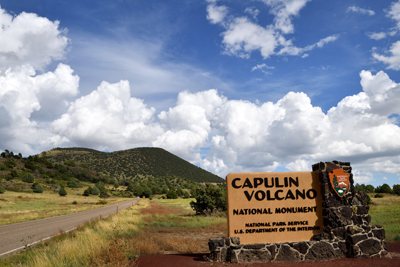 Capulin Volcano National Monument commissioned Tim to create a portfolio of new photography for use in its various publications ranging from Facebook and Instagram to its website and posters, brochures, and books. Tim posted a 12-photo preview here on his photography blog.
---
New Mexico Arts has published the 2016 edition of its photo book documenting the annual Poetry Out Loud state finals that send a New Mexico high school student each year to represent the state at the national finals in Washington, D.C. Tim was this year's official photographer: New Mexico Poetry Out Loud 2016 features 24 of his photos taken inside Santa Fe's magnificent St. Francis Auditorium. Not available for sale, the book is distributed to teachers, schools and event officials throughout NM and the U.S. Poetry Out Loud is an impressive recitation contest sponsored by National Endowment for the Arts and Poetry Foundation.
---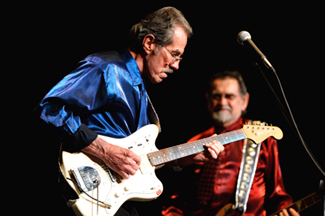 The Los Angeles Times has licensed and published a pair of Tim's photos of legendary Fireballs guitarist George Tomsco in a profile coinciding with a Los Angeles concert. The feature appears in the Times' outlying neighborhood sections such as the Glendale News-Press. Tim's photos of Tomsco and the Fireballs have previously been featured in Fretboard Journal and New Mexico Magazine.
---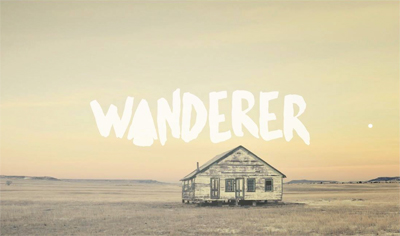 Wanderer, an exciting new women's boutique in Taos, New Mexico, has licensed two of Tim's photographs to represent the business on its walls, cards, website, and social media. Details, photos and links are here at Tim's photography blog.
---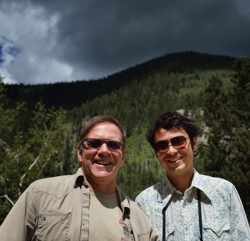 New Mexico Magazine editor Dave Herndon accompanies his June 2016 Editor's Letter with Tim's photo of Herndon (left) and Taos singer-songwriter Max Gomez, a nod to the issue's feature on the burgeoning Taos music scene.N
---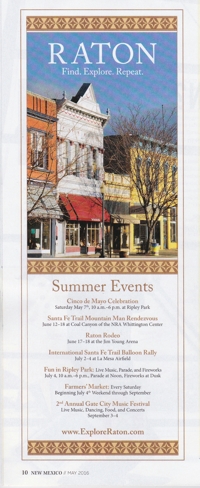 Tim's much-published image of Raton's Historic First Street in morning's first light has again been licensed for publication in New Mexico Magazine, this time in an ad purchased by New Mexico True for Explore Raton. The half-page vertical ad splits the page with the magazine's masthead on page 10 of the May 2016 issue and page 8 of both the June and July 2016 issues. Raton's rich season of spring and summer events is listed, including the town's annual rodeo, balloon rally, and Santa Fe Trail Mountain Man Rendezvous, with updated listings each month. Since its first appearance in New Mexico Magazine's November 2012 feature "The Heart of Raton," Tim's First Street photo has been licensed for the cover of the regional telephone directory, in the state's annual tourism guides, and elsewhere.
---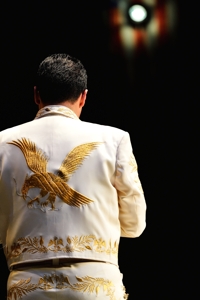 New Mexico mariachi singer Antonio Reyna has licensed Tim's Shuler Theater concert photograph for the back of his Fall 2016 CD album, his fifth. (If he titles the album "Antonio Reyna's Back," he can put the photo on the front!) Following his Spring 2016 trio album, "La Pasion De Mi Padre," the new album will mark a return to pure mariachi, where Reyna is most comfortable and where he shines as both singer and crowd-pleasing performer.
---
Tim's "Clovis Train Yard" has been mounted for permanent display in the Orthopaedic Clinic of UNM Hospital in Albuquerque. It's the fourth of five of Tim's photographs to be purchased by New Mexico Arts' Art in Public Places program, with other photos installed in Rio Rancho, Belen, Deming, and (soon) Portales.
---
The Winter 2016 issue of Living Peace magazine uses Tim's sand mandala photographs to illustrate its theme of "Letting Go." Tim photographed Tibetan monks spending four days meticulously creating an exquisite sand mandala and then, in a ceremony marking the ephemeral nature of life, wiping the mandala away. Participants took small bags of sand away; the remainder was deposited in a stream. Living Peace is the journal of the Congregation of the Sisters of St. Joseph of Peace, a group of Catholic women devoted to the pursuit of peace. Tim's photos illustrate front and back covers and two pages inside; it's his second magazine cover.
---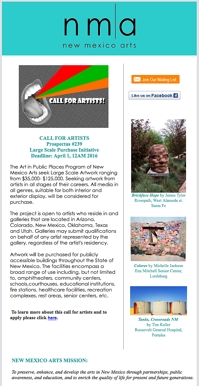 Tim's photograph "Tanks, Crossroads NM" is featured (bottom right) on a March 2016 call for artists from New Mexico Arts. The large framed photograph was one of three that NMA purchased last year for the Art in Public Places program. "Clovis Train Yard" is now displayed in the Orthopaedic Clinic on the first floor of UNM Hospital in Albuquerque. "The Trail Ahead" is in the hall just outside the Luna County sheriff's office in Deming. Earlier installations of Tim's work are in the Belen Public Library and Rio Rancho's Cabezon Recreation Center. "Tanks," photographed at a remote Lea County crossroads literally called "Crossroads," will soon go on display at Roosevelt General Hospital in Portales.
---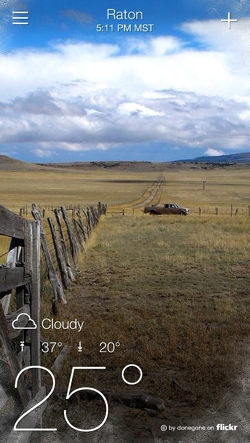 Yahoo Weather is a phone app that's won praise and admiration from no less than Apple's chief designer Jonathan Ives. Throughout much of 2015 and continuing in 2016, dial in the weather for Raton, New Mexico, and you'll get a beautifully designed weather site against a alternating background of four striking photographs taken in the area, including Tim's 2007 image taken along the Colfax-Union County line just south of Capulin. Viewers are referred to Tim's Flickr page. Although Tim no longer posts to Flickr, his archive there continues to be a steady source of new license requests. i
---
For the seventh consecutive year, Tim's photographs are included in New Mexico's annual visitors and vacation tourism guide. New Mexico True Adventure Guide 2016 is distributed at hotels, restaurants, conventions, chambers of commerce, and visitor centers throughout the state and region, and distributed internationally online or by request. Again available with alternate covers for the summer and winter seasons, Tim's three photos this year are in the Northeast section on pages 107-108.
---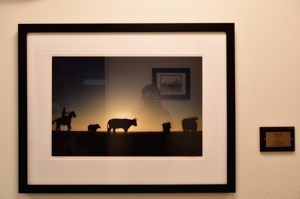 Tim's large print of "The Trail Ahead" is now installed in the hallway immediately outside the sheriff's office at the new Luna County Sheriff's Department building in Deming, New Mexico. Purchased through a generous Art in Public Places (AIPP) grant from New Mexico Arts (NMA), "The Trail Ahead" appears to depict a cowboy driving cattle as the sun rises or sets; in fact, Tim hiked up behind artist Brian Norwood's giant sculptural installation on the hillside north of Jal, New Mexico, to photograph it from behind at sunrise, silhouetting the figures against the rising sun. A close look shows power lines, grain silos and other signs of civilization in the far distance. The Luna County installation measures 43" long, with the image itself 30" long. The permanent installation is the first of three of Tim's works to be installed during the current AIPP cycle, with another already delivered to UNM Hospital in Albuquerque and the third headed to Roosevelt General Hospital in Portales. Tim's "Distance" was previously installed at Cabezon Recreation Center in Rio Rancho and "Raton Junkyard 18" graces a cafe wall in the Belen Public Library.
---

Calling him "The Great Southwestern Storyteller," New Mexico Magazine's "Tony Hillerman: An Open Book" gives readers a retrospective of the late novelist from the points of view of several of his friends. Charles C. Poling's profile in the October 2015 issue includes photos of six of Hillerman's friends that are quoted, including Max Evans with one of Tim's portraits, taken outside Max's house in Albuquerque.
Hillerman was a great journalist and teacher long before he became a novelist. His award-winning Joe Leaphorn and Jim Chee mystery novels are, for many, the quintessential New Mexico stories. Since his death, Hillerman's accomplished writer-daughter, Anne Hillerman, has successfully taken over the franchise, with her first two books in the extended series now published and selling briskly.
---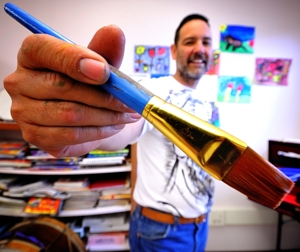 Tim's 2009 photograph of Tecolote, New Mexico, artist Martin Montoya has been licensed by The Axis Agency for internal use in presentations with the possibility of further licensing later for publication. "Axis is an agency for the new multicultural America. Specializing in new multicultural-forward, integrated marketing and communications campaigns, Axis helps leading brands connect with consumers through culturally inspired ideas." Axis clients include MasterCard, General Motors, Chevrolet, Nestle, Clorox, Kaiser-Permanente, and the U.S. Army.
---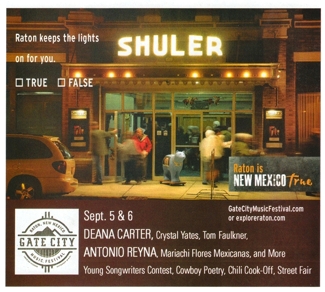 Tim's night photo of Raton's century-old Shuler Theater is featured in the state's New Mexico True advertising campaign, published in tourism guides throughout New Mexico and surrounding states. Festivalia Guide 2015 positions the ad next to another promoting Raton's first Gate City Music Festival. The Shuler image joins just a few others of Tim's photos whose use has been licensed by four or more publications.
---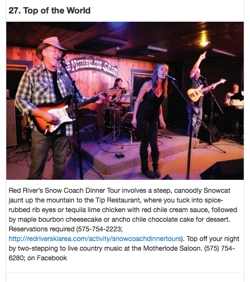 For February 2015, New Mexico Magazine's website thoughtfully provided 28 days of romantic dates throughout the state. For the 27th, they suggested Red River and used Tim's photo of Mike Addington and Kelley Mickwee with Two Dollar Horse at The Motherlode Saloon, shot for Tim's August 2014 feature, "Nine Nights a Week."
---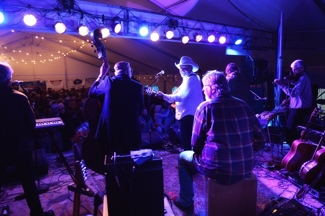 Jumping the gun, New Mexico Magazine's art director has selected one of Tim's images that he shot for an August 2015 feature, placing it on the Performing Arts page in the 2015 New Mexico True Adventure Guide, set to arrive at hotels and visitor centers throughout the West before New Year's Day 2015. It will join another of Tim's images previously licensed by the New Mexico True campaign (immediately below) for the same vacation guide.
---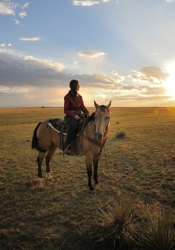 Santa Fe's HK Advertising has licensed Tim's image "Sunset" for an ad by New Mexico True promoting northeastern New Mexico in the 2015 New Mexico True Adventure Guide. It's the second time in four months that they've licensed one of Tim's images, the first one appearing full-page in the July 2014 issue of New Mexico Magazine. The "Sunset" image pictures young horsewoman Laekyn Reust on her family ranch just west of Seneca in the far northeast corner of the state.
---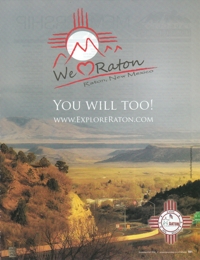 Four of Tim's Raton photographs are featured in the Taos Visitor & Newcomer Guide, Summer/Fall 2014. Raton Chamber of Commerce placed two pages to promote Raton tourism. Page 181 (left) is a full-page view entering Raton from Raton Pass. Page 180 promotes Raton's Treasures, Summer Fun in Raton, and Raton Country Club and Golf Course, each with a photo that includes Tim's photographer credit. See the pages here ( 1  2  Cover), or find the photographs themselves in Tim's Raton Gallery.
---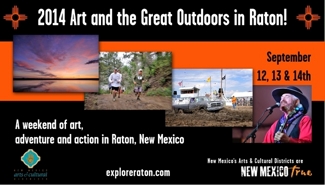 For the second time in two months, New Mexico True has used Tim's photography in ads throughout the state and the country. Four of Tim's photos promote Raton's annual Art and the Great Outdoors weekend by picturing beautiful landscapes, music concerts, mud bog racing, and the Master of the Mountains Adventure Race. New Mexico Tourism Department plans to continue using Tim's photography as it develops its ads.
ß
---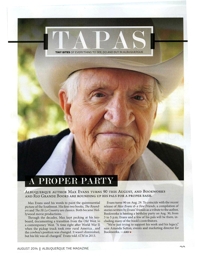 The August issue of Albuquerque the Magazine features Tim's portrait of Max Evans in a full-page feature on the occasion of Max's 90th birthday, celebrated by the publication of Max & A Few Friends: The 90th Birthday Book and a gathering of those friends for a publication and birthday bash at Albuquerque's Bookworks. The book is available through booksellers everywhere; it includes Tim's two magazine profiles of Max and many of Tim's photographs.
---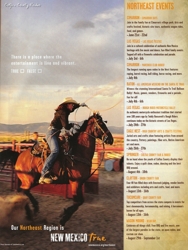 Tim's photo "Breakaway" has been featured full-page or across two pages in three magazines--Western Horseman, Ranch & Reata, and now the July 2014 issue of New Mexico Magazine, page 65, where it serves to draw readers' eyes to a list of summer events in Northeast New Mexico. The New Mexico True campaign used the ad around the U.S. Marcia Hefker is the roper in a photo the ad agency reversed so she'd be riding into the text. "I love it," she said. "Now, instead of a right-handed header, I'm a left-handed heeler!" It's a severe crop and the second time one of Tim's roping pictures has been reversed by a magazine art director; in 2009, young Laekyn Reust was turned into a lefty. Marcia liked it, Laekyn didn't.
---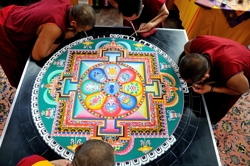 Tim's "Sand Mandala" has been published in the huge coffee-table book accompanying the 14th International Architecture Exhibition June 7 to November 23, 2014, part of La Bienale di Venezia in Venice, Italy. Tim took the photograph of Tibetan monks making the meticulous (and amazing) sand mandala at The Mandala Center in Des Moines, New Mexico, on the International Day of Peace in September 2010.
---
Northeastern New Mexico's Union County Network announced winners of its Embrace the Spirit! Photo Contest winners, with Tim's "The Long Gaze West" (left) taking the $100 first place prize and "Kiss" taking the $75 second prize. Other winners in various categories included Kim Mitchell, Terry Martin, and Chesna Smith. Winning images and results are available here. Tim's "The Long Gaze West" appeared as a 2-page spread with his feature "Growing Up Rodeo" in Western Horseman magazine. Union County Network had previously bought licenses to use Tim's two winning images and six others in its upcoming regional advertising campaigns..
---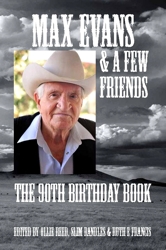 When Max Evans turns 90 in the summer of 2014, his friends plan to present him with a book published just for the occasion. Max Evans & A Few Friends: The 90th Birthday Book will feature a cover composed of a pair of Tim's photographs--a background image of Max's beloved Hi Lo Country, shot just north of Des Moines, and Tim's portrait of Max taken at his home for Western Horseman magazine. Inside will be reminiscences by Max's friends, many of whom are fine writers themselves. Included will be Tim's profiles of Max from Western Horseman and New Mexico magazines. Watch for publication by LPD Press. Max's birthday party and book publishing celebration will be held in August at Rio Grande Books in Albuquerque.
---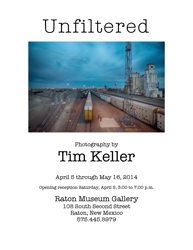 Raton Museum celebrates the grand re-opening of its newly renovated gallery with a show of Tim's photography. "Unfiltered" fills the large gallery with 44 framed archival prints, the image sizes ranging from 6"x9" to as large as 20"x30" with most midway between. Subject matter is similar to that here at the website: New Mexico and its people seen through Tim's practiced eye. The gallery is open Wednesday through Saturday from 10 to 4. The show opens with an artist reception Saturday, April 5, from 3 to 7 p.m., and closes May 16.
---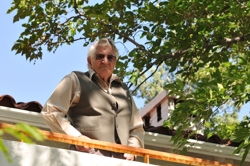 Albuquerque's PBS affiliate, KNME-TV, features Tim's photography in its profile of New Mexico novelist Max Evans on the acclaimed Colores arts program. The January 17, 2014, show is now available free and just one click away on the show's website. Max is the first of the program's three ten-minute segments. Tim's portrait of Max is joined by Max's own archival photo album that Tim had scanned and restored for his own profiles of Max in New Mexico and Western Horseman.
---

Raton's exciting Masters of the Mountains (M.O.M.) Adventure Race has updated its impressive website with 14 of Tim's photographs from the 2013 inaugural event. Designer Lori Chatterley created an artful montage (above) of four of Tim's images for the site's top banner, added another pair of Tim's photos to the home page, and eight more to illustrate the Event Information page. All of the photos and credits link readers to Tim's own M.O.M. feature with 32 photographs illustratrating the Fall 2013 race. The 2014 event arrives September 13.
---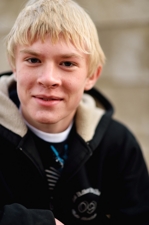 Click on any photo in any gallery here and you'll see a new slideshow option created by young software engineer Hunter Schoonover, who earlier digitized all of Tim's analog recordings from the early LP and cassette albums so they could be played and sold here and at iTunes, Amazon, CD Baby, and other online markets. When the photo galleries were launched here at the end of 2008, slideshow functions didn't exist; since then, they've become the norm. Retrofitting a slideshow was a challenge. Hunter to the rescue! Now you can go directly from photo to photo by simply clicking left or right. Better yet, refill your coffee cup, click to automate the slideshow, and sit back and enjoy. Thanks, Hunter.
---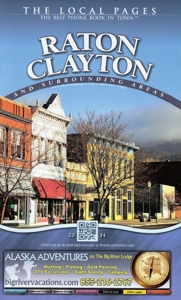 Tim's photograph of Raton's historic First Street is featured on the cover of the 2014 Raton Clayton Local Pages telephone book. Past covers have used generic stock photos of plains; this year the cover brings viewers right into Raton. The image was previously used as a two-page spread that opened Tim's November 2012 New Mexico Magazine feature, "The Heart of Raton." The photograph is also available in the Raton Gallery right here at TKP.
---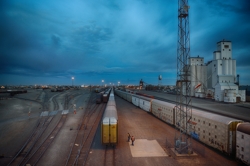 Tim's three-month show in Lovington produced five sales to the Lea County Museum itself, which now owns and exhibits seven of Tim's photographs in various locations. The largest--both images are 30" long, their frames 42" long--are "Clovis Train Yard" and "Tanks, Crossroads NM."
---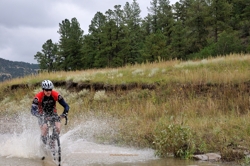 Tim has created an album of 32 photos taken throughout the 4 stages of the first Master of the Mountains adventure race at Raton, New Mexico. M.O.M. is an exciting new annual event that promises to bring hundreds of competitors and spectators to Raton each September. Click the photo to see what's in store.
---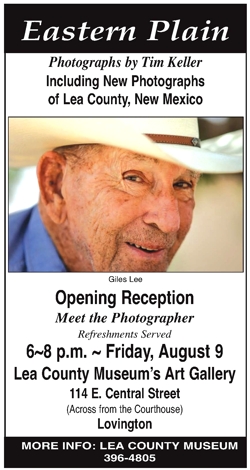 Tim's Lovington reception will feature a mini-concert of songs from each of his albums, partly because museum director Jim Harris is a persuasive guy and partly to coincide with the release of Tim's albums on iTunes, Amazon, Rhapsody, CD Baby and other digital download sources. The opening reception for Tim's show of 34 large framed photographs begins at 6 p.m. Friday August 9 with the music starting at 7.
---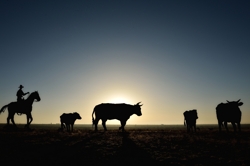 Tim's show "Eastern Plain" opens with an artist's reception August 9, 2013, at Lea County Museum Gallery in Lovington, New Mexico. The show's 34 framed images are highlighted by 22 newly-printed and framed works, 12 of which were shot specifically for this show. The show continues through the autumn.
---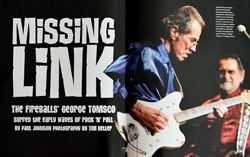 Tim's photography in The Fretboard Journal's 18-page feature on George Tomsco is finally available online. The Fireballs' guitarist got the longest feature in the magazine's history with an extensive contemporary interview illustrated by historic black and white photographs along with new color photography by Tim. Click here to see the entire feature.
---
Tim's been shooting promotional photos for the Internatioanl Santa Fe Trail Balloon Rally 2013, some of which were featured in his rally preview in The Chronicle-News. Now four of Tim's hot-air balloon photographs are framed and available through the month of July 2013 at Raton's Old Pass Gallery in its show called "Up, Up, and Away." (Newer news: Tim's "Outside the Envelope," above, has won "Best of Show" honors.)
√
---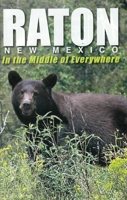 The Raton Community Guide has been published by the Raton Chamber with 48 pages of helpful information about the community and rich color illustrations, including four of Tim's photographs. Tim has also contributed several photographs to a community guide being published by Clayton and Union County in July, 2013. The community guides help locals and visitors alike to find all the resources and attractions available in each community.
---
The Santa Fe New Mexican's popular Friday arts magazine Pasatiempo published a 2-page spread by Robert Nott on Max Evans's appearance at the New Mexico History Museum May 17, 2013, for a question and answer session accompanying a screening of The Hi Lo Country, the film made from Max's novel of the same name. The feature included Tim's iconic photo of the headstone of the story's main character, Wiley "Big Boy" Hittson, topped by his own hat, loaned to Tim by Max for the photograph. Click the image above to enlarge it. Click here to see the Pasatiempo online article or here for a pdf file of the feature. Also available are Tim's features on Max Evans in New Mexico Magazine and Western Horseman.,
---
New Mexico Land Conservancy features Tim's photograph "Distance" in its 2012 annual report published in April 2013. With 114,997 acres already under the organization's protection, it's increasingly active in northeastern New Mexico, where "Distance" was photographed atop Johnson Mesa east of Raton. The image is one of Tim's most popular, with framed prints on display at Cabezon Recreation Center in Rio Rancho and in private collections. View or order the image here, or click here for the complete 24-page report. Tim hopes to photograph new landscapes for the organization as it moves into his corner of the state.
---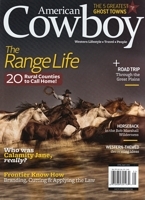 American Cowboy Magazine has a great interview with Max Evans in its April/May 2013 issue, illustrated by Tim's half-page photo. Max's longtime friend Stuart Rosebrook contributed the interview; Tim took Max's portrait in his Albuquerque living room alongside a Charles Russell horse sculpture. The magazine will be available at newsstands through mid-May; meantime, enjoy a special treat at American Cowboy's impressive website where they've posted one of Max's all-time best short stories, "The One-Eyed Sky." Read that and you'll soon be looking for copies of Max's classic novels The Hi Lo Country and The Rounders to read or re-read.
---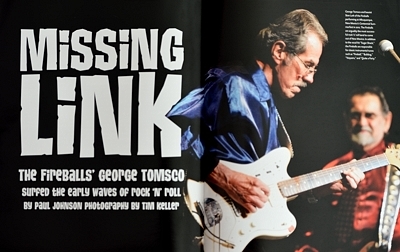 Paul Johnson was 14 when he wrote the surf music classic "Mr. Moto" for his California band The Bel-Airs in the early 1960s. Nearly a half-century later, he interviewed his inspiration, George Tomsco of The Fireballs, for The Fretboard Journal. But for five years the coffee-table-quality journal couldn't find new photography to accompany their vintage 1960s images...until they found Tim's work. Now Fretboard Journal 28 includes the longest feature in the quarterly magazine's history, 18 pages on this guitar legend with new photography by Tim Keller.
When Rhino Records issued Cowabunga!, its four-CD set of the history of surf music, it opened the collection with The Fireballs' "Bulldog," with which The Fireballs unknowingly kicked off surf music from its home in...Raton, New Mexico! Read all about it, and enjoy Tim's photography, in Fretboard Journal 28, available nationally at Barnes & Noble and other newstands from February through May, 2013, or online from The Fretboard Journal.
---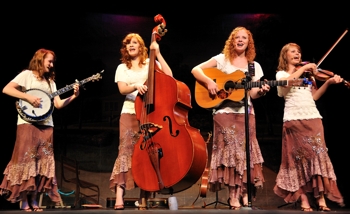 When Redhead Express sent photos to the Malheur Enterprise to promote an upcoming Western tour stop, editor Rick Nelson did a Google Image search and found Tim's band photo taken the year before at the Shuler Theater in Raton, New Mexico. Finding it more effective than the band's own promo shots, he licensed Tim's image and ran it in color March 6, 2013, on the front page of the historic newspaper founded in 1909 in the rugged Owyhee River country along the old Oregon Trail.
 √
---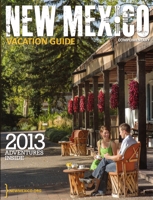 Tim's oft-published night photo of Raton's Shuler Theater opens the Northeast Region section of the 2013 New Mexico Vacation Guide. The full-page image is followed by two more of Tim's photos -- one of Mauricio Lemus serving Mexican food at his Sands Restaurant, another of local nurse practitioner Marcia Hefker and her son Cy riding their Arabian horses along the base of Sierra Grande at Des Moines. Vacation Guides are available without cost from New Mexico Visitor Centers, hotels and restaurants throughout the state, New Mexico Magazine, or online through the link above. Or you can jump straight to the pages with Tim's photos.
---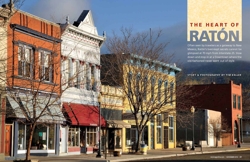 In its feature "The Heart of Raton," New Mexico Magazine takes a leisurely walking tour of the historic downtown district in the state's northeastern gateway city. The November 2012 cover proclaims "Raton's Retro Charms." Tim's text and ten photographs are preceded in the front of the magazine by a column about Tim on the Storytellers page. The Editor's Letter also talks about Tim's experiences in Raton. Throughout the month of November, "The Heart of Raton" is the headline feature at New Mexico Magazine.com.
The week after the November issue reached subscribers, the magazine's designers were doing the layout for Tim's music feature on Raton's The Fireballs, still rocking main stages across the country as they reach the band's 55-year anniversary in January 2013. The magazine will feature them that month to coincide with the anniversary.
---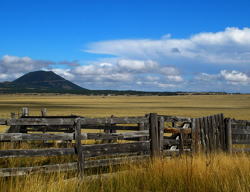 Tim's 2007 photo of northeastern New Mexico's Capulin Volcano appears on page 36 of the 2012 New Mexico Vacation Guide, the third consecutive year that Tim's work has appeared in the annual guides that are distributed at hotels and tourist centers throughout the state.
---
New Mexico Magazine has included Tim's portrait of New Mexico rancher Darien Brown in its online feature "Best Images of 2011." The photograph originally appeared with Tim's "Home on the Range" feature in the magazine's May issue.
---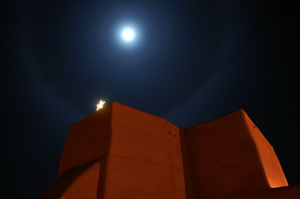 Raton, New Mexico's luxury Holiday Inn Express Hotel & Suites has mounted a show of Tim's photography. Framed images begin in the lobby and wrap around to fill both rooms of the hotel's spacious breakfast area. Brochures are available from the friendly desk crew, who can also point out some nooks and crannies displaying Tim's photos.
With 28 images, this is the largest show of Tim's work to date, surpassing his 2009 exhibit at the Mitchell Museum in Trinidad, Colorado. As images are sold, Tim is ordering new work to replace them. The show remains on display indefinitely.
---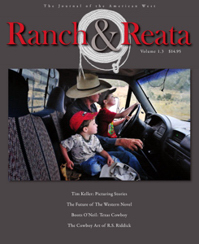 Tim's photography is featured in the new issue of Ranch & Reata, a beautiful art-quality magazine edited by A.J. Mangum, who left Western Horseman to create this new project which is available free online and in limited-edition print runs of 1000 copies of each issue available for $14.95.
Click the cover or here to jump directly to the new magazine. The cover story is entitled "Tim Keller: On Telling Stories with a Camera." Besides the cover, Tim's images of ranch life take up pages 3, 4, 5 and 70-82. You can jump ahead to the feature by clicking on it in the Table of Contents. The site has many other fun and useful features, including full-screen view and the ability to e-mail the whole magazine to friends. The online magazine is filled with direct links to the sites of advertisers, writers, and artists.
Go to Ranch & Reata's website to create a free account so you can bookmark it and continue reading each issue whenever you like. (You can also order print copies there.) Tim has new features coming up in the next two issues and he looks forward to continuing as one of the magazine's regular contributors
Meantime, the September 2011 issue of Western Horseman has arrived with Tim's feature "Arabian Wind," six pages and 2000 words on the Hindi family ranch and the hard-working Arabian horses they've been developing since 1950. The editor liked Tim's "Ridge Riders" photograph enough to give it a full two-page spread. Another photo printed large is "Breakaway."
---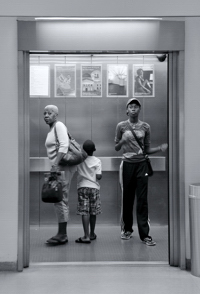 Tim spent 80 hours over the summer of 2011 adding that many photographs to the online galleries here at TKP. It's a time-consuming process that usually waits until each summer, adding Tim's best images from the preceding year.
This year Tim also added a new gallery to present the photographic project he undertook during six days in New York City. 22 black and white images inspired by the work of Henri Cartier-Bresson and Robert Frank, the gallery provides a quick tour of the best images Tim was able to find in one whirlwind summer visit to Manhattan and Brooklyn.
---
The May-June 2011 issue of National Geographic Traveler includes a pair of Tim's images to illustrate a feature entitled "Road Trip: The Authentic Old West".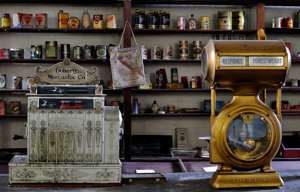 The feature, written by Kate Siber, opens, "There are few places where the Old West remains free from the T-shirt stores and other detritus of modern-day tourism, but northeastern New Mexico is one of them." Siber leads readers on a motor tour from Taos to Raton, over Johnson Mesa to Folsom and down the Dry Cimarron River before turning south to Clayton, Springer, and Las Vegas.
"Doherty Mercantile Co." (above) shows the century-old counter of the old grocery store at the back of the Folsom Museum. "Centerline" takes a unique view of a cattle drive atop Johnson Mesa.
---
A pair of Tim's photographs now grace the header of the website for Centennial West Clean Line, an energy transmission line currently under construction to carry wind energy from eastern New Mexico to southern California.

Referred to Tim by an editor at New Mexico Magazine, Clean Line Energy Partners commissioned him to photograph the Cimarron Solar Facility for their website, then licensed an additional image, above, from Tim's Cattle Drive Gallery. Tim's photos are numbers 2 and 3 out of 5 images in a banner slideshow across the top of the site's home page.
---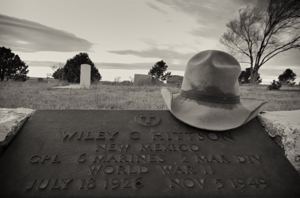 Tim's recent photograph, now entitled "Big Boy", has been purchased by the Lea County Museum where it joins Wiley "Big Boy" Hittson's hat, shown in the photograph, in the museum's Max Evans Room. The museum is located in the old Commercial Hotel building in downtown Lovington, New Mexico.
Max Evans arranged for Tim to obtain Big Boy's hat on loan in order to make the photograph, then Max contributed ideas to the image's creation. Big Boy was wearing this hat when he was shot to death in a fight with his younger brother, Tiny, outside the family ranch house in 1949, a scene that provided the climax to Max's classic 1961 novel, The Hi Lo Country, whose indelible main character was named Big Boy Matson.
Tim's photograph joins other Max Evans memorabilia at the Lea County Museum, 103 South Love, Lovington, New Mexico 88260. The phone number is 575-396-4805; e-mail leacomuseum@leaco.net. The museum is open Tuesday through Saturday from 9 to 5.
Additional copies of the limited edition print are available from Tim Keller Photography.
---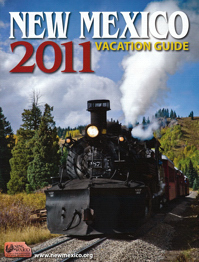 New Mexico Vacation Guide 2011 includes three of Tim's recent photographs, one of which takes up a half page. Free copies are available at the state's visitor centers, hotels, restaurants, Raton's Old Pass Gallery, and Des Moines' Studio C. They're also available here for online orders. The 2010 guide is also available online, with Tim's photos on pages 35, 52, 59, and 103 -- plus three on page 57.
Meantime, five of Tim's small framed prints are on display through December in the Old Pass Gallery's group show of small pieces intended for Christmas gift sales.
---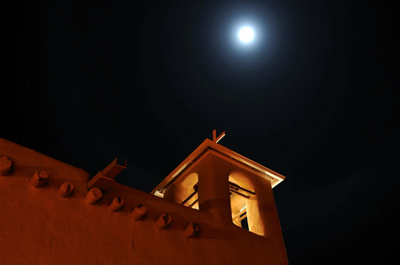 The Old Pass Gallery on historic First Street in downtown Raton, New Mexico, is featuring Tim's photography in September and October. The gallery of the Raton Arts & Humanities Council rotates a rich variety of shows each month, but they keep one panel to display a different local artist every month or two.
Tim's three displayed images demonstrate a variety of his photographic styles, ranging from "Ranchos Church, Night" (above, near Taos) to "Out to Pasture" (taken at an abandoned ranch north of Grenville, NM) to "Steven Havill, Mystery Novelist" taken at the Raton public library. Unlike the image here at TKP, the Havill portrait on display is the same image but printed in black and white.
In Des Moines, NM, Farmers and Stockmen's Bank is rotating out Tim's Capulin Volcano Run photograph "Golden" in October, replacing it with his winter landscape "Antelope Flats". Studio C in Des Moines remains the best place to view Tim's work, if only because it has so much of it! Being owned by Tim's wife, artist Christina Boyce, has something to do with that.

---
In June, the galleries here at TKP were expanded from 12 to 14 with a net gain of about 4 dozen photos, the best of Tim's work in the first half of 2010.
The new galleries are "Black & White Portraits", exhibiting a continuing portrait series Tim has undertaken (watch for additional shots in July), and "Shuler Theater", highlighting the best entertainment photos from Tim's reviews and features for The Chronicle-News. (If you missed Tim's New Mexico Magazine feature on Raton's historic Shuler Theater, it's available here.)
56 new images were added, and about a dozen older photos culled, with all but two galleries getting new work. That brings the gallery total to 260 images -- the best 1% of all the shots Tim's taken with his Nikon D300.
Adding photos to the galleries is so time-consuming that it's done only twice a year, generally in June and December. The place to see the best photos when they're new is in Tim's blogs. Every new addition to the galleries was first published earlier, when brand new, in the blogs.
---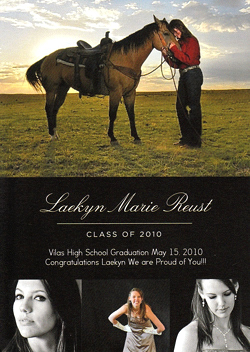 After working with Tim for his Western Horseman feature, "Growing Up Rodeo", Laekyn Reust and her mother Robyn hired Tim to shoot Laekyn's senior photos, then used them to create a unique and impressive graduation announcement at Shutterfly. They used another image for return address labels, too -- a photo of Laekyn looking back over her shoulder on horseback.
These creative uses of photography are exciting -- hopefully, they'll inspire others!
---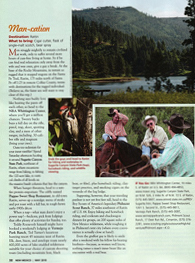 A prelude of things to come, the May 2010 issue of New Mexico Magazine carries its first Tim Keller photograph, an outtake from the cattle drive series published earlier in Western Horseman Magazine. The new image was sold as a "stock photo": the editors were looking for a photo of male friends on horseback in northeast New Mexico.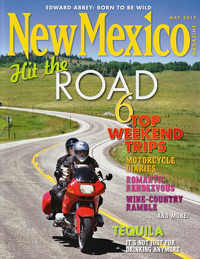 The June issue of New Mexico Magazine will carry three more of Tim's photos, accompanying his first article for them -- a featurette on Raton's historic Shuler Theater. Two more of Tim's featurettes with photos will run in the following months.
---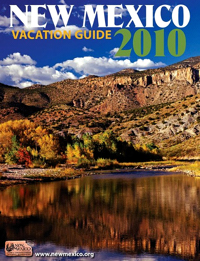 2010 opened with a wealth of newly published Tim Keller photographs, beginning with the 2010 New Mexico Vacation Guide. Click here to order your own free copy, or click the picture to view the complete guide online. Look for Tim's pictures on pages 35, 52, 59, and 103 -- plus three photos on page 57.
Western Horseman's February 2010 issue landed at mailboxes and newstands in mid-January with a pair of Tim's features. Young colt trainer Brittany Rouse is the "Woman of the West", joining Tim's story and photographs "The Long Riders: Crossing America from Mexico to Canada on Horseback".
---
In mid-October 2009, six weeks before its one-year birthday, TimKellerPhotography.com reached a milestone, exceeding 100 visitors per day as measured in weekly averages.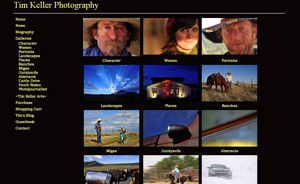 The highest traffic day saw 184 visitors. Page views ranged from 3000 to 7000 per week over the autumn months. While American visitors were the most numerous, others came from Brazil, Mexico, Canada, France, Germany, South Korea, Greece, Switzerland, Ukraine, and many others. In the first two weeks of October, visitors included 70 from Israel, 38 from Latvia, 28 from Luxembourg, and 23 from Russia.
(P.S. May 2010: The month of October had 3,042 visitors in 31 days for an average of 98 per day. By April 2010, the daily average reached 200.)
TimKellerPhotography.com launched November 28, 2008, and sold its first print (16"x24" Bringing Up the Rear from the Cattle Drive gallery) two days later. The following month, TimKellerArts.com was added as a separate site linked to TimKellerPhotography.com. Because the two sites are technically wrapped together, the site statistics reflect traffic at the two sites together.
---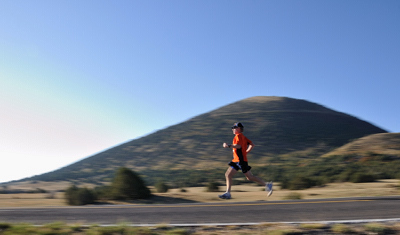 Tim's photographs of the 2nd Annual Capulin Volcano Run have been published on the race's official website. Posted in sequential order, they provide a scrolling slideshow of the 13-mile half marathon race.
As the official Photography Director, Tim took photos of each entrant for the website. Helped by the beautiful morning and landscape, not to mention Tim's own racing around, the photos have drawn much attention and comment.
Runner Jon Cornick wrote, "What an honor it is to have you photographing the second annual Capulin Half Marathon and 5K. The art of capturing and relaying emotion is a skill that can't be taught, it must be found. You've found it Tim. Thanks again for shooting the race and I'll never again mistake you for a dead deer in the middle of the road."
Another runner posted Tim's pictures on a Runner's World forum, which drew more comment.
---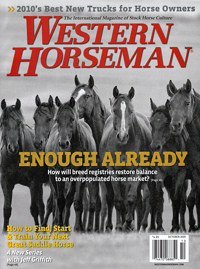 Tim's six-page feature "Growing Up Rodeo" has been published in the October 2009 issue of Western Horseman. Tim's third WH story this year features five of his photographs, including an opening two-page spread of young cowboy Paul Grice staring off into his future as his Quarter Horse Bueno pauses to snack.
The issue is available on newstands until mid-October.
---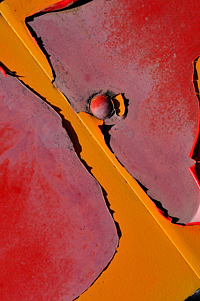 Tim's photograph "Raton Junkyard 18" continued its winning ways in September when it was awarded "Honorable Mention" and a cash prize at the 33rd Annual International Art Exhibit and Sale in Raton, New Mexico.
In the region's biggest show, both in size and prestige, only 19 awards were presented among the 247 entries, which included work in seven categories or media.
A larger print of "Raton Junkyard 18" was purchased by the City of Belen, New Mexico, earlier in 2009. Prior to that, it was the first framed image Tim ever sold when pastel master Cindy Montoya bought the artist's proof at the opening of Tim's first show, at Studio C in October, 2008.
Not bad for a piece of junk.
---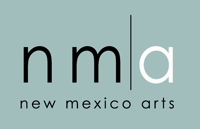 The City of Rio Rancho has added to its website a feature on its acquisition of Tim's photograph "Distance". It includes some background on New Mexico's unique Art in Public Places program. Click on the NMA logo above to view Rio Rancho's comments.
---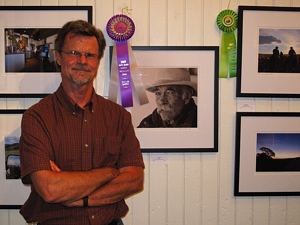 Tim's black-and-white portrait "Archie" was named "Best of Show" at the awards reception of the 3rd Annual Ralph Solano Memorial Photography Exhibit and Sale Friday evening, July 3, at Raton's municipal Old Pass Gallery.
The image, published nationally in May by Western Horseman magazine with Tim's profile of Archie West, won the show's cash prize and Best of Show ribbon. "Bringing Up the Rear", one of Tim's cattle drive images, was awarded "Honorable Mention".
This was Tim's second appearance in a juried show after his debut in last fall's International Art Exhibit and Sale, where his "Lonely House with Moon" gained "Honorable Mention" recognition and a cash prize. Both shows are sponsored by the Raton Arts and Humanities Council.
The Solano show, judged by photographer Kathy Longinaker, will remain on display throughout July at the Old Pass Gallery on historic First Street in downtown Raton, New Mexico.
---
A pair of Tim's framed photographs are now available for viewing in their permanent public locations.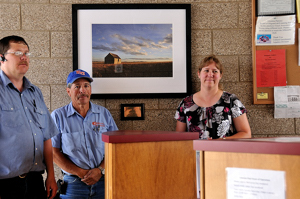 "Distance" is in the entryway to the public pool at Rio Rancho's Cabezon Recreation Center, 2305 Cabezon Blvd., Rio Rancho, New Mexico 87124. It's pictured above with the staff that installed it.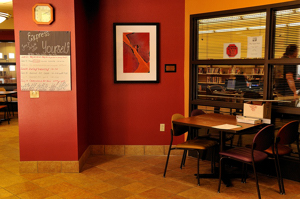 "Raton Junkyard 18" adorns the cafe of the Belen Public Library, just off the teen reading room. This wonderful library is located a short walk from the southern terminus of the Rail Runner Express, at 333 Becker Ave., Belen, New Mexico 87002.
Both purchases were made possible by New Mexico Arts' "Art in Public Places" program -- Thanks go to Ben Owen and the NM Arts staff, and the state government of New Mexico, for their wonderful support and appreciation of the arts in our beautiful state.
---
The A.R. Mitchell Museum in Trinidad, Colorado, will exhibit "Southwest Wanderings", June 4-28, 2009. The opening reception will be Thursday, June 4, from 5 to 8 p.m.
This is a group show of twelve artists in various media who have supported the Pinon Canyon Art Project to keep rural southeastern Colorado a wild and sacred place in the face of the U.S. Army's intent to convert a million acres to a live fire maneuver range.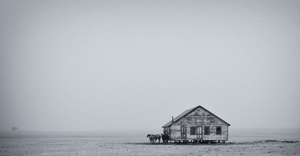 Artists include Debbie Bernhardt, Fran Dodd, Doug Holdread, Tim Keller, Paula Little, Frank LaLumia, Linda Mahony, Allan McConnell, Eric Michaels, Lois Petersen, Wayne Pritchard, Amanda Thompson, and Eldon Warren.
Six of Tim Keller's photographs will be on display, including "Lonely House with Moon", "Distance", "Fore & Aft" and "Lee" (shown above).
---
Tim's show at the A.R. Mitchell Memorial Museum of Western Art in Trinidad, Colorado, has been extended by one week. The final day is Saturday, May 30.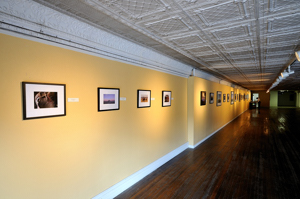 Six of Tim's images will be held over to the June show, the Pinon Canyon Art Project, where they'll be joined by the work of other fine artists in various media, all of whom have contributed their efforts to stopping the U.S. Army's land grab in southeastern Colorado.
---
Tim's show at the A.R. Mitchell Memorial Museum of Western Art in Trinidad, Colorado, drew 100 guests for a catered artist reception Friday night, May 8, 2009.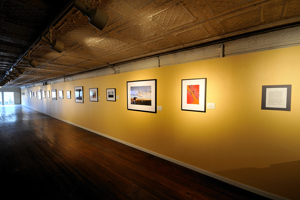 For a quick virtual tour of the show, click the photo and enter. The show remains up through May 23. A few of the photographs will remain through June as part of the upcoming Pinon Canyon Art Project show.
---
The A.R. Mitchell Memorial Museum of Western Art in Trinidad, Colorado, has announced its show of Tim Keller's photographs entitled "Distance -- The Northeastern Corner of New Mexico".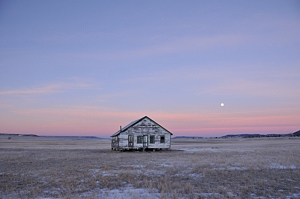 The show will run May 1 - 23, 2009, with a catered artist reception Friday, May 8, from 5 to 8 pm.
"The Mitch" is located at 150 E. Main Street, Trinidad, Colorado, 81082. Phone is 719-846-4224.
Tim's image above, "Lonely House with Moon", will be used on postcards and posters promoting the show.
---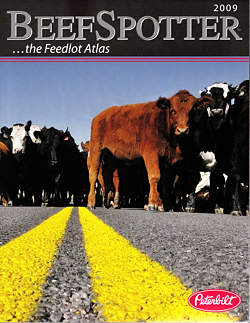 The 2009 BeefSpotter feedlot atlas has been released and is for sale at $45 with Tim's cattle drive photo "Centerline" on the cover. Further details are available below.
---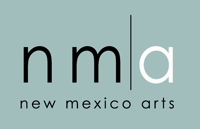 New Mexico Arts has announced the purchase of two of Tim's photographs for permanent public display.
"Distance" (below) was purchased by the city of Rio Rancho for display at its recreation center. Belen purchased "Raton Junkyard 18" for one of its three libraries.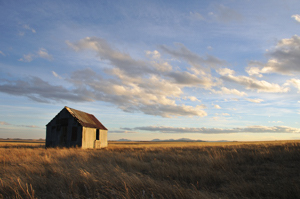 NM Arts selected 329 works in all media from more than 800 entries. A slideshow is currently on a six-month tour to buyers at locations around the state. Tim's photographs were both purchased at the first stop on the tour.
---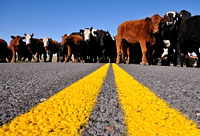 The BeefSpotter Atlas has licensed Tim's photograph "Centerline" for its 2009 cover.
Attracted by Tim's "Bringing Up the Rear" in Western Horseman magazine, the publishers came to the website to license the image. Here, they found "Centerline" and ended up choosing that image instead.
The annual BeefSpotter Atlas sells for $45, purchased by people throughout the cattle industry. Publishing 4000 copies, the BeefSpotter Atlas provides detailed map location and contact information to over 800 feedyards, 80 auction and sale barns, and the largest beef packers in the United States. For over 20 years BeefSpotter has been the industry standard, providing comprehensive information used by cattle haulers, livestock feed companies, and many other associated industries.
---
The A.R. Mitchell Museum of Western Art is planning an exhibition of Tim's photography in mid-2009. Located in Trinidad, Colorado, "the Mitchell" will announce the exhibition dates soon.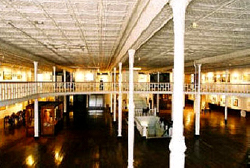 ---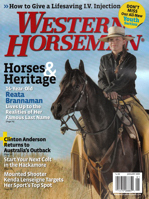 The January 2009 issue of Western Horseman has reached subscribers and newstands. Tim's cattle drive photographs and story, "Driving on Blacktop", are featured along with a short bio on the contributors page. WH is the pre-eminent US horse magazine and should be available at any large newstand, such as those at Barnes & Noble or Borders. Studio C has restocked it here in northeastern New Mexico after selling out of its first 24 copies. If you want a copy but can't find it, write and we'll arrange to mail one.
---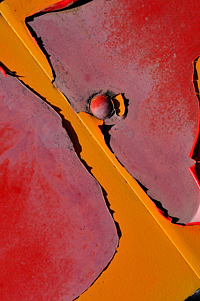 New Mexico Arts has announced the finalists in its biannual program to provide fine arts for public installations. Two of Tim's photographs have been selected for the 2009 Purchase Initiative. They are now eligible for purchase with state funds for permanent display in public places. 329 works in all media were selected from more than 800 entries. Tim's two selected images are "Distance" and "Raton Junkyard 18".
---
TimKellerPhotography.com launched November 28, 2008, the day after Thanksgiving, and sold its first print (16"x24" Bringing Up the Rear from the Cattle Drive gallery) two days later.