Max Evan's New Mexico
Writer/photographer Tim Keller travels to Albuquerque to visit with Max Evans, renowned painter, raconteur, and author of such New Mexico classics as The Rounders and The Hi Lo Country. Then it's off to northern New Mexico to find the places that dominate Evans's rich memories.

---
From a table at the back of Loyola's Restaurant, on Central Avenue in the Nob Hill area of Albuquerque, Max Evans effortlessly spins rich yarns from an improbable life splashed across much of New Mexico. His 86 years of tracks mark the state map in a big counter-clockwise circle beginning in Lea County, down in the far southeast corner near the Texas line, which he crossed often as a child already learning the cowboy's trade.

At 11, he joined his cowboy uncle at Lamy and Glorieta Mesa where he cowboyed all the way over to the famed San Cristobal Ranch near Galisteo. At 17, he got his own little cattle ranch near Des Moines in the state's northeast corner, a parched but beautiful region he later named "The Hi Lo Country". At 24, a World War II combat veteran, he left the cowboy life and moved to Taos to pursue the life of a painter. "There seemed to be no future in my newfound art career in Des Moines," he recalled last year in his foreword to the 50th Anniversary Edition of The Rounders, "so I moved to Taos, where all the real artists lived, fully intending to become rich and famous in less than two years, but I became broke and infamous in less time than that."

His Taos paintings didn't bring enough money to support his wife, Pat, and their twin girls, so he tried his hand at writing magazine articles, then launched a mining venture with his artist mentor, Potawatomi Indian Woody Crumbo, introducing Evans to Hillsboro, in southwestern New Mexico, among other places. Improbably, they got rich. Then the price of copper plummeted and they got poor again.

Only a man with a cracked head would plan to escape deep debt by attempting a first novel, so maybe Evans's WWII head injury explains his next step, but it worked, and it changed his life forever. Publication of The Rounders, and later The Hi Lo Country – both set in the cattle ranching world of northeastern New Mexico – led to a never-ending commute to Hollywood as his stories were developed into movies.

To ease the commute, Max and Pat moved in 1968 to an old two-story on a huge lot in Parkland Hills, in the Nob Hill area of central Albuquerque. Under towering trees, the house has four wide porches, top and bottom north and south, and Max and Pat are still there.

"I can really write in this old house," Max says. "And I look at the Sandias every day. I'll just go look at that mountain to rest my eyes and my soul. Then I can go back and write for two or three more hours." He beams with satisfaction over last year's War and Music, for which he finally revisited his war experience, artfully woven into his experiences of Lea County and Taos. "It's my final novel, and I'm so cockeyed proud of it. I couldn't have written it until I'd lived and read for 75 years."

Forty-two years in Albuquerque, though, and he's never set any of his stories there. "No matter where I am in the world in such disparate places as Sunset Boulevard, the canyons of Manhattan, an old mine tunnel in the Black Range above Hillsboro in southwestern New Mexico, or the limitless sagebrush desert north beyond the Rio Grande gorge of Taos," he explained in Max Evans's Hi Lo Country, a sumptuous 2004 book of photographs by Jan Haley, "I think of the land and some incident that happened on the malpais rocks and soil of Hi Lo. Like the gravity-filled land, the thoughts and inspiration are perpetual."

Although he spent 20 years in Taos, which he credits as being near the outer edge of The Hi Lo Country, he spent just five endlessly-inspiring years in its heart, centered at Des Moines. (If you want to sound like a local, you'll pronounce the final -s.) Much has changed, but the village of 150 people along Highway 64/87 looks largely the same as it did in Max's day. The buildings that housed the two bars, the region's only entertainment, still stand directly across the highway from each other. Next to one of the bars, the village's volunteer fire department is headquartered in a white cinderblock building that long ago replaced the ramshackle place which housed Max's short-lived and whimsically-named art gallery, Met West.

Des Moines became Hi Lo. Max would climb to Sierra Grande's 8600' summit to gaze at neighboring Capulin Volcano and down on Des Moines 2000' below, then out across the sprawling plains to Colorado, Kansas, Oklahoma, and Texas. "I loved and still love that mountain. The emotions I experienced in that country were so high and low, the mountains and mesas so high over the plains, and everybody kept on edge by the endless winds: I needed a title and The Hi Lo Country sounded just right," he says today.

"The book was inspired by my best cowboy friend getting himself killed by five .38 bullets," Max wrote in his foreword for the 1998 edition of The Hi Lo Country, timed to coincide with the release of the Martin Scorsese-produced film starring Woody Harrelson as Big Boy Matson and Billy Crudup as Pete, the Max Evans character. Wiley "Big Boy" Hittson was Max's neighbor out Weatherly Road northeast of town. It was Big Boy's pickup that followed Max's Chevy to Taos in the fall of 1948, moving all of Max's worldly possessions in one midnight trip. One year later, Big Boy would be killed by his younger brother in a fight outside the family ranch house, a tale which Max spun into his second novel a decade later. Max sometimes visits Big Boy's grave in the cemetery out Ridge Road, a mile north of Des Moines.

From the upstairs porch outside his writing studio, the Sandias towering through the trees, Max fondly revisits his past, remembering work for day wages as a 12-year-old cowboy on the San Cristobal Ranch. "It's so beautiful. I still think the San Cristobal is my own ranch," he smiles. He's proud that his work in Hollywood led him to be a founding member of the New Mexico Film Commission, which has brought countless film productions to the state, and that he was able to play an instrumental role in the creation in Las Cruces of the New Mexico Farm & Ranch Heritage Museum. He's proud of his sprawling kaleidoscope, Bluefeather Fellini, a 1993-94 diptych novel both autobiographical and monumental; much of it is set in and around Hillsboro.

His love for the Black Range and Hillsboro, southwest of Truth or Consequences, rivals his love for the area he says it resembles, The Hi Lo Country. ("How can it be: there's two Hi Lo Countries! Nowadays, Hillsboro is my favorite little town in the world.") Draw a line from Hillsboro to the Farm & Heritage Museum at Las Cruces then over to Lea County and you complete a circle of Max Evans's New Mexico life. At the center of that circle is Albuquerque, where Max is home today with Pat, surrounded by his mountains and his books, intimate friends at the core of a long and improbable life.
_________________________________________

 
Max Evans Sidebar
If You Go

Max recounted his tales from a back table at Loyola's Restaurant, 4500 Central Avenue SE, near his home in Albuquerque's Nob Hill area. "This is one place where both the green and the red make me feel right at home. I've brought countless people here, from all over the world. I never know which ones are going to say the food's too hot. It's not too hot: it's just right." Open for breakfast and lunch, Loyola's closes at 3. Look for Max eating his breakfast at noon: he's not a morning person. (505) 268-6478.

Max's story begins in Lea County where he spent his formative years in Humble City, founded by his father. Today you can visit the Max Evans Room at The Lea County Museum, 103 South Love Street in Lovington. (575) 396-4805 or www.leacountymuseum.org.

When his parents moved back across the state line to Texas, Max was intent on continuing his cowboy life in New Mexico. 11 years old, he took a bus to Lamy to find an uncle he'd heard was a great cowboy. Max stepped off the bus and inquired about his uncle in the bar now known as The Legal Tender, which today houses the Lamy Railroad & History Museum, open by request (www.lamymuseum.org). Outside the Amtrak depot, eat a memorable meal in a restored railroad dining car at Lamy Station Café, open for lunch, dinner, and weekend brunch. (505) 466-1904 or www.lamystationcafe.com.

Max's next stop was Des Moines. Sierra Grande Restaurant is located on Highway 64/87 east of town, just before Weatherly Road, which passes the Hittson ranch and Weatherly Lake on its way to Max's old ranch on Blind Gap Road. The restaurant is open daily for breakfast, lunch, and dinner. Come as you are; spurs are allowed. (575) 278-2721. Check www.folsomvillage.com for area lodgings.

When Max moved to Taos to try his hand in the professional art world, he set up his easel by the sunken fireplace in the lobby of Taos Inn and hawked his paintings from there. You can enjoy a drink right where Max stood his easel, then a gourmet dinner at Doc Martin's Restaurant before retiring to your room in what National Geographic Traveler called "One of America's great inns." (575) 758-2233 or www.taosinn.com. Don't miss the nearby Taos Plaza where, in his starving artist days, Max used to peddle his paintings still wet.

In Max's beloved Hillsboro, people mourn the passing of the legendary S-Bar-X Motel and Saloon, which Max recalls as a gathering place for miners, cowboys, artists, and families with kids and dogs. Fortunately, Hillsboro General Store Café is still going strong at 100 Main Street, (575) 895-5306. Max says, "It has wonderful food and it's the only meeting place that's been constant over all the years. I featured it in Bluefeather Fellini."

From Hillsboro, continue 80 miles south to enjoy the New Mexico Farm & Ranch Heritage Museum at 4100 Dripping Springs Road in Las Cruces. From I-25, take Exit 1 and go east 1.5 miles. The dynamic museum is open daily to 5 p.m. (575) 522-4100 or www.nmfarmandranchmuseum.org.

-- Tim Keller
©2011 Tim Keller
_________________________________________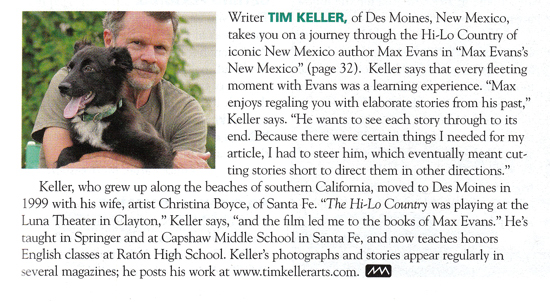 See two more images Tim shot for the story: At Home, Ruins of Max's Ranch
Note: the black & white Blind Gap photo is NOT Max's old place: It's the next place down the road from Max's ranch. This was an error at the magazine. "Ruin's of Max's Ranch" does, indeed, show what little is left at his place.