All images © Tim Keller unless otherwise noted.
---
December 31, 2018    Reverie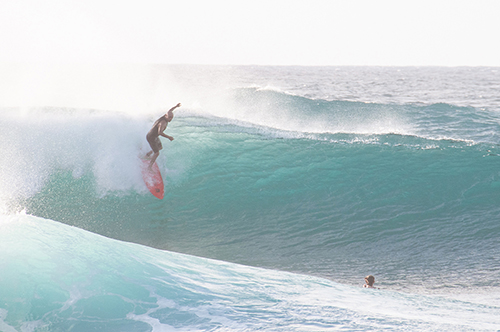 Let's close out a great month and a great year with this dreamlike photo of a surfer at Rocky Point on an otherwise unexceptional late afternoon. Art is everywhere and life is good. Happy new year!
December 30, 2018    Surfing, Photography, and Art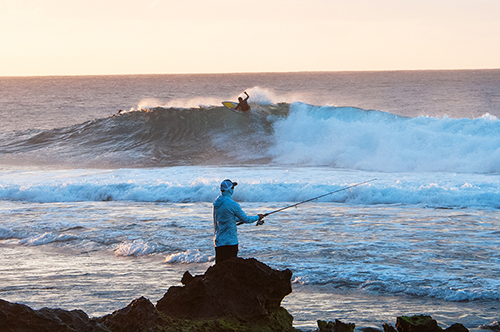 From our Airbnb on Rocky Point I could walk a few steps and get photos like this, taken two weeks ago on a weekday evening. I've posted a bunch more, pretty much all the non-surfing photography, here at my arts blog; I hope you'll check them out. Always and everywhere, click any image to enlarge it. For these last three posts of the year, I hope you'll agree that surfing photography can also be art photography.
December 29, 2018    Closeout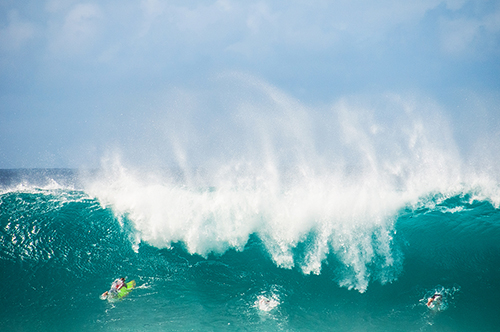 Sometimes surfing photography spills over into art photography. I want to close out 2018 with three of my favorite images from this month's stay on the North Shore of Oahu in Hawaii. This closeout set at Pipeline caught these surfers unaware. Ouch. But, from my vantage, it's beautiful too.
December 27, 2018    Kelly Slater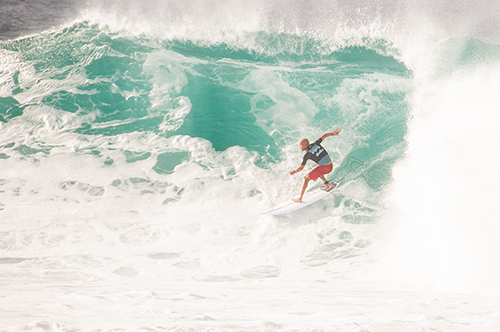 Eleven-time world champion Kelly Slater competed in his 27th consecutive annual Pipe Masters pro surfing championship on Oahu's North Shore this month. He was winning Pipe Masters and world championships before many of his opponents this year were even born. At 46, he made this year's Pipe Masters semi-finals, missing the final by one heat.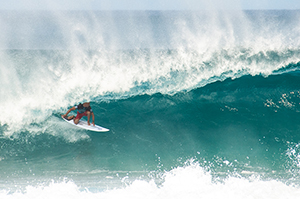 So among the many thrills for both me and my wife in Hawaii this month, seeing Kelly Slater was high on the list. Photographing his surfing was another. Christina, only a casual observer of surfing, quickly recognized how dominant Slater was, easily standing out in a contest of the 34 best pro surfers in the world. I was surprised that he didn't make the final--he just didn't get great waves in his lackluster semi-final heat. So it goes.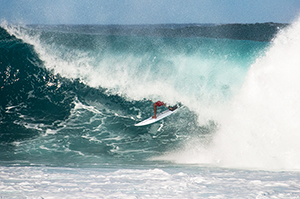 He's been so dominant that he retired from the pro tour after his seventh world championship. After a break, he decided to return, winning four more world titles. I was slow warming to him over the years--a baldhead from Florida who won so much that he was easy to root against--but I've long since become a convert and a fan. I'm thrilled to have my own photographs of Kelly Slater surfing big Pipe Masters.
December 24, 2018    Pipe Masters
The semis and finals of the 43rd annual Pipe Masters surfing championship were held a week ago today at the fabled Banzai Pipeline on Oahu's North Shore. For me to be there at all, much less to photograph it, was the realization of a lifelong "pipedream." I'd sat on the beach there in the summer of 1965, a decade before the inception of the contest, imagining the big winter surfs at a break that was already legendary. (I got to meet Butch Van Artsdalen, arguably the first great pipe master, before Gerry Lopez.)
Pipe Masters is the final contest every year for the WSL World Championship Tour, and this year as usual it determined the final outcomes of the world championship rankings. Clockwise from top left above are Californian Conner Coffin, who finished 7th in the world; Brazilian Felipe Toledo, 3rd; Australian Julian Wilson, 2nd; and in the yellow leader's jersey, winning his second world championship, Brazilian Gabriel Medina. It was big Pipeline and, for me, a dream come true.
December 24, 2018    Young Gun
In the days before Pipe Masters started, I walked the hundred steps from our Airbnb to the beach at Rocky Point and photographed some free surfing. Soon I caught this wave: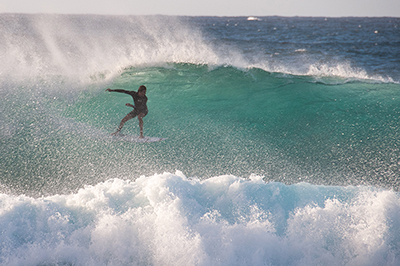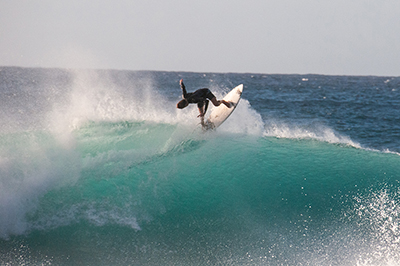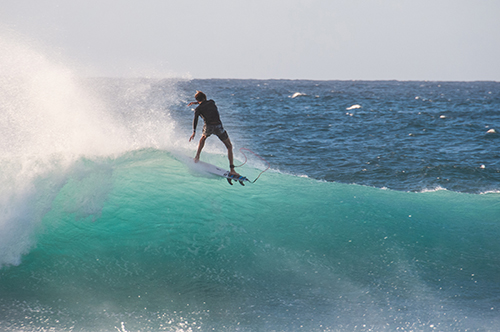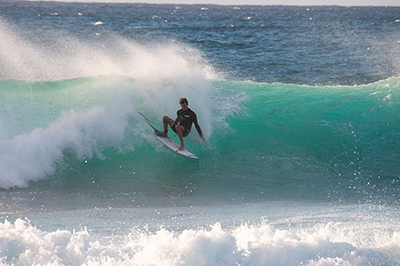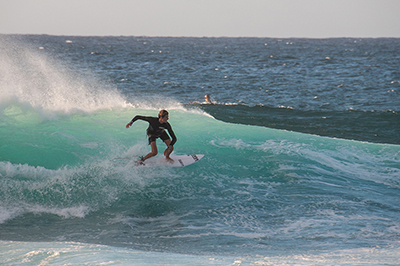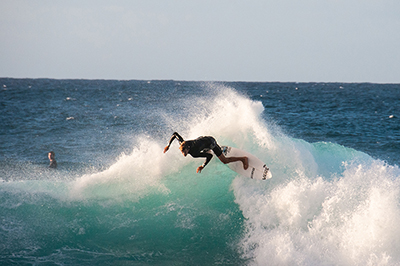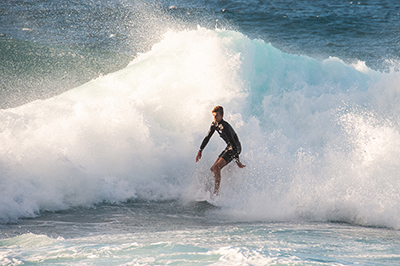 I was late for the takeoff, missing it altogether, one of the disadvantages of photographing free surfing where I have no idea who is who--which surfer will turn out to be worth photographing. But as soon as the wave ended, I quickly scanned the frames in-camera and saw that third shot--he's flying backwards, fins forward!--and knew I'd gotten a great ride. I asked another photographer to identify the surfer for me. It's 17-year-old Wyatt McHale, a fast-rising North Shore local. After this ride in the relative anonymity of Rocky Point, I expect that Wyatt McHale won't be riding in anonymity much longer. Dang!
December 23, 2018    Close Enough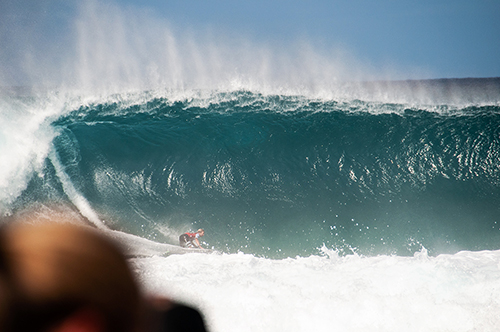 Before returning to Hawaii for the first time since I was 14 years old, I spent a good deal of time considering what camera setup to take and even whether to photograph surfing at all: I wasn't sure I'd have the lenses to get close enough to the surfers. But Banzai Pipeline breaks only 80 yards from the beach, and so does nearby Rocky Point where we stayed, so I decided to go for it.
For my non-professional purposes, just Instagram and this blog, I decided against carrying onto airplanes, or the sandy beach, the big full-frame pro D4 or D5 with their heavy "FX" lenses. My old D300, a Nikon "prosumer" camera with the smaller digital sensor, is a little smaller and its lenses are a lot smaller and lighter. Most important, with the geometry of optics and the smaller sensor, its "DX" lenses reach farther. For surfing I borrowed my wife's 18-300mm lens (trading her my 18-200mm). I would have needed FX 450mm on the D4 or D5 to get as close.
I've since discovered that Nikon recently introduced a good full-frame 200-500mm lens that's gotten great reviews despite its relatively low price of $1400. It'll be tempting next time, despite its five-pound weight and 11-inch length (not counting the lens hood). Big glass is heavy and expensive. And surfing is the first time I've wished I had longer than my 70-200mm lens. The new FX 200-500, by the way, will reach to 750mm when attached to a DX camera such as my D300 or my wife's D7100; that would put me right in the face of each surfer above, closer than needed at Pipeline though it'd be great at Sunset Beach and others where the surf is farther offshore.
Meantime, I was happy with the results through my D300 and 18-300 lens, cropping each image in Lightroom to bring it even closer. The images above are from the Pipe Invitational. I'll post a bunch more, from Pipe Masters and Rocky Point, in the coming days. I hope you'll enjoy them as much as I am.
December 22, 2018    Memory Lane: Surfing Photography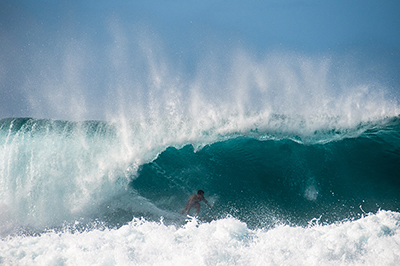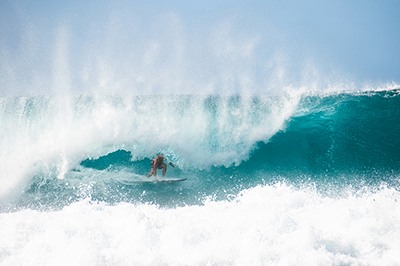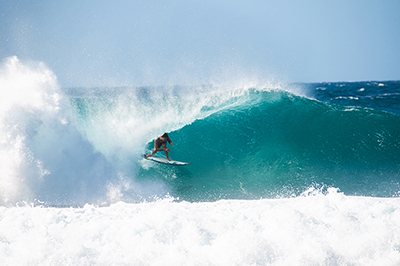 It's been more than fifty years since I last photographed surfing. I started at Will Rogers State Beach at the foot of Santa Monica Canyon, with a Pentax 35mm camera and 400mm lens on a tripod. I developed the film and made prints in a neighbor's darkroom. I was 14. Later, while in college, I discovered deserts and mountains and hiking and camping and car travel. I left photography for a long time, and I never got back to the beach.
Until this month. I've been writing about it more extensively at my arts blog, but my wife convinced me to fulfill a lifelong dream to see the annual Pipe Masters surfing championship in person, in Hawaii. We just spent two weeks on Oahu's North Shore, staying in an Airbnb 100 steps from the beach at Rocky Point where one afternoon I photographed the sequence above, an unidentified surfer disappearing under the curl and emerging free and clear. I have lots more, an embarrassment of riches, that I'll be posting here over the coming days. That'll be all, though: We're back in the snow of northern New Mexico, happy and home.
Yesterday I finished a fun project for Jillian Trice Solano, a talented actress who's also a working mother. After a spell of focusing on her family and work, she's hungry to get back in the game, taking on new acting challenges in various theaters. For her professional portfolio, we've gone back through the countless images I have of her in Shuler Theater productions from 2009 through 2013 when I was previewing, reviewing, and photographing every show for The Chronicle-News and my arts blogs.
We chose a dozen images, including the five here. At top left and below, she's working opposite Ian McCabe in "Fools." At top right, she's a school girl contestent in "The 25th Annual Putnam County Spelling Bee," while just above right she's working with her father, Rick Trice, in "Miracle on 34th Street." In the white wig above left, in "Murder at the Howard Johnson's," she's working with Perry Self and, in the chair, that's Raton's beloved "Billy D," Bill Donati, the owner and voice of KRTN radio and a mainstay in many capacities at the Shuler Theater.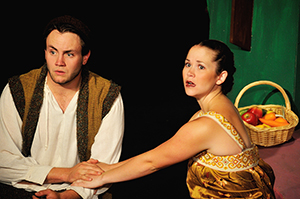 Daughter of Rick and Linda Trice, Jillian grew up in Raton and married another local, Dreyson Solano (of the Solano's Boot & Western Wear family), another talented actor. When both acted in repertoire at the Shuler Theater through the summer of 2010 I wrote a profile, "Jill & Drey Come Home to Play." Jill and Drey and their kids live in Nebraska, our loss, but it was fun to hear from her and work together in producing a portfolio that shows off Jill's wonderful talents. Meantime, with both their families here, lots of fingers are crossed for another summer of Jill & Drey coming home to play.
November 6, 2018    "Semi-Retired"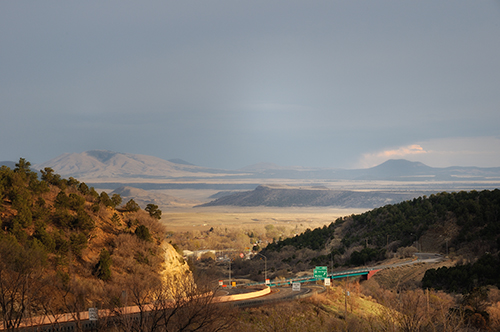 As a professional freelance photographer and feature writer, I'm semi-retired. As I've said on my Instagram page, "Less work, more fun." Declining conditions in education and at my school prodded me to retire from teaching earlier than I'd planned, three and a half years ago. Declining conditions in media and publishing then prodded me to semi-retire from professional photography and writing earlier than I'd planned. These are tough times out there: as I approach my 68th birthday next month, I have the luxury of not having to continue slugging it out. But I do get to write and take photographs as I please. Best of both worlds. So what does "semi-retired" entail in my case?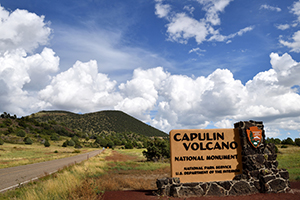 Mostly it means I'm no longer hustling for work. I'm no longer reaching out to editors for gigs. Freelancers generally pitch story ideas to magazine editors and hope for a green light. I'm not doing that anymore. And I stopped freelancing for a daily newspaper last year. But I still enjoy writing. I sometimes enjoy calling it typing, after David Carr's admonition, "Keep typing until it turns into writing." I like typing. Most of my typing these days is here at my photography blog and here at my companion arts blog. And I still love making great photographs, too. While I'm no longer hustling work, lots of it comes to me, either through the reputation and contacts I've developed or, especially, through this website.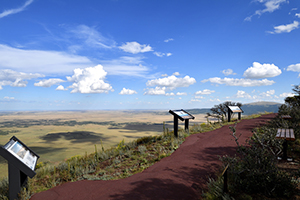 Every week or two I receive an inquiry about a photography commission or, more commonly, licensing an existing image. I've had three of those in the past three weeks. This morning I sent a hi-res file of my "Raton Pass" image, at top (originally photographed for New Mexico Magazine and since published in several places), to Albuquerque for use by the Sandia Foundation in a documentary film honoring its longtime director John Perovich, a 1942 graduate of Raton High School. Last week I received an inquiry from the park ranger at nearby Capulin Volcano National Monument asking about the rights to a wealth of images he'd found in the monument's computer when he took over. I enjoyed telling him that his predecessor commissioned those photos two years ago, that they're all bought and well-paid for. I posted here at length about those photos at the time. Watch for them now on the volcano's Instagram. All of these contacts--the park rangers and the Sandia Foundation--came via this website.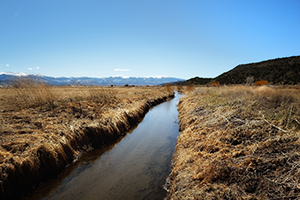 A license for "The People's Ditch" (right)--the oldest irrigation canal ("acequia") in Colorado--came via The Chronicle-News, where it was featured in my travel writing. A Utah company licensed the image three weeks ago for use in a Colorado textbook due out next summer. The beauty of image licensing is that I've already done most of the work. I just negotiate and collect a fee, and often send a hi-res image file along with my permission to use (which constitutes the license). Most of this business comes via this website, which averages three dozen visitors daily, spending an average of more than two minutes here. They bounce (leave after only one page) only 10% of the time, amazing given that most arrive by Google searches. This photography blog and my arts blog each average a half dozen readers daily.
So, that's what semi-retired means. I'm still taking pictures, still posting them and writing about it. Viewers see them here, mostly, and I get sales from it. My work continues to go out into the world, and I get to enjoy that even as I go hiking or driving to the redwoods. Win/Win, all good.
November 2, 2018    California Redwoods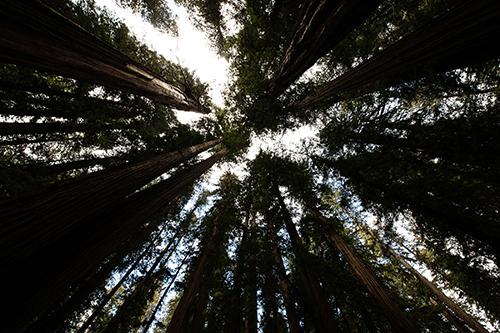 A redwood forest is a photographer's paradise. Look up, down, around: There are strong photographs to be found everywhere you look. The best I've seen make use of magical light slanting through the trees in late summer afternoons; by October that light was no longer available, though we were there in late afternoon, but that didn't reduce the number of other options, other discoveries.
Look down in the creek bed, the rocks. Look up, the majestic towering trees. A walk through the redwoods is unforgettable. My first long hike there was eight miles up Redwood Creek to the world's tallest trees with my brother Terry Keller in August, 1972. (The September date stamp reflects the fact that I was gone for six weeks, all the way to Edmonton, Alberta, Canada, and back, in my 1960 VW van, and didn't get prints made until I got home to LA. Here we are camped at the van.) Terry and I vividly remember our backpacking trip through the redwoods.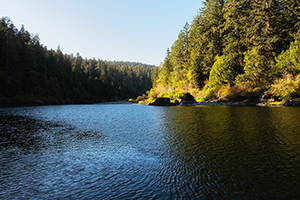 Later that trip (and still days before I deposited Terry at a tiny airport in Bend, Oregon), we frolicked in the Smith River upstream from where I photographed it last month passing Stout Grove in Jedediah Smith State Redwoods State Park--using the Fujifilm X-T2 with its 16-55mm lens wide open to take in as much river as possible, its 16mm equivalent to 24mm on a full-frame camera sensor. Both views of the towering trees above were shot even wider, using the Nikon D4 with the 14-24mm lens wide open at 14mm. That leaves just the left photo above, of rocks in the creek bed: That was shot bending over holding the iPhone 7. If you look carefully (click to enlarge), the rock at bottom left is actually the toe of my Lowa GoreTex boot, so the iPhone lens got pretty wide, too.
Christina and I thought two consecutive autumn trips to the wine country and the redwoods would be enough to last us, yet now that we're home we've been musing about yet another trip to the northern Napa Valley and, hey, that's not far from the redwoods. I wouldn't be surprised...
October 25, 2018    Christina's Church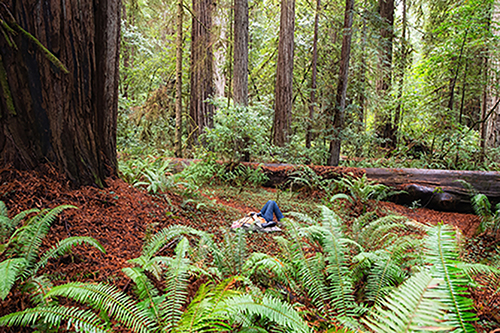 For two years in the 1970s, I lived among the California redwood forests in western Sonoma County, often backpacking and camping among the trees, but Christina had never fulfilled her longing to experience them until last autumn when we finally made our first road trip there. For Christina, it was like finding her church. She was enthralled. She walked alone silent through the forest of towering trees.
So profound was the effect that we returned this month so she could have more time in her newfound church. We walked together taking pictures, and we walked apart so she could have time for solitude and reverence. At a time when we're both deeply troubled by growing darkness in the world, the redwoods are restorative. As tall as a football field is long, many of these trees are more than a thousand years old, rendering our concerns relatively insignificant. To be alone in a redwood forest is to know silence.
This year, we stayed just up the Oregon coast, driving south and into the forests to experience the coastal redwoods, then back to the sea at Brookings in the evening.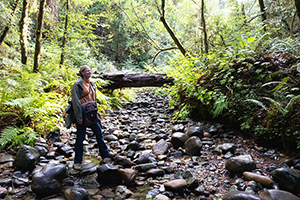 There's plenty of water in the redwood forest, too. Creeks collect the abundance of moisture, feeding the many rivers, and redwoods soak moisture through their trunks from the coastal fogs that redwood trees require for survival. They're so good at staying moist that they're essentially fireproof: Fires sweep through the underbrush but leave the towering redwoods unscathed, far above it all. Noting myriad birds in the forest, we envied their good judgment in choosing such an idyllic place to live, far from the madding crowd.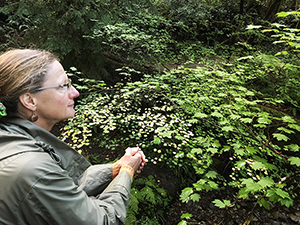 I carried three cameras through the forest for these pictures. I put the wide-angle 14-24mm lens on the Nikon D4, though I could have used the 24-70, as it turns out, since I shot the two photos here at 24mm. Can you tell which ones they are? They're the big top photo, "Christina's Church," and the top right (horizontal) photo of Christina standing dwarfed by the redwood root. The other wide-angle shot here is Christina standing in the creek, above left, but that one was shot with the Fujifilm X-T2 through its 16-55mm lens; shot on the digital sensor wide open at 16mm, that's the full-frame equivalent of 24mm--exactly the same as the two wide-angle Nikon shots above.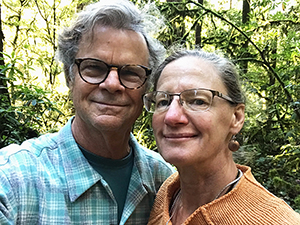 The third camera is the one that's ever-present, the one I carry in my pocket, the iPhone 7. It took our selfie here, and four more above: the small vertical picture up top with Christina craning her neck to look up at the redwood root; the matched pair of her shooting straight up a redwood tree with her own Nikon 7100 and 18-300 superzoom lens; and the one just above right of her pondering the forest. (As always, click any image to enlarge it.) Each of the cameras has unique strengths and weaknesses, there are always trade-offs, and there's no such thing as a perfect camera. I carried three cameras largely to explore their differing abilities and examine the results. The Nikon D4 and D5 are amazing, and the best, but they're huge and heavy. The iPhone is just as good for many shots, and it's tiny and fits in my pocket; it also has the advantage of being easier to produce email and Instagram posts. The mirrorless Fujifilm X-T2 is midway between the big Nikon pro DSLRs and the iPhone in both size and capabilities, in some ways offering a happy medium.
Deep in the redwood forest, Christina wasn't thinking any of this. Her mind was elsewhere. She was in church, deep in prayer.
October 20, 2018    Buckaroo Country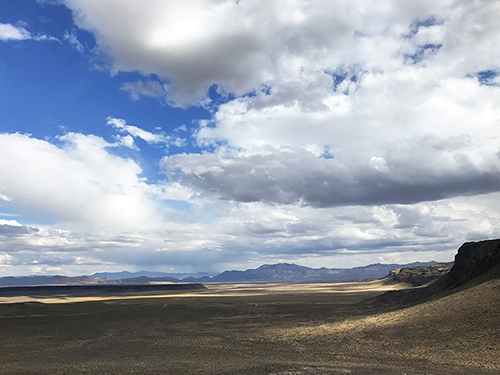 It took us one full day to cross Colorado from home in Raton, New Mexico, to Grand Junction. It took the second day to cross Utah, to Wendover on the Nevada border near the Bonneville Salt Flats (see below). On day three we crossed northern Nevada, through and beyond Elko. Just before we reached the southeastern Oregon border where we crossed through forests before reaching Lakeview for the night, we stopped here in Nevada to take pictures along a high pass. I took this one with my iPhone 7, an amazing camera, no? The location makes me think of the local cowboys in this region, known as buckaroos and wearing the distinctive buckaroo hat. As we enjoyed dinner last night at Rino's in Trinidad, Colorado, a group of six ranchers came in, the men all sporting buckaroo hats. It's a great look, and it took me back to our drive across the breadth of northern Nevada and into the stocklands of southeastern Oregon on our four-day drive to the Pacific coast.
October 18, 2018    Salt, Flat
As we pulled off the highway to photograph dramatic skyscapes at the Bonneville Salt Flats, I rushed from the car to snag this wonderful image of Japanese tourists taking a group selfie. Eight miles from this spot, where we spent the night at Wendover, the Enola Gay took off in 1945 to go drop the atomic bomb on Japan. Japanese tourists come here to see.
At the end of the second day of a 15-day, 4000-mile western road trip over the first half of October (I'm posting more photos and commentaries from the trip at my arts blog), Christina and I planned to photograph this area, having scouted it last year around the same time. I used the Nikon D5 with 24-70mm lens for all of these photos except the lower right above, where I needed the 70-200mm lens (mounted on the Nikon D4) to get close enough to the huge high conveyor belt stacking salt at the Morton factory a few miles east of these other photos. We pretty much had all of these images in mind for the full year since our last trip a year ago.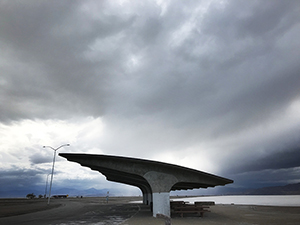 We'd finished and I'd put the Nikon away when we took a bathroom break before continuing on. That's when I spotted this shelter over picnic tables against the dark clouds of the evening sky. It stood between us and Wendover. I pulled my iPhone 7 from my pocket to take this photo. It's easy to notice the difference in aspect ratio, the iPhone having the more square 4:5 ratio it shares with Canon, while the Nikons above all have their standard 2:3 ratio, which is longer and more cinematic. Interestingly, my new Fujifilm X-T2 allows me to select which aspect ratio I want. I've selected 2:3. A side note: The 4:5 ratio fits 8"x10" prints without cropping (the 2:3 needs 8x12 to avoid cropping), while the 2:3 ratio fits standard 4"x6" prints without cropping, while 4:5 images have to be cropped to fit on 4x6 photo paper. Trade offs. In this digital age, the aspect ratios are relatively insignificant, except for graphic designers (I wear that hat here) who often have to combine mismatched aspect ratios in a single layout. I'll be doing that each of the next few mornings as I post road trip photos from the iPhone, the Nikons, and the Fujifilm X-T2.