All images © Tim Keller unless otherwise noted.
---
March 29, 2017    Dog Power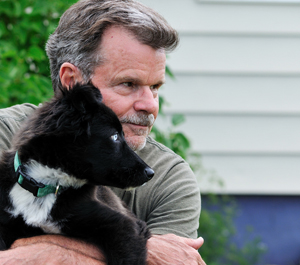 This dog and this photo won me my first of many features with New Mexico Magazine. We brought Django home from the shelter at Las Vegas, New Mexico, in early August 2010, stopping a K-Mart in Raton for the collar that he still wears today. The next day, Christina took photos of me and Django together at our home in Des Moines, NM. I sent two of the photos out to friends. One of my friends--dog lover and art director at New Mexico Magazine, Fabian West--immediately replied that she loved the pictures so much that we simply had to get me a feature in the magazine so she could put one of the pictures in the contributors column at the front of the magazine. I'd had a pair of one-page featurettes published there but nothing that would merit inclusion on the contributors page.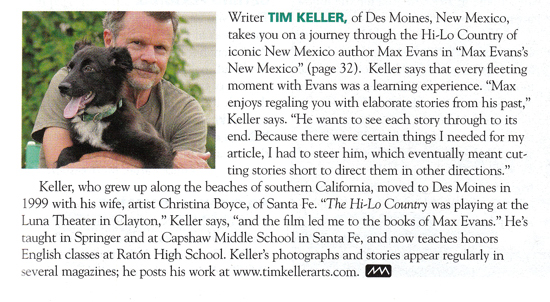 Sure enough, a couple days later the editor pitched me a pair of major features. I did the work, both writing and photography, and they were published in February and May 2011. First up was "Max Evans's New Mexico" and it included the contributor's profile featuring me and Django. (I worked simultaneously on "Home on the Range"--still among my best pieces.) The vet told us that Django was about five months old. We counted backward and found that close to my grandma's birthday. Ever since, we've celebrated Django's birthday on March 29. Happy 7th birthday today, Django! And thanks for helping to launch me in the magazine business!
---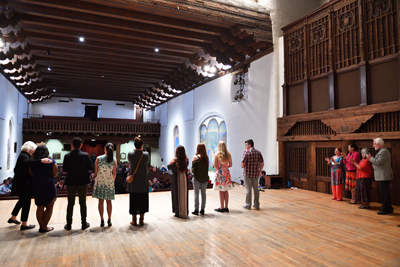 Sunday's New Mexico state finals competition for the national Poetry Out Loud recitation program was my second in a row as official photographer--the only camera allowed during the competition itself--following five years as a program mentor and coach. Yesterday I wrapped up the selection and processing of images, sending 60 hi-res photos to New Mexico Arts for its press releases, social media promotions, and the annual photo book that documents each year's event.
At top, framed by Santa Fe's exquisite St. Francis Auditorium, the four judges stand to the far right as the audience applauds the contestants, high school students from throughout New Mexico who won their school competitions. At left above, Verona Gomez returned from Las Cruces and last year's impressive performance to again shine in three poetry performances. Newcomer D'Nessa McDaniel from Albuquerque won third place with strong recitations. (Albuquerque's Juan Andres Rodriguez, shown here with Verona, placed second.)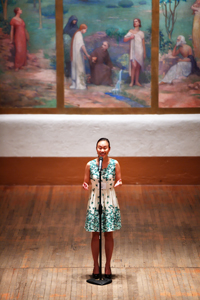 Now a senior at Albuquerque's La Cueva High School, last year's New Mexico Poetry Out Loud champion Michelle Zhou (left and below) returned to again take top honors. Each student performs three poems, judged on physical presence, voice and articulation, dramatic appropriateness, level of complexity, evidence of understanding, accuracy, and overall performance, with each of those criteria scored on a six-point scale. Successful performances take months of preparation, practice, and coaching. Experience helps, as proven this year by Michelle's repeat victory. As she did last year, she'll travel next month to Washington D.C. to represent New Mexico in the national finals that pit the 53 best students from around the country, with the national champion winning $20,000. The program is sponsored by National Endowment for the Arts and The Poetry Foundation.
NMA program director Phyllis Kennedy (in black giving peace sign at bottom left foreground) has a master's degree in photography and a graphic-design talent that made last year's book a gorgeous collector's item and a beautiful showcase for my photography. With great anticipation, I look forward to seeing this year's book, due out in summer.
---
March 6, 2017    New Mexico True Adventure Guide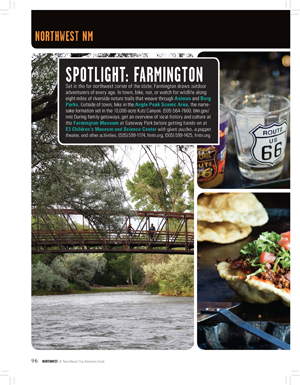 The 2017 New Mexico True Adventure Guide still hadn't been published when we stopped at the Grants visitor center on our way to California two weeks ago; it's usually distributed to visitor centers, hotels and tourist destinations before January 1. I watch for it every year because, since the 2010 edition, New Mexico Magazine's art directors have always included my photography in the state tourism-and-travel guide. We stopped at Gallup Friday on our way back through and, voila!, there it was, in countless tall stacks on counters and shelves throughout the visitor center. It never gets old or loses it's excitement, seeing one's work published. I went page by page right there in the Gallup visitor center, New Mexico's busiest, and discovered five of my photos, with three of them being half-page or larger.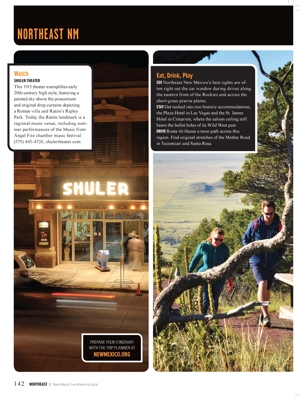 Equally exciting for me was seeing my work showcasing three regions of New Mexico, including Farmington (bridge over the Chama River above) and Shiprock in the Northwest. (Page 142 at left showcases the Northeast with my photos of Raton's Shuler Theater and hikers near the top of Capulin Volcano.) I submitted strong photos from the Southwest, South Central, and Central regions, too, that I'll hope find their way to print in another travel guide or issue of the monthly magazine--the art directors keep all the photos and continue to access them by embedded tags and keywords. My first year of retirement from teaching, I made a point last year of traveling and photographing all but one (Southwest) of the regions, submitting 100 hi-res images for Adventure Guide consideration. You can see the ones that made it here, or see the entire guide online here (where photographer credits show on the facing pages) or order your own free copy here, or look for it at visitor centers and other tourist destinations. Meantime, I've already got a good start (scroll below, for example) for next year's submissions and, more than ever, I'm enjoying the road.
---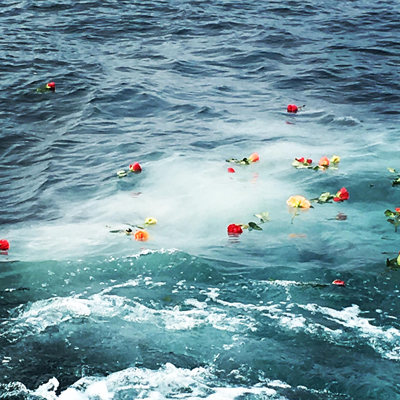 Yesterday we put our parents to sea for good. Sixty-eight years after their marriage, we commingled the cremated remains of Jack and Joan Day Keller where they asked, in the ocean north of Santa Monica Pier, straight out from Roadside Rest.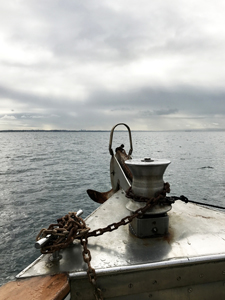 My brother Terry and I were joined by 18 of our closest family and friends from near and far...and by a male-and-female pair of pelicans, a curious seagull, countless dolphins, multi-colored roses, and a seal that followed in our wake during the three slow circles of "The Mariner's Farewell."
We all met at Marina del Rey in an early-Sunday-morning drizzle to board the 65-foot Matt Walsh, motoring through the marina, out to sea and up the coast. Despite the drizzle, most of us rode outside rather than in the protected cabin. We wanted to be out in it. I used my iPhone to photograph the bow (right), and later Terry and his son Killian (left below). We passed the pier and lined up on the California Incline, where a modern beach burger stand occupies the site of what, in my parents' youth, was known as Roadside Rest, a popular hang-out for young people.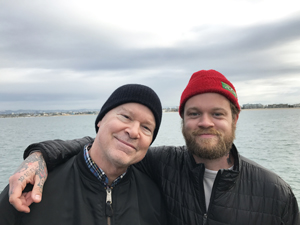 As if being joined by so much aquatic wildlife wasn't magical enough, the sun emerged from the gray clouds precisely as we began our own improvised ceremony and scattered our parents' ashes together in the sea. Carla Soto was prescient (and talented) enough to capture the photo at top of the ashes and roses trailing our boat. As the Matt Walsh completed its three slow circles around the ashes and roses, the sun tucked back behind the clouds and we all motored back to the marina, accompanied all the way by renewed drizzle and teams of dolphins.
---
February 20, 2017    Travel Photography with the iPhone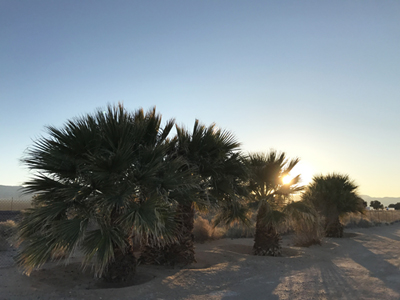 Christina and I wandered the big rest stop along I-40 between Needles and Barstow looking for good photographs as the sun set on our road trip back to California. As I've done during all these travels over the past couple months, I left my big Nikons in the car--call it a mood--and wandered with only my little iPhone 7 camera, which increasingly impresses, as you can see in both photographs here today.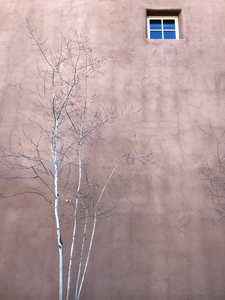 On the way through Santa Fe, Christina went to a political rally at the state capital building, supporting Planned Parenthood, while I wandered downtown looking for photographs, again with only my iPhone. I found some nice ones but this still life, at right, stands well along the best photos I've taken with my Nikons. It feels like a poem: I'll want to print and frame it. After some processing, the jpeg file is larger than 6 megabytes, so I should be able to get a nice 10x15 print. (Click any image to enlarge.) I haven't done much of this in recent years, just striking out with a camera and a couple hours doing nothing but searching for great images, though I did it often when I was starting out. As I take my foot off the professional throttle, traveling and living more for enjoyment than work, I'm looking forward to getting back to this creative wandering.
---
February 14, 2017    Hiking with the iPhone Camera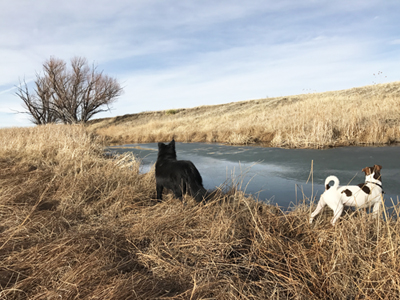 When snow covers the surrounding mountain trails each winter, I shift my daily afternoon hikes to the ranch country southeast of Raton. Although we've had a couple big snows this winter, mostly the ground has been clear as the high-altitude sun (we're at 7000-feet elevation) melts the snows quickly. I carry a sling pack with water for myself and the pups, but I don't carry any camera except my iPhone 7. The Nikons and their lenses are just too big and heavy, about 8-10 pounds each.
And yet the iPhone 7 does just fine! The top photo feels like a classic, and these others do a great job of putting Jett (a Jack Russell Terrier rescue) and Django (Border Collie rescue) in their native element (alongside me!) exploring northeastern New Mexico's Hi Lo Country.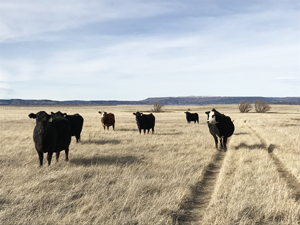 In fact, I've been doing a lot of iPhone photography off the trail as well, especially in my repeated trips to Los Angeles, and I've been regularly posting those photos to Instagram (@hilocountry). When I started professionally nine years ago, I maintained a Flickr photostream that I've long since abandoned, although I keep it online because it still brings me regular license requests and income. Instead, I've moved with most people to Instagram, though the latter brings me no license requests whatsover. Go figure.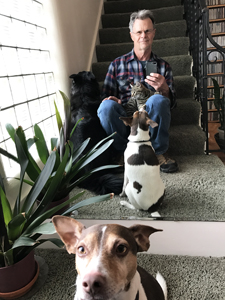 The iPhone 7 can't do everything the Nikon can, but it can do a lot. I've enjoyed exploring its possibilities and the freedom it brings in capturing photography anywhere and anytime, while the heavy gear is back in the car somewhere. After one recent hike, the dogs and I rested on the staircase up to my studio at home, joined by Smoke, our kitten, who climbed on my lap as I took this photo of our little group in the big mirror. (Click to enlarge and see everyone more clearly.) Phone photography feels like photography on the run, capturing life as it's lived with a compact but remarkable little camera traveling in one's pocket. I've taken a liking to it and increasingly--as in the top image at the pond above--find that the resulting images stand up to most of the images I take with my "real" cameras.
---
February 3, 2017    Poetry Out Loud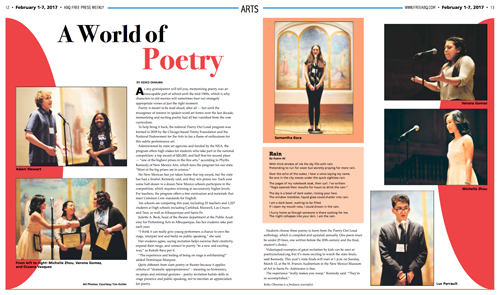 This week's Albuquerque Free Press has a centerfold double spread on New Mexico's wonderful Poetry Out Loud student recitation competition, featuring a half dozen of my photos from last year's competition, my first as the official event photographer after four years there as a teacher/coach. I'll be repeating this year when students converge at Santa Fe's St. Francis Auditorium March 12.
It's a fun and challenging gig, with my years of coaching the event a huge advantage. Only the official photographer is allowed to shoot during the event lest cameras distract the students' performances. I aim to capture dramatic moments without audible camera clicks in the quiet (and darkened) room, which is tricky. I shoot just before and after each recitation. During each poem, I watch for emotional moments with some expressive volume behind each student's words, then I try to click on the beats of the poems, where dramatic words cover the clicks. Tricky. See more of last year's shots and commentary in a blog post here. New Mexico Arts makes a great book of my photographs to use in commemorating and promoting the annual event--click here to see last year's book with 24 of my photos.
Next month I'll post again with this year's new photos and commentary. I'm excited that it's getting close.
---
January 28, 2017    Downtown Pleasures
As I look ahead with excitement to new travels, my plans mostly involve small towns and rural countrysides. I'm not generally happy or comfortable in large cities. But downtown Los Angeles has some attractions that I can't resist. Since the 1950s, my family has made the trek from the beach to downtown to enjoy taquitos (below right) at Olvera Street, the original settlement in Los Angeles. Now located across one street from Union Station and another from Chinatown, the Olvera Street district retains its Hispanic charms. Above right, I held my iPhone 7 low to photograph our group there--best friend Peter Burg, my brother Terry Keller, and my wife Christina Boyce.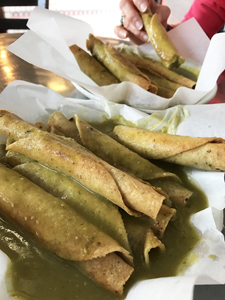 This was only my second visit to the Autry Museum of the American West, where I asked Christina to use my phone to photograph me amongst the TV and movie characters I grew up with, all of us taking up a huge wall with an impressive mural (above left). As with any great museum, we weren't able to enjoy all of the exhibits in a single visit--there's just too much to see--so we look forward to returning sooner next time. The Autry is located next to the Los Angeles Zoo and adjacent to Griffith Park, an increasingly popular area of Los Angeles drawing young families and new businesses. It's also near Dodger Stadium, where my dad took us for a dozen or more games every season back in the golden years of Sandy Koufax, Don Drysdale, Maury Wills and others. In fact, it must be my very familiarity with downtown Los Angeles that makes it, to some extent at least, an exception to my usual aversion to big cities.
---
January 14, 2017    My First Photography Studies
I grew up with these magazines. I remember them vividly, leafing through them and studying their photographs before I even entered elementary school. With my dad's death last month, at age 88, I've inherited a big box of the magazines, plus a box of the 8x10 photos that he took in photography school, his Rolleiflex camera, and his Canon cameras which I've passed on to my nephew and his wife, Killian and Brooke Keller in Austin (having become a Nikon man myself).
The cameras are just tools. Photography is about seeing. A camera is no more responsible for a photograph than an oven is responsible for a gourmet meal. Revisiting these magazines, I'm reminded that my abilities as a photographer were born years before I ever held a camera. They were born when a young boy looked with fascination at the work of great photographers. By the time I started making my own photographs, I knew what they should look like.
---
I don't remember my dad, Jack Keller, ever teaching me anything about photography but, like so much about him, his own example rubbed off on me in countless ways. He was shooting on base in the 82nd Airborne (above left), just out of Van Nuys High School in 1947, and followed a Santa Monica College business degree with a year of photography study at Santa Monica Technical School (above right) with best friend Randy Harker, who took some portraits of Dad (below) as they learned photography together.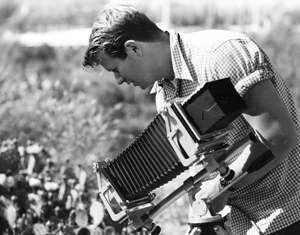 With my birth in 1950, Dad gave up hopes of making a living as a photographer but photography magazines came to the house every month throughout my childhood and Dad took countless photos with his Rolleiflex, which sits in my studio since he gave it to me a couple years ago. I loved studying the images in the magazines, along with those in the brown box of 8x10s he'd created in photo school. I don't know whether I was born with my strong visual orientation--I can't remember anyone's name until I see it in print--or whether that was nurtured through a childhood with a photographer for a father. By 13, I was photographing skateboarding and surfing with a Pentax 35mm camera and 400mm lens, processing the photos in a neighbor's darkroom. At Palisades High School, I took a fabulous year-long photography course with Bohemian art teacher Clare Frisch Steinberg, learning composition and the mantra "Simplicity is a virtue."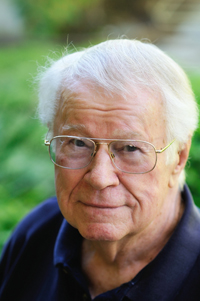 With Dad's passing three weeks ago in Santa Monica, shortly before his 89th birthday, I've been in Pacific Palisades with my brother Terry taking care of the myriad tasks that follow the loss of one's parents. (My mother died 20 months before my dad.) I've been going through Dad's photos while making a memorial slide show for next month (on Dad's birthday) when we scatter his and my mom's ashes together at sea and greet family and friends at the house, and I wrote Dad's obituary, as I did earlier for Mom. As the first born, I seem to have modeled myself after my father in countless ways--mostly unconsciously and untutored--with photography providing as good an example as any. I'm proud to have taken Dad's portrait (left) and made myself into the photographer that he once aspired to be.
---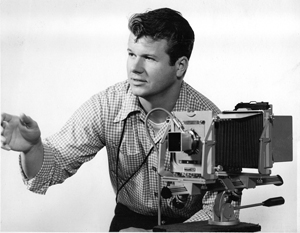 Jack Keller
      February 26, 1928 -
     December 20, 2016