All images © Tim Keller unless otherwise noted.
---
October 30, 2016    Seeing the Light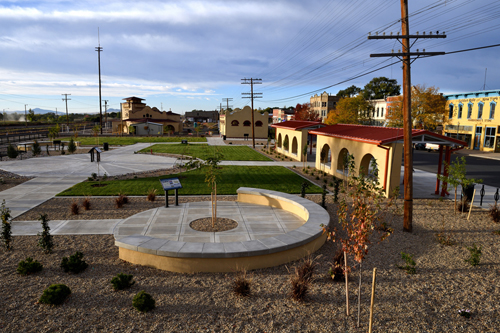 In wrapping up the month of October and my commissioned series on downtown Raton's new multi-modal transportation center, I return to the light. The wide view above demonstrates the value of setting an alarm before dawn and being on site ready to shoot the sun's first rays. In this case, it also shows the value of putting a ten-foot ladder in the back of the truck: the point of view here is 15 feet above a new parking lot as I stand high atop the ladder.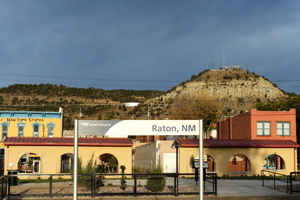 My goal in these two shots is to give my client, Albuquerque architect Anissa Hogeland, wide overviews that demonstrate the location and the effectiveness of the overall design within its site. The view at left is what Amtrak passengers see from the train looking west toward Goat Hill, the iconic Raton sign, and the southern Rocky Mountains where they dip into the neighborhood just a few blocks from the depot on historic First Street. (Click any image to enlarge it.) Anissa's multi-modal center provides a beautiful new landscaped park in the foreground where passengers can disembark to stretch their legs or transfer to a waiting Greyhound bus.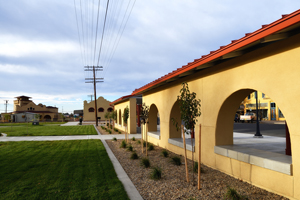 Working quickly to capitalize on the brief window of magic light--I'd scouted the shots ahead of time so I knew what I wanted--I moved from wide establishing shots to closer, tighter compositions to accentuate the design elements, such as the striking arches that characterize and anchor Anissa's designs. From funding to drawing board to bids to construction, this project took at least two years and I never found it impressive until it was completed and I saw the new site with a photographer's eyes. Now I'm sold: it's a gorgeous and iconic addition to Raton's downtown historic district, one that will be the primary impression for the countless travelers passing through on Amtrak trains and Greyhound buses. To Raton and Anissa, I say, Well done!
---
October 24, 2016    Transfer Station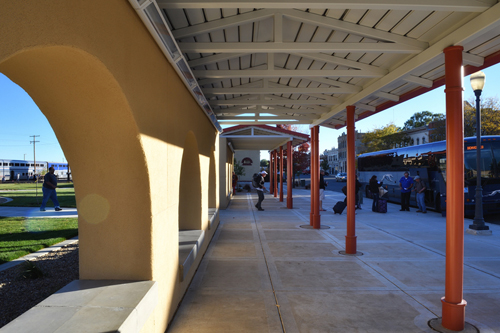 The City of Raton hired Albuquerque architect Anissa Hogeland to design a "multi-modal center" to accomodate rail and bus passengers along Raton's historic First Street. Anissa hired me to photograph the results for her and her company, Anissa Construction, after work was completed this month.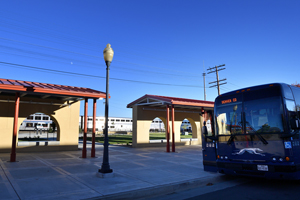 I shot in early morning light (see posts above and below), but in addition to accentuating form with great light, I wanted to accentuate function by showing the interplay of train and bus traffic. Luckily the eastbound Southwest Chief from Los Angeles to Chicago stops in Raton daily around 5 p.m., which at this time of year is right when the evening light is perfect for dynamic photography, the sun about to dip behind the Rocky Mountains on the western edge of town.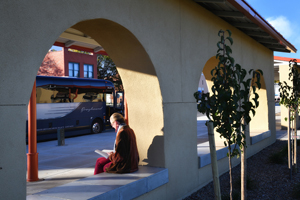 This middle pair of photos shows the bus pulled up at the new wide sidewalk ready to accept passengers transferring from the Amtrak to continue to Denver and other points north. At right, I've placed my wife under an arch reading a book to give the image life and a sense of the intended liveliness of Anissa's multi-modal center. I generally watch to find ways to incorporate bystanders into photos--especially for tourism shots or, in this case, to demonstrate the function of this new facility--but I'll also take my own "models" when I can. (I've hired young couples for this, but a wife is particularly handy!)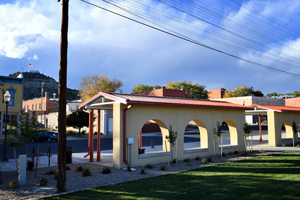 At top, you can see the Amtrak train in the left background, the Greyhound bus on the street to the right, and a line of passengers walking from train to bus with their transfers. This is my best function photo (click image to enlarge), but its effectiveness is diminished by the wide angle required to get both train and bus into the image, making the people too small and distant. Alas. All in all, though, Anissa's design and her company's construction have produced a highly photogenic new facility at the heart of Raton's historic district, one that presents our town in its best light.
---
October 20, 2016    The Ladder to Success
These north and south views of the beautiful new shelters at Raton's Amtrak and Greyhound depot, on historic First Street, are both shot at sunrise from ladders. The image at right looks north on my first morning when a blanket of gray covered the sky, rendering most of my shots ineffective. I used a 6-foot ladder that first day. A couple days later I tried again, this time rewarded with white clouds in a blue sky (left), and this time I took a 10-foot ladder: I'd seen on the first morning that it'd be better if I could get higher. Luckily I have the ladders, and the pickup truck to bring them to the site.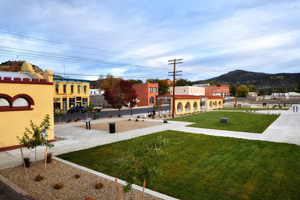 One of the first tips I offer new photographers is to vary their point of view. Lay on the ground and shoot up. Climb atop a truck or building to shoot down--or bring your own ladder. Get creative for dynamic images. Few shots are best from the basic standing position at eye level, which is where most shots are taken by amateurs. This wider view of the new facility, at right, looks north to Raton Pass from atop the 10-foot ladder, the old Wells Fargo depot immediately behind me. The shelters from the top images here appear small and distant, with their attractive colors and arches, as a result of the depth provided by the wide lens. (My three Fireballs photos here use sharply contrasting POV--the first from upstairs looking down at an autograph signing at Raton Museum, the second from a ladder backstage, and the third from below the stage.)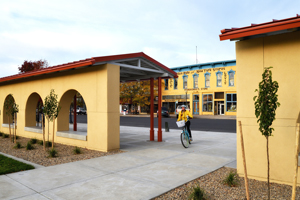 For today's final image, I'm shooting from eye level, standing up. Here I found that to be the best balance and composition. The bicyclist is again my wife: It's often good to populate your images with people, and sometimes you can bring your own. I've also hired models for this purpose, and most often (as at Capulin Volcano, below), I make use of the people that I find. People are especially important in tourism photography, but here in a photo shoot commissioned by the architect, I sought to portray both form and function. Albuquerque architect Anissa Hogeland designed this site (officially Raton's "multi-modal center") for people. She didn't specify people in the shots but I thought the images should have people in them. Anissa's beautiful design looks even better when it's being enjoyed by people.
---
October 16, 2016    The Sky Is Falling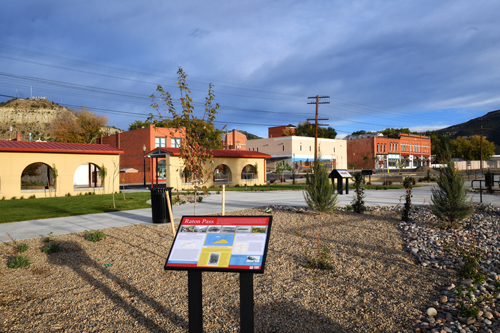 With the Capulin Volcano photos posted below, I discussed the value of clouds in photographs. My next project, the new Multi-Modal Transportation Center at Raton Depot for the architect and construction company that designed and built it, again proved the point. I set an alarm so I could shoot at sunrise, but the sky was uniform gray with overcast clouds--see below right. I waited a couple days and tried again, this time getting a good sky--see above.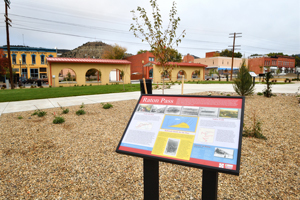 In the above photo with sun and clouds, note the attractive blue sky swirled with gray and white clouds over Raton Pass just north of this downtown view of Raton Depot along historic First Street. Note the warm sunlight on the new shelters with their arches in the background. Note the crisper colors all around, even on the sign. Finally, note the sharp shadows cast by the rising sun. (Click any image to enlarge it.) Now compare all of those to same shot, processed exactly the same, taken at the same time two days earlier when the sun was blocked by overcast. The sky is a featureless gray, colors are muted and dull, and there are no shadows. Basically, I should have slept in that morning. It's worth getting up to photograph at sunrise, but sometimes you strike out and have to go back and give it a second try.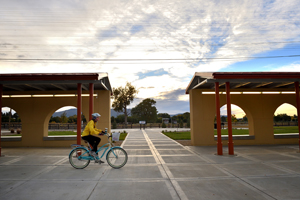 Let's do it again, comparing a second pair of images from those two mornings. Here's a photo of a bicyclist passing the new Multi-Modal Center on the wide sidewalk at sunrise on the second day with good sky, clouds and sunlight. (The bicyclist is my wife Christina. It's good to put people in your photos, something I'll discuss in the coming days.) Again, the image has great contrast and plays of light, including a dramatic sky and nice shadows.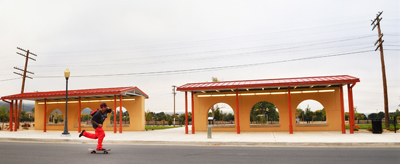 The earlier overcast day produced this photo of a skateboarder that happened by on his way to work. I saw him coming and backed up quickly to grab this shot. See how gray everything is? No clouds, just a blanket of gray. It was just past sunrise timewise but because of the overcast it was still quite dark. To make this photo work at all, I've lightened it a lot and popped up the contrast and saturation to bring out the reds. I guess it worked: of the 24 images I sent to my client, it's the first one she's complimented and expressed excitement about. I prefer the one above it, but the red-panted skateboarder worked better for the client--and that's important.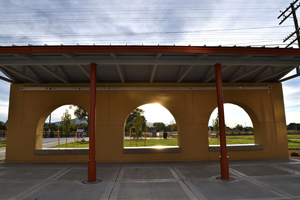 I'm planning three more blog posts over the coming days, each showcasing more photos from this project and discussing various aspects including point of view (I took a 10-foot ladder to shoot from above) and the inclusion of people even in architectural photos. I wanted to portray both form and function to showcase the success of the new Multi-Modal Transportation Center. With the sun rising through the arches of the new shelter, wisps of white clouds above in a new blue sky, I'll sign off for today, but I'll be back soon with more.
---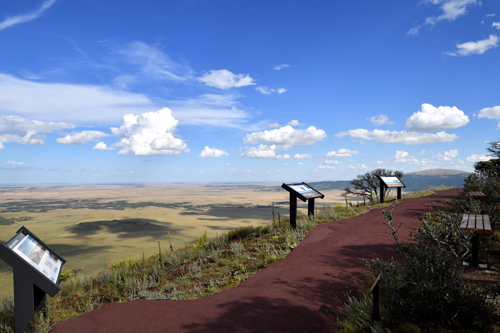 I watched the forecasts and skies for six days before following afternoon cumulus clouds back out to Capulin Volcano for a productive shoot from the top of the volcano and then all the way around a far radius, loop road 325 to Folsom and Des Moines. The eastward view above, from the lookout at the volcano rim trail's highest point, demonstrates the value of clouds in landscape photos while showing another reason to visit this unique national monument.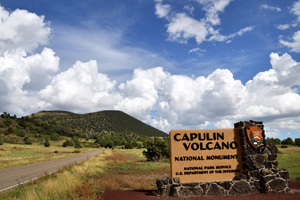 Scanning the horizon above from right to left, there's Sierra Grande looking small just a few miles away with this wide-lens view. It's actually a different kind of volcano 500 feet higher and much bigger than Capulin Volcano. Sitting at its base to the left, too small to see here, is the village of Des Moines, population 150 people until Christina and I moved from there to Raton four years ago, dropping the population to 148. Continuing left to beyond the left frame, the horizon shifts to Texas, then Oklahoma, then Kansas, and finally Colorado. Yep, you can see five states from this vista atop Capulin Volcano.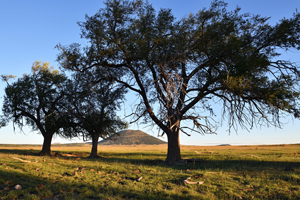 Six days earlier, my sunrise photo shoot lacked the benefit of clouds--morning clouds are rare out here--so I worked with whatever else I could find. Here, the volcano is seen through old trees, the only life left beside the crumbled rock-wall ruins of a long-abandoned homestead. This area boomed with homesteaders from 1900 to 1932 when there were homes every quarter mile or so, and a school in every section. I used to have a ball hikiing out there, exploring among all the old homesteads. One by one, each failed homestead was bought up by ranchers that grew their operations into the few big outfits in the area today. Max Evans's novel The Hi Lo Country, and the film of the same name, show the process well. Max made up the title while sitting one day atop Sierra Grande.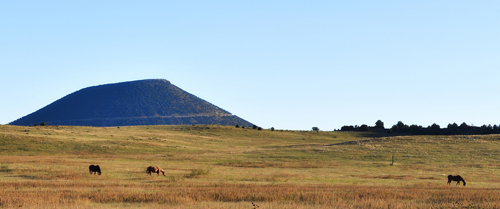 The final photo is taken along the fence line next to Highway 64/87 immediately east of the village of Capulin (which is smaller than Des Moines) and recognizable to anyone who's passed through there. It's a gorgeous area. I used to commute to work on this drive, from Des Moines all the way to Springer, and later to Raton, and never ceased to appreciate my good fortune. Living in the midst of the Hi Lo Country is my dream come true. If you can, give it a visit. Bring your camera!
---
October 7, 2016    Capulin Volcano vs. People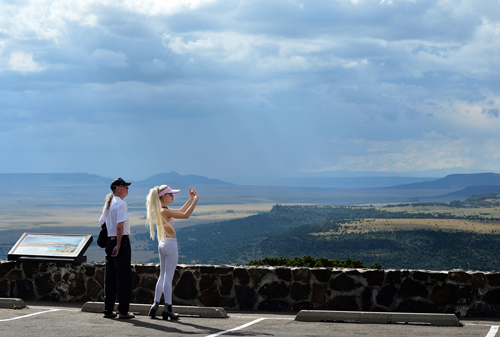 One of the lessons I've had to learn is that tourism photos are better if they have people in them. New Mexico True and New Mexico Magazine both specifically ask for that. I'm usually alone when I'm shooting, and I'd often just as soon create images without the people--such, I guess, is my loner personality. My solution is to watch for people that I can put into my photographs and take advantage of their presence in any ways I can.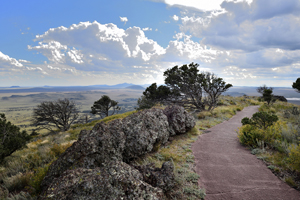 I was just getting out of my car in the upper parking lot on Capulin Volcano when I spotted the couple above, so I grabbed the camera with the long lens on it and snapped this shot. I never spoke with them and they never knew that I shot them. If they were closer I'd probably need to get their names and verbal permission, but at this distance they're essentially anonymous tourists. I did watch them a little longer in case I could get more but, as you can guess from the gal's shoes, they didn't walk far.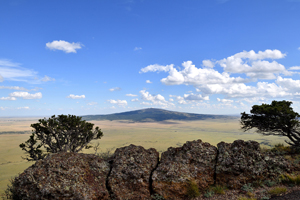 At the bottom of my first volcano post two days ago, immediately below, I posted a photo that incorporated a couple hiking downhill from the camera. I processed another with them walking uphill into the camera and much closer but ultimately decided to emphasize the landscape by de-emphasizing them. I did enjoy chatting with them up there on top of the rim trail, and they were tickled to be included in my photo shoot, walking down and back a couple times for my shots.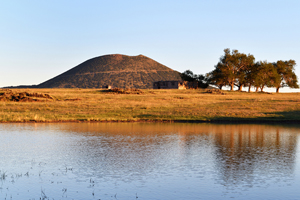 As discussed below, I did a sunrise shoot but morning clouds are rare around here. I waited six more days for great clouds and most of the photos I'm posting are from that afternoon foray. Here at the right you can see how cloudless photos compare. Everything else about the photo works fine, but with the empty blue sky it just lacks the drama and visual excitement provided by big cumulus clouds. It's no coincidence that the majority of the "keepers" I provided to the national monument were from the afternoon shoot, filled with gorgeous big clouds.
---
October 5, 2016    Capulin Volcano
Capulin Volcano has always been an iconic feature of northeastern New Mexico's landscape. Just over 100 years ago (August 1916), President Woodrow Wilson created Capulin Volcano National Monument. I was thrilled last month when the monument hired me to create new photography for use in promotions, education, books and social media. They (@capulinvolcanonps) and I (@hilocountry) have already started posted some of the results on Instagram.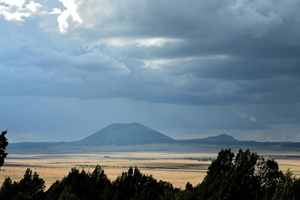 I spent two half-days--one cloudless morning and one dramatically cloudy afternoon-- inside the monument and shooting the volcano from the distances in all directions. For thirty minutes I waited at The Mandala Center on neighboring Sierra Grande volcano for the sun's bright rays to poke through and hit the volcano for the shot here on the left. Instead, the sky closed in and started raining. This vantage, on Sierra Grande, is where my friend Max Evans conceived the title of his 1961 novel The Hi Lo Country, which has now given its name to the entire northeast corner of New Mexico.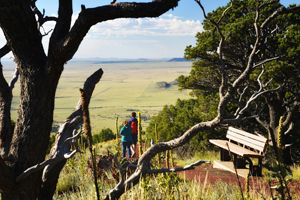 High atop the rim trail just after the park opened at 8 a.m., I was able to photograph a couple hiking; they were on a road trip to Florida from their home in Colorado Springs. Clouds here are rare in the mornings: The distant clouds in the south were the only ones around that morning. As you can see above, clouds are critical in making great landscape photos. After my cloudless morning foray, I watched the forecasts for six days until it filled with clouds. It helped that Capulin's clouds usually pass over my home in Raton about an hour before they reach the volcano, giving me a chance to verify the forecast. I chased the clouds to Capulin. My afternoon photo-hunting expedition hit pay dirt.
---
October 2, 2016    Inked Fingers: Discover a Great Photographer
On the streets of Brooklyn, my daughter Darcy Day Keller found the perfect Austin photographer for her Austin wedding to Jarrett Lambo last
April. Carli Rene (whom I photographed, lower right in sunglasses at the wedding rehearsal) does business as Inked Fingers, and she's busy! Enjoy her fabulous website to see why I'm so impressed with her photography and her business.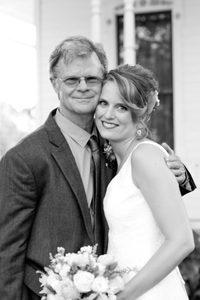 Late at night at a lodge in Red River after an August wedding, Christina and I spent two hours viewing Carli's thousands of photos from Darcy and Jarrett's wedding. On my arts blog today, I've posted Carli's photos of me and Darcy singing duets at the dance after the wedding reception dinner, and I've pointed out Carli's skilled use of flash--see that post here. Now, along with my photo of Carli above (like many photographers, she's hard to get to sit still to be photographed), I'm sharing four of our many favorites from the wedding--we had more than 100 images in our Favorites folder on Carli's website, part of our process of choosing which images to purchase. In my web bookmarks, I have a folder of favorite photographers whose websites I enjoy visiting like I enjoy viewing photography shows in galleries. Inked Fingers this year became one of my favorite photography galleries online. Give it a look and I'll bet you spend as much time there as I do.
---
September 19, 2016    Bull Rider
The 106th annual Trinidad Round-up Rodeo provided its usual Labor Day thrills and spills. For photographers, it presented better--closer--access than many rodeos. Behind the chutes, I spotted this pink-shirted tattooed bull rider and found him particularly photogenic. He was focused on his job and never knew that I was photographing him. Only after the rodeo did I find his name, Ryan Duensing.
As you can see, Ryan's day didn't go as hoped. These guys devote their summers to traveling from rodeo to rodeo, living much of the time on the road, for the hope of lasting eight seconds on a bull and winning a little glory and enough money to at least cover expenses. As far as I can tell, they rarely last eight seconds. Ryan didn't, and you can see it all on his face in the last picture. On to the next rodeo for Ryan, although the season is about over and cowboys go back to ranch work and sundry other jobs, dreaming of glory and one successful bull ride...next summer.
---
September 8, 2016    Rodeo!
The 106th annual Trinidad Round-up Rodeo over the Labor Day weekend drew its usual holiday crowds though the number of entries was down noticeably from last year. There's good access for photographers and I again enjoyed shooting the action, beginning top left with the 55th consecutive appearance by the Westernaires precision mounted youth drill team. Team roping had the largest number of entries, in different divisions (top right). There's no dressing room for the bullriders when they get into their protective clothing and gear so they dress behind the chutes (bottom right), then climb atop bulls. Pueblo pro bullrider Clay Mattarocci (bottom left) was one of the few to last the required eight seconds atop a bull.
In turquoise chaps, Robert Aragon of Mosquero, New Mexico, looked great out of the gate on his saddle bronc, though he failed to last eight seconds. Father-son team ropers Carr and Austin Vincent applied the brakes as they realized they'd overrun their calf. Oops. At bottom left, Rowdy Chesser took flight from his saddle bronc shortly after leaving the gate. (Click any image to enlarge.) A saddle bronc named "Bag of Fun" had fun dumping Taylor Tupper, who was reduced to biting the dust (bottom right). In fact, successful rides--whether in rough stock or roping--are relatively few. Rodeo competitors make huge sacrifices to spend a few seconds trying for success. Mostly they fail. Then they travel to another rodeo to try their luck again. Their tenacity is among the many factors that make rodeo classic Americana.
---
September 4, 2016    New Mexico's Art in Public Places
New Mexico Arts (NMA) has an innovative program called Art in Public Places -- AIPP-- that places works by New Mexico artists in public places throughout the state. The 25-year-old program issues a call to artists every two or three years (it's varied due to administrative changes) to submit three images for consideration by the program. A panel of judges selects images from the submissions, then the NMA staff takes them around the state in a slideshow for building administrators to pick and choose with budget monies provided by the state. The money is typically allocated as 1% of construction or renovation grants.
In my first year, two of my three images were accepted and both were purchased in the first showing, in Albuquerque, resulting in one of my photos hanging permanently in the Belen Public Library and another at Cabezon Recreation Center in Rio Rancho. The next cycle, all three of my photos were selected and then purchased: One now hangs in UNM Hospital in Albuquerque, another in the Luna County Sheriff's Department in Deming, and the third awaits installation at Roosevelt County Hospital in Portales.
Another cycle has begun and I was thrilled to learn last week that all three of my new entries (above) have been juried in and will begin touring the state for purchase consideration. This time, I enjoyed entering images from three corners of New Mexico--a Raton balloon rally, an October cornfield near Hatch, and the majestic Shiprock in the Four Corners area. My entries were all shot during the past year. If and when each sells, I'll receive notice from NMA. With good fortune, I'll deliver three large (32"x43" framed) prints next summer to locations throughout New Mexico. Benefitting artists, public programs and the public itself, what a great program--another of the countless reasons I'm so happy to have made New Mexico my home!
---