---
August 25, 2013     Pencil Pusher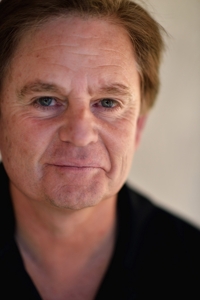 When my work appears in a magazine, I don't post it to my website until after the magazine issue finishes its sales run. The whole point of my work in the magazine is to gain sales for the magazine and I don't want to undercut that goal by posting a free feature when it's still on sale at newsstands. Besides, it might (rightly) anger the very editors who keep me in work.
Last month's Western Horseman is now a back issue, which has allowed me to post here on my site my feature on Western pencil artist Dino Cornay. Rereading it now, I'm pleased with the profile itself, and I've added several photos that I submitted to the editor but that weren't used. I always send a lot more photos than any editor uses; that way, the editor and art director can choose what works best for them. I think art directors, especially, appreciate having choices.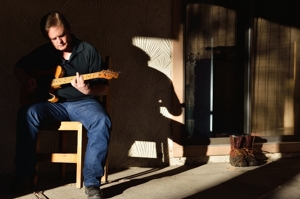 Although Dino's renown comes from his stunning pencil work, he's just as passionate about his guitar playing. The magazine didn't highlight that much, but I enjoyed portraying Dino's love of music through photos of him with his Telecaster, including this one at his back porch, just outside the kitchen of his home in Folsom, New Mexico. Those boots were sitting just inside the door but I liked them so much that I set them outside. The light's so great that I'm a little surprised the magazine didn't use the shot. But, after all, it was a profile of a pencil artist, and to their credit they used up a lot of the image space sharing Dino's drawings rather than my photos. Good choice.

---
August 18, 2013     It's In His Lips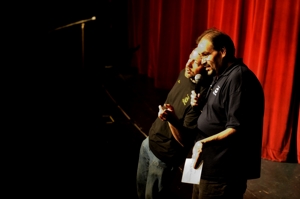 It took 36 annual lip sync contests before I got around to seeing one. Lip Sync 2013, presented by Eileen Gonzales Friday and Saturday nights at Raton's Shuler Theater, pitted 25 acts in a performance contest for prizes up to $200, with emcees Sean Green and Robi Gonzales (right) providing at least as much entertainment as any of the other highly-entertaining acts. They came in all ages from toddlers to their great grandmothers in a remarkable show of "Hometown Entertainment."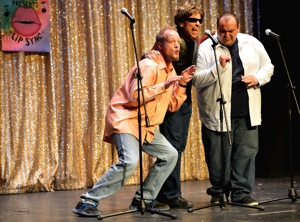 Judges awarded fifth place to last year's winner, "Billy D" Donati, accompanied last night (left) by his fellow KRTN deejays Just Daniel and Big Mac performing "It's Alright" by Huey Lewis and the News. Billy's wig made him the spittin' image of Phil Spector, making me wish he'd performed "He's a Rebel" or "Da Doo Ron Ron." Heck, if Lyle Lovett can perform "Stand By Your Man," Billy D can perform "And Then He Kissed Me," another Phil Spector classic. Maybe next year, at the 37th annual event.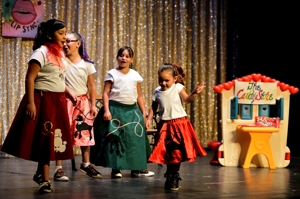 Speaking of girl groups, this year's winning performance was "Leader of the Pack" by this group of young girls calling themselves The Rondells. (The song was actually recorded by The Shangri-Las.) They were cute (as were the costumes and the set: "I met him at the candy store"), but I think what the audience liked most was seeing comic Robi Gonzales alternately push and carry a boy toddler across the stage on a little toy motorcycle, evoking the titular leader of the motorcycle gang.
It was fun, and quite a shifting of gears from the mud bog racing I'd photographed earlier in the day. I look forward to doing both again next year.

---
August 11, 2013     Crossroads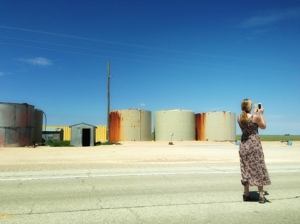 On the six-hour drive home from Hobbs yesterday we stopped for Christina to see the oil tanks that I'd photographed for one of my favorite images in "Eastern Plain," my show that opened Friday night at Lea County Museum Gallery in Lovington. Not surprisingly, Christina got out and stood on the center line south of Crossroads to take her own panoramic photograph of the wide New Mexico plain. She had plenty of time: no other cars were anywhere in sight. From the driver's seat, I used my iPhone to take this photo of her taking her pano shot.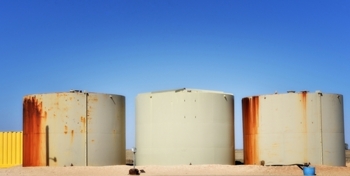 Here's my "Tanks, Crossroads NM," which can be seen in the show via the link above (or larger by clicking the image here). It's a big print, 30 inches long. I had to work hard to find art photography in Lea County's oilfields and this is one of my relatively few successes.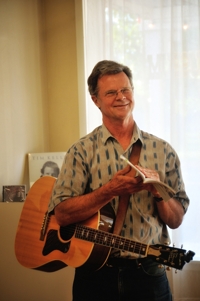 Museum director Jim Harris is a man of many facets and fan of many arts, including writing, photography, and music. He asked me to present some songs and poems at the reception so I gave a brief concert. Christina took this picture of me in midstream, reading some poems from My Confession between songs. It'd been a long time since I last sang for an audience and you can see that I enjoyed it. With my music now available at iTunes, Amazon, and other online sources, I'm hoping to keep my guitar out and give it more use. Meantime, the new school year begins tomorrow, which will make writing, photography, and music all the more difficult to accomplish. Somehow, though, I always manage to combine them all. I'd better or there won't be anything else to post here!

---
August 5, 2013     Strike Up the Band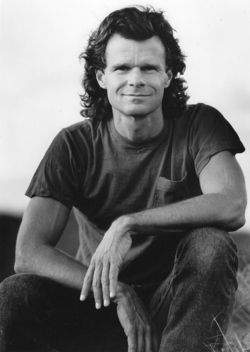 Thirteen years in, I've finally signed up with the Twenty-First Century and posted all of my recorded music online with most of the national distributors -- CD Baby, Amazon, iTunes, Rhapsody, Google Music Store, Shazam, 24-7, Xbox Music, and more. Individual songs can be previewed and purchased separately, or they can be bought in the complete original albums -- No Stranger to Wishes (1987), Live at Uncle Calvin's (1989), Little Miracles (1995), and The Darcy Songs (1995).
Along with downloading songs, it'd be a huge help if you'd post some ratings and maybe a review or two to start building each site's Tim Keller music pages! (Thanks!) Wherever you choose to download, I recommend starting here at CD Baby for the great notes and reviews; it seems to be the best site for exploring music. Meantime, of course all of the lyrics, credits, liner notes, photos and graphics are available here at Tim Keller Arts.

---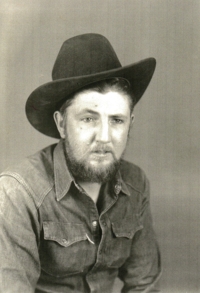 "Though Big Boy was only about five foot eleven, he gave the impression of being taller, and he looked thirty pounds heavier than the two hundred he actually weighed. An impression of terrific reserve power just barely held in check at all times, was given by the way he talked and moved. I thought of him as being dark, but this wasn't so: his hair was light brown, and he had a strange kind of skin, almost white but with just the faintest touch of olive, that never tans or burns but always stays the same, indoors or out. He had a long, broken nose, not flattened but twisted a little to the side by a horse's hoof.
     "I just couldn't handle mean horses as casually as he did, and I had to admit I admired his talent. If only people were more like horses, Big Boy would have lived to a ripe old age."
                                           -- Max Evans, The Hi Lo Country
Max's Big Boy Matson was based on his friend Wiley "Big Boy" Hittson of Des Moines, New Mexico, which itself provided Max with his town of Hi Lo. Last week Max sent me an 8"x10" of Wiley, the only studio portrait Wiley ever had taken. On the back, Max wrote, "Already an old, old, man. Wiley (Big Boy) Hittson - 22 1/2 yrs. old - he had this made for Mona."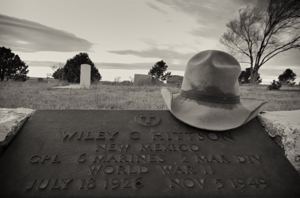 In the 1961 novel as in life, Big Boy was shot and killed by his little brother in a fight at the family home out Weatherly Road northeast of Des Moines. Woody Harrelson played Big Boy in the 1999 film directed by Stephen Frears and produced by Martin Scorsese.
I'm posting a hi-res image file of the portrait and marking it Public Domain -- just click above on Big Boy's portrait to get the big file. Other resources include my New Mexico Magazine feature Max Evans's New Mexico and my Western Horseman feature The Horse Who Made Max Evans a Writer, both available here. Enjoy.

---
July 20, 2013     Red River Valley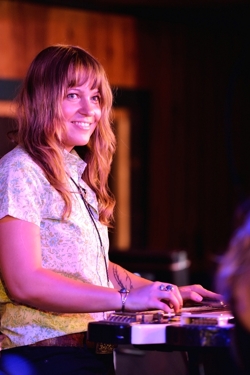 Since photographing Michael Martin Murphey's 40-year reunion with his original Austin band two weeks ago tonight (see July 10 post immediately below), I've been back to Red River twice more, spending two days and four nights photographing and reporting on the small mountain town's unique and vital music scene, built upon a foundation of Texas music with special ties to Austin songwriters. Last night Christina and I drove up for Robert Earl Keen Jr.'s concert at Bull o' the Woods (see photos and story here), but the other nights were devoted to the Texas Red's/Motherlode Saloon/Michael Martin Murphey axis of venues (below right) that center around passionate music fan and entrepreneur Steve Heglund. That's where I got this picture of charming Brandy Zdan, a Canadian multi-instrumentalist who has become the fifth Trisha. The Austin band The Trishas is known for four members. Brandy stands behind them playing pedal steel guitar, accordian, and a big red hollow-body electric guitar. (As always, click any image to enlarge it.)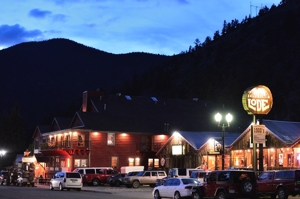 My New Mexico Magazine feature, due out at the start of summer 2014 but being written this week, will explore the Texas-Red River music connection, how it started and how it lasts. I've learned that the single biggest reason Texans flock to Red River in the summer is the climate: the daytime highs average around 75 degrees. Rick Fowler says the town wastes its promotion dollars: "All they have to do is put out signboards around Amarillo saying 'Red River: Bring a Sweater.'" It's generally been 20 to 30 degrees cooler when I arrive in Red River than when I leave Raton 90 minutes earlier -- and Raton's a lot cooler than Texas.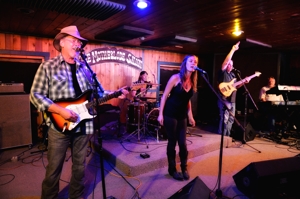 Here at the left is present-day Red River music institution Mike Addington who plays a three-hour gig in Texas Red's Love Lost Saloon -- 7 days a week all summer -- then on Friday and Saturday night walks next door to The Motherlode to play dance music with his band $2 Horse. Mike and his music impressed Dave Herndon, the editor of New Mexico Magazine, and now they've impressed me, especially with Mike's beautifully produced album Horizon and Main. Highly recommended.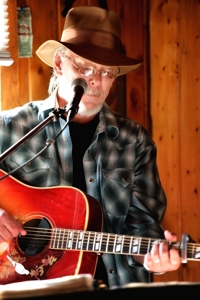 Here's a photo of Mike singing at Texas Red's about three hours before he's singing above at The Motherlode. That mention of his album reminded me of something. Between my time around music in Red River and my upcoming mini-concert at the reception for my Lovington photography show, I took the long-belated plunge and started putting my music for sale digitally online. (I waited longer than The Beatles did.) It has to go through a distributor but at this point my last and favorite album, Little Miracles, is on its way. In fact, I just looked and it was added to iTunes today (!), with Amazon (where I see someone in New Jersey has a new copy for sale at $50 - that's going to change!), CD Baby (with lots of reviews included), and Rhapsody among the others adding it any day now. Soon (it takes some work and money to grease the wheels) Little Miracles will be followed by No Stanger to Wishes, Live at Uncle Calvin's, and The Darcy Songs. Meantime, of course, they're all available here in the old-fashioned physical formats along with all the liner notes, lyrics, photographs, credits, and other perks. (Don't let that stop you from giving the new iTunes page a little traffic though!)

---
July 10, 2013     Reunions
A last-minute feature assignment from New Mexico Magazine led to my getting to see two musicians I played with in Texas back in the day. Paul Pearcy spent a week with us in Dallas in 1995 playing all of the drum and percussion tracks on my final album, Little Miracles. Paul's an extraordinary musician and fabulous spirit to spend time around. Bob Livingston joined Hudson & Franke in backing me on bass for a concert at Austin's Cactus Cafe (July 29, 1987) while I was in town recording my first album, No Stranger to Wishes.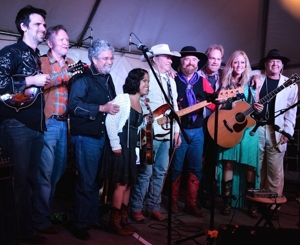 Paul and Bob were at The Motherlode Saloon in Red River, New Mexico, Saturday night to participate in the reunion of the original Michael Martin Murphey Cosmic Cowboy Band, which helped launch Murphey's career. When Murphey left in the mid-70s, the band hooked up with Jerry Jeff Walker and became the legendary Lost Gonzo Band. In both incarnations, they were the seminal Texas Outlaw singer/songwriter band, a key forerunner of what's now known as Americana or Alt-Country. Taking applause at the end of an unforgettable two-hour performance, above, are Michael's son Ryan Murphey, Craig Hillis, Herb Steiner, Mei-Ling Felton, Gary P. Nunn, Murphey, Livingston, Pauline Reese, and Pearcy.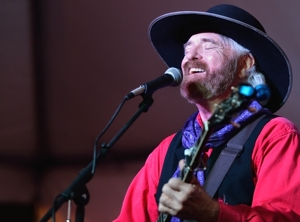 I'll be writing a feature on Red River's dynamic music scene and how it's retained its strong links with this Austin music for all of these decades, to run in New Mexico Magazine next June or July. I played at Texas Red's in Red River in 1989, and all those years of playing clubs are partly what led editor Dave Herndon to choose me for this feature. I'll be back in Red River Friday night to catch The Trishas at Texas Red's, then I'll stay over for Michael Martin Murphey's Saturday night chuckwagon concert in his new amphitheater. In between, I'll be interviewing him and many others to develop next summer's feature on this unique little town and its always-poppin' music scene.

---
July 4, 2013     Noah Said to God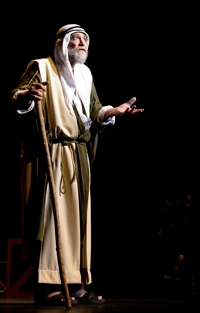 I enjoyed photographing last night's final dress rehearsal of the Kaleidoscope Players' musical comedy "Two by Two," which opens tonight with an early show so everyone can get outside in time for Raton's annual city fireworks show. I'll be reviewing tonight's performance for The Chronicle-News, which recently asked me to return to freelancing for them to provide Raton stories that will be of interest to residents of Trinidad and southeastern Colorado. Besides the Shuler Theater season, I've been covering this weekend's International Santa Fe Trail Balloon Rally. Check the Chronicle link above to read my preview and see some of the photos I've put in the Old Pass Gallery's balloon-themed July art show, "Up, Up, and Away." I'll be at Saturday afternoon's reception for the show, right after the parade.
"Two by Two" tells the Old Testament story of Noah, beautifully played by Rick Trice (seen here in conversation with God), with music by Richard Rodgers, musical direction by Bill Crary, and live piano accompaniment by Carol Simmons. The cast of eight has fun conveying the play's various life lessons.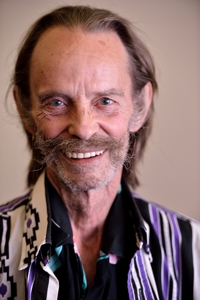 Today's Chronicle has my profile of returning Kaleidoscope Player David Ode, right, who plays Noah's son in "Two by Two." David first performed at the Shuler in 1968.
I'll be out for the next two, and maybe three, mornings photographing and reporting on Raton's balloon rally, which is shaping up to be exciting and beautiful. Meantime, I'm gearing up to do two new stories for New Mexico Magazine, which is sending me up to Red River for Saturday night's reunion of Michael Martin Murphey's original 1970s Cosmic Cowboy Band, playing at The Motherlode. The town is overbooked down to the last couch, so I may be napping in my car on the way through Cimarron Canyon with hopes of making Raton for Sunday morning's sunrise mass ascension of 15 hot-air balloons.
I'll be back in Red River next Friday night to Sunday to shoot two more shows and get a 2000-word feature on Red River's unique and dynamic music scene for summer 2014 New Mexico Magazine publication. I'll be spending Thursday night in Mosquero for a fall New Mexico Magazine piece on the village's transformation as it covers every building in amazing murals.
Most exciting to me at the moment is the news that New Mexico Magazine will publish my 3000-word personal travel essay early next year. "Eastern Plain: Oil and Cattle Ranching Mix It Up in Southeastern New Mexico" is my best writing to date; the editor told me this week that they'll be proud to publish it. It was originally intended for Ranch & Reata, which I've asked to wait until next summer before they publish it.
Finally, yesterday I posted my current Going Places featurette from the current issue of New Mexico, a road trip to the unique small-town museums of Raton, Folsom, and Clayton. And I posted three News items on my photography blog, including the new availability of my photography in the 18-page George Tomsco feature in the Fretboard Journal. Lots going on! I guess that's the way summer is. And if that's not enough, today's the 4th of July! Enjoy.

---