---
August 24, 2013     Stringing Along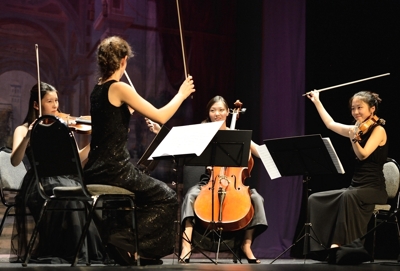 Last week's blog post, immediately below, visited mud bog racing. Let us go from there to chamber music. Yes, within a four-day span, amazing little Raton, New Mexico, population 6000, hosted both mud bog racing and a sublime concert of Schubert's chamber music performed by two world-class ensembles under the auspices of Music from Angel Fire, which has brought these programs to Raton's Shuler Theater every August since 1987.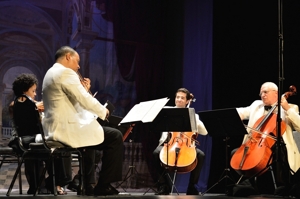 The women of the Rosamunde String Quartet, above, are barely into their 20s but have already immersed themselves in the music and their instruments long enough to present an enchanting performance of Schubert's Quartet in A Minor for Strings. I enjoyed them even more than the venerable Harlem Quartet, which was joined by legendary cellist Fred Sherry for Schubert's Quintet in C Major for Strings. On that word legendary: I wish I'd had the opportunity to read the biographies of each musician and group prior to the concert! Their histories and renown are impressive, increasing my appreciation after I had the pleasure of experiencing their performances. Music from Angel Fire's program is the size and quality of a fine magazine: next year I'll arrive early enough to read the notes and comprehensive biographies before the show begins.
---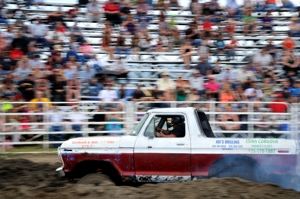 I tried something new yesterday: photographing mud bog racing! I'd never seen it and never known it had a New Mexico circuit leading to a state championship. The Raton rodeo grounds were more crowded than I've ever seen them. The parking area was full and I had to park down the highway. I've never seen so many of my own high school students at a non-school event in Raton. Even one bank president, at least, was standing as close as he could get to the course, enjoying the mud-splattered races.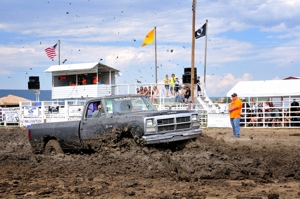 I started on the announcers-booth ramp so I could be above the course and have the grandstands in the pictures. That proved to be a mistake: none of those photos made my first cut in sorting. Then I came down to ground level and slowed my shutter as much as I could on the sunny day (next year I'll add a neutral density filter to further slow the shutter), resulting in the top shot which works mostly because the truck, Joey Martinez's Devil's Taxi from Taos, is spewing smoke that helps give a needed sense of motion. Panning with him helped to blur the crowd, adding to the motion.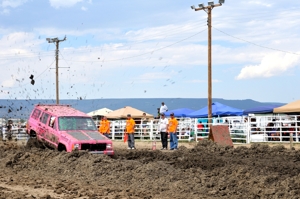 When I moved to the other side of the Raton rodeo arena, beside the grandstands, I discovered that there was lots of flying mud that didn't show up from the announcer's side of the arena. You can see the flying mud in these two photos: it adds to the excitement, the sense of motion, and the sense of the story. (Click any image to enlarge it.) I often find that the last photos I take are better than the first photos, no matter what the event. Experience teaches. The mud bog races were fun, and next year I'll be better prepared to convey that fun photographically. (The race occurs the same day as another first-time event for me: a lip sync contest!)
Except for the top image, these photos show women racers. Congratulations to Raton Middle School teacher Deia Williams who raced her Dizzy Deere mud bog truck then married Darren Craig right there in the arena during intermission. How cool is that?
---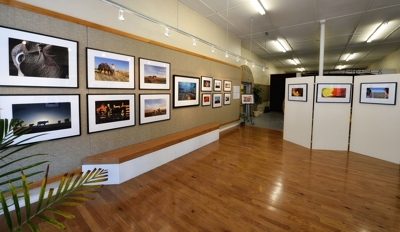 What a thrill it was Friday night to open my show "Eastern Plain" at the Lea County Museum Gallery in Lovington! Hanging the show Thursday evening with my wife Christina and museum director Jim Harris, I couldn't be happier with how it turned out.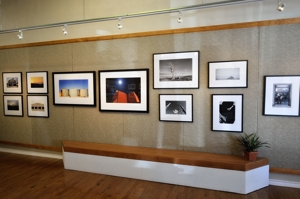 People came from Hobbs and other points around the county to see the photography and hear a mini-concert of my songs and poetry. The gallery itself is gorgeous and made my work look fabulous. It was a thrill to see so many new images gathered with some older ones in a show of 34 framed photographs. Visiting with guests and watching as they examined my photographs was great fun.
 
 
A popular feature, one I first tried at my October 2011 Holiday Inn Express show in Raton, was a table filled with magazines that have my various features and photographs. There were a lot more magazines this time, with another half dozen due between now and next summer.
"Eastern Plain" remains on display at Lea County Museum Gallery through November 12.
---
August 5, 2013     A Public Hanging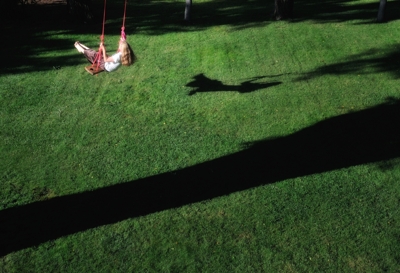 Christina turned 50 on August 1 and convened a birthday party Saturday to celebrate. Our artist-tree trimmer-Renaissance Man friend Nathan Green came from the ranch between Folsom and Des Moines to hang the swing of Christina's dreams. They'd hatched the plan together last winter when Nathan was working up high in our trees. Christina picked the hot pink rope.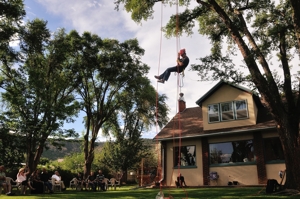 I didn't want to waste a great show. Knowing what Nathan would be doing, I'd planned to announce it to everyone and gather on the front lawn to watch Nathan work. He tossed his guide cord high over a branch 40 feet in the air, then used it to raise his climbing rope. Once aloft, he pulled Christina's pink rope up for mounting. (Click photos to enlarge.) Nathan bought the special rope from the arborist's catalog he uses: we expect Christina to be swinging on it through all four seasons for years to come. And she's not the only one caught in its sway: everyone took turns from cranking ice cream to try the swing, and the next day family members each walked into the quiet morning to swing.
 
---
July 27, 2013     Clue Me In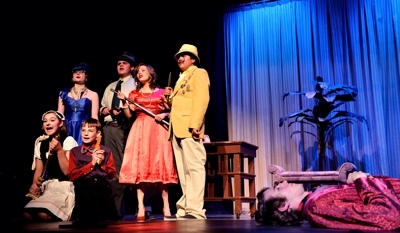 Since I began photographing and reviewing Shuler Theater shows almost five years ago, I've sat front row center to minimize distraction and irritation for other theatergoers. Sometimes I move to the back or sides of the auditorium; other times I shoot from the balcony or loge boxes. Last year I started shooting some final dress rehearsals because I could move around at will and not worry about disturbing patrons.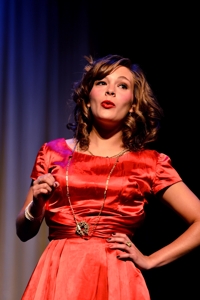 This summer I haven't shot shows with audiences at all until last night. I've shot all of my publication images at final dress rehearsals, to avoid those camera clicks during actual performances. Then I've returned for opening night to officially review the show. However, I finally had to fold this week. It's partly being too busy and partly economics: I just can't afford to attend two complete performances in order to get what is often one published photograph. I'll still do it when I can, especially when the show is one I enjoy seeing twice, but as the new school year approaches, following a summer in which I worked beyond full time on writing and photography, I'll be shooting shows from the front row with audiences behind me. I'll try to be discreet about when and how often I release the relatively loud shutter, which is best done during noisy moments in the proceedings. This fits my objective anyway, which is to shoot interactions within the story; that is, to convey story with each image, such as in the top shot here.
That's the cast of Clue the Musical, the six suspects singing while their host lies dead on the stage apron. That was the primary image I submitted with my review because it alone conveys the plot and characters of the play. Then I submitted this second image, of Miss Scarlet played by Ila Raine Medina, just because it pops off the page, grabbing viewers's eyes, always a good thing.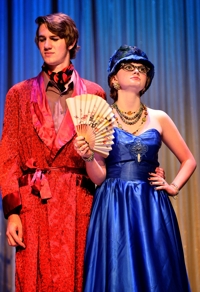 This third image, of Nathan Coleman and Kate Little, is not as close or as sharp, so it's not as good, but I submitted it in case the editor could use three photos. Kate's expression is fun and it's framed by her wonderful costume as Mrs. Peacock. Nathan's contrasting red colors, like Ila's above, would please any photographer because red draws the eye and stands apart from other colors.
These and many more were shot from front row center during the performance last night, several dozen people sitting beside and behind me. I hope I succeeded at blending in and not distracting. If not, I hope my auditorium neighbors see my photos here or in The Chronicle-News: perhaps they'll feel a little better about my camera clicks.
---
July 20, 2013     Robert's Rules of Order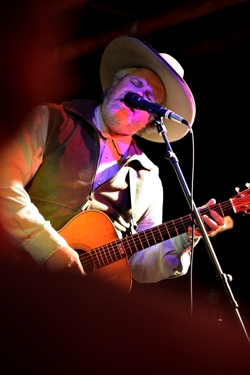 Bull o' the Woods Saloon owner Tim Coon let me in last night to photograph Robert Earl Keen Jr.'s concert so I could include both the bar and the singer in next summer's New Mexico Magazine feature on the Red River music scene. It turned out to be a photographer's nightmare...or dream, depending on how much one likes challenge.
There was a Perfect Storm of obstacles:
1) It was raining.
2) As soon as the band approached the stage, the dance floor (mosh pit) in front filled with jam-packed people holding beer bottles that were obviously not their first of the night.
3) The band preceded its music with a prerecorded announcement saying no cameras or image taking of any kind would be tolerated (Why, Robert?) -- ridiculous now that no one's left, drunk or sober, without a camera in their phone.
4) There were security guards who, along with lead guitarist Rich Brotherton (Really, Rich?), attempted to enforce the rule.
5) Did I mention that it was raining?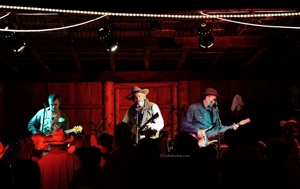 As soon as I saw the drunken crowd rush the stage, I too rushed forward, flanking them to their left. If I hadn't run when they did, I was afraid I might not have ever gotten as close as I needed to be. I like the left because the faces of right-handers' guitars are in the picture (above; as always, click any image to enlarge it). The security guards were busy trying to keep people's phone cameras away. My Nikon D4 with the 24-200mm lens weighs almost 9 pounds and measures 16 inches long -- hardly inconspicuous. Luckily everyone was busy. I kept my camera along my body under my rain poncho for the first three songs. By the time I pulled it out, most people had forgotten the camera issue and immersed themselves in the concert. I had trouble shooting around dancing people -- you can see them in the top shot -- but whenever I got a good shot, I used a continuous shutter, slow mode at about 5 frames per second, so I could get a lot quickly then cull through them later for the best shots.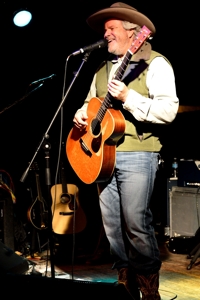 When I finally made my move to the side of the stage in front of the monitors (I have to get musician's noise-cancelling earplugs!), two security guards instinctively blocked me. A minute later, though, one of them tapped and signalled me that I could go ahead to where I wanted. Between my camera, my demeanor, and my work methods, people figured out that I was working and they gave me some slack. One guy approached me with a tiny Nikon and said, "Sir, you're obviously a professional. My wife and I can't get our camera to shoot without the flash going off: can you help?" We had a good laugh when I hollered over the speakers, showing him my camera and saying, "Hey, my camera's so expensive that it doesn't even come with flash!" (Did I mention that it was raining?)
The challenges made it all the more satisfying to get the shots I need to include Robert and Bull o' the Woods in my text and photo submissions. The feature will run in the June or July issue of New Mexico Magazine, at the beginning of the 2014 summer season. Meantime, for REK fans -- and I've been one since Grin's in San Marcos circa 1976, through the last time I saw Robert when we were both on a songwriters bill at The Bluebird in February 1989 -- I've posted more photos here:  1   2   3 .  And more new Red River stories and photos here. Enjoy.
---
July 10, 2013     Let's Get Carried Away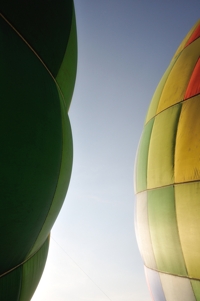 Raton's 2013 International Santa Fe Trail Balloon Rally has come and gone, leaving rich memories and some fabulous images. I enjoyed three hot-air balloon rides with pilots Tom Gardner, Royce Miller, and Ken "Fergie" Ferguson, getting exciting photographs with each ride. Some are posted immediately below, in my July 5 post, where there's also a link to an earlier blog post with other photos. Eight of my photos were featured in my event preview and in yesterday's event recap for The Chronicle-News.
You can tell here at the right that I enjoy producing what I'll call "art photography," even when I'm photographing stories and news. This sunrise image came too late -- Sunday -- to be in July's balloon-themed art show at Old Pass Gallery, but two of my framed June images won awards, including Best of Show for "Outside the Envelope." Sponsored by Raton Arts & Humanities Council, the show remains on display through July.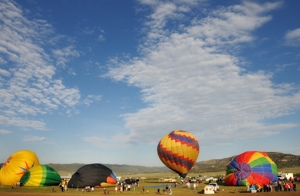 Although the image at left portrays the beginning of the balloon rally and its daily mass ascension, I didn't get around to shooting it until the final morning. I knew I needed it to complete the story, but I was too close to the balloons as I prepared to go aloft myself each morning. On the final morning I hung back and committed myself to shooting from the ground, primarily because I knew that I needed to get this image to complete the story.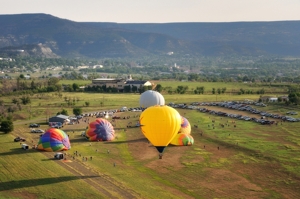 The Saturday morning image at right gives a great sense of what it feels like to go up in one of these balloons, in this case from Fergie's balloon, featured in yesterday's Chronicle recap. Raton is a gorgeous site for ballooning, and pilots like it for "the box effect" produced by the mountains, which allows them to navigate in different directions on varying air currents present at different altitudes. On the two press days when I flew, we were able to hover over Raton nearly an hour without drifting away on the wind. For these and many other reasons, I expect a big rally when the balloonists return next July. I'll be one of many looking forward to it.
---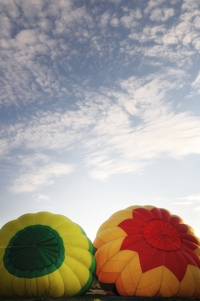 This is one of those days when I have to smack myself upside the head and ask how I got so lucky. Not only did I have a second morning aloft in a hot-air balloon over Raton, but I also got to capture such wonderful photographs. Royce Miller's Green Hornet and his friend Tom Gardner's Ajuua Dreamer fill with hot air here on the field outside the Raton Aquatic Center. Minutes later they rose into the sky. Last month I rode with Royce and Tom in Ajuua Dreamer; today I went up with Royce in Green Hornet. The two balloons stayed close. My second photo gives a sense of Green Hornet chasing Ajuua Dreamer as Royce blasts more flame to accelerate Green Hornet's rise. Royce was nice enough to give me that blast upon command just for this picture; we weren't really chasing anyone. The propane blaster on Royce's balloon is several inches lower than that on Tom's: I had to be careful not to get my hair in the flame.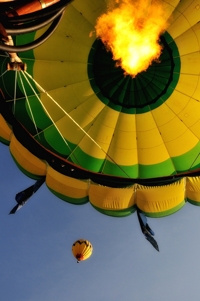 I hope to go aloft in a third balloon during tomorrow morning's mass ascension in the first of two days of the International Santa Fe Trail Balloon Rally at La Mesa Airfield southwest of Raton. (The two rides I've had so far have been special press events to help get promotion -- such as this and my Chronicle pieces -- for the rally.) Besides adding new colors to my balloon portfolio, a third ride will allow me, with a little luck, to get many or most of the 15 balloons into a single image taken from the air, all floating over Raton. Some of my new images will end up in The Chronicle-News when it runs my report next week. Who knows where else they may turn up? Four of last month's photos are already framed and hanging in the Old Pass Gallery, part of its balloon show called "Up, Up, and Away." I'll be there Saturday afternoon for a reception immediately following the city parade. It's a big lively weekend in Raton.
 
---
July 4, 2013     Independence Day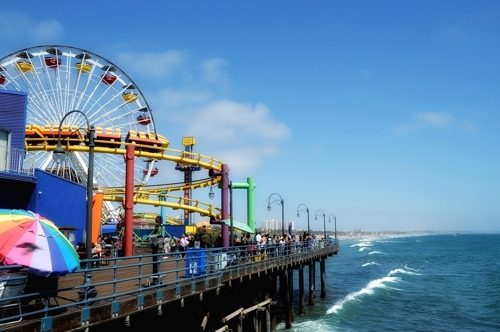 I closed June's blog with this new photo of Santa Monica Pier, but I want to offer it up again, and bigger, to start July's blog on the 4th of July. I can't think of an image of mine that better celebrates summer in America.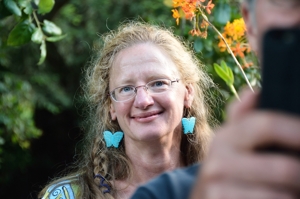 The photo of my wife, Christina Boyce, was taken by my daughter, Darcy Day Keller, with my camera as I took a picture of Darcy with my iPhone. Summer fun in California last month.
I've posted three News items here with links to new content, and this morning I've posted lots of news on my arts blog: I hope you'll head over there for more photographs and activities at this busiest of times. In the next ten days I'll be shooting hot-air balloons in Raton, murals in Mosquero, and three concerts in Red River. Lots to see, lots to do -- it's summer in America!
---