News

Exactly four years after its original publication, Tim's three-part New Mexico travelogue "Chasing Billy the Kid" was reprinted by The Chronicle-News over three weeks in January 2020. The original series remains here at Tim Keller Arts. A rousing good read, we get to know America's original bad boy by retracing his steps around southern New Mexico, with Tim's extensive photography and engaging narrative. Tim's travelogue proved so popular that the Chronicle commissioned a series of additional travelogues -- scoll upward from "Chasing Billy" to see those that followed.
---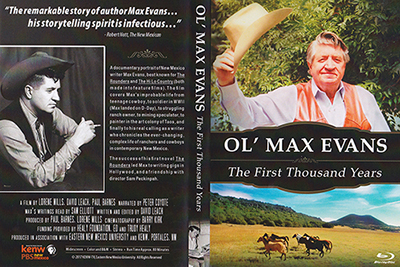 A new documentary parallels Tim's pair of features on legendary New Mexico writer and raconteur Max Evans--"Max Evans's New Mexico" in New Mexico Magazine and "The Horse Who Made Max Evans a Writer" in Western Horseman. Published by PBS affilliate KENW-TV, narrated by Peter Coyote and Sam Elliott, Ol' Max Evans: The First Thousand Years makes generous use of Max's archival photography that Tim scanned and provided to the filmmakers, along with Tim's photo "Big Boy's Hat."
---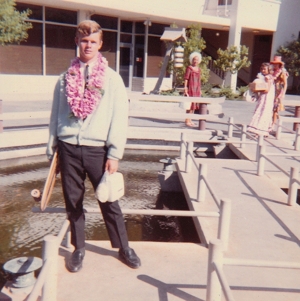 We've republished The Palisades News' September 2018 feature by Braden Walker, "The Palisades: Birthplace of Skateboarding," based on Tim's features and the resulting film, Skateboarding's First Wave. At the TKA blog, Tim has updated the skateboard news and shared notes on Braden's new feature.
---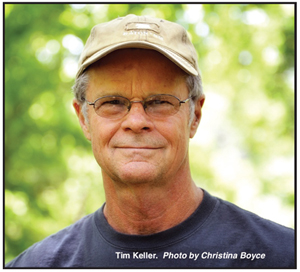 The December 7, 2017, edition of World Journal features a profile of Tim in its weekly "Humans of the Rocky Mountain Southwest" feature. Presented as a first-person narrative in the style of "Humans of New York," Tim's narrative provides a good update of where he's at two-and-a-half years after retiring from teaching--more hiking, less work.
---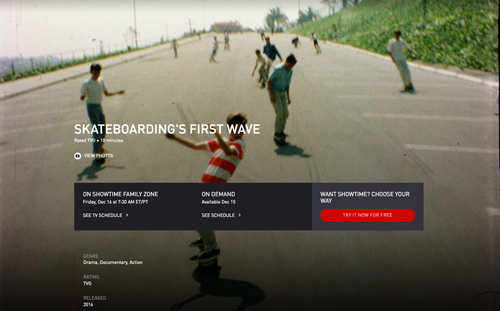 Showtime put "Skateboarding's First Wave" in its regular rotation for much of the winter and now has the documentary short feature available on demand. Based on Tim's story of the same name, "Skateboarding's First Wave" tells the true story of the birth of skateboarding in the early 1960s in Pacific Palisades, California.
---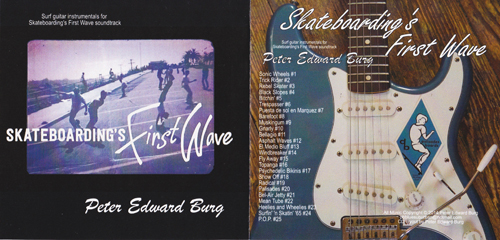 Tim's 2013 Palisadian-Post feature "Skateboarding's First Wave" led to Don Burgess's documentary film of the same title and now, in late 2016, to Peter Burg's soundtrack album of 25 surf-and-skate guitar instrumentals written and produced for the film, which spent the summer of 2016 on United Airlines' in-flight entertainment menus and debuts on Showtime in December. Tim has blogged about best friend Peter Burg's new album and posted details, photos, liner notes, links, and ordering instructions here on his main SFW page, which recently surpassed 5000 unique viewers.
---
Tim's 2013 Palisadian-Post feature, "Skateboarding's First Wave," continues to ripple around the world. Don Burgess created a documentary short film from Tim's story, using the same title. After three enthusiastically received screenings at New York City's TriBeCa Film Festival in April, 2016, United Airlines has added Skateboarding's First Wave to the in-flight entertainment menus on all of its flights throughout the summer of 2016, in a program called "TriBeCa Shorts."
Carhartt Work in Progress has published its 208-page A Skateboarding Annual 2 coffee table book that includes a full-page, two-photo sequence of Tim "hippy jumping" over a bench in 1965, with screen-grab images taken from the film. CarharttWIP threw book release parties in Lille, France, May 27; Copenhagen, Denmark, June 6; and New York City June 23. The book is available online for $25 as long as the 3500 copies last.
Tim maintains a webpage here with the original article, lots of photos, updates, and links to the film and other related resources. By July 2016, the page had been viewed more than 5600 times.
---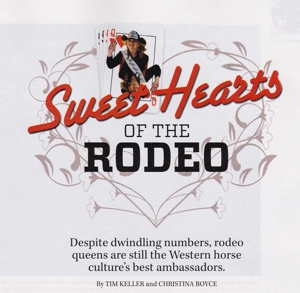 Tim's newest feature is his first husband-wife collaboration with Christina Boyce, and her first national writing credit. "Sweet Hearts of the Rodeo" explores the state of America's rodeo queen programs, with Western Horseman's June 2016 cover teaser "Rodeo Queens: Waving Goodbye?" Western Horseman's editor thought Christina's Chronicle-News Op/Ed essay "Tough Enough to Compete" would expand well into a national story for the magazine. The result is an eight-page feature exploring the rich heritage and value of rodeo queen programs against the backdrop of a fast-changing world that is reducing participation in the programs.
---

Tim's three-part New Mexico travelogue "Chasing Billy the Kid" was published by The Chronicle-News on the first three Fridays of 2016 and is now here at Tim Keller Arts. A rousing good read, we get to know America's original bad boy by retracing his steps around southern New Mexico, with Tim's extensive photography and engaging narrative. (Update: Tim's travelogue proved so popular that the Chronicle commissioned a series of additional travelogues -- scoll upward from "Chasing Billy" to see those that have followed.)
---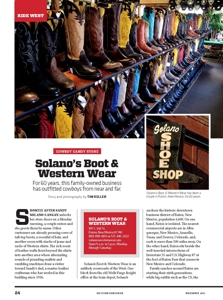 With a paid circulation of 200,000 copies, the November 2015 issue of Western Horseman has reached subscribers and news stands. Tim's four-page, 1800-word feature on Solano's Boot & Western Wear appears on pages 64-67, topped in a red banner with the title "Cowboy Candy Store."
Tim's photographs showcase the 60-year-old Raton landmark store, with its unique hat cemetery and rows upon rows of tall-top boots, along with a portrait of the three generations of Solanos that run the store, including Andy, Fabie, Sandy, and Tiffany. Non-subscribers can get copies by asking their magazine retailers or ordering directly from the Western Horseman website.
---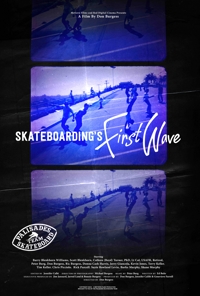 Skateboarding's First Wave, the film based on Tim's November 2013 Palisadian-Post feature of the same name, is touring the international festival circuit throughout 2015 before becoming available in 2016 for sale, rent, and streaming. The 22-minute documentary short film has been featured at film festivals in Toronto, Cambridge, Portland, Melbourne, Newport Beach, Sarasota, Hollywood and other cities. SFW comes to the Trinidad Independent Film Festival (a.k.a. TrindieFest) in Trinidad, Colorado, September 26, 2015, and the El Raton Movie Theatre in Raton, New Mexico, in April, 2016. The film tells the story of the birth of skateboards and skateboard teams fifty years ago along Southern California's surf-laden coastline. Tim organized the Palisades Skateboard Team, one of the top three California teams. One team member, Don Burgess, grew up to be an Academy Award-nominated cinematographer (Forrest Gump, Cast Away, Spider-Man, Flight, 42). After reading Tim's feature, Don recovered the team's archival films and combined them with new footage and interviews to create Skateboarding's First Wave. Tim's SFW web page collects his original feature, many photos, other articles and updates to fill in the story of the Palisades Skateboard Team and the film that tells its story.
---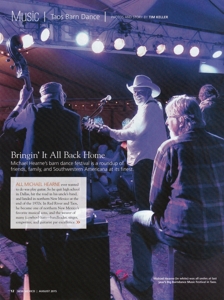 New Mexico Magazine devotes six pages of its August 2015 issue to Tim's colorful feature on Southwestern music legend Michael Hearne and his annual Big Barndance Music Festival. "Bringin' It All Back Home" is an in-depth profile of a shy man who's beloved by his countless fans, a master guitarist, singer, songwriter and bandleader who's happiest on stage in front of an audience that is usually dancing.
It's also a fascinating history of the development of northern New Mexico's unique Southwestern Americana music that germinated in Red River in the mid-1960s--a story told in Tim's "Nine Nights a Week" in the August 2014 issue--and grew vibrant around Red River, Taos and Santa Fe before spreading across Texas and the U.S. Tim photographed Michael's Big Barndance Music Festival on assignment for New Mexico Magazine and he'll be back shooting again when the music starts in Kit Carson Park in downtown Taos September 10-12.
---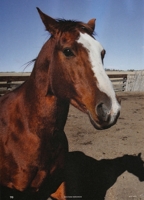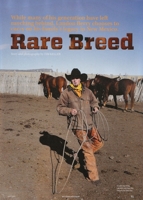 "Rare Breed," Tim's feature on Landon Berry, is in the July 2015 issue of Western Horseman. While many of his generation have left ranching behind, Landon chooses to carry on his family's legacy in New Mexico. Preferring to work horseback, Landon's family doesn't even own a 4-wheeler. Using the family brand registered with the New Mexico Territory in July 1896, Landon is the sixth generation of his family to run horses and cattle across Johnson Mesa and Yankee and Bear Canyons.
---
Tim's "Nine Nights a Week" exploration of Red River and its vibrant Texcentric music scene has been republished in condensed form in Enchantment, the Summer 2015 Visitor's Guide to Northern New Mexico. The full-length story in the August 2014 issue of New Mexico Magazine was recently awarded honorable mention for magazine feature writing by New Mexico Press Women. Enchantment's abridged version features two of Tim's photos that did not appear in New Mexico Magazine. Featured singer/songwriter Mike Addington dominates the page and the story. A small evening "landscape" photo had been intended by Tim for a two-page opening spread to the original article, portraying the heart of Red River's music scene at Texas Red's, the Love Lost Saloon, and The Motherlode Saloon. Enchantment will be available at hotels, restaurants, and shops throughout northern New Mexico throughout the summer of 2015.
---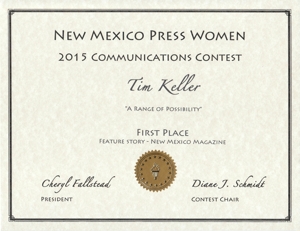 At its annual conference at Ghost Ranch near Abiquiu April 25, New Mexico Press Women announced that its 2015 First Place award for Magazine Feature Story went to Tim for his February 2014 New Mexico Magazine feature, "A Range of Possibility." Tim's August 2014 feature, "Nine Nights a Week" about Red River's vibrant music scene, won an Honorable Mention. A press release gave full details. The judge, a Pulitzer Prize winner in Chicago, contributed generous comments on each story. Tim's first place story progressed to consideration for a national award from the National Federation of Press Women.
---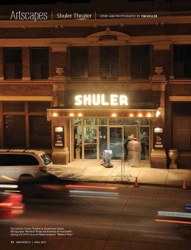 New Mexico Magazine's April 2015 issue celebrates the Shuler Theater's centennial with Tim's feature "On With the Show." Looking at the last 100 years at Raton's opera house, impresario Bill Fegan shares both the early history and his own recollections from the past 50 years. Tim's photography includes a new portrait of Fegan taken for the feature, and a never-before-published night view of the Shuler from the second-floor dance studio across the street. The Shuler's first show was presented April 27, 1915, a big traveling musical called "The Red Rose." For three shows during the last weekend of April, the Shuler celebrates with a musical variety show called "The Centennial Rose," featuring performers that have been associated with the Shuler stage since Bill Fegan's 1963 arrival.
---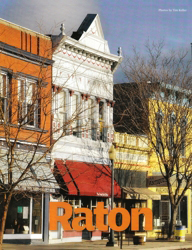 Enchantment: Visitors Guide to Northern New Mexico, Winter 2014-15 features three pages of Tim's writing and photography spotlighting the myriad attractions of his hometown of Raton. Selected from eight articles the editors commissioned in July 2014 for a forthcoming Raton Visitor's Guide, Enchantment focuses on Raton's Shuler Theater, Old Pass Gallery, and the National Rifle Association's nearby Whittington Center. Photos include Historic First Street (right), the Shuler Theater as it celebrates its 100th birthday, and a Johnson Mesa landscape. The magazine was included in December editions of the Raton Comet and Sangre de Cristo Chronicle, enjoyed by readers throughout northeastern New Mexico, including Angel Fire, Eagle Nest, Red River, Taos, Cimarron, Springer, and Raton.
---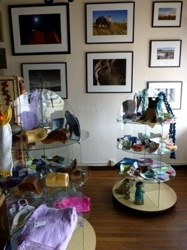 Tim's music, poetry, and photography are all represented at a new arts boutique, Patchwork Phoenix, located on Historic First Street near the Santa Fe train depot in Raton, New Mexico. The photography, seen displayed here in a photo from the store's online homepage, will rotate every two months. Little Miracles and My Confession will be kept in stock alongside Big Bend organic free-trade coffee beans and hard scoop ice cream. The store is also a quilting center, offering quilts, classes, and demonstrations. Live music and other entertainment is coming; meantime, the store's already become a popular stop for locals and visitors alike.
---
Rio Grande Books' July 2014 publication of Max Evans & A Few Friends: The 90th Birthday Book marks the second collection or publication of Tim's work in book form. An anthology of mostly new writings by Max's friends on the occasion of his 90th birthday in August, the book includes a pair of Tim's magazine features and many of his photographs. "Max Evans's New Mexico" is reprinted from the February 2011 issue of New Mexico Magazine, and "The Horse That Made Max Evans a Writer" is reprinted from the June 2011 issue of Western Horseman. Other writers include a Who's Who of the contemporary New Mexico literary world, including Johnny Boggs, Grem Lee, Slim Randles, Jeb Rosebrook, Robert Nott, Don Bullis, Sherri Burr, Jim Harris and many more. The book's back cover features Tim's photo of Hi Lo Country horses while the front cover features another of Tim's Hi Lo Country landscapes behind his color portrait of Max. Many more photos are featured inside the book, available in paperback ($19.95) and e-book ($5.99) from Rio Grande Books and wherever books are sold. Proceeds will be donated in Max's name to one of his favorite organizations, Animal Humane New Mexico.
---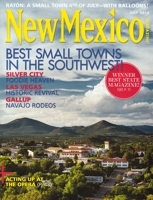 "Flight of the Phoenix" celebrates Raton's 20th International Santa Fe Trail Balloon Rally and the event's triumphant rebirth after the 27,000-acre Track Fire shut it down in 2011. The story gets a two-page spread in the July 2014 issue of New Mexico Magazine with Tim's story and a pair of full-page photographs, one from the ground and one looking down on balloons floating over Gabriele Field and Raton's westside neighborhood. The feature is also spending time atop the magazine's webpage where readers can see the article online. Later in the same issue, New Mexico Tourism Department has a full-page New Mexico True ad featuring another of Tim's photographs to promote northeastern New Mexico. Tim's roping photo of Marcia Hefker has been featured full-page or two-page spread in Western Horseman, Ranch & Reata, and now New Mexico Magazine.
---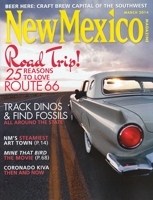 Remote Mosquero, New Mexico--population 94--has improved its standing on state maps by literally painting the town. The whole downtown stretch of Main Street, N.M. 39, has been painted with lifelike murals depicting the village's past and present. Years in the making and still a work in progress, the murals stopped Tim in his tracks last year. His photographs lured New Mexico Magazine to give the project three pages in the March 2014 issue. Accompanied by six of Tim's photographs, "Paint the Town" tells the fascinating story of Mosquero's mural project. Tim focuses on the people of Mosquero--the murals' subjects as well as the ones wielding the paint brushes.
---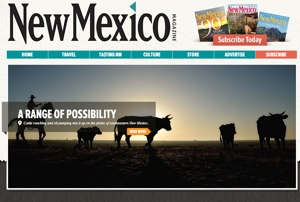 Throughout February 2014, New Mexico Magazine's great website is featuring Tim's "A Range of Possibility" as its banner story, taking the top half of the home page with a link to the article from the February issue. The magazine's Facebook page has also featured Tim's profile of Lea County, in the state's southeast corner where oil pumping mixes with cattle ranching and rodeo riding. The magazine feature is now available right here at TKA.
---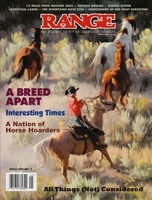 RANGE Magazine has published its abridgement of Tim's profile of nonagenarian New Mexico cattle rancher Sadie Brown Renfro. The Spring 2014 issue features a 700-word introduction to Sadie alongside four photographs--a pair of Tim's shots and a pair from Sadie's own scrapbook. Originally commissioned by Ranch & Reata, that magazine subsequently decided to focus exclusively on a younger demographic--Westerners under 35--and RANGE picked up Sadie's story. New Mexico English Journal is preparing the full-length feature for its Spring 2014 issue, due soon.
---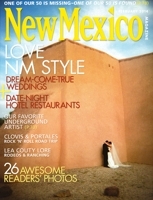 New Mexico Magazine's February 2014 issue features a big pair of Tim's stories--4500 words and a dozen new photographs. "A Range of Possibility" is Tim's personal travel essay, a portrait of a place--Lea County, in the state's southeastern corner. On the magazine's "Storytellers" page, Tim says, "I've tried to profile Lea County like I'd profile a person, immersing myself until I can share rich stories to create a meaningful portrait."
"Sisterhood Is Plentiful" guides readers through a day-and-night tour of sister cities Portales and Clovis, finding rock 'n' roll history, craft beers, mom-and-pop restaurants, and a boot shop as big as a rodeo arena.
---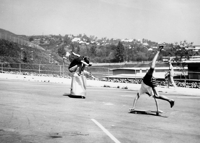 Tim's full-page feature in the Palisadian-Post, "Skateboarding's First Wave - A Palisades Story," has garnered generous praise. One reader wrote to the editor, "I am a 30-plus-year subscriber to the Post. I think the "Skateboarding's First Wave" piece on the cover of Lifestyle might be my all-time favorite Post article. I had no clue skateboarding started here. Thank you for publishing such an incredible piece." A year-end feature asked each staff member various questions, including Favorite Story from the Post This Year: Editor-in-Chief Frances Sharpe and Sports Editor Steve Galluzzo each picked "Skateboarding's First Wave." Tim's online post drew 500 unique readers in the first month. The film footage mentioned in the article has been found and converted to digital format; it is now being developed into a feature documentary.
---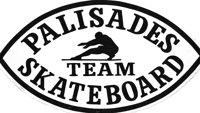 "Skateboarding's First Wave - A Palisades Story" shows the birth of skateboards and skateboarding in the early 1960s in Tim's hometown of Pacific Palisades, California. Accompanied by Tim's vintage photographs, the story continues with additional histories and photos from two others who were there -- Peter Burg and Patty Burns. Published by the Palisadian-Post.
---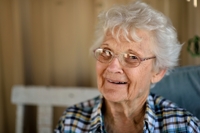 A Dust Bowl childhood taught Sadie Renfro the pleasures of ranch life and the necessity of long drives. At 90, she still puts the big miles on her pickup, living where she grew up in Long Canyon, 30 miles northeast of Folsom, New Mexico. She checks her 50 cow-calf pairs regularly and drives to Clayton three times each month. Read Tim's profile of this fascinating former banker and all-time ranch gal, and watch for it in the Winter 2014 issues of both RANGE Magazine and New Mexico English Journal.
---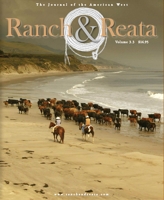 Ranch & Reata's beautiful August-September 2013 issue includes Tim's four-page "Making a Difference" feature about the transformation of Roy Sanders from rodeo & ranch cowboy to group-home foster parent for several teenaged boys on his ranch north of Trinidad, Colorado.
"Boys to Men" includes photos and interviews with Roy and the boys, at work and at play, accompanied by the story of Roy's long path to this unforeseen but happy outcome. "This is my life," Roy says. "This is what I do. This is my family." (See some of Tim's photos and comments in a pair of blog posts from last spring.)
---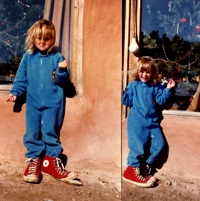 Tim's recorded music is now available online from CD Baby, Amazon, iTunes, Spotify, Rhapsody, Google Music Store, Shazam, 24-7, Xbox Music, and others. 55 songs are available individually or in the complete albums: No Stranger to Wishes, Live at Uncle Calvin's, Little Miracles, and The Darcy Songs (left). Most sites have a feature that allows a preview of each song. Wherever you buy, we recommend starting at CD Baby for its comprehensive notes and editorial reviews. Of course, all of the lyrics, photos, credits, and liner notes are available here at Tim Keller Arts.
---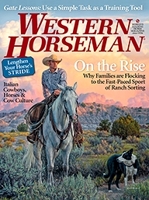 Almost two years since his last Western Horseman feature, Tim's finally returned in the August 2013 issue with "Pencil Pusher," a profile of renowned Western pencil artist Dino Cornay of Folsom, New Mexico. Accompanied by three of Dino's artworks and a pair of Tim's photographs, the story is a good look into the history and methods of a working artist. Dino's passion for music and playing guitar are included. For additional photos, including Dino playing his guitar, use the Search feature at left to find Tim's many blog postings about his work with Dino.
 
---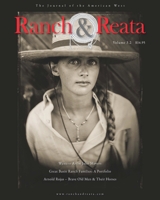 Tim's five-page feature on young horsewoman Sierra Pillmore is now available in the June/July 2013 issue of the beautiful coffee table magazine Ranch & Reata. As a bonus, the editors placed the Table of Contents across a two-page spread of Sierra. Tim's feature "If Horses Are In You" explores the lifestyle and predicament of young people who grow up with horses but face profound changes as they go off to college in a time of economic challenge and a changing world. Subscribe to Ranch & Reata or read the feature on the handy online e-reader available via Tim's Ranch & Reata page.
---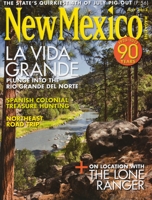 Tim's road trip feature "Time Travel" takes New Mexico Magazine readers to the unique small-town museums of Raton, Folsom, and Clayton with one-of-a-kind stops along the way. The magazine's July 2013 issue features Tim's story on the cover as "Northeast Road Trip." With more than 100,000 subscribers, half of whom say they travel around New Mexico at least once a year, the museums, restaurants, and hotels of the northeast quadrant are looking to add some traffic this summer. Best of all are the fascinating finds they'll discover in the Raton Museum, the Folsom History Musuem, and Clayton's sprawling Herzstein Memorial Museum. Pick up a copy of the magazine for your personal guide to a great road trip.
---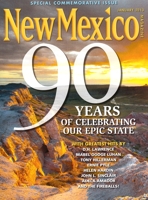 New Mexico Magazine's 90th Anniversary Special Issue adds an exclamation point after The Fireballs on its January 2013 cover. Inside, Tim's feature, "Dancing on Top of the Cars," brings readers up to date on the only New Mexico band ever to have the Number One best-selling song of the year. The Fireballs formed during its members' final semester of high school; their success came so fast that they never made it to college. The followed Buddy Holly to Norman Petty's Clovis studio to make their first record. One year later, they appeared on Dick Clark's TV show in New York City. Three years later, their infectious hit "Sugar Shack" topped the charts for five weeks. In 2013, fifty-five years after their first gig, Fireballs founder George Tomsco and Stan Lark are still at it, rocking the house like a couple of 18-year-olds. Tim's magazine feature takes you along for the ride, while his website posting offers a wealth of additional vintage and new photos.
---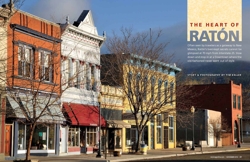 Throughout the month of November 2012, the featured story atop New Mexico Magazine's website is Tim's "The Heart of Raton." Selected from all of November's magazine stories, the web feature includes a smaller version of the magazine feature's two-page opening spread. Click on it and you can read the entire article. For the rest of the magazine photos, see the feature here at Tim Keller Arts, complete with the Storytellers column on Tim, and even the Editor's Letter that includes a paragraph about Tim in Raton. Then see the Raton Gallery of all 40 of the photos Tim submitted for the editors and designers to consider for the magazine layout.
---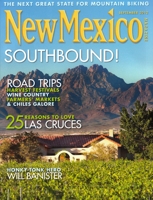 The headline in the lower left corner of September's cover announces "Honky Tonk Hero: Will Banister." Inside, on pages 60-61, New Mexico Magazine presents Tim's feature, "Turning Everyone On to Country: Young country traditionalist Will Banister wows 'em from Portales to Piccadily." The thousand-word text is accompanied by a pair of pictures taken on Tim's early-summer road trip to Clovis and Portales, where he spent a couple days with Will Banister and his band. A third photo graces the Table of Contents on page 3, this time a performance shot that Tim took at a country dance in miniscule Nara Visa, New Mexico -- so close to Texas (and far from New Mexico, apparently) that residents ignore New Mexico's Mountain Time Zone and set their watches to the Central Time Zone of Texas. Banister will escape both time zones for part of September: he and the band have a series of performances booked in England.
---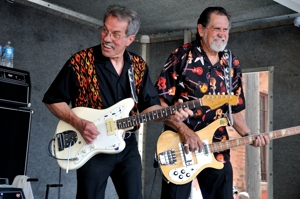 "Dancing on Top of the Cars -- The Fireballs drove two cars out of Raton and went to Number 1 in America." And they're still at it a half century later! Tim's feature on The Fireballs will appear in the January 2013 issue of New Mexico Magazine. From George Tomsco's Raton living room where the band first rehearsed in January 1958, to the band's summer 2012 rehearsals in the same room, to the New Mexico Centennial Summerfest concert in Albuquerque, Tim sits shotgun to ride along with The Fireballs.
---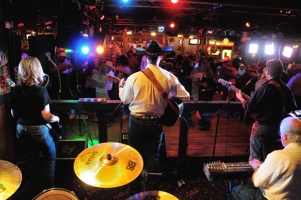 New Mexico Magazine has scheduled Tim's feature on Will Banister for its September 2012 issue, due out in mid-August. With a working title of "Honky Tonkin'," the profile visits 24-year-old Banister at his Portales home, in the recording studio, and singing his classic country songs for two-steppin' dancers at a Clovis honky tonk. With a voice and original songs that hark back to the golden age of country music, Banister has a big future.
---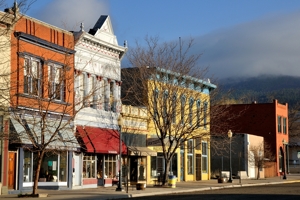 "The Heart of Raton" will fill 6-8 pages of the November 2012 issue of New Mexico Magazine. Moved up to September to coincide with Raton's monthlong "Art of the Great Outdoors" festival events, the editors finally moved it back to November. Tim produced the text and photographs in April, just as the trees got their leaves. The feature will appear around October 15, just as the trees lose their leaves.
The title refers to both Raton's personality and its historic downtown district, which is the article's focus. Now Tim has turned his efforts to a pair of new subjects for the magazine. George Tomsco and Stan Lark formed The Fireballs in 1958 as seniors at Raton High School. By the end of the year they were recording at Norman Petty's studio in Clovis, placing their first two guitar instrumentals on the Billboard Top 100. 54 years later, they're still rocking, featured in June at Albuquerque's Centennial Summerfest, which Tim is photographing for the magazine feature.
While he's in Clovis to research and photograph The Fireballs' story, Tim will develop a feature on fast-rising young country phenomenon Will Banister, a singer and songwriter whose sound is reminiscent of Merle Haggard and George Strait. Along with the Fireballs, Will is featured at Centennial Summerfest, so Tim gets a full day of concert photography with the magazine's press pass.
---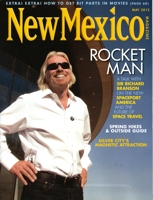 Tim's northeastern New Mexico road trip is available in the May 2012 issue of New Mexico Magazine. The three-page Going Places/Road Trip featurette is titled "The Santa Fe Trail: Heart of the Hi Lo" and takes readers from Springer to Clayton, then westward through Des Moines, Capulin, and Folsom before ending at Raton via an evening jaunt across the top of Johnson Mesa.
Along with Tim's photography, highlights include a burger and root beer float at Springer Drug, a visit with 86-year-old Bess Isaacs at Clayton's downtown R.W. Isaacs Hardware Co., and lunch at Sierra Grande Restaurant in Des Moines. Elida's Cafe in Springer, the Rabbit Ear Cafe in Clayton, and the church on Johnson Mesa are among the extras thrown in for good measure.
---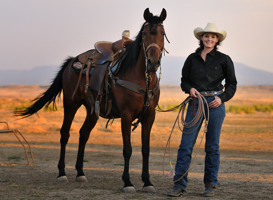 Tim's third feature for Ranch & Reata, "The Journal of the American West," is available in Volume 1.5, December-January. "Doctoring Cowboys" tells the story of nurse practitioner and horsewoman Marcia Hefker, whose life experience makes her uniquely suited for tending to the healthcare needs of the ranching communities in northeastern New Mexico. Enjoy this companion piece to Tim's "Arabian Wind" feature on the Hindi Arabian horses in the August 2011 issue of Western Horseman.
---

Three years after starting with The Chronicle-News, Tim is back to contributing features and photography after a hiatus of several months. In riding the recession and the upheavals in the print news industry, the paper's Louisiana owner had decided to cease the Colorado paper's coverage of Raton and northeastern New Mexico. Eventually, though, the paper needed more original content, and the owner saw how closely linked are the communities of southeastern Colorado and northeastern New Mexico. Besides, he said, he missed seeing Tim's work in the paper. Tim is pleased to be back!
---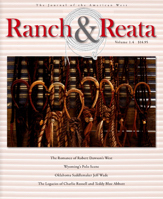 Ranch & Reata, "The Journal of the American West," has resissued Tim's popular "Home on the Range" feature, showing how Darien Brown and his family are adjusting to 21st Century changes in the ranching life from their hundred-year-old spread on the Dry Cimarron in New Mexico's far northeastern corner. First published in New Mexico magazine a few months earlier, Ranch & Reata's edition has its own layouts and a couple additional photos as it distributes the feature to a new audience around the West and the world.
---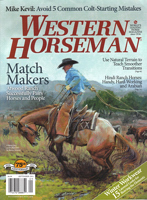 Tim's "Arabian Wind" has been published in the September 2011 issue of Western Horseman. The six-page, 2000-word feature includes five of Tim's new photographs, shot during the summer, along with three old photos from the collection of the Hindi Ranch. They've been breeding hardy, ranch-worthy Arabian horses in tiny Duran, New Mexico, since 1950 -- the year Tim was born.
Known for their elegance, endurance, and speed, Arabians are not known as hard-working ranch horses. Editor Ross Hecox feels that the Hindi horses belie that prejudice: he asked Tim to prove it through his article. At the heart of the story is Brahaim Hindi, 93-years-old and still riding and training horses. His son and daughter, Jamil and Anna Hindi, also figure into the story. Raton nurse practitioner Marcia Hefker opens and closes the story: once a skeptic, she now rides three Hindi horses in working cattle, team-roping, and endurance racing.
At the same time, Tim's photography is featured in the August/September issue of Ranch & Reata, now available free online, here. The cover story is titled "Tim Keller: On Telling Stories with a Camera." Tim's photos are elegantly laid out one-to-a-page on the cover and pages 3, 4, 5, and 70-82. You can jump ahead to pages 70-82 simply by clicking on the feature in the Table of Contents. Tim has joined the magazine as a regular contributor, so watch for new work in each of the coming issues. Order a subscription at the magazine's website.
---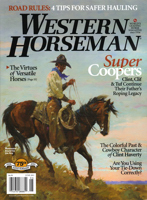 Tim's second Max Evans feature has been published in the June 2011 issue of Western Horseman. "The Horse Who Made Max Evans a Writer" examines Max's life through the horses he's had -- each of whom he remembers fondly as one would his own children.
"The famous novelist remembers the many horses who have inspired his stories, including a bronc named Blackie whose outlaw ways helped Max soar as a writer."
The author of 25 books, including the classics The Rounders and The Hi Lo Country, Max was also showcased in the February 2011 issue of New Mexico Magazine with Tim's feature "Max Evans's New Mexico".
---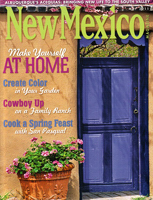 Tim's long-anticipated "Home on the Range" feature has reached readers in the May 2011 issue of New Mexico Magazine.
"When your family's home and business have barely changed in a century, what happens when you see your livelihood dwindling even as you watch your grandkids growing up? The cowboy may be an icon of the American West, but his life is changing in the digital age. To find out how, writer and photographer Tim Keller heads to far northeastern New Mexico to visit with Darien Brown, a fourth-generation cattle rancher."
The Brown Ranch was initially established in 1865. The magazine illustrates Tim's story with a dozen of his photographs, supplemented by three Brown heirloom photos showing each of the 20th century generations of the family. While the May issue is on newstands, the magazine is featuring an expanded Photo Tour of all the photos plus extras that didn't fit. Narrated by Tim, the slideshow will remain on the site through the end of the year. The magazine is available for sale throughout New Mexico and most of the United States, or from the magazine's website.
---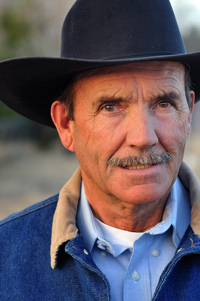 Tim's feature "One, Will You Make It Two?", a profile of New Mexico auctioneer Walter C. Hall, appears in the March 2011 issue of enchantment, "The Voice of New Mexico's Rural Electric Cooperatives."
Tim had seen Walter work several times and pitched the story idea along with others as prospective follow-ups to Tim's first feature for the magazine. Walter's story was the one the editor jumped at.
Walter was interviewed and photographed at Tim's home in Des Moines, NM. (See Tim's favorite portrait of the session here.)
enchantment arrives in the mailboxes of every New Mexico household that receives its electricity from a rural electric co-op, so it reaches all New Mexicans except those in the state's few cities. For everyone else, enchantment has posted Tim's feature here.
---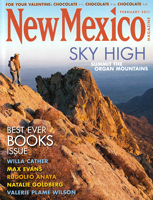 New Mexico Magazine has published its February 2011 "Best Ever Books Issue" with the magazine's first full-length feature from Tim. "Max Evans's New Mexico" includes 10 of Tim's photos, most shot specifically for the magazine, accompanying Tim's six-page article on the beloved author of The Rounders, The Hi Lo Country, and 23 other books.
Art director Fabian West's opening two-page spread is worth the price of admission. A seemingly huge panorama of the entire Taos Valley, including Taos Mountain and the Taos Gorge, the image was taken later the same day as the opening portrait of Max enjoying huevos rancheros (red) at Loyola's in Albuquerque. Max was so insistent that Tim try for that picture that Tim raced north, arriving just in time to catch it as the sun set.
There's also a short piece on Tim, up front on the Storytellers page; he's pictured with his border collie pup Django, photographed by Christina Boyce the day after they brought Django home from the shelter in Las Vegas. The magazine is sold throughout the United States. It's easy to find in New Mexico. Check it out.
---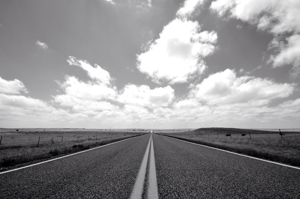 Longtime Oregon journalist Ken Bilderback discovered Tim's memoir Ameripass: Aimless in America while publishing his book Wheels on the Bus, now available via Amazon in paperback or for Kindle, or on Ken's own website of fine writing.
Read Ken's touching and generous appreciation of Tim's Ameripass and the resonance it brought from Ken's own long journeys.
---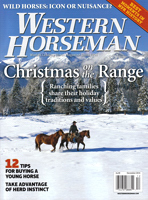 Tim's Women of the West feature on Raton's Linda Jackson graces pages 38-39 of the December 2010 issue of Western Horseman.
Linda's a bit of a character, and that character comes through sweetly in Tim's interview. She's spent her life around horses; for the last six years she's run her Jackson Stables, a "horse motel" which gets a lot of business being close to I-25 in the heart of the West.
Tim's next WH story will feature novelist Max Evans (The Rounders, The Hi Lo Country) and the part horses have played in his life, coming in spring 2011.
---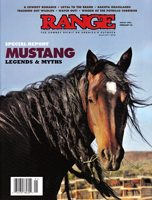 Tim's feature on Hi Lo Country rancher Tom Pryor appears in the Winter 2011 issue of RANGE, which reached subscribers in mid-November.
Born in the small medical clinic housed in Raton's downtown El Portal Hotel, Tom has lived all of his 63 years in the same ranch house 12 miles northeast of Des Moines, New Mexico.
Titled "Where Else Would I Want to Go?", the profile includes tales of Tom's many millions of miles driving big rigs, and the day his father died when caught out in a blizzard. The feature includes a family heirloom photograph and three new ones by Tim.
---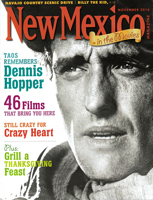 Tim's featurette on Raton's historic downtown Victorian inn, Heart's Desire, appears in the November 2010 issue of New Mexico Magazine.
The popular annual "New Mexico in the Movies" issue has lots of great material for film buffs (like Tim), including features on Dennis Hopper and Jeff Bridges, both longtime habitues of New Mexico. (Exactly one year apart in age, Jeff and Tim grew up near each other along southern California's beaches: Tim's aware of this, Jeff is not.)
Tim's featurette on Heart's Desire Inn, a B&B, features three of his photographs. Titled "Rosy Outlook", it takes up page 15 of the magazine and is currently featured at the Lodging tab on the magazine's website as well.
---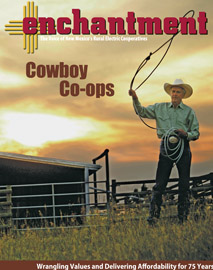 Tim's featurette High-Tailing It Down the Road appears in the October 2010 issue of enchantment, "The Voice of New Mexico's Rural Electric Cooperatives". The monthly magazine is received by every rural household in the state.
Tim's nuestros vecinos column highlights remote northeastern New Mexico's own paramedic and EMS instructor, Jan Pryor, who is a rancher when she's not chasing off to the next emergency.
In November, Jan's husband Tom Pryor will get full-length feature treatment when Tim's story and photographs appear in the Winter 2011 issue of RANGE Magazine.
---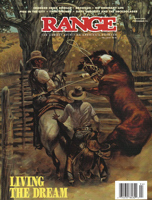 Tim's second feature for RANGE Magazine appears in the Fall 2010 issue, which reached newstands and subscriber mailboxes in mid-August.
"A Woman's Work" profiles northern New Mexico cattle rancher Mary Lou Kern. After earning a pair of college degrees and beginning a career as a loan officer with the Farm Credit System, Mary Lou fled the office life just one year into the job. "That was long enough to learn that I didn't want to be a banker," she says.
When her father died in 1987, she went home to Maxwell and took over the family ranch. "Back then, more than now," she recalls, "ranching was predominantly a man's field. But my dad always told me, 'You may not be as strong as a man, but you're smarter. You can use your brains instead of your back.' So, subsequently, I own a lot of equipment!"
The Winter 2011 issue comes out in mid-November with Tim's profile of rancher Tom Pryor.
---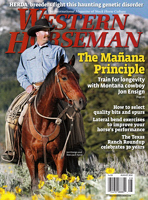 Tim's sixth feature for Western Horseman appears in the August 2010 issue. At 1800 words, "Rescued Horses, Rescued People" is Tim's longest published work to date. Illustrated with four of Tim's photos, the article tells the story of the Ride To Pride Partnership in Las Vegas, New Mexico, a dynamic and highly successful program that uses rescued horses to provide a new start for hundreds of troubled youth and their families.
The story focuses on a young man, Richard Pacheco Jr., telling how one explosive moment led him to a kind of redemption he hadn't known he'd needed. It's the story of an innovative couple, Lorraine & Greg Esquibel, who created the program on their instincts and evolving experience. Young people, counselors, horsemen, and horses work together to change lives. It's a good story.
---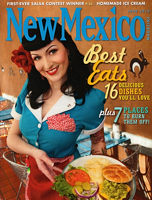 After 18 months of carefully balancing patience with persistence, Tim has finally landed his first article in New Mexico Magazine.
The June 2010 issue includes Tim's featurette on Raton's historic Shuler Theater. Entitled "Shining Through", the profile includes 3 of Tim's photographs.
The May 2010 issue whetted the appetite, using another of Tim's photos to accompany someone else's featurette on Raton.
The magazine has 2 more of Tim's featurettes for upcoming issues, each with Tim's photographs. One profiles Raton's Heart's Desire Inn B&B, while the other provides a travelog of The Hi Lo Country, based on Max Evans' classic 1961 novel.
---
Ten months after their launch, TimKellerArts & TimKellerPhotography websites reached an average viewership of 100 per day in October, 2009. Six months later, in April 2010, the average number of daily visitors had climbed above 200.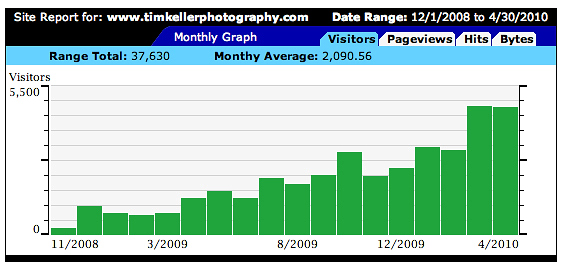 Not surprisingly, New Mexico accounts for more visitors than any other state. Pennsylvania, California, Colorado, Texas, Tennessee, Massachusetts, New York, Oklahoma, and Florida fill out the top ten, in that order.
Internationally, the top countries sending visitors are Russia, Japan, Israel, Germany, Denmark, Canada, and France, with most international visitors coming to TimKellerPhotography.
---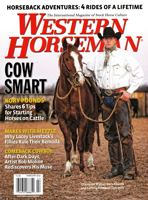 Tim has a pair of features in the February 2010 issue of Western Horseman.
"The Long Riders" tells the story of four-dozen horsemen on the ride of a lifetime, crossing America from Mexico to Canada on horseback.
"Women of the West: Brittany Rouse" profiles a young woman who trains colts on a Conchas River ranch.
Both stories feature Tim's writing and photography.
Next up in Western Horseman will be Tim's feature in a spring issue on the Ride To Pride program, with a working title of "Rescued Horses, Rescued People."
---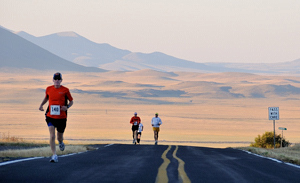 Tim's coverage of the 2nd Annual Capulin Volcano Run was published by The Chronicle-News while a sequential series of his photographs was published in the official race website. One of the runners posted a few of Tim's photos to a Runner's World online forum, where they elicited raves from runners around the country.
---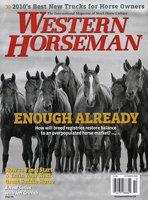 "Growing Up Rodeo", story and photography by Tim Keller, has been published in the October 2009 issue of Western Horseman.
"In the remote cattle country of northeastern New Mexico, a community-based rodeo series fuels young competitors' hopes for the future."
Tim's third article for WH is six pages long. On the Contributors page, editor A.J. Mangum now refers to Tim as a Contributing Writer.
---
Western Horseman, August 2009, page 14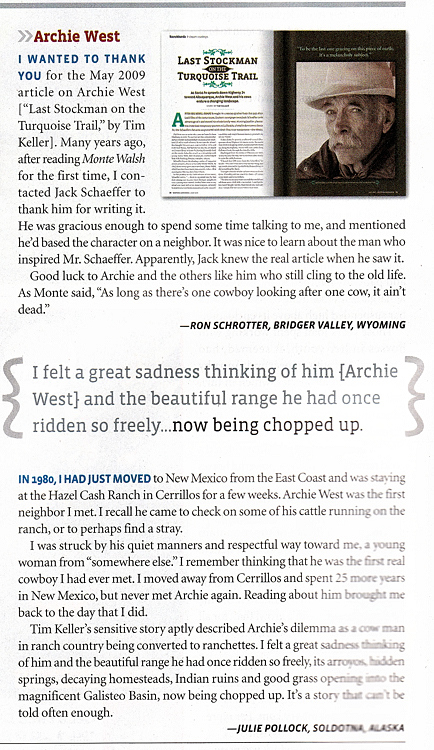 "Tim...the Archie West story has gone over very well. Months after the fact and we still hear about it."
-- A.J. Mangum, editor, Western Horseman magazine
---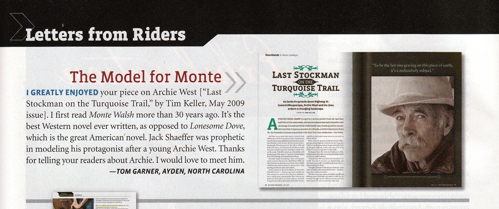 Western Horseman, July 2009, page 14 (click to enlarge)
---
The Winter 2010 issue of RANGE Magazine will hit newstands and mailboxes in November with Tim's photographs and story "Harvey Shannon: The Cattle Business is Gambling at Its Best".

A colorful and sometimes humorous quarterly, RANGE covers "The Cowboy Spirit on America's Outback", pretty much a perfect description of where Tim lives.
Watch for more of Tim's articles and photographs in RANGE and other magazines in the future: Tim is devoting the summer to a wide range of new stories with a goal of reaching a wider variety of magazines.
---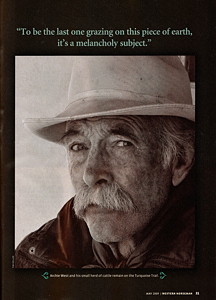 The May 2009 issue of Western Horseman has reached newstands with Tim's article on Archie West, "Last Stockman on the Turquoise Trail."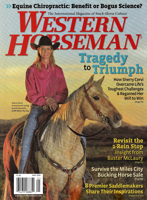 Subtitled "The International Magazine of Stock-Horse Culture", Western Horseman has been "The World's Leading Horse Magazine Since 1936."
The day the magazine arrived, WH editors called to further discuss Tim's planned summer project. Meantime, a new article just written and photographed was mailed off to WH the same week.
And there's more: check News on TimKellerPhotography.com for details of Tim's May photography exhibition at the A.R. Mitchell Memorial Museum of Western Art in Trinidad, Colorado.
---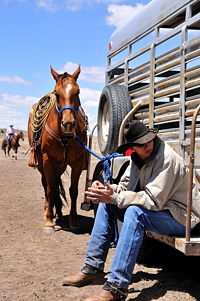 Western Horseman magazine plans to publish at least two more of Tim's articles this year.
Senior Editor Ross Hecox ordered up Tim's feature on Santa Fean Archie West, the last stockman on the Turquoise Trail.
Editor A.J. Mangum sent input for Tim's planned feature on the summer youth rodeo series run by the Sierra Grande Horse Association. Tim's photographs from last year's series piqued the magazine's interest.
Tim has more stories in the works, each accompanied by his own photography, and looks forward with excitement to his increasing presence in America's pre-eminent horseman's magazine.
---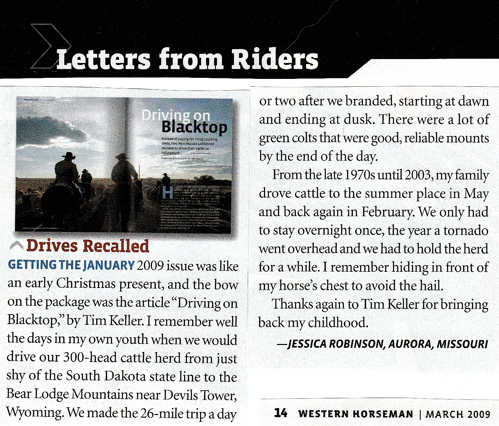 ---
 
Tim's first two albums are finally available on compact disc, thanks to Mike and Hunter Schoonover who digitally remastered the albums from virgin cassettes.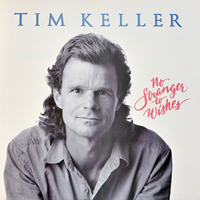 "No Stranger to Wishes" was released in 1987 on LPs and cassettes. "Live at Uncle Calvin's" was released as a cassette double album by the famed Dallas coffeehouse in 1989. The Uncle Calvin's album was a limited release of only 500 cassettes, of which only four remain.
Together, these albums contain 29 of Tim's songs, including such favorites as "Across the Borderland," "Come and Go," "Clear Texas Morning," and "Wish Love Goodbye."
The digital remastering sounds great -- but don't take our word for it: check out the long samples of all the songs, with the track listings on the album pages here in TimKellerArts.com. The new CD releases are digitally transferred to disc via computer and do not come with graphics, available here on the website, but they do come with a great price: only $8, and that includes shipping.
---

In mid-January, Tim began freelancing for The Chronicle-News, which serves southeastern Colorado and northeastern New Mexico from Trinidad, Colorado. Serving the region six days a week, The Chronicle approached Tim after publishing a feature on his article in Western Horseman magazine. Tim's articles for The Chronicle will focus on a wide variety of people, subjects, and events in Raton and around the Volcano Triangle communities of Capulin, Folsom, and Des Moines, New Mexico. They'll also be archived here at TimKellerArts.com.
---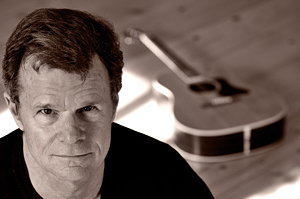 Studio C in Des Moines, New Mexico, has booked Tim for a rare concert performance, solo acoustic, on Saturday evening, July 25, 2009.
---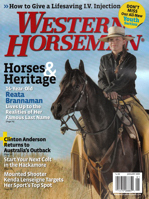 The January issue of Western Horseman has reached subscribers and newstands. Tim's cattle drive photographs and story, "Driving on Blacktop", are featured along with a short bio on the contributors page. WH is the pre-eminent US horse magazine and should be available at any large newstand, such as those at Barnes & Noble or Borders. Studio C has restocked it here in northeastern New Mexico after selling out of the first 24 copies. If you want a copy but can't find it, write and we'll arrange to mail one.
---
TimKellerArts.com launched in late December, 2008.