---
October 27, 2015    A Black & White Western Ball
Today's Chronicle-News features a front-page photo story of Saturday night's big A.R. Mitchell Museum of Western Art Black & White Western Ball, with seven of my photos continuing onto page 3. Although it was my first, and Christina's first as museum director and master of ceremonies, the Black & White Ball is a grand old annual tradition.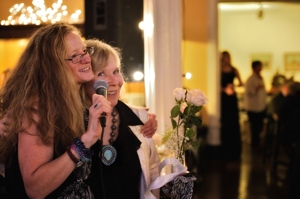 It goes back to the New York City art world of more than a century ago, then spread to Trinidad early in the 1900s. The tradition ended for some years before being revived when the Mitch took it on around 1989, 25 years ago. Today it's a highlight of the region's social life, drawing hundreds for dinner and dancing, drinks and desserts. Christina auctioned homemade desserts and led the festivities, honoring past president Paula Little, among others, for her countless contributions to the Mitch.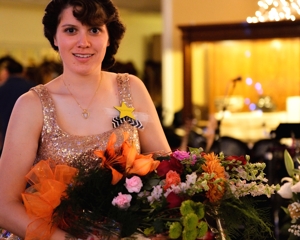 Among the dozens of volunteers (security team, bartenders, wait staff, and more) was THS junior Sally Jane Ruybalid who served with Peter Burg (top) as greeter and later as flower girl and helper during Christina's presentations (right). The newspaper has photos of dancers in front of the Whiskey Creek band, and the table of desserts, and more. As a photographer, the low electric light presented an immense challenge and lots of processing in the computer, but ultimately I managed to submit a dozen images to the paper, much better than I'd hoped as I worked under the difficult photographic conditions. All in all, a great event and some photos that succeed in conveying the story...successes all around.
---
October 23, 2015    A Windfall of Apples
I generally follow the rule that in order to get photographs, you have to leave the house. You have to take your camera and go. But yesterday I found photographs right outside our door. First I worked on the shot at the right, using f/2.8 for shallow depth of field that proved too shallow: you couldn't even tell that a rake was in the background. I went back out and used f/16 for this shot. Then I made a third trip when it occurred to me that I should get a photo of the apples crowded on the overhead branches. I sent the windfall photo to The Chronicle-News and the editor put it atop today's front page. I love the immediacy of working with a newspaper! I'm working on a magazine feature that will take at least two months to complete, then more months to publication, but this evening I'll photograph a skateboarding priest in Trinidad, tomorrow I'll write his story, and Monday I'll enjoy seeing it all in the newspaper. Fun. Like a windfall of apples.
---
October 6, 2015    Aiming Toward the Sky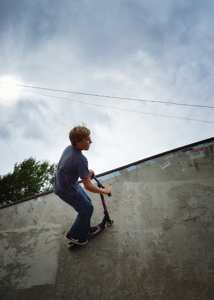 Sunday afternoon I photographed the inaugural Skateboarding Jam at Trinidad Skatepark for my feature that tops today's front page of The Chronicle-News with this photo of Trinidad eighth-grader Jesse Kough speeding straight up a vertical wall before turning for his high-speed descent into the bowl. It was the first time I used the B+W circular polarizing filter that I bought with my Nikon D4 long ago. A suggestion from New Mexico True's Angelo Mitchell at Red River a week earlier made me realize that I've been lazy in not using the filter to bring out deeper blues in my skies. Without the filter, the sky behind Jesse probably would have been nothing but uniform gray. The same would be true of the action shot below of Krystal Esparza flying past a group of young boys awed by her skills.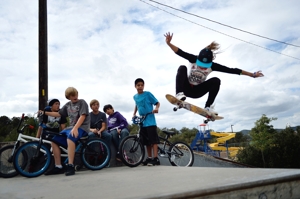 Krystal flew in to teach a skate camp Saturday and participate in the fun Sunday. This was the second-best shot of Krystal flying past the boys: In the best one, the front boy on the bike was sticking his tongue out at the camera rather than looking at Krystal's flight, diminishing the effectiveness of the image. In this second-best shot, the boy's mouth drops in awe as he watches Krystal, making this image more effective. His tongue prank led me to reject a later photo of him riding his bike up the vertical wall: I chose a photo of his brother Jesse instead, and now Jesse tops the front page of today's paper. The lesson, kids, is Don't stick your tongue out at the camera!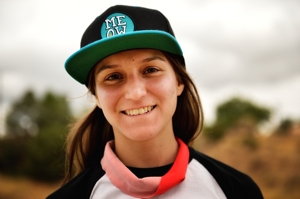 Krystal, left, matched her skateboarding skills with her leadership skills, teaching six hours of skate camp Saturday and orchestrating competitions, demonstrations and interviews Sunday. Originally from Mission, Texas, she now lives in Austin and flew up just for the weekend event in Trinidad. She and local organizer Julie Mattorano succeeded in creating a great new family event at Trinidad's underused skatepark. I told both that I hope they'll repeat this weekend every autumn. It was good for everyone.
---
October 3, 2015    Weather Update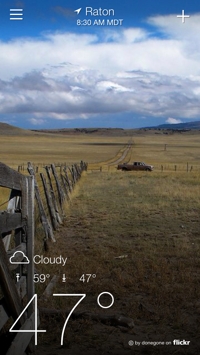 For the second consecutive day, I was lulled by the absence of the sun to sleep later than expected. The uncharacteristic gray drizzle outside led me to check Yahoo Weather while still reading in bed. My eyes opened a little wider to see my landscape photo taken just south of the tiny village of Capulin, 25 miles east of Raton here in northeastern New Mexico. Yahoo owns Flickr and links its immense repository of photographs to its weather site. Right now, refreshing the Raton weather gets a repeating cycle of four area photos, all of which I've seen there before, including this one that I took with a hand-me-down point-and-shoot Olympus camera from my mother-in-law, just days before my own first digital camera arrived eight years ago, Nikon's about-to-be-released D300. My life was about to change. This image was the first on my then-new Flickr account, an account that still brings me some stock photography business but which is otherwise inactive. Yahoo neither asks permission (no doubt it's in the small print) nor pays to use this image on its weather site, but it does give credit that leads anyone interested to my Flickr page, which feels fair enough. Meantime, it was a fun way to start this gray drizzling morning.
---
September 29, 2015    Honky-Tonk Coffeehouse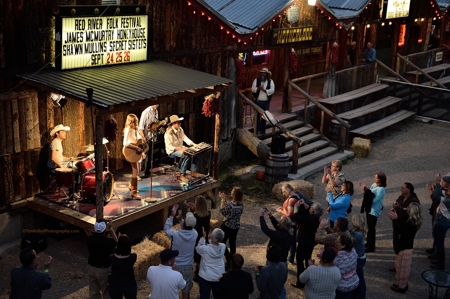 What you don't see here is the whirring drone filming from overhead and the long boom holding another film camera high off to the right on Red River's Main Street at dusk Friday as New Mexico True filmed a commercial with Kelley Mickwee and friends lip syncing to her New Mexico song as assembled locals and tourists gathered as extras, playing the audience. I love the surreal quality of the image, shot from the balcony of The Lodge at Red River where I was staying while photographing the inaugural Red River Folk Festival.
Max Gomez brought in some great acts from around the country to perform in three venues over three days. The commercial was filmed on the porch outside The Motherlode Saloon where the big night concerts were presented, shown in the lower two rows above with photos of Max (in hat), Shawn Mullins, The Secret Sisters, and Shannon McNally (clockwise). Listening to Shannon play solo acoustic in this legendary honky tonk, I realized that owner/co-producer Steve Heglund had created a honky-tonk coffeehouse. It was nirvana. (Click any image to enlarge it.)
The two rows above those show Mike Addington singing in The Lost Love Saloon, from outside, and my street scene taken for the Mike Addington-Red River music feature ("Nine Nights a Week") in New Mexico Magazine, then two photos of Pot Creek String Band of Taos, taken in Red River's Brandenburg Park where the folk festival brought new fans to the annual Aspencade event.
Mike Addington also performed in Brandenberg Park (top pair above), where my photos included Jimmie Killingsworth of Pot Creek String Band and a couple dancing for the New Mexico True cameras. I took a bunch of photos of people having fun at the festivals because I know that New Mexico True and New Mexico Magazine like those shots. I sent a 32-image PDF contact sheet and was pleased that the magazine, currently making the 2016 New Mexico True Adventure Guide (state visitor guide), asked me to send a disc of hi-res images; it went out in yesterday's mail. Plans are already underway for next year's Red River Folk Festival and I'm looking forward to photographing it again while enjoying the great music.
---
September 20, 2015    Signing Up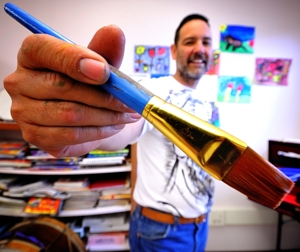 Via a flurry of midweek emails, The Axis Agency licensed my image of Martin Montoya, a wonderful artist and spirit from Tecolote, New Mexico, for internal use in the agency's presentations. We agreed on a price and I sent a hi-res image along with my invoice. Next step, cash the check.
Not. Turns out Axis has pages and pages of forms for its vendors to complete. The W-9 was reasonable and standard, but I eventually complained about the rest, saying that if I'd known, I would have charged more for all the extra time I was spending printing, scanning, and completing forms. They apologized and explained their process, but also said that being on their vendor list now makes it easy for them, and me, to license more work to Axis in the future. They found my work via a Google Image search but now they're familiar with my photography and my website. The next license might be another for the Martin Montoya image: if they publish it in an ad, we'll negotiate a separate purchase. Meantime, it's good to be on their radar. And the first check is in the mail.
---
September 15, 2015   A Songwriters' Whoop De Do
A year ago, New Mexico Magazine sent me to Taos to photograph and write about Michael Hearne's Big Barn Dance Music Festival, publishing the resulting "Bringin' It All Back Home" last month, and I enjoyed the experience so much that Christina and I booked a room at the idyllic El Pueblo Lodge for three nights last weekend and had a fabulous Taos vacation. We walked to galleries and museums, and to late breakfasts at Michael's Kitchen and Taos Diner, and to dinners at Taos Ale House & Burger Stand and, twice, at Doc Martin's Restaurant in the Taos Inn, but the highlight was ten hours of concerts daily at the music festival, a paradise for people who enjoy hearing great songwriters...and who might like to dance, too.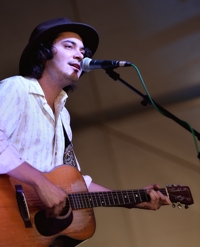 I took a far more relaxed approach than last year when I had only one 10-hour day and was under contract to produce rich photography and an article. This time I didn't take notes and I missed some acts as we took breaks for dinner and walks around town. Still, I managed to get enough good photography that I sent a contact sheet to the magazine's editor and art director; they replied that they would "love" to have these images for next year's preview and the 2016 New Mexico Adventure Guide, so a disc is going out in today's mail. That made my day. I'm posting some of my favorite photos here. They're all musicians. The magazine likes what I call incidental shots--people dancing or listening or eating or walking--and you can see what I did for that by viewing the contact sheet. Me, I like to shoot the music.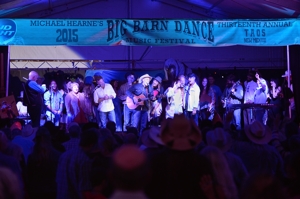 At the top from left are Chuck Pyle joined on his classic "Jaded Lover" by Michael Hearne and Gary P. Nunn, then Bill & Bonnie Hearne accompanied by Don Richmond. (Click any image to enlarge it.) The second row shows Tom Faulkner, the Dallas artist whose "Lost in the Land of Texico" album has long been on my list of Desert Island Discs, then Bob Livingston whose set was deranged and inspired and transcendent, magnificent and forever unforgettable. The third row shows Gary P. Nunn, always a highlight of any show, and Shake Russell, giving one of Christina's favorite sets, both accompanied by Mike Hearne. The fourth row shows Michael Hearne with his band South by Southwest, then the inimitable Junior Brown playing his own invention, the "guit-steel" (virtuoso is too weak a word here), and singing his witty songs in a style grounded in classic 1930s and 1940 country music, the stuff my grandfather was always listening to when I was a kid.
That leaves Taos' own Max Gomez, the first time I've heard him live (impressive), and then the big Saturday night finale with everybody and his dog on stage for what, in my article, Bill Hearne calls the big whoop de do, and it is. Great fun. I have two other events on my calendar the same weekend next year, photo and writing projects, but at this point I'm planning to return to Taos instead. Too much fun to miss.
---
September 8, 2015   Action-Packed
I so enjoyed photographing the 105th annual Trinidad Round-up Rodeo and Fair for The Chronicle-News Sunday that I returned to do it again Monday, Labor Day, for the second go-round. Both days featured several performances by the remarkable women's synchronized equestrian team The Westernaires from Golden, Colorado. They open the events with American flags (top row above--click any photo to enlarge it), then return to perform elaborate and precisely coordinated dances filling the entire rodeo arena. I photographed Junior and Senior Trinidad Round-up Rodeo Queens Micheli Walton and Anne Sporleder to accompany an Op/Ed piece that my wife, Christina Boyce, just submitted to the Chronicle. (See here.) And of course I shot lots of rodeo action.
That's my former Des Moines, New Mexico, neighbor Carr Vincent on the white horse acting as "hazer" while his son Austin Vincent leaps from his horse to tackle a big steer, wrestling him to the ground fast enough to win Sunday's steer wrestling event. Barrel racer Samantha Stringer was less fortunate as her gray horse buckled in the soft dirt of the second turn, making the ground look like quicksand.
And that was just the beginning. It got crazier.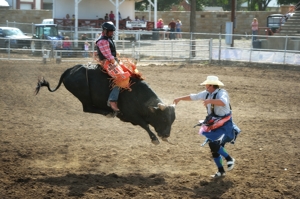 The rough stock events are often the most exciting events in a rodeo, with bull riding topping the bill and closing the show. Here "bullfighter" Ty Pellam of Goodwell, Oklahoma, probably wishes bullrider Jeremy Hanson of Stratton, Colorado, could better steer his bull but no chance of that. I made the mistake of calling Ty a clown when we spoke on Sunday. On Monday, I apologized, having seen the error of my ways and my inexperience. He and fellow Oklahoma State Panhandle University student Ely Sharkey are rightly called bullfighters and they're athletes and heroes, hazing the bulls away from others at immense risk to themselves. (Need more convincing? See the two put themselves in the path of a raging bull to protect a cowboy, and see Ty provide a launching pad for a bull that lifts Ty into the air.)
When bullrider Dakota Cator of Spearman, Texas, went down Sunday his bull punished him, raging and stomping until Pellam (in white) and Sharkey (in red) physically redirected the bull. (Cator was treated and splinted by paramedics but went to the hospital in the back of a private car. I think that's him the next day watching from above as a bull launches Pellam in the linked photo above.) This is when I realized that the term "clown" isn't the right word, and why they're called bullfighters. At this point I'm fascinated by these two and considering the prospects of pitching a magazine feature on them next year--a matter of finding a magazine that's interested.
Bulls aren't the only rough stock. Saddle broncs can give a cowboy a beating, too. Shade Etbauer, of a famed Oklahoma rodeo family, drew a horse named Top of Texas. The horse never settled in the gate but Etbauer finally gave the nod anyway. The gate opened but Top of Texas seemed determined to get to Texas and he knew the arena was the wrong direction. I fired about 18 shots in a few seconds, with these two best showing the apex of the action. Etbauer and Top shot up like a rocket, then back to Earth. Both appeared to leave sore but otherwise uninjured.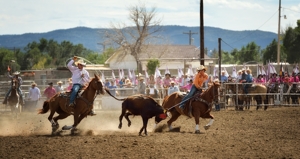 I hope the richness of these images, from both rodeo and fair, make it obvious why I decided to again drive over the Raton Pass and photograph the second day. I had a ball spotting and shooting hundreds of images, then narrowing them down to these, including Trinidad's own Dustin Maez and Tanaye Carrol Maez team-roping here and the children's stick-horse race, below, where some of the kids were so excited that they forgot to ride their horses but instead simply carried them, which no doubt was faster.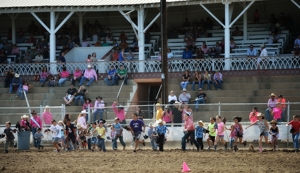 Rodeos and fairs typify rural areas, the areas where I choose to live and work. I've lived in cities and by oceans but ended up here, in the midst of the American West and communities where the annual rodeo and county fair close the summer and the agricultural season with a big celebratory bang. It's a good life that I'm proud to be able to portray with my photographs.
---
September 3, 2015   Music from Angel Fire Goes for the (Korn)Gold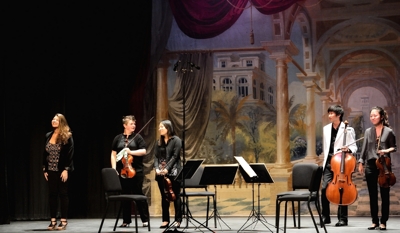 Autumn has arrived--the yard is leaf-strewn and I'm wearing a sweatshirt as I type--and Raton's annual Music from Angel Fire concert of sublime chamber music has come and gone. We live in a remote small town for many cherished reasons, but having world-class artists and entertainers regularly come to us sometimes seems simply too good to be true.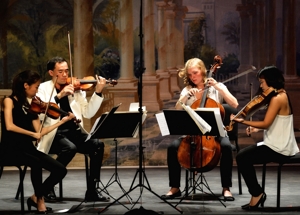 And yet there they were Tuesday night at our century-old gem, the Shuler Theater--four ensembles performing works by four composers and, thanks to Raton's generous foundations and other sponsors, the experience was free to the public. Thank you to all!
I'm posting the photos here in the order of performance with 2015 Young Artist Composer-in-Residence Alyssa Weinberg receiving applause with The Dola String Quartet, top, for their opening performance of her "Parallels for String Quartet," which was inspired by the paintings of her fellow Pennsylvanian, William Glacken. I've always loved the visual aspects of the music of Duke Ellington and Charles Mingus ("Mood Indigo" and "Self-Portrait in Three Colors," for respective examples), so I enjoyed "Parallels."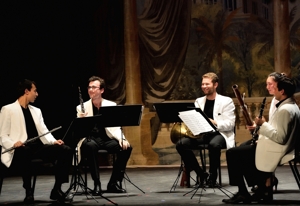 My favorite music of the night, though, was a revelation, the "String Quartet No. 3 in D Major" by Erich Korngold, whose music I've heard in films, especially the 1938 Errol Flynn "Adventures of Robin Hood" that I own on DVD and for which Korngold won his second Academy Award, but I had simply never investigated Korngold or really heard his music. As performed by the delightful Wissahickon Quartet (second photo above--as always here, click any image to enlarge), I was entranced. After I wrote my review yesterday morning, I spent almost $50 at Amazon and iTunes buying about four hours of Korngold's soundtrack and violin music. It's all I've listened to for 24 hours now. (I was also charmed by Wissahickon's cellist, Canadian Arlen Hlusko, especially for how she so often enjoyed watching her companions play even as their eyes remained glued to their scores; she also smiled a lot and her hair flew with her motions, as in the photo.)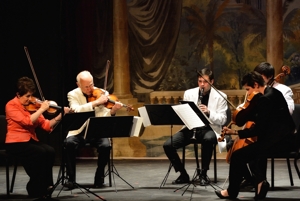 Qwinda's rendering of Samuel Barber's "Summer Music for Wind Quintet" was lush and romantic, Christina's favorite of the night. As they finished, the musicians' smiles said that they were pleased with it, too (above). That left a closing Gershwin medley to celebrate this year's theme, "Made in America," with an ensemble that combined rising young musicians with their long-accomplished elders. Played by a string quartet plus clarinet, the music was playful, rhythmic and fun, a great end to a great show. My 1000-word review will appear in tomorrow's Chronicle-News. Meantime, I'm listening to Korngold's "String Quartet No. 3 in D Major." Thanks for that, too, Music from Angel Fire and Wissahickon Quartet.
---