The First Blogs:
December 27, 2008 -- February 23, 2009
Tim Keller Arts
Find Tim's Blogs by Date -- Archive
---
February 23, 2009    Multiple Personalities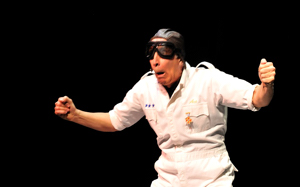 Like everyone else in the audience, I had great fun watching Robert Post zip through his quick-change comedy at the Shuler Theatre in Raton yesterday. But I had an angle no one else did: I was there to photograph and review the show for The Chronicle-News.
When the show ended I raced the 40 miles home, giving me one hour to deadline in which to process six photos and write my review. It would have been longer if I'd had time, and I was late, but it ran in today's paper. Check it out -- I'm pleased with it. Thanks.

---
February 16, 2009    In Praise of New Experiences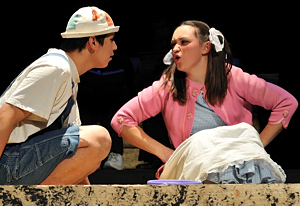 Although I've enjoyed reading reviews all my life, I never wrote one until last night.
Yesterday I attended a play at the Shuler Theatre produced by area teenagers. With the help of a great director in Gail Dixon-Willden, the production was a triumph. I enjoyed sitting front row center with my camera and notepad, then driving home to write the review.
Since I teach some of these students, including Jeff Redlick (pictured in a sandbox with Dale Proctor), I wanted to be positive and nurturing. I needn't have worried: there were only good things to say.
I enjoyed the creative writing involved -- it is far more fun than writing a news piece. In fact, since a lot of my Chronicle pieces are straight news stories, I've added asterisks to the stories I particularly enjoy; they aspire to a genre known as creative nonfiction.
Years ago, I suggested that my daughter Darcy might logically enter journalism through writing reviews -- she'd be great at it. I never imagined I'd launch into it myself. It's a funny old world.

---
February 8, 2009    Readin', Writin', and Learnin'
A Raton elementary school hosted me as a "visiting writer" this week and it looks like the Des Moines schools are next. I had to talk about how I learned to write.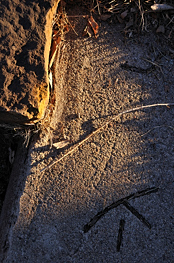 Miss O'Brien, who never gave me a grade higher than C, taught me in 10th and 11th grades how to write an essay; she's directly responsible for my getting straight A's in college English classes. (There were plenty of English classes, too: I'm now a high school English teacher.)
But I've been thinking more about my junior high school journalism class. I remember learning about short paragraphs and the inverted pyramid. I've never studied it since, but somehow I knew just what to do when I recently started writing for magazines and newspapers.
The answer is reading. I think all writers learn more from their own reading than anything else. I haven't studied journalism since that class 45 years ago, but my reading of countless thousands of articles since then has been informed and extended by what I learned in that class.
Writers, like photographers and all other artists, learn to pay attention. Most learning, the best learning, comes from experience and close observation. That's one of the values of the arts -- they show us what's there but often missed.

---
February 1, 2009    Writing, Writing, and More Writing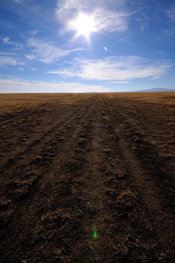 Another busy week since my last blog. As reported on the News page, Western Horseman followed up their decision to run my Archie West feature with some back-and-forth discussion on my summer feature on the youth rodeo series run in June and July by the Sierra Grande Horse Association. The editor, A.J. Mangum, had some great ideas on how to shape the story, which he plans to run in the fall. I'm even more excited about the story since our conversation.
I also worked up a feature on our own Harvey Shannon for Western Horseman, although they don't know it yet. I plan to include it when I send them the Archie West feature. Similar to my Chronicle piece on Harvey, it's twice as long and rich with Harvey's colorful quotes. I don't see how Western Horseman can resist.
Finally, I reported a new story for The Chronicle, profiling the six candidates for the Des Moines school board. At 900 words, it wasn't much shorter than the magazine pieces I've been submitting.
I took the photo above last week out Wilkerson Road. My biggest news this week is on the photography side. I'm excited. Check it out. And thanks for visiting again.

---
January 25, 2009    Western Horseman Calls, Again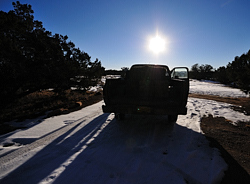 Western Horseman magazine called this week to say they'll run my photos and story on Archie West, whose long shadow is pictured above at the start of a morning of chores.
They'd sent some questions in response to my query and photos, then said yes. Yesterday I actually sat down to write the article. It's on its way to Archie now for fact-checking, along with another I wrote for New Mexico Magazine. The latter magazine is proving a harder nut to crack: I'm hoping my feature on Archie for their Profile page will be the ticket, since Archie's a beloved legend around Santa Fe. My first two submissions, from the hinterlands, failed to interest them.
While Western Horseman considers my summer project on the local youth rodeo series, they're planning to run my Archie West feature in their May or June issue. I'll keep you posted.

---
January 18, 2009    Story Upon Story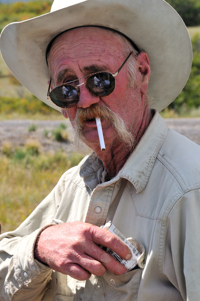 The Chronicle-News ran five of my stories in four days last week. My two favorites ran together on Wednesday -- articles profiling a slave auction, and my friend, Renaissance man Ed Hockett.
This week, watch for a longer profile of local cowboy (and poet) Harvey Shannon (right), who led the cattle drive featured in my article this month in Western Horseman magazine. I'm planning to build one more magazine article out of the photos and interviews I have with Harvey.
Meantime, we're busy adding sample tracks from my first two music albums, which are being converted from analog to digital by Hunter and Mike Schoonover. We'll be offering those albums, "No Stranger to Wishes" and "Live at Uncle Calvins", on CDs for the first time.
All the writing is keeping me from my art photography, though I'm having about the same amount of fun either way.

---
January 10, 2009    Dear Abbey
After The Chronicle-News of Trinidad, Colorado, ran a feature about me last month, they asked me to submit articles, with photos. I hadn't started when I received an e-mail this week saying Chronicle reporter Laura Brewer would be in California for a week: would I please submit a daily article? Though I replied, "Fat chance!", I found story ideas pouring into my head the rest of that day and it now looks like I'll have five stories published in five days. When Laura gets back, I'll slack off, but I may have gotten the bug: doing a little work as a reporter and photojournalist is, well, kinda fun.
I'm hoping to archive each of my articles in the Writing section of TimKellerArts.com, beginning next week. They'll include features on the Business Incubator Center at Des Moines School, Raton's Reflections art show and awards, renaissance man Ed Hockett, and tonight's annual fundraiser at the Des Moines school: a "slave auction". The first article, running today, I think, featured a whirlwind tour through the area by Boston University's exuberant all-male acapella group Dear Abbeys. Look for it in the archive next week.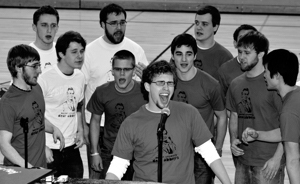 ---
January 4, 2009    The Last Stockman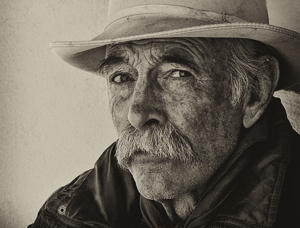 Christina and I spent last week at her family's home on the Turquoise Trail south of Santa Fe. I photographed and interviewed friend and neighbor Archie West, seen above in my photo with additional processing by Marc Gutierrez of Albuquerque.
Archie's lived in the same house since he was six, in 1943. When he got out of the Army at the end of 1962, he bought 30 calves from his Uncle Gene. A couple years later, Archie's cousin moved to Wyoming, leaving Archie with a hundred more cattle and an FHA loan. Since then, Archie's never bought another cow (it seems they just keep multiplying), and he continues to make most of his living as a stockman --- the last stockman on the Turquoise Trail.
I'm transcribing our interview, processing photographs, and writing Archie's story with hopes of seeing an article or two published later this year. 2009 -- a year still so young, already filled with exciting hopes. May it bring all the blessings you might hope for...

---
December 28, 2008    Pedro Cerrillos
Peter Burg drove down from his longtime home in Rye, Colorado, last week to surprise me for my 58th birthday. Peter and I grew up on Muskingum Avenue in Pacific Palisades, California. He was my younger brother Terry's best friend and musical partner for years.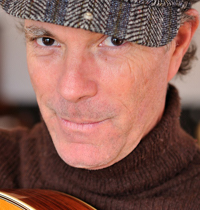 By the early 1980's, we found ourselves living relatively near each other again: Peter in Rye, me in Canoncito at Apache Canyon east of Santa Fe. (Terry remained in California and had quit music altogether.) Peter and I started writing songs and making music; we've been best friends for 25 years now.
We've shared two major musical highpoints (and more great stories than I can share here): we did a 1990 six-week tour of the east together, and Peter played all the lead guitars on my 1995 Little Miracles album. His playing there still thrills me to hear -- I'll put it up against any guitarist in the world.
Sometimes, late at night by candlelight, Peter has played wild flamenco guitar to Christina's equally-crazed flamenco dance; then they become their alter-egos Pedro Cerrillos y Christina Madrid! We spent a lot of time at Christina's Studio C last week, where Peter is a best-seller with CDs, poetry books, and pottery. Of course I took some photographs: here's my favorite, a great capture of my friend Peter.

---
December 27, 2008    George Keller
My grandpa George Keller was born in Cape Girardeau, Missouri, 104 years ago today. He's been gone a long time but has remained a big influence on my life, in two ways.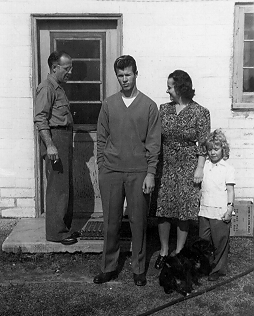 First, he was an inveterate country boy. He left rural Missouri shortly after high school because his older brother had already nailed down the lead in the family's hardware store. Arriving in Los Angeles in search of something better, Grandpa spent the rest of his life trying, and mostly succeeding, to live in the countryside where he could grow a garden and trees and raise poultry, rabbits, and other animals. My father, seen here looking right at us, cleaved to success in LA and a suburban life rich and full in Pacific Palisades. My grandparents ended up living on a huge ranch east of San Juan Capistrano, providing me a summer job and home at sixteen and seventeen and snagging me with the rural life.
Second, there was always a hidden sadness in Grandpa. I wrote about it in my song "Hired Hand", which opened my Uncle Calvin's concert and album. He always worked for someone else, despite wishing he could live on the land and somehow be self-sufficient that way. He was industrious and a hard worker, but he never had the wherewithal, or the prospects, to do whatever it would take to achieve this happiness. From the loneliness I sensed in Grandpa, from his failure to win his own satisfaction, I learned to pursue mine and not settle for less. That has fueled the big moves in my life. Looking back, it has made all the difference.
1944, Van Nuys, California (then orange groves): that's Grandpa at the door, Grandma (Eleanor), and my Aunt Georgia, who still lives in that San Fernando Valley all these years later. Thank you, Grandpa, and happy birthday.

---