All images © Tim Keller unless otherwise noted.
---
March 4, 2018    Outskirts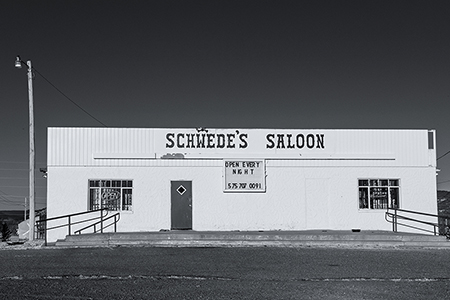 Raton's far south end is less than three miles from our house along the north boundary but my experience with far South 2nd Street is mostly limited to the hospital and doctors' offices, our veterinary doctor, and Tractor Supply Company. I've never seen Schwede's Saloon jumping with cars or people, for example, although for the almost 20 years we've been here, the sign says it's open every night.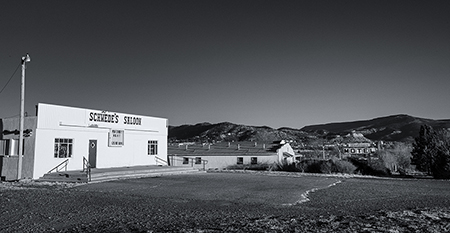 Despite being an aficionado of beers, wines, and margaritas, I'm the last person you're going to find in a bar. I just don't get it: I'd rather have a drink with a friend in our sunroom, on our deck, or at a good restaurant. Schwede's has drawn my attention, though, all these years. How has it kept going so long? Who keeps it going? It has an attraction, but not enough to draw me in.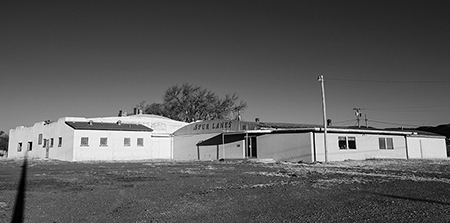 Set back a block west of South 2nd Street and one block south of Schwede's is another business I've never seen in action. Spur Lanes is Raton's bowling alley. As with Schwede's, it's my impression that it's still open, though I could be wrong. Come to think of it, I remember seeing a tiny roller rink nearby on State or Brilliant Street but, like Spur Lanes, I can't tell you whether it's open. I've never personally known or heard from anyone who's told me that they've been inside Schwede's or Spur Lanes or the roller rink.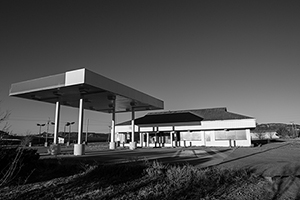 The Shamrock gas station on the same block as Spur Lanes was a going concern for many years after we arrived. We were members of a bi-monthly natural-foods buying co-op and would meet behind the Shamrock station to divy up our orders as they came off the back of a semi trailer that continued its route north from Tucson to Denver. Although it was the only gas station near the south exit from Interstate 25, the Shamrock joined others in closing.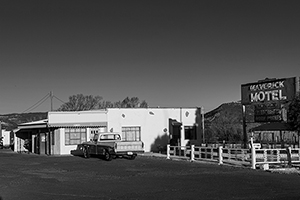 Given the decline and decay surrounding it at Raton's far south end, Maverick Motel is impressive for still being open and well-maintained. It's a good looking little country motel. At the far opposite north end of town, also far from Motel Row, Raton Pass Motor Inn has done an impressive job of resurrection and promotion with new owners who appear to be doing really well. (Kudos!) If it's possible there, it's possible on the far south end, too. For now, though, there's a sign out front that's more prominent than the Vacancy sign. It says, "Motel For Sale By Owners."
March 3, 2018    Restaurant Slow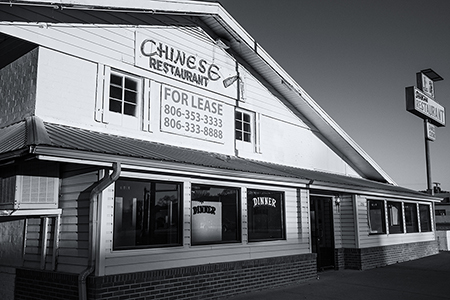 Just as Santa Fe's businesses and restaurants have sprawled southward down Cerrillos Road, Raton spread southward down South 2nd Street. Unlike Santa Fe's booming southern extension, Raton's has been in decline for years. K-Bob's Steakhouse and Asian Buffet continue to do good business--they don't have much viable competition in Raton--but many other restaurants, along with motels and other businesses, have faltered. The latest is K-Mart, which is currently selling its shelves ahead of closing for good--or bad.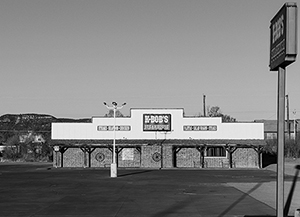 The K-Bob's parking lot fills at dinnertime but I shot my photos at sunrise for the dramatic light, adding dynamic contrast for the black-and-white photography. The other restaurants here, in today's post, are either limping along--El Matador--or closed and abandoned--Shanghai Restaurant and the once venerable Crystal Cafe. Most of the parking lots in these photos would be just as empty at lunch or dinner. For full parking lots you'd have to go out the Clayton Road to Motel Row, a.k.a. Fast Food Alley, for McDonald's, Sonic, Arby's, Domino's, Dairy Queen and rest.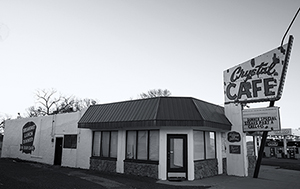 Christina and I are foodies so living in Raton has increasingly become a challenge. Luckily I love to cook so we do well at home. We eat out in Trinidad, Colorado, 22 miles over the Raton Pass and better than Raton for restaurants, but mostly we savor our travels for the great restaurants out there in the world. Taos and Santa Fe are our mainstays. Christina's mom knows that when we're visiting Santa Fe, we'll have brunch with her at home but for dinner I always want to go out to Santa Fe's wonderful restaurants.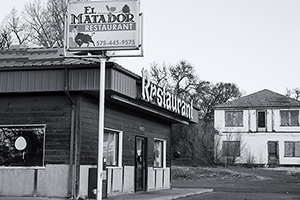 Since the last coal mine closed in 2002, Raton has lost a quarter of its population--now down to 6600, the same as the elevation--and more than a quarter of its income and businesses. These are trying times for rural communities throughout the American West as young people leave for opportunities and action in the bigger cities. Even those who stay behind in the small towns, they drive to the cities for shopping and restaurants. Raton has a huge advantage in its gorgeous and opportune location. Someday there will be a Raton Renaissance. In the meantime, Raton limps along.
March 2, 2018    Downhill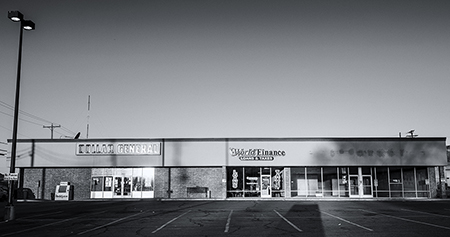 I devoted eight years to promoting Raton in New Mexico Magazine, Western Horseman, The Chronicle-News, Raton Comet, and here throughout my website (including a dedicated Raton Photo Gallery). There were times when I was tempted to present to the City Commission and other local governing/promoting entities a photo essay of the decay that's been gobbling up Raton since at least 2002 when the last coal mine closed, leading to the closing of the local rail economy and gradually many of our town's shops. Raton had four grocery stores and a K-Mart; it's now down to one grocery store.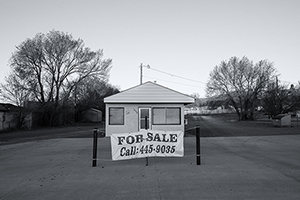 Yesterday morning I went out for an hour around sunrise to begin such a documentary project, photographing along the west side of South 2nd Street as the sun reached it; later I'll do the same along the east side of the street at sundown. (I'm waiting for an evening with clouds in the east.) The worst of Raton's decay is downtown, though that's a different look because the shops and buildings are all wall to wall and block to block. I may get to that later. This decay is certainly not unique to Raton; in fact, it's pretty standard in small towns throughout the rural American West. But Raton's location gives it immense advantages that, so far, it has failed to take advantage of: Too many closed minds, not enough forward vision, although as more new people arrive and more old-timers move out of the way, a Raton Renaissance is inevitable. It's just a question of when.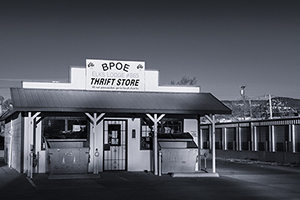 The first photo above shows one of our little strip malls with Dollar General, World Finance ("Loans & Taxes"), and the empty space vacated by SNAP Fitness. (Next to almost every dollar store is a payday loan store. I love this one's name, "World Finance.") Dollar General and Family Dollar are 21st Century American success stories; Raton has one of each--and a half dozen payday loan stores. As I travel, the poorer the rural town I see, the more likely it is to have a big spanking new dollar store.
Raton sits at the intersection of the Rocky Mountains, the Raton-Clayton Volcano Field, and the Great Plains: Few places are so beautiful. Raton also sits at the intersection of Interstate 25 and the Ports-to-Plains route, Highway 87 from the Gulf Coast to Denver and beyond: We're at a major transportation crossroads. The costs of living, land, and real estate are astonishingly low. Until new people bring new dreams and economies, though, Raton remains mired in decay. Documentary photography has a long and storied history of addressing such issues. In the coming days and weeks, I'll be contributing some of my own local takes from here at home in Raton.
February 28, 2018    In New Mexico Light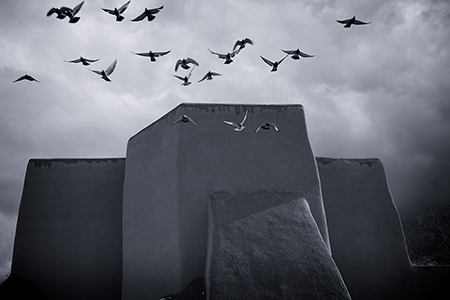 Here's my favorite of the new Taos photographs (see others below) as the birds in flight add drama to the already monumental image of the San Francisco de Asis Mission Church in Ranchos de Taos. These are pigeons that often line the facing top edge of the church to wait for food to appear below. On this afternoon, the day after Valentine's Day, someone had tossed two big handfuls of bird seed below. I walked near the seeds, scaring the birds back up to the building, then waited until they decided I wasn't so scary after all and flew back. We did this dance a few times.
The black and white treatment, shadow and light, and the rumbling clouds in the background combine to give the birds a sense of menace, recalling Alfred Hitchcock's classic horror film The Birds (set and filmed in Bodega Bay, California, which I photographed last October). Learning that they're just pigeons seems anticlimactic, alas. Fortunately, images go out and live on their own.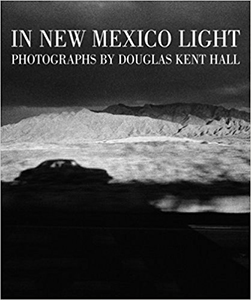 Just before going out on this mid-afternoon photo hunt, I'd enjoyed shopping for used books at Brodsky Bookshop in Taos, where I found a like-new copy of In New Mexico Light: Photographs by Douglas Kent Hall. I knew many of the photographs but not the book itself. Besides inspiring my afternoon photo outing, the book was influential in my decision to process these new Taos photos in black and white, using NIK Silver Efex Pro 2 software (see January 21 below) to emulate classic film stocks and monochrome prints. I'm still savoring the book two weeks later, a treasure for anyone interested in New Mexico or great photography. When I finally add it to my large photography bookcase, it'll be in good company and one of my favorites. Highly recommended.
The few photographs I took on our Valentine's vacation have inspired me: I'm planning my next solo photo outing to range from Taos up the High Road, probably basing myself in Española for two nights while spending most of my time from dawn to dusk out hunting photos as good, I hope, as the birds above. Stay tuned.
February 26, 2018  
Jack Keller
February 26, 1928 - December 20, 2016
Happy 90th birthday today to my father, the first and favorite photographer in my life.
 
February 24, 2018    San Francisco de Asis Mission Church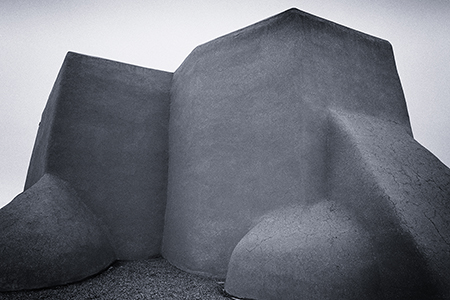 The village of Ranchos de Taos sits at the southern extension of Taos itself, where the High Road veers southeast to quaint mountain villages and the main road climbs a final hill before descending to follow the Rio Grande south past Española and Santa Fe to Albuquerque and Mexico. Back before the American Revolution took place 2000 miles to the east--246 years ago in 1772--the villagers of Ranchos de Taos (then in Mexico) began construction on what would become their magnificent San Francisco de Asis Mission Church. Making their adobe bricks on site, the project took them 44 years to complete--two generations--finishing in 1816. Now 202 years old, the church has proven its staying power.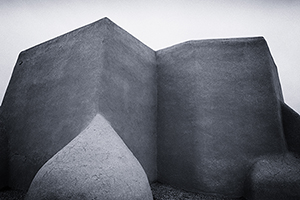 Monumental and sculptural, the church appears made for photography, yet it was completed well before the invention of photography. The back of the church, seen here, faces west to the passing road, leaving the less-photographed front of the church to face a humble plaza to the east, away from the road. Photographers have flocked here for more than a hundred years, to what is almost certainly the most photographed site in New Mexico. I've photographed it several times in the past, most notably "Ranchos Church, Christmas" in a large framed print that's shown around the state, but with these new images I've opted to go black and white, emulating some of the most enduring photographs of the church captured by the best photographers of the last century. I hope my photographs join those in paying tribute to the remarkable accomplishment of the parishioners of Ranchos de Taos.
February 22, 2018    Taos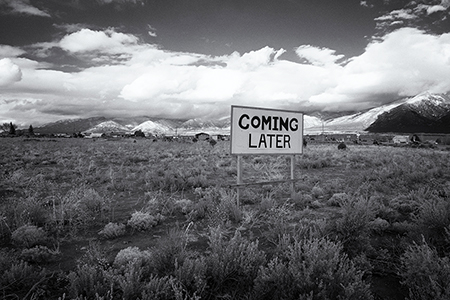 When Christina and I took a four-day Valentine's vacation to Taos last week, I prioritized vacation over photography. Photo trips involve being out at dawn for the morning golden light, then back out for the same in the evening. Vacations involve being asleep in bed, snuggling with your honey, until at least sunrise, and out for happy hour with your honey as the evening's golden light arrives. Photo trips are best done solo. They're work, and not to be confused with vacation.
One afternoon, though, after a late brunch, we split up to enjoy different shops--her a boutique, me the Brodsky Bookshop--and the sky was still filled with dramatic clouds left behind from an overnight snow. El Pueblo Lodge is close to downtown so we were on foot. As Christina enjoyed shops through much of the afternoon, I went back to get the car and go on an afternoon photo outing, normally not productive because of the poor qualities of mid-afternoon light but just fine under all these clouds.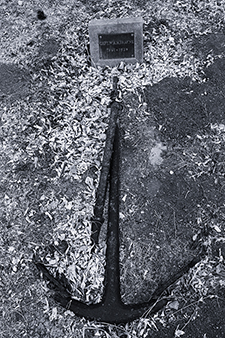 By the time I reached El Prado, above, the clouds were already clearning and remained only around the horizons, killing some of my hopes--at the Taos Gorge bridge, for example, flooded by too much light--but I'd spotted this "Coming Later" sign on my way to the bridge so on my way back I photographed it. The composition is influenced by Wim Wenders' book Written in the West, which propelled my photo tour of Kansas last month. As I did in most locations, I photographed this sign with both the iPhone 7 and the Nikon D5 with 24-70mm lens. I posted color iPhone images to Instagram (@hilocountry) while still in Taos. Back home, I've chosen to process the Nikon images into black and white, using NIK Silver Efex Pro software, which is not currently available (see January 21 below) so I had to import the images into my old Mac Pro where I've kept retired Adobe and Nikon softwares for just such purposes.
The "Coming Later" sign is the only image I've processed and will post in both color and b&w editions. The other image here is a grave in the Taos Cemetery, near those of Kit Carson, Mabel Dodge Lujan, Padre Martinez, and other famous historical figures. This grave belongs to Captain William M. Frayne, 1861-1928. I assume that he was a sailor, although how he and his anchor landed so far from the sea is, to me at least (I don't find him in a Google search), a mystery.
February 12, 2018    Getting the Shot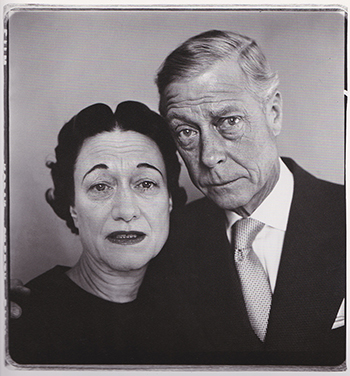 It's the shot that matters, the shot that lives on by itself. Photojournalists and portrait photographers know this well. You do whatever is needed to get the shot, although in both photojournalism and portraiture, there are indeed ethical limits.
Richard Avedon knew that the Duke and Duchess of Windsor would have their long-perfected facial expressions ready when he began their portrait session in their Waldorf Astoria suite in New York in April 1957. Like any good portraitist, Avedon sought to penetrate deeper, to portray the real people under the facade.
He prepared a lie in advance. Knowing that they loved dogs, he prepared his equipment and, as soon as he was ready, he casually confided to the couple that the reason he'd been a little late in arriving was that his taxi had struck and killed a dog. In that moment, the Windsors reacted and Avedon shot (above). It was a setup, and it worked.
The photograph caused an international sensation, displeasing many, but it has lived on as a riveting and famous portrait. I thought of it last week as we enjoyed the second season of Netflix's The Crown. The Duke was formerly King Edward VIII but renounced his throne in 1936 to marry Baltimore socialite Wallis Simpson. They moved to France and rubbed elbows with Hitler; history has not been kind to them. The Crown, like Avedon, explores issues of facade, pulling back layers to expose real people, the good and the ugly alike.
I have three big heavy collections of Avedon's photographs; I scanned the Windsors' portrait from Richard Avedon: Photographs 1946-2004 (highly recommended). Did Avedon cross an ethical line to capture this image of the Duke and Duchess of Windsor? Absolutely. He told a lie in the service of truth. As lies go, this one was white, and worth the result.
February 2, 2018    Home
If you want to find pictures, as general rule you've got to leave home. I was just marveling at a photograph I posted on my TKA Blog (where lately I've been writing short fiction sketches) of a man drinking in a bar at sunrise. Believe me, that's not my normal environment and I got the photo only because I was on a solo photo road trip. I always get up long before dawn, make good coffee and hit the road. By sunrise I already needed to pee but I was in a small town--Antonito, Colorado--so I went inside the Dutch Mill Cafe and Bar to use their restroom. When I returned outside, I had this great and unexpected photograph. (I guess I have coffee to thank for that.) When you're out there on the hunt, you will come home with new photographs.
But once in a while you can get them at home, too. The image above, our roofline, was a test shot. I simply walked outside to fire off a couple frames to make sure my old Nikon software was still working after a Mac update. (I hope my recent switch to Lightroom has rendered this practice a relic of the past. See my January 21 post below.)
I love the roof shot. The lines and colors work nicely. Color and geometry. The image also benefits from a NIK Software filter called Glamour Glow that I used to use a lot, usually so sparingly as to escape notice. Here I see that I dialed it a little stronger and I like it. I don't know how to describe it except as a soft shimmer (most noticeable in the white area). Since my switch to Lightroom, access to NIK filters is tedious and roundabout so I haven't used them. I'm hoping they're again made easily available someday.
Meantime, the roof shot above is a good reminder to not ignore the familiar and the near when hunting for something new.
January 28, 2018    Oaxaca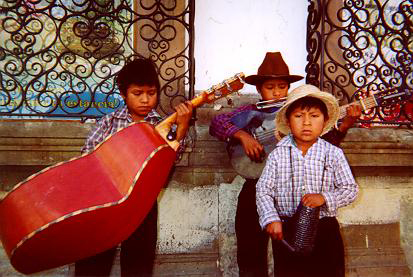 After ten years of active shooting, after numerous shows and dozens of magazine features, a few of my photographs stand out in my mind as my best and my favorites. I'm sure that's true of all photographers, of all artists. Certain works rise to the top over time. They resonate. This one, of three Mayan boys busking on the Calle Alcalá in downtown Oaxaca, Mexico, remains one of my favorites--and it was shot in 2004, more than three years before I bought a Nikon digital camera and started shooting seriously. In fact, this photo was shot on a little yellow Kodak disposal camera, bought at Kmart for a few dollars, used for 12 or 24 pictures, I don't remember, and then the camera itself was mailed off for photo processing.
I traveled alone on buses the length of Mexico and to the center of Guatemala, then back, in 1984 and 1985, ostensibly to gain a better mastery of Spanish. Guatemala was in the midst of revolution, a dicey time. I went back in 2004 with my daughter, my graduation present when she finished University of Texas journalism school magna cum laude, taking buses all the way down as I'd done before. My wife Christina flew to meet us in Guatemala City and we took buses together back up the length of Mexico to Texas. That's when I took this picture, in Oaxaca on our way back north.
Christina and I loved Oaxaca so much--amazing chocolates, mole sauces, and mescals--that we made a return trip in 2005. From Oaxaca, we continued south to stay at Casa del Mundo on Lago Atitlán in Guatemala, a handbuilt inn up 200+ rock steps from the lake, accessible only by boat from Panajachel. That's a trip we've always planned to repeat, and one of these days we'll do it. I never used to carry a real camera south of the border. I traveled light, with a backpack and (not so light) guitar, but no camera. Next time the guitar will stay home but the (real) camera is coming along.
January 22, 2018    New Mexico True Adventure Guide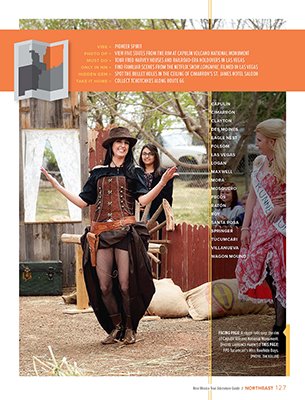 For the ninth consecutive year, the annual New Mexico True Adventure Guide will include my photography. Beginning with seven images in the 2010 guide, I've had multiple photos there every year. This year, between entire staff turnover at New Mexico Magazine and my own crazy transition year, I didn't submit new images. But the new photo gal contacted me Friday to say they'd chosen one of my submissions from the previous year for the 2018 state visitor guide, due out soon.
My photo from Tucumcari Rawhide Days (Did you know that the TV show "Rawhide" was filmed in and around Tucumcari?) will make up all of page 127 (above). Like most media outlets, New Mexico Magazine, which publishes the state visitor guide, relies on embedded tags and keywords in image files to search for images to meet their needs. That's how Google image search works, too. That's why no image leaves my computer without first going through Photoshop to embed copyright information along with tags and keywords. My Rawhide Days submission didn't make it into last year's guide, but this year it did.
Long ago, when I was an active professional singer-songwriter, I imagined that songwriting royalties would help support me in my retirement. With all of my recorded songs now available online (iTunes, Amazon, Spotify...all of them), I make only pennies per month, so that was a laugh. But surprise: my photos now bring me steady income from people who find them online and license them for their various purposes--magazines, newspapers, companies, and individuals.
Lately, in fact, I've essentially made the transition from feeling that I work for magazines and newspapers to feeling that I work for myself. I'm out shooting what I want, when and where I want, rather than shooting for editors. I'll continue to post my images here and at Instagram, and I'll submit work occasionally for consideration by publications, such as the annual New Mexico True Adventure Guide and other travel guides. Having retired from teaching almost three years ago, I'm calling my new approach to media "semi-retirement." So far, so good.
January 21, 2018    Nikon Software vs. Adobe Lightroom
 
Here's a post just for Nikon photographers wondering whether to use Nikon's own software (currently Capture NX-D and View NX-i) versus Adobe's Lightroom. Don't.
Use Lightroom, not Nikon.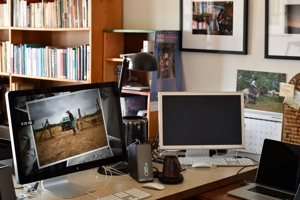 I wish I'd been able to find this advice and information ten years ago. I've used Nikon software for ten years and only recently made the leap to Lightroom. I should have done it years ago. I was swayed, as I began digital photography, by an argument online that said Nikon's raw (NEF) files might be best translated into imagery by Nikon's own native software, rather than by software of another company. Having now made the switch, I see no difference in raw conversion--the images still look great--and importing is effortless, easier than it's been the last two years in Nikon's own software. (The Nikon software remains on my computer, available if I ever want to use it.)
Adobe is a software company. Nikon is a camera company, not a software company. Nikon dabbles in software halfheartedly. It worked well for several years, but then they stopped keeping up with Apple's Mac updates and suddenly it wouldn't work at all for a month or more. For a professional photographer, that just won't do!
Nikon had developed with NIK Software a collection of filters, two of which I came to find invaluable ("Darken Lighten Center," and "Glamour Glow," both in Color Efex Pro), along with NIK's U-Point local adjustment technology--all invaluable--but then Google bought NIK and eventually required Nikon to remove NIK tools from their software. It was still available in Adobe Photoshop but was administered there as a plug-in filter in a separate layer and has now been removed. I've now switched up from Adobe Creative Suite CS 5 to their subscription model, Adobe Creative Cloud CC, adding Lightroom, but the NIK tools are gone. An online search reveals that Google has recently sold them to DxO PhotoLab, a French company that promises an all-new NIK Software Collection in 2018; meantime, they'll sell you the U-Point technology for $129.
When I bought the Nikon D5 almost two years, I discovered that it didn't work with my previous software, and the new software didn't have any of the NIK tools. After long, painful tech support experiences with Nikon's software people, I have an old Mac Pro set up entirely for the old Nikon NX2 software. It won't accept D5 raw files, but I can process any TIFF or JPEG images there, and I can directly import raw files from my D4 and D300. I can move any image files (except D5 raw) from my newer Mac Pro to the old one and still use the U-Point technology and NIK filters. Mostly, though, that's more trouble now than it's worth and I rarely bother.
The good news, though, is that Lightroom does everything else beautifully and intuitively. Nikon and Lightroom both migrate to Photoshop for further processing, but the transition is native to Lightroom, integrated/built in. I tried the new Lightroom CC but found that it badly slowed our Internet for hours and hours, long after I'd finished my work, so I went instead to what's now called Lightroom Classic CC, which saves to my computer rather than the cloud, though with one button I can send any image to the cloud.
That's more than I'd planned to say. Summary: Don't use Nikon software. Use Adobe Lightroom Classic CC with Photoshop CC.
Happy processing.
January 20, 2018    There Is No There There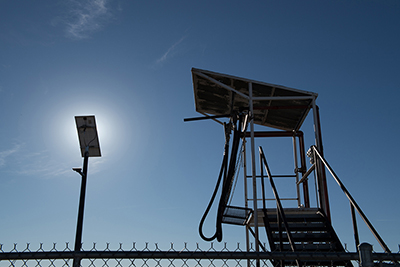 Literally just a wide spot in the road--the narrow shoulderless Highway 160--unincorporated and unpopulated Saunders, Kansas, has a grain silo, two abandoned gas pumps, and a solar-powered fuel station facing the other way, elevated over the railroad tracks. I have to assume that this was, or maybe still is, a fuel stop for passing trains. But really? Why literally in the middle of nowhere? There's no one there, and no one near.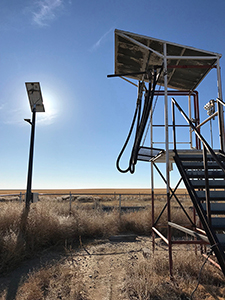 Well, it's made for a couple great photographs. The cropped Nikon D5 image above is the more dramatic but the vertical iPhone 7 image at right provides a visual context and arguably works better if you like seeing the endless expanse of nothing surrounding this fuel station. In both, of course, I've put the sun immediately behind the solar collector itself, which I especially like. Hanging from the left side of the elevated platform are fuel hoses. I'd love to know when they were last used. Nothing about Saunders suggested that anything or anyone has worked there in a long time. I spent most of my time in Kansas driving through featureless expanses looking for features. It doesn't necessarily take much to make a photo...but it takes something. Like a solar-powered fuel station in the middle of nowhere.
January 19, 2018    Saunders, Kansas: Population Zero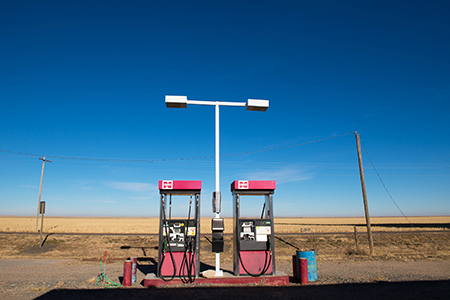 Between tiny Manter, Kansas, and the nearby Colorado state line to its west lies Saunders, Kansas, which the sign proclaims Unincorporated and one look proclaims Unpopulated. There's a grain elevator with a big silo, and a fuel stop with two abandoned gasoline pumps and a solar-powered fuel station apparently for trains? I'll post next (above) about the latter, with photos, but first let's take a look at Saunders.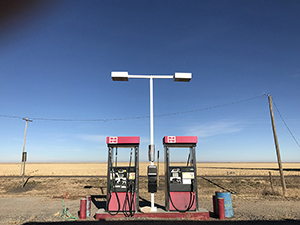 I shot the highway gas pumps with the Nikon D5 (24-70mm lens) above and iPhone 7 at left. The Nikon aspect ratio is 2:3, a wider, more cinematic frame that the squarer 4:5 aspect ratio of the iPhone (and Canon cameras). Otherwise, the two images are virtually identical, though the dark shadow vignette in the upper left corner of the iPhone photo is an issue. That can be a function of a super-wide lens being wide open on an SLR, but here it's apparently my finger or thumb in the way of the phone lens. My bad. Overall, kudos to the iPhone for matching a Nikon pro camera and lens.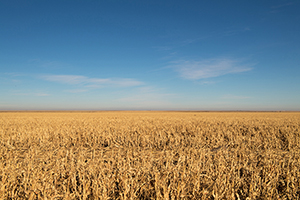 I'd been seeing hour after hour of expansive corn and wheat fields for two days, looking for "things" to photograph. Since I was about to depart Kansas, I walked across Highway 160 beyond the gas pumps and photographed the corn stubble all the way north to the horizon. That's Kansas. You can tell by the wide aspect ratio that I shot it with the Nikon. Normally a photograph needs a focal point, some point to which the eye is drawn; here, like a photo of an ocean, the eye goes out there, way way out there...and that's the point, of the photo and of Kansas (recalling Gertrude Stein's famous line, "There's no there there"). The only focal point is infinity itself.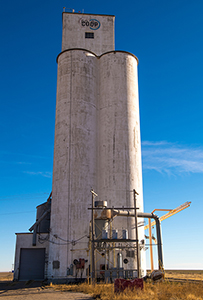 Nestled between the narrow, shoulderless Highway 160 (to the left, north) and the railroad (to the right, south), the grain elevator towers above Saunders--so tall that when I tried to post this photo to Instagram, even their vertical format option wouldn't accept enough height to show the entire elevator: I could cut off the entire garage at the bottom, or the entire square top. Nix.
For an unincorporated place with absolutely no people, I found Saunders pretty picturesque. Investigating a bit online just now, I find this 2010 page with lots more pictures and information from Saunders and the wider Stanton County by Steve Garufi who travels and photographs as ColoradoGuy. If my posts have given you any hankering to see more of this area, check his for a good little tour.
Photographing Kansas isn't for everyone. I like oceans, and I like deserts, so it stands to reason that I'd like Kansas. I do.
January 18, 2018    Moon Over Manter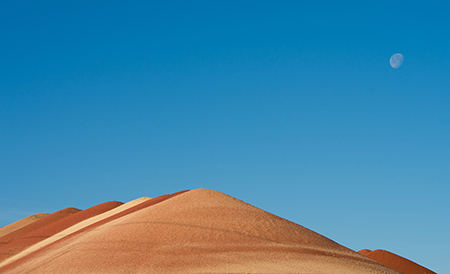 Scouting for strong photographs while driving around rural Kansas is first a matter of scanning approaching horizons for any objects whatsoever. So much is just wheat or corn fields to the empty horizons that the prospect of a photograph often depends on finding an object: a fence, a silo, a farm, a town.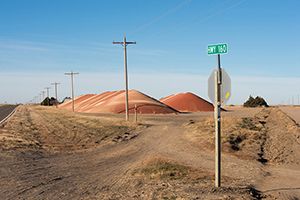 Driving west toward home on my final morning, I found some strong images along Highway 160, a narrow shoulderless two-lane that continues all the way to Trinidad, Colorado, near my home just over the Raton Pass. Some of them were right against the Colorado border, at Saunders, Kansas, but the most exciting, certainly at the time, was finding this moonscape image, top, with the actual moon looming above it. What I saw, at Manter, Kansas, was the second picture, what looked to be mountains of highway department sand or salt for de-icing the highway in winter storms, but I also immediately envisioned the top photograph. I parked my car and carried the D4 with telephoto 70-200mm lens to isolate the "mountaintops" and collapse the depth-of-field to bring the dim distant moon as close as I could. (It was one of very few times I used the long lens on this trip.) A close look revealed the mounds to consist of wheat seeds ready for planting in the adjacent fields that stretched to every horizon. No matter: I got a cool picture of the moon over the moonscape.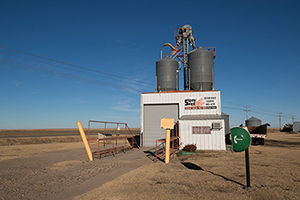 Immediately behind me in that second picture above, if I turned around and looked back east toward Manter, was Sipes' Seed, seen at left in front view. This is at the western edge of the small village, population 160--slightly larger than where I lived from 1999 to 2012 in Des Moines, New Mexico. The sign at Sipes' Seed says "Custom Wheat Cleaning." I like that, along with the pay phone out front along the highway. (Click here to compare this wide D4 image with a vertical iPhone 7 image shot a little closer for detail.)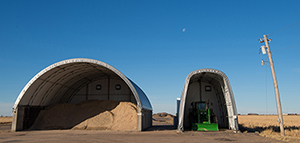 Just east of Manter along Highway 160 at the western edge of Johnson City I had found this highway department yard with separate garages for a front loader and actual highway sand (or salt?), not wheat seed. It's a few minutes earlier than the Manter pictures and the same moon looms over the garages, though this yard provided less potential and less success than Manter. That bent powerline pole is not lens distortion: It really was bent that much. I still felt that the pickings were slim at this point in my final Kansas morning. I didn't yet know what lay just ahead--a village at Manter and less than that at Saunders--where I'd find some photographic riches.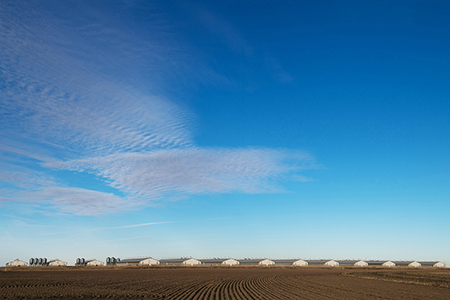 Scanning horizons and a map of Kansas backroads, I drove and searched for good images to photograph. What you see above excited me. I took a dead-end gravel side road west to get to it and made this distant panorama photograph with the Nikon D5 from the plowed farm field before I knew what I was seeing.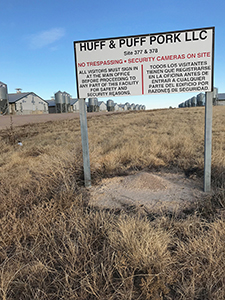 From the distance, I could hear what I thought might be bird sounds. It turned out to be squealing pigs. I drove up to the first of two driveways to two huge pork processing plants a half-mile apart at the end of the road. The sign, seen here in an iPhone 7 photo, was too good to be true: Huff & Puff Pork LLC. The sprawling gray plant, virtually abandoned with only two old pickup trucks at one faraway building, looked so much like a World War II German concentration camp that I enjoyed framing it under the sign. I worked quickly: the sign was foreboding, "No Trespassing - Security Cameras On Site." I half expected one of those pickup trucks to suddenly lurch toward me. I took some more photos--just posted with commentary at my arts blog--give them a look.
It was kinda weird: After this I found myself back in Garden City for a midday break and brunch at an IHOP, where I ordered...the Bacon Temptation Omelette, dripping with cheese and irony.
January 15, 2018    Kansas Retail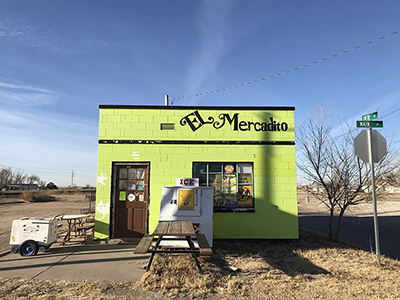 Cruising the Kansas plains looking for images to photograph, I turned off and drove through every town, no matter how small. I love small towns, and the smaller the better. I live in Raton, New Mexico, population 6600, and before that I lived for 13 years in Des Moines, New Mexico, population under 150. Driving slowly through a small town is a good way to find photographs, although the better way is to park the car, get out, and walk.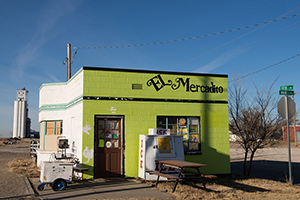 The early morning sunlight on the recently painted storefront at Deerfield's El Mercadito ("little market") made it a good catch. It was too early to be open. Located at the corner of Fifth and Main downtown, there was no one around all the way up Main Street, five blocks. I like the top picture best, taken straight on with the iPhone 7. The Nikon D5 photo at right shows the towering grain elevator back behind El Mercadito. In both, I included the corner street sign to indicate its location on Main Street, and also left plenty of space around the building to show that even this downtown location has plenty of room around it. In addition to the vibrant green, I like the "Paleteria La Tropicana" ice cream cart sitting on wheels outside the front door.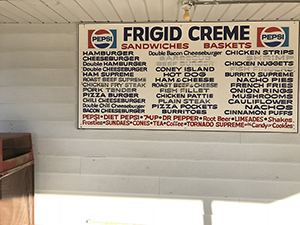 Speaking of ice cream, click the iPhone image at left to see all the offerings, or former offerings, at the closed-up Frigid Creme in Dighton. The extensive menu includes lots of burgers and hot dogs, but also chicken and fish items, nachos, and...cauliflower and mushrooms. Some of the items are grayed out, though not obscured entirely. The trash can and the naked yellow light bulb add to the rough look of this scene, helping it rise to the level, I hope, of some of Wim Wenders' images that inspired me in his Written in the West.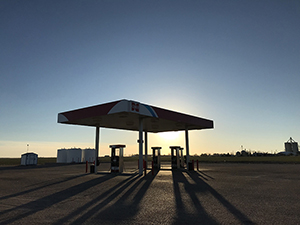 Between Scott City and Lakin along Kansas 25, a paved two-lane highway passing countless grain silos and elevators, I found this Cenex fuel stop right at sunset, perfect timing. Once again, the iPhone version beat the Nikon version, amazing. I wanted to show all the space around the fuel station, that it's unmanned and isolated, and of course I wanted to take advantage of the setting sun to create a strong silhouette with dramatic shadows. I backed up toward the highway to get it just right.
And that was the end of my shooting day. From there it was back to Garden City for a restaurant dinner and early to bed at the Garden City Inn because my alarm would be getting me up early the next morning to catch the dawn.
January 14, 2018    A Day the Fish Weren't Biting
Leaving Holcomb and the sunrise behind, I used a map from the Kansas Visitor Bureau in Liberal to plot a big morning circle of county roads in my search for new images. Except that I'm doing it in a car, it's a lot like hunting, trying to find something to shoot.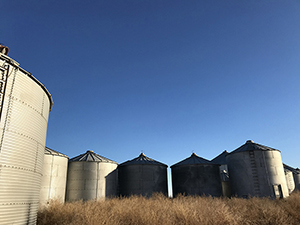 Although I came home feeling successful, with a wealth of strong new photographs, I spent most of this day driving through wheat fields and marveling at how little I could find to shoot. I'd drive sixty miles on a narrow, shoulderless two-lane and see nothing but wheat. A photograph needs a focal point, a center of interest: It has to be a picture of something. There's a limit to how many times you can photograph a wheat (or corn) field effectively.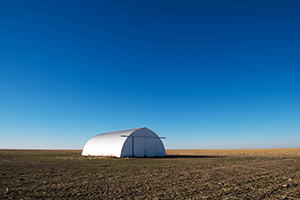 Although hunting is a better metaphor, I found myself thinking of fishing. Even a great and experienced fisherman has days where nothing's biting and he comes home empty handed. I thought of him and knew that he still enjoyed his day of fishing--which is my way of saying that, even as I felt I was coming up thin, I was really enjoying the Kansas backroads and my patient attempts to find something to bring home. I was footloose and free and exploring new ground.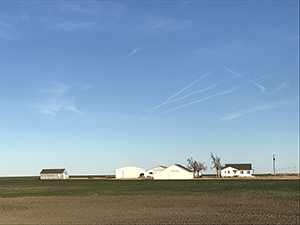 I continued shooting both iPhone 7 and Nikons, and in today's posts it's the iPhone that wins: of the five images here, only the remote storage garage immediately above was shot with a Nikon: The other four are all the impressive iPhone camera with little or no editing. The last photo here was actually taken the day before, just north of Liberal on my way into Kansas. The name "Salley" is painted in red on the white barn and the distant image was so idyllic that I turned around and pulled over on a busy four-lane highway. At this distance, I'd expect the Nikon to outperform the iPhone, especially if I needed the telephoto 70-200mm lens that I carried on the D4, but in this case I wanted a wide panorama. I shot it with both the iPhone and the D5 with 24-70mm lens. Processing both at home and comparing them, the iPhone image got the nod.
I'm happier driving remote two-lanes than heavily traveled four-lanes, so my one full day of Kansas explorations, bookended by nights in my room at the Garden City Inn, was spent on backroads, happy as a fisherman even when he's coming up empty.
January 12, 2018    Cold River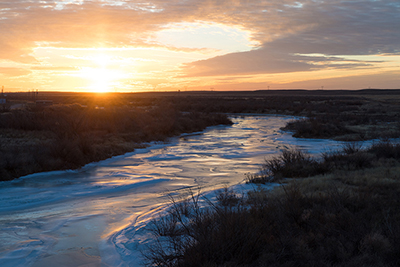 As usual on a photography road trip, I set my alarm in the motel room early enough that I could make and enjoy coffee and then arrive by dawn where I wanted to start photographing. My first morning in Kansas, I wanted to photograph the Clutter farm at Holcomb, immortalized in Truman Capote's In Cold Blood. I drove slowly through Holcomb in the half light, continuing past the Clutter place and across the Arkansas River south of town, getting the lay of the land and scouting for anything that might provide good pictures when the sun arrived to provide its golden light.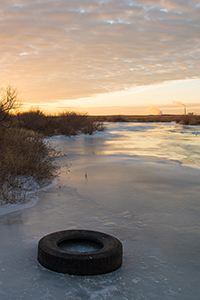 When the sunrise was imminent, I found a place below the river bridge to park my car and I hurried back up across the bridge to the best spot to frame a photo of the frozen river with the sun rising behind it (above). After getting that with both the Nikon D5 and iPhone 7 (in both shots here, the Nikon did better than the iPhone and that's what I've posted), I walked back down past my car to the frozen river itself. At one point the ice cracked under my boots and I felt lucky that my expensive camera and lens and I weren't suddenly immersed in the river. I found some pictures below the bridge, including this one of a discarded tire atop the frozen Arkansas River. It was a good start to a day of photography that would take me a couple hundred miles down the backroads of various southwest Kansas counties. As the sun rose higher, the shots quickly turned golden, beginning a few minutes and a few hundred yards from the Arkansas River bridge at the adjoining Clutter farm.
January 10, 2018    Anymore, We're in Kansas
A recent gift of Wim Wenders' photo travelog, Written in the West, gave me a case of photo wanderlust that resulted in my traveling around southwestern Kansas for three days last week, just me and my cameras, looking for images inspired by Wenders' book, with additional inspiration from Clif Wright's Instagram postings.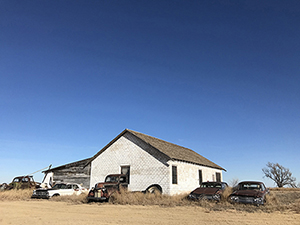 I plotted a circular route that took me to Kansas via the Oklahoma panhandle (right, near Guymon) and back home to Raton via rural southeast Colorado. Even with hours spent driving Kansas backroads, I totalled only 900 miles in three days. My New Mexico home is within a hundred-mile radius of Colorado, Kansas, Oklahoma, and Texas--making varied photography road trips easy to find and fun to choose. Everywhere I stopped, I took photos with my iPhone 7 and a Nikon, usually the D5 with 24-70mm lens but occasionally the D4 with 70-200mm lens. I posted iPhotos to Instagram. Back home, I processed the Nikon shots and mixed those files together with the iPhotos, then went through slideshows and chose the best shots of each location. To my surprise, the iPhotos held their own, often winning over the Nikon shots. All four images posted here today are from the iPhone. Pretty amazing. As I post more Kansas photos in the coming days, I'll try to keep identifying which camera took which image.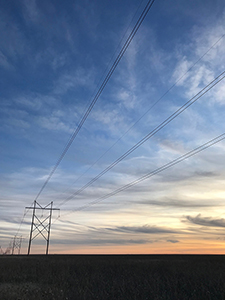 I entered Kansas at Liberal (note the oxymoron) and immediately thought of the Wenders book when I saw the motels above. By the time the sun set under these power lines hours later near Ryus, I was thinking only of Kansas. I took a motel room in Garden City for two nights so I could be out shooting by dawn and back out shooting in late afternoon through dusk but have a place to rest during midday when the overhead sun made good photography more elusive and ineffective. The Kansas landscape is spare and I often marveled at how few photos I was finding per hour of looking...and yet I came home with a wealth of exciting images that I look forward to posting here and at my TKA Blog over the next week or two. Meantime, now that I've processed all those photos, I'm already beginning to consider which direction to go next, looking forward to the next photography road trip.