All images © Tim Keller unless otherwise noted.
---
April 17, 2017    Hiking the Hi Lo Country
After all the greens in my Texas road trip photos below, you can tell here that I'm back home in northeastern New Mexico's Hi Lo Country! When I first moved to New Mexico in 1984, it took me awhile to adjust to all the browns, and the relative lack of greens. I'm still here so the transition took. I love our striking broad landscapes.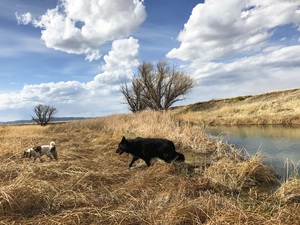 At a water stop yesterday on one of my primary hiking routes, a six-mile ranch loop near Eagle Tail mountain southeast of Raton, I quickly pulled the iPhone 7 from my pocket, first to try to capture an alighting great blue heron, and then to catch my two pups as they ran across my frame at the pond. The heron is in the top right photo but, with the iPhone's wide angle and long depth of field, it's just a spot in the clouds. I can barely make it out when I click and enlarge the photo. The phone camera has been doing great on my travels and hikes, but here's a case where it couldn't compare to what the Nikon can do with its lenses. On the other hand, the Nikon rig is way too heavy and bulky to want to carry on a daily six-mile hike.
We've had Django, our border collie, almost seven years and Jett, our Jack Russell terrier, more than two years. Django was rescued from the animal shelter at Las Vegas, New Mexico, and Jett from JRT Rescue of Fort Collins, Colorado, though he was originally from Colorado Springs where he was found near death after an animal attack. Django and Jett have both become avid daily hikers. Shortly after noon each day, throughout the four seasons, they watch carefully for my boots to emerge from the closet, then they go kinda crazy, all the way until the truck door opens to let them run. We generally hike between 90 minutes and two hours depending on the route. For all three of us, it's a daily gift to our physical and mental health. And each day I get to choose between green and brown, alternating hikes on high-mountain trails in Sugarite Canyon or Climax Canyon with hikes like yesterday's across sprawling pastures in the heart of the Hi Lo Country.
April 15, 2017    The Texas Hill Country
For last week's road trip from New Mexico to San Marcos, Texas, we took one meandering route of Texas two-lanes on the way down and another a few miles further east on the way back. The return trip took us through Llano, in the heart of the Texas Hill Country, and I looked forward to it because I remembered Cooper's Old-Time Pit Bar-B-Que, probably the best barbeque joint I've known, then or now. We arrived hungry--as one must--and the line snaked outside where you point at your meat (above), then they slap it on a tray and you take it inside to weigh it. It's an unforgettable Texas experience.
On the downtown courthouse square, just a block from the Llano River bridge, the Llano County Courthouse is built of big blocks of sandstone. Despite the mid-day light, big trees and deep shadows made the site photogenic. I used both the Nikon D5 and the iPhone 7 camera, then chose the best shot when I got home. Yet again, the phone camera won out!
April 11, 2017    Spring Wildflowers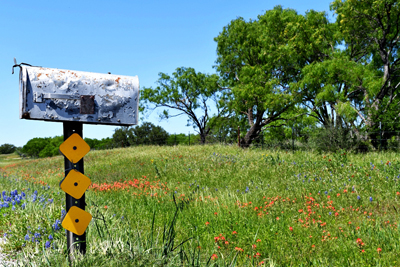 We timed last week's road trip to the Texas Hill Country to coincide with its annual profusion of bluebonnets and Indian paintbrush, avoiding the interstate highways in favor of the countless winding two-lanes. Like California, Texas has had lots of rain in recent months so we enjoyed many low-water bridge crossings. The mailbox photo above was taken with the Nikon D5 (with 85mm f/2.8 lens) but most of the photos I'll be posting were taken with the iPhone 7, which often does all I need when I'm not on a professional shoot.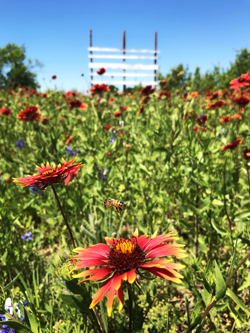 I shot this Indian paintbrush with both cameras and it turned out to be the iPhone that captured the bee taking off in response to my presence. Click to enlarge the shot and the bee--but the fact that you have to do that illustrates this image's shortcoming: the focal point is camouflaged and doesn't stand out, remaining barely visible. A photograph's focal point should stand out. In photographing wildflowers, the biggest challenge is finding or composing a focal point at all: A field of flowers doesn't have a focal point unless you find one, using composition and line or another interesting element. Here I used the bee and the abandoned billboard in the background, but it's not enough to create a great shot. If I was on assignment, I'd have taken the time, especially in morning and evening light, to find what I needed. Instead, we passed through at midday and took what we could find as we traveled--less ambitious but plenty of fun.