All images © Tim Keller unless otherwise noted
---
April 15, 2017    The Texas Panhandle
Walking the Texas Tech campus in Lubbock one evening last week, we quickly pulled out our iPhone 7 cameras to photograph countless birds as they flocked--almost swarmed--overhead and into trees to roost for the night. I thought they might be starlings or the like, but an online search just now tells me that they're pigeons and considered a real problem at Texas Tech.
Another Texas Panhandle proliferation is the opposite of a problem. The immense growth of sprawling wind farms surprised us almost as much as the pigeons. Tens of thousands of wind turbines extend across the entire region. We find them beautiful, especially in contrast to oil wells and derricks, which they're largely replacing throughout West Texas. Their size is astonishing, a long semi-truck trailer needed to carry a single blade. Across the wide expanse of the panhandle, I couldn't help think of Don Quixote amidst these giants.

---
April 12, 2017    The Blanco River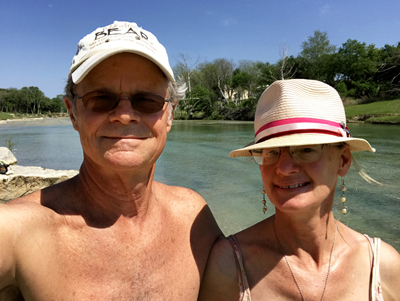 On Tuesday last week, our two dogs, three cats, and one housesitter stayed indoors here at home in Raton as snow fell outside. Seven hundred miles southeast, Christina and I lingered in the Blanco River a mile downstream from Wimberley, Texas, as the afternoon temperature reached 90. We knew it was snowing at home, which added to our pleasure as we dangled our toes in the refreshing water.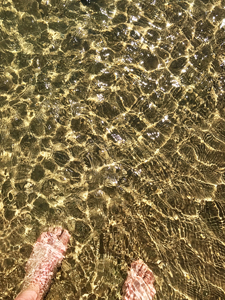 Our road trip to the Texas Hill Country was a trip down memory lane as I revisited favorite places from my eight years living in San Marcos and Wimberley. We found my old garage apartment on Wimberley's Flite Acres Road. The main house next to it was gone, as were many houses washed away in the historic flood almost two years ago, Memorial Day weekend 2015. A For Sale sign stood by the driveway. Suddenly I realized that we were free to walk down and enjoy the placid river, as I did throughout the two years I lived there but never thought I'd be free to enjoy again. After so long, with so much change in Wimberley, I wasn't even confident that I'd be able to locate the old property. It was the first week of April but the river and the temperature took me back to my long summer days there. The thought of snow falling at home only made the afternoon feel more timeless.

---
April 10, 2017    Memory Lane...and Memory River
Among the outcomes of my father's passing in December, Christina and I now own the house that I lived in decades ago when I earned my master's degree at what is now Texas State University San Marcos and taught for eight years at San Marcos High School. After I left town, my dad kept the house as a good investment, with a local property manager keeping it rented to college students. Christina and I enjoyed a road trip last week, timed for spring to coincide with bluebonnets and mild temperatures, to check out the house and walk down memory lane--I hadn't been in San Marcos for 25 years.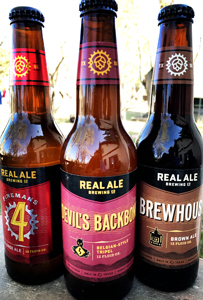 We enjoyed three restaurants that are still going strong after opening when I was there 40 years ago--Grin's, Herbert's Taco Hut, and Palmer's Restaurant, where I once worked as a cook. I enjoyed local craft brews, including these three beers from Real Ale Brewing Company in Blanco, which I liked enough to bring home a case. We stayed at the Crystal River Inn, a B&B on West Hopkins in the heart of town, the same street that I first lived on when I moved to town. (Read all about my San Marcos years in my memoir, Ameripass - Aimless in America.) There's no Crystal River in the Texas Hill Country, but staying at the inn downtown allowed us to take long walks each day and night, exploring the town and the college and, always best of all, the San Marcos River that runs right through both town and college. We liked it all so much that we're planning to take another road trip there each year.

---