---
November 7, 2010      Portrait Photography
Once in a while, I enjoy going through the websites of the other photographers producing fine work in my region of northeastern New Mexico. I keep their sites bookmarked and last night I visited several. Because of my portrait shoot with the Brown family last weekend (see my last blog, immediately below), I found myself drawn to my peers' portraiture and their business models for selling portrait photography.
Kim Mitchell, based far out the Dry Cimarron Valley even more remote than I am, charges $75 to arrive and shoot, then she sells prints and other products directly to her customers. She retains the image files so everything has to be purchased from her; customers do not receive the image files so they cannot use them on their computers or e-mail them or make their own prints.
Jennifer Sparaco of Raton does nice work similar to Kim's. Both specialize in infants, children, and families. Jennifer's website is in transition, her portrait pricing not currently posted, but she's very good and worth consideration.
Marty Mayfield of Raton specializes in sports and school pictures. That's my photo of Marty on his site. He also shoots weddings and portraits. He charges $40 an hour and, like Kim, sells prints directly, charging $1 for each 4"x6" print, $15 for each 11"x14" print. He goes one step further, though: he'll sell the customer a disc containing all the images for $200: this allows customers to keep and use the images on their computers, to e-mail them, and to have their own prints made elsewhere.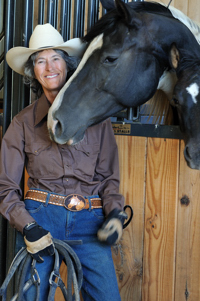 Except for the occasional favor and my own magazine and fine arts portraiture, I haven't entered this arena, but after last weekend's portrait shoot for the Brown family (below), I've changed my mind. As much as I love portrait photography, it makes sense.
My terms are different from my colleagues, though my price is competitive. I charge a flat $200 which includes a shoot that usually lasts an hour or two, then I sort, select, and process images, giving my customer a disc with all the best image files in a moderate size up to 2MB each -- big enough to fill any computer screen and make the customer's own high-quality prints up to 8"x12".
If the customer wants a large family-heirloom print for matting and framing, I will send out a 70MB TIFF file to my own subcontracted fine arts printer for a museum-standard archival pigment print on fine acid-free paper; those prices are available here. Unlike prints on photo emulsion paper, these prints will still hang on the wall of the grandchildrens' grandchildren.
I think this suits me and the customer. I don't want to get involved in making and selling small prints, and customers can order their own at great savings. (Snapfish does excellent work for 9 cents per 4"x6" print, and they also sell mugs and calendars and all the other products some of my colleagues offer. Shutterfly is also very good.) Customers get possession and control of their images, but I retain the high-resolution file and the ability to make and sell fine enlargements. I also retain the right to post samples of my best work here on my website.
How should a customer decide which photographer to use? Not by prices. In the end, there won't be a big enough difference for price to be a factor, anyway. No, I suggest spending time looking through the portraits at each of the sites I've linked above and at my portraits here (see Galleries above left). There's some very fine work in very different styles: choose the photographer whose portraits you love. You'll always be glad you did.
---
October 31, 2010      A Family Photo Album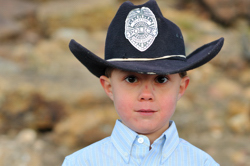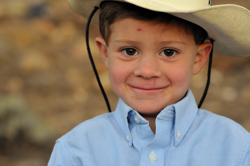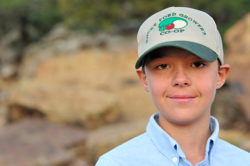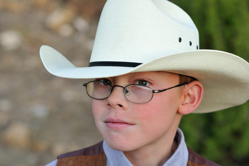 As an outgrowth of the Brown Ranch feature I've prepared for the May issue of New Mexico Magazine, I shot portraits this morning of the four Brown grandsons (clockwise from top left: Kade, Kyle, Jace, and Cole) for their family photo album. It reminded me of how much I enjoy taking portraits.
We started 20 minutes before sunrise and got head shots (above) in that magic light just before the sun rises and casts its hard shadows on everything. I used my portrait lens, the Nikon 85mm f/1.8, shooting on aperture priority around f/4, which brought in plenty of light and pleasantly blurred the background.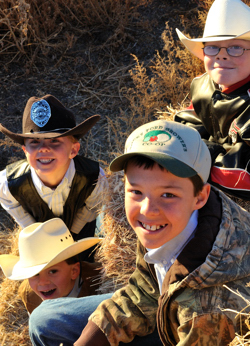 After the sun rose, we moved to a nearby haystack and played around, getting some fun group shots. For those, I switched to the 50mm f/1.4 Nikon lens, needing to be a little wider to get everyone in: I could only climb a couple rows above them in the haystack, unlike on the ground where I could keep backing up if I needed to get wider. (An occupational hazard in using prime lenses in a photo shoot around here is backing up into a cactus!) I shot these at f/13 because now there was abundant light and I wanted wide depth of field to get everyone's face in focus.
Darien asked if he could spread the word and drum up some business for me, but I declined, saying I'm already overbooked with school and magazine stories. But after processing these new photos, I've changed my mind:
When local families ask to hire me to do a photo shoot like this one, I'll make time. It's too much fun not to; besides, what photographer could say no to an opportunity to get images like these! It's been a good day.
---
October 24, 2010      photo.journalism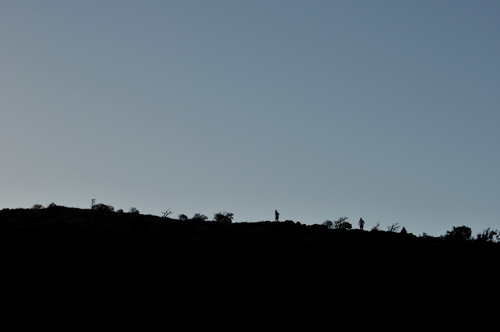 About one year, and ten thousand photographs, into my passionate pursuit of photography, which dates to my purchase of the Nikon D300 on its first day of release three years ago, I began to run up against a wall in my search for fine art images. I had found and taken all the easy shots. I started finding fewer, and lesser, shots. I saw my friends on photo.net and flickr posting mediocre material -- they, too, had exhausted their possibilities. There are always great images available, but they get harder to find, fewer and farther between.
My passion hadn't diminished one bit, so I found myself thinking further afield to find subjects to shoot. One was "environmental portraits" -- people as they are, in their own locations -- a theoretically inexhaustible genre and one which I enjoy. (A look at my four portrait galleries here will show that I like to fill the frame with the face.)
But it occurred to me that another great subject to photograph would be stories. All I had to do was find some. The first to come along was a 4-day cattle drive bringing a large herd down from its summer pasture high up on Johnson Mesa, back when gasoline was $4 a gallon and the ranchers couldn't afford to hire semi trucks. I hit pay dirt with dozens of great photos (out of more than a thousand I shot!) which I pitched to Western Horseman magazine, just because I thought they should go somewhere. They liked the photos but needed a written story to accompany them. Only I could do that, and I did.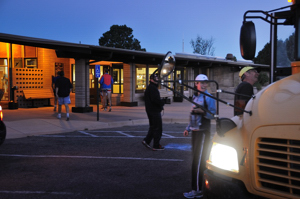 From that point forward, even as I sought more opportunities, others came flying at me. I've come to love telling stories with my photographs, which has led to my combining them with writing, which I've come to love as much as the photography.
I've discovered that it's rare in publishing to find someone who is equally adept at photography and writing: the vast majority of professionals do one or the other. Magazines and newspapers have to hire two people to go after each story. It's a great advantage for me to be able to do both. Success has come much easier than any of my earlier pursuits, especially my music which I threw myself at wholeheartedly for a quarter-century, even pursuing it full-time for four years, but never reaching the level of success I've experienced pretty quickly with my photography and writing.
I feel ambitious. Although I plan to continue teaching for at least two more years (I love it), I see no reason I can't work my way up to assignments for the top magazines, including TIME and National Geographic, to name just two. I look forward to expanding my story subjects to far-flung places and people, traveling the US and the world, finding rich opportunities for great photographs and great stories to write. I see good examples in print every day and I'm envious. I can do that. And I want to. And I will.
By the way, the photography always leads. I produce the photographs first, then use them to lead me into the writing. Strong images produce strong writing, though it's also true that processing good photographs is easier and more fun than composing an essay, so it eases me into the harder work of the writing. When everything is done, though, I take equal pleasure and pride in both steps, the photography and the writing.
---
October 16, 2010      The Brown Ranch: Home on the Range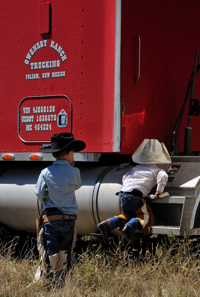 As my work increasingly takes the form of magazine features, new challenges crop up for my blogging. As I discussed in more depth at my arts blog today, magazines purchase exclusive first rights to my work. That means that, in exchange for what they pay me, they want you to buy a copy of the magazine, not read the material here for free, instead.
I can write about my written story, but not print directly from it (until much later). Photographically, it means I'm limited to posting outtakes -- images unlike anything I sent to the magazine, photographs which I judged not good enough for the magazine! Oh well. We work within our limitations.
For my May 2011 New Mexico Magazine feature on the Brown Ranch in the Dry Cimarron Valley of far northeastern New Mexico, I made six trips over a five-week period for photography and reporting. My 1650-word story will spread across six or more pages and be accompanied by approximately ten photographs. Because I sent them 40 photographs to choose from, art director Fabian West is considering a slideshow of all the images for the magazine's excellent website, where it would be in impressive company.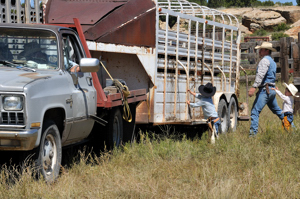 My first day with the Browns, we spent nine hours moving several dozen calves to greener pastures 100 miles southeast of home. (See September 6, below at bottom.) The photos here show them where they unloaded the calves. The boys are playing on Morrow Owensby's semi truck, then helping their dad Brian and uncle Robbie (in the truck) to haze some cows out of the trailer.
New Mexico Magazine is holding the feature for the May issue, to coincide with the Folsom Museum's annual Dry Cimarron Tour May 14, a highlight of which is always the tour of the Brown Ranch. Mark your calendars...and set aside a $5 bill to buy the magazine!
---
October 12, 2010      The Point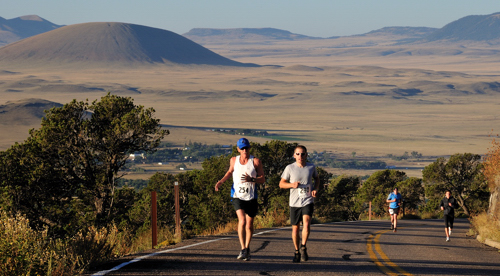 I've been here and in Albuquerque and Taos and out in the Dry Cimarron Valley working on a pair of features for New Mexico Magazine which went out in today's mail, clearing my plate for a spell. (I've never gone this long without blogging!) While I was immersed, I took some flack, both through one woman's complaints to the Chronicle-News and here, anonymously, in my Guestbook, for featuring the winning runners of the Capulin Volcano Run Around the Rim, here and in my Chronicle coverage, to the exclusion of those runners further back in the pack.
My first thought is back to the 29 road races I ran during my 30s -- 5K, 10K, half-marathon, 15K, 20K, and marathon -- and that it didn't occur to me then to be upset that my name never appeared in the newspapers. I averaged 6 1/2-minute miles, which would would have won the Capulin half-marathon, although, come to think of it, I never ran up a volcano. My point is that I ran for pleasure. If people are running road races to get their names in the paper, that's a rugged way to go about it.
For the first two Capulin Volcano Runs, I was asked to get a photo of each runner in the half-marathon. If you look back through the 2008 and 2009 photos, available at the Capulin Volcano Run website, and then compare them to the 2010 set, you'll see a big improvement in this year's photography overall. Why? Because the race grew too big for me to get everyone -- up from 18 runners to 59 in the half-marathon this year. I told the organizers that I could no longer get good photography and get a shot of every runner.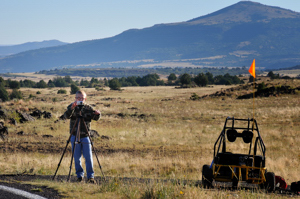 Another consideration was journalism. An enterprising writer can certainly find good stories back in the pack of a race, but I was covering a news story for the Chronicle. The news was the leaders.
The Capulin race still hopes to get and publish a photo of every runner, even if the race continues to double or triple each year. (I know of no other race that attempts this.) Here, at right, is their excellent solution: a 2nd Unit photographer! That's Hunter and his camera, tripod, and go-cart. He took a photo of each runner as they passed his location about nine miles into the race. Look for his shots soon at the race website along with lots more of mine than I've been able to fit in here.
A woman runner from Santa Fe had my favorite solution to the problem of being ignored by the newspaper and race photographer: she shot her own photos using her camera phone, then made a complete slideshow featuring herself running the half-marathon. I say !Brava!
---
September 29, 2010      The Crack of Dawn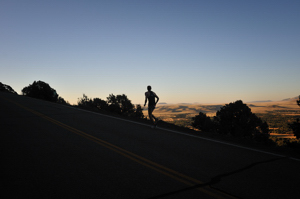 Chasing the half-marathon runners up and down Capulin Volcano has produced a few special photographs the last two years. Sunday morning for the 3rd Annual Capulin Volcano Run Around the Rim, I was back for more, again as the official race photographer, which gives me unlimited access.
It's getting harder to have access, though: the race tripled this year from 18 runners to 59, so it was more crowded. It's expected to double next year. I race my car through the pack several times and there's a limit to how crowded the field can be and still allow me to do that.
I also run a lot. I ran up the volcano rim to get the runners coming up the south side beginning their loop of the rim. Then I ran back down, and up the other side to get the runners coming down that side. One of them saw me and said, "I wish I could get around as fast as you can!" I smiled. (I was once a marathon runner, myself, and I enjoyed the comment.)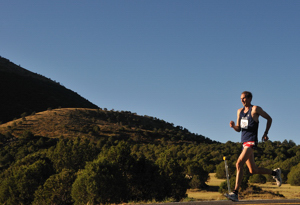 Eric Peters of Santa Fe is featured in both photos here (Click either to enlarge). He led the race from the start. This shot on the right is one I hope to repeat each year. I'm on a hill down below the roadway so my lens is at road level (without my having to lie down!). I pan with the runner and fire several shots in quick succession, keeping him to the right in the viewfinder so he's always running into the frame. I hope for one where he's airborne, as he is here. (Here's one from the same spot last year.)
I have two other photos posted with my feature in the Chronicle-News, available here (Page 1, Page 2).
I'm having trouble making time to write my blogs! I've always, for almost two years now, managed to blog both here and at TKA at least weekly. But now, in addition to being early in another demanding school year, I just submitted a feature for Western Horseman, I'm completing one for New Mexico Magazine, and I'm starting another for New Mexico. I've written and photographed eight features for The Chronicle-News during the past eight days. I'll be in Albuquerque interviewing Max Evans Saturday and maybe to Taos for some photographs Sunday, so don't look for me back here for about ten days! I'm doing all I can! (And smiling while I'm doing every bit of it.)
---
September 19, 2010      How Rich Can It Get?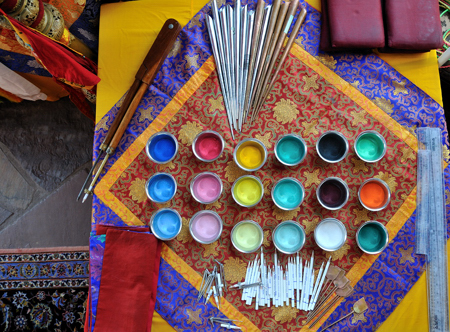 Between the Mandala Center's International Day of Peace activities and last night's "Rhythm & Passion" Argentine dance performances at the Shuler Theater, yesterday's photographic opportunities proved too rich for one blog; but, because today's opportunities promise even more riches, I don't have time for two blogs! Normally I'd be posting some dance photos from the Shuler stage, but instead I'm focusing on the greater thrill, some photos I took yesterday at the Mandala Center.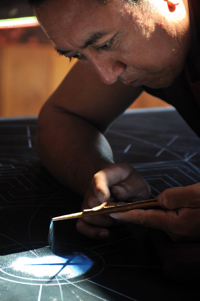 The Mandala Center is hosting eleven Tibetan monks of the Drepung Loseling Monastery for four days leading up to Tuesday's International Day of Peace. The opening ceremony presented an extraordinary half-hour musical performance, but their primary endeavor while here is the creation of a Mandala sand painting.
Intended to create energies for global healing, which many will agree that we're in need of today, the sand painting will take days to create. Then, to symbolize life's impermanence, it will be destroyed at the closing ceremony Tuesday afternoon.
After the opening ceremony, the process begins immediately with the drawing of an impressively elaborate geometrical design on a black tabletop about four feet square. An adjoining table, shown at the top, holds all the colored sands and tools the monks will use. Then, they slowly and carefully begin applying the sand, starting with light blue sand in the center circle.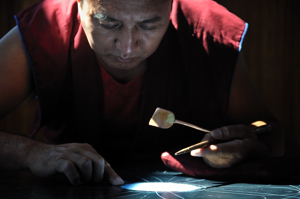 I got some other wonderful images, as well (Hats, Monk), and I'll be stopping by daily for more until I photograph the closing ceremony for The Chronicle-News.
Many people would define Des Moines, New Mexico, as very close to the middle of nowhere. I'm repeatedly amazed at how much is out here, and what a rich photographic wonderland I've found.
---
September 11, 2010      Too Much of Too Many Good Things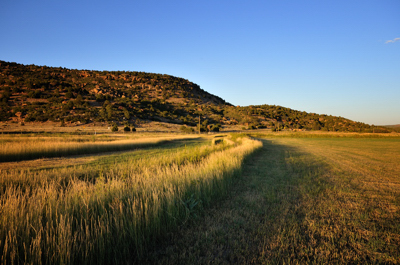 Today's TKA Blog goes into some detail of the several magazine stories I've got my hands in right now. As a photographer, I feel like I've died and gone to photographer heaven! I love developing these stories, and I always lead with my camera.
Soon I'll be taking portraits of one New Mexico's greatest writers, Max Evans, author of The Rounders and The Hi Lo Country. I'm only halfway through shooting life and land on the Brown Ranch, on the Dry Cimarron River (above). Those are for New Mexico Magazine, for the February and May issues, respectively.
Western Horseman's editor Ross Hecox, himself a great photographer who has taught me much, wrote this week to tell me how happy he is with my shots of Linda Jackson, one of which will get a full page with my Women of the West feature, perhaps in the January issue, give or take a month in either direction. Having finished the writing this morning, I'll be preparing hi-res Tiff image files this afternoon for sending off to Ross on a disk.
I'll also be shooting photos today for a pair of Chronicle-News stories which I'll write tomorrow and see in the paper next week.
I guess I'd fly off the edge if I didn't so enjoy all this work; instead, it keeps me centered and feeling rich.
---
September 6, 2010      Inside a Ranching Family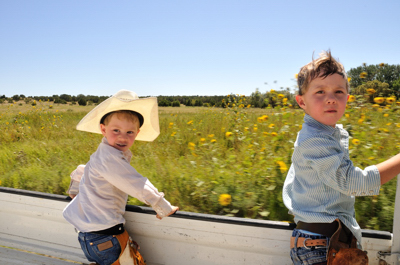 Some projects border on being too much fun. Here I was Saturday riding down a remote dirt ranch road in the back of a little pickup bed with Kyle and Kade, two brothers from a ranching family on the Dry Cimarron River in the far upper right corner of New Mexico.
Kade, right, asked me, "What are you doing?" It turns out that they're not allowed to take pictures yet. I told them that it's something they can look forward to.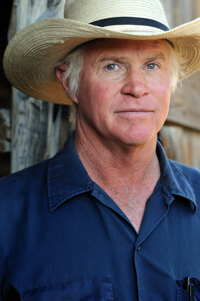 The boys' grandpa, Darien Brown, right, was moving 60 pairs of cattle one hundred miles south to another ranch for the grass. "They got all of their rain this year, and all of mine." It's the first time since the dust bowl, during the Great Depression, that cattle have had to be moved from the Brown Ranch.
I'm preparing a feature for the May 2011 issue of New Mexico Magazine -- the fascinating history of Darien's ranch, which was created in 1864 and has been in the Brown family since Darien's great grandfather bought it in 1914. The story will also show how ranching has changed, and how it's become an economically precarious life. There's just no telling whether the ranch will still be a viable option when it's Kyle's and Kade's turn to take it over.
It's a photographer's field day. I've shot 600 images over two days and look forward to more as I spend much of September on the project. I'm a lucky guy.
---