December 19, 2010      Does This Make You Want to Take a Vacation?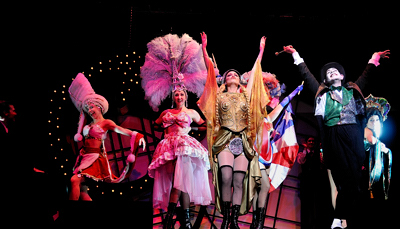 The 2011 New Mexico Vacation Guide is now arriving by the caseload at the state's visitor centers, hotels, B&Bs, restaurants, and other travel destinations. The 180-page glossy magazine is available to all at no cost; the state tourism department, via New Mexico Magazine, will even mail it to you for free: click here.
My photo above, of the touring production of Cabaret at Raton's Shuler Theater last March, graces page 101, which is devoted to New Mexico's vibrant Performing Arts and Visual Arts scenes. I'm surprised to find the photo there!  For one thing, it wasn't among my submissions for the Vacation Guide: it was an outtake from my June article on the Shuler Theater. For another thing, it doesn't exactly scream "New Mexico Vacation Guide!"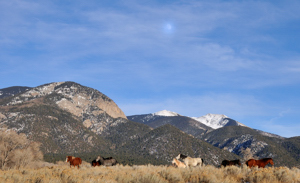 The shot on the right is less surprising. I thought enough of the image to submit it, though apparently not enough to have ever previously posted it here on the website. The horses were grazing immediately south of Arroyo Seco, on the road from Taos to the Taos Ski Basin, in late afternoon last winter. I shot it with a telephoto lens from the road just before entering Arroyo Seco. The moon is peeking from some thin clouds above the mountains, adding to the photo's appeal. (Click any of the images to enlarge.) The photo takes half of page 165, alongside Taos Ski Valley listings.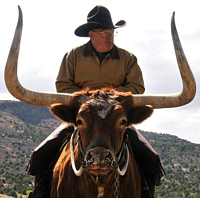 My third image in this year's Vacation Guide is another surprise, and one which couldn't be more different from the first one! Taking about a third of page 127, next to the listings for Folsom, this is "Fred and Bob" -- Fred Balmer of Folsom Falls Ranch sitting atop his Texas Longhorn, "Bob", out at the ranch along the Dry Cimarron River. It's another shot that was not among my submissions for the Vacation Guide. New Mexico Magazine, which publishes the Vacation Guide, uses keywords attached digitally to each image so they can cross reference it and consider it for later uses. This shot came from something I'd sent earlier, and the images they didn't choose from this year's submissions might well show up in later features, or in a future Vacation Guide.
With the annual Vacation Guide as an extra motivation, I'll have my camera with me throughout the coming week as Christina and I hit the road for some more holiday travel. As if I needed an extra motivation.
---
December 14, 2010      In Praise of Low Tech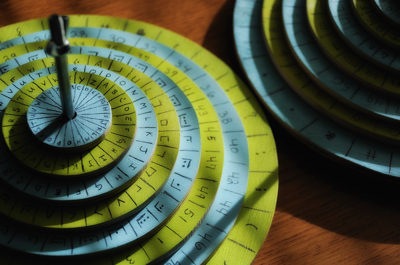 Sometimes you're not thinking of photography at all when a photograph just plops itself in front of you. My student, Tess Neary, brought in these code wheels she made as part of her semester inquiries for our talented & gifted program. She left the wheels in my classroom until she returned later to make her presentation. During that time, I marveled at the wheels. And I thought, dang!, I'm going to take a picture of them.
I waited until later, after her report, because I wanted her to be there, then I put the pair of code wheels on a student desk in the winter window light. I love the colors, shapes, shadows, and light. (I'm a huge fan and regular practitioner of window light for photography.)
Tess had her classmates use the wheels to code some words, then gave them some of her codes and had two teams race to decipher them. The wheels are very low tech, handmade of 3/16" plywood, paint, and ink. Tess pointed out that modern codes involve computers and mathematical algorithms.
I like Tess's code machines better.
---
December 4, 2010      Bah, Humbug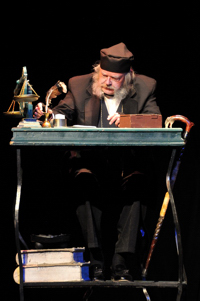 For Monday's review in The Chronicle-News, I shot the Shuler Theater's 9th annual production of "Christmas Carol" two times -- at Thursday night's final dress rehearsal and Friday's opening night performance.
I like shooting the final dress rehearsal because I get full run of the theater without distracting an audience. I take shots from the loge boxes and both sides of the balcony, then lots of shots from various vantage points downstairs. As I see a scene shaping up, I'm able to quickly move to an optimal spot for a specific shot. It works great and, because the actors are in full costume and makeup, I'm able to use the images right alongside those I take at the actual public performance the following night.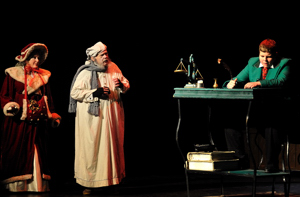 I doubt that most people pay attention to the varying angles, but I think it adds to the appeal, perhaps like a movie director who shows a scene from various viewpoints. On the actual show night, I usually shoot only from my seat -- often front row center -- though I'll sometimes move to the balcony for the second act.
Joe Zink is remarkably photogenic as Scrooge. The 75-year-old actor is playing the old miser at the Shuler Theater for his fourth consecutive season. I like the image of the Ghost of Christmas Past (Carol Crary) giving him a glimpse of himself when he was a young man (Robert Caldarelli) just beginning his heartless and miserly ways. It leads to the highly dramatic image of him repenting at his own gravesite. (As always, click on any image to enlarge it.)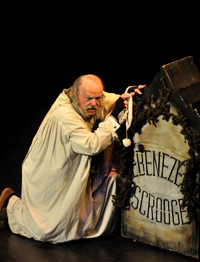 I submitted to the Chronicle one other image I especially like of Scrooge and the Ghost of Christmas Past out in front of the red curtain while the scene was being changed behind them. (The production did a great job with seamless scene changes.)
There were 45 actors and singers of all ages on the stage. How director Gail Dixon-Willden manages that is a mystery and a marvel, but she succeeds time after time. One thing I've noticed during rehearsals is that she's the one person out in the dark auditorium who is providing applause and loud laughter to the actors rehearsing onstage. Besides fueling them, she's giving them an indication that this is what to expect on show night. It's fun to see (or hear, as the case may be).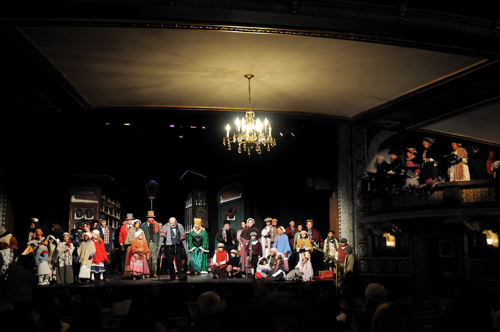 The theater was crowded for opening night, but the Shuler always has room for more. Performances continue through next weekend.
---
November 28, 2010      Kick the Can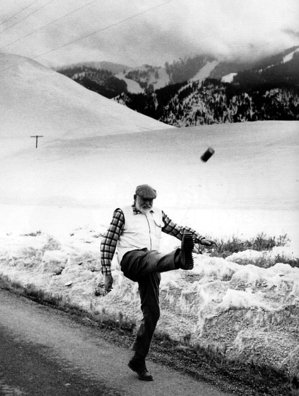 I spent some time with Max Evans this week and enjoyed a signed, framed print of this photograph on Max's kitchen wall. An inscription reads something like, "To my friend Sam Peckinpah, from John Bryson."
It's Ernest Hemingway kicking a can near his Idaho home, spurred on by photographer John Bryson who, according to Max, suggested the image to Hemingway and got what he requested.
Max was for decades a close friend and drinking buddy of famed American film director Peckinpah. Max says Bryson promised him his own print but Max never got it so he told Peckinpah late one hazy night that he was going to take Peckinpah's. "You can get another."
"I didn't steal it," Max says. "I took it."
I love the story as much as I love the photograph.

P.S. My visits with Max produced two magazine features -- first in New Mexico Magazine, then a different one in Western Horseman.
---
November 21, 2010      Teens Are a Funny Breed
Raton High School's Mask & Wig Club produced Jonathan Rand's 2006 comedy "Check Please: Take 2" at the Shuler Theater Friday and Saturday nights. The young actors were impressive, milking lines for laughs that would have escaped lesser talents. It was doubly fun for me because I teach all of the students; seeing them acting comedy roles on stage was a revelation and a hoot.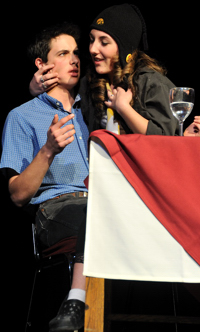 The group has a new sponsor and director in Cian Hazen. This was the first time he'd directed a play, though his long immersion in theatre showed and it's clear that the future of drama (and comedy!) at Raton High School is promising.
I photographed the entire group earlier for a Chronicle-News preview; that photo is also posted on last week's TKA blog. My review of this weekend's show will run in The Chronicle-News this week.
My apologies to the actors I wasn't able to include in the photos here, and kudos to James Neary for managing to get into every single one of them.
---
November 14, 2010      Catching the Light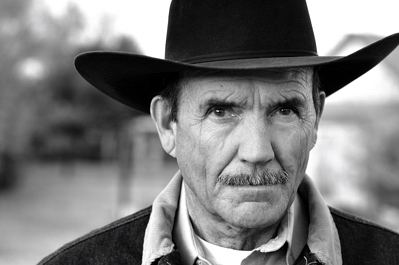 I've been looking forward to interviewing and photographing auctioneer Walter C. Hall for the February issue of enchantment, the magazine of New Mexico's rural electric co-ops, but I've been hoping he'd drive the 60 miles to me, saving me having to drive to him! The phone rang at 3:30 this afternoon -- I was outside digging holes to transplant yearling trees -- and it was Walter asking if it'd work for him to drive to my house right then.
Looking at the clock and adding an hour for the drive, I instantly figured that he'd get here right at sunset: perfect light! If he wasn't late.
And he wasn't. His headlights were on as he pulled in; the sun had just set. There wasn't time to walk him 300 yards to open land across the highway; I walked him 50 yards across our back yard and turned him to catch the disappearing sunlight on his face while minimizing the background distractions.
To blur the background, I shot the 85mm Nikon lens at f/4 (1/30s, ISO 220), standing close to Walter because I like to fill the frame, but it also helped to further blur the background.
enchantment is getting a pair of vertical color portraits, one tight on the face and another showing him from the waist up, so I figured I'd share this one here since it's different: horizontal, black & white. What a face! I like the shots I got.
By the way, I learned more than I ever imagined about auctioneering!
---
November 7, 2010      Portrait Photography
Once in a while, I enjoy going through the websites of the other photographers producing fine work in my region of northeastern New Mexico. I keep their sites bookmarked and last night I visited several. Because of my portrait shoot with the Brown family last weekend (see my last blog, immediately below), I found myself drawn to my peers' portraiture and their business models for selling portrait photography.
Kim Mitchell, based far out the Dry Cimarron Valley even more remote than I am, charges $75 to arrive and shoot, then she sells prints and other products directly to her customers. She retains the image files so everything has to be purchased from her; customers do not receive the image files so they cannot use them on their computers or e-mail them or make their own prints.
Jennifer Sparaco of Raton does nice work similar to Kim's. Both specialize in infants, children, and families. Jennifer's website is in transition, her portrait pricing not currently posted, but she's very good and worth consideration.
Marty Mayfield of Raton specializes in sports and school pictures. That's my photo of Marty on his site. He also shoots weddings and portraits. He charges $40 an hour and, like Kim, sells prints directly, charging $1 for each 4"x6" print, $15 for each 11"x14" print. He goes one step further, though: he'll sell the customer a disc containing all the images for $200: this allows customers to keep and use the images on their computers, to e-mail them, and to have their own prints made elsewhere.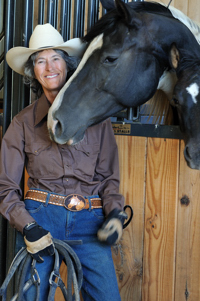 Except for the occasional favor and my own magazine and fine arts portraiture, I haven't entered this arena, but after last weekend's portrait shoot for the Brown family (below), I've changed my mind. As much as I love portrait photography, it makes sense.
My terms are different from my colleagues, though my price is competitive. I charge a flat $200 which includes a shoot that usually lasts an hour or two, then I sort, select, and process images, giving my customer a disc with all the best image files in a moderate size up to 2MB each -- big enough to fill any computer screen and make the customer's own high-quality prints up to 8"x12".
If the customer wants a large family-heirloom print for matting and framing, I will send out a 70MB TIFF file to my own subcontracted fine arts printer for a museum-standard archival pigment print on fine acid-free paper; those prices are available here. Unlike prints on photo emulsion paper, these prints will still hang on the wall of the grandchildrens' grandchildren.
I think this suits me and the customer. I don't want to get involved in making and selling small prints, and customers can order their own at great savings. (Snapfish does excellent work for 9 cents per 4"x6" print, and they also sell mugs and calendars and all the other products some of my colleagues offer. Shutterfly is also very good.) Customers get possession and control of their images, but I retain the high-resolution file and the ability to make and sell fine enlargements. I also retain the right to post samples of my best work here on my website.
How should a customer decide which photographer to use? Not by prices. In the end, there won't be a big enough difference for price to be a factor, anyway. No, I suggest spending time looking through the portraits at each of the sites I've linked above and at my portraits here (see Galleries above left). There's some very fine work in very different styles: choose the photographer whose portraits you love. You'll always be glad you did.
---
October 31, 2010      A Family Photo Album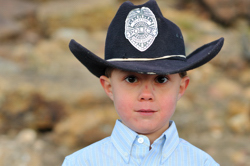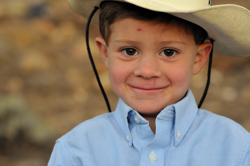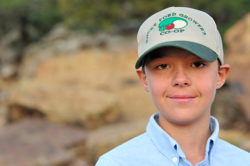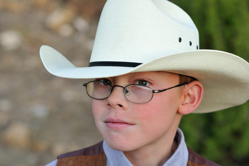 As an outgrowth of the Brown Ranch feature I've prepared for the May issue of New Mexico Magazine, I shot portraits this morning of the four Brown grandsons (clockwise from top left: Kade, Kyle, Jace, and Cole) for their family photo album. It reminded me of how much I enjoy taking portraits.
We started 20 minutes before sunrise and got head shots (above) in that magic light just before the sun rises and casts its hard shadows on everything. I used my portrait lens, the Nikon 85mm f/1.8, shooting on aperture priority around f/4, which brought in plenty of light and pleasantly blurred the background.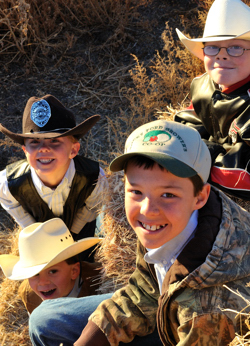 After the sun rose, we moved to a nearby haystack and played around, getting some fun group shots. For those, I switched to the 50mm f/1.4 Nikon lens, needing to be a little wider to get everyone in: I could only climb a couple rows above them in the haystack, unlike on the ground where I could keep backing up if I needed to get wider. (An occupational hazard in using prime lenses in a photo shoot around here is backing up into a cactus!) I shot these at f/13 because now there was abundant light and I wanted wide depth of field to get everyone's face in focus.
Darien asked if he could spread the word and drum up some business for me, but I declined, saying I'm already overbooked with school and magazine stories. But after processing these new photos, I've changed my mind:
When local families ask to hire me to do a photo shoot like this one, I'll make time. It's too much fun not to; besides, what photographer could say no to an opportunity to get images like these! It's been a good day.
---
Want to see September/October?