---
February 22, 2015    Rachel Rocks!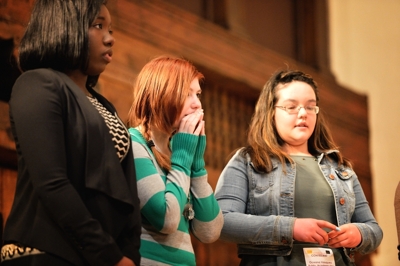 I've sponsored two big poetry programs at Raton High School for the past five years. Last year, Rachel Patty won our Poetry Out Loud recitation contest and represented Raton at the state finals, where she placed third (above, center). A home-school student this year, she was eligible to compete with us at RHS where she again won handily and today represented Raton again at the state finals in Santa Fe. This time I was in Raton photographing the town in a big snowstorm. Two hours after the contest started, I received a phone call. Rachel won state!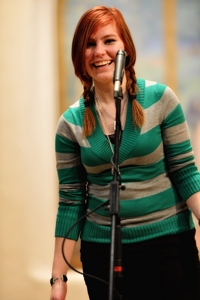 Besides winning a cash prize for herself and $500 for the school to buy poetry books, Rachel will travel with her family all-expenses-paid to Washington D.C. to represent New Mexico in the national finals at George Washington University April 28-29. Sponsored by National Endowment for the Arts, the first prize is $20,000, with another $500 going to the winner's school library.
I'm elated, and so proud of Rachel. I'm embarrassed to not have a photo from today, but I can offer this new portrait, and this new photo of Rachel on KRTN radio, taken by my wife Christina Boyce. (Both were taken and added here February 24.) The Santa Fe New Mexican will have a feature in tomorrow's edition, written by Robert Nott, and the Raton Comet and The Chronicle-News will publish their features later in the week. Congratulations, Rachel! You've done us all proud.

---
February 15, 2015    David Carr, 1956-2015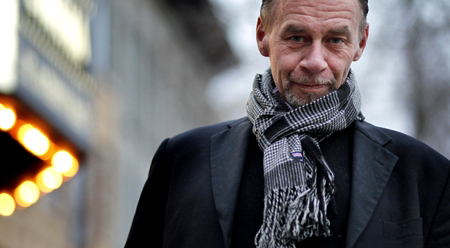 One of my writing heroes died Thursday night in the newsroom of the New York Times. I'd finished David Carr's memoir The Night of the Gun just a few days earlier. His writing, especially in NYT columns and features, has been influencing my own voice, teaching me to be freer.
I recommend Friday's obituary in the Times and A.O. Scott's appreciation. In his 2008 NYT review of the memoir, Bruce Handy wrote this about Carr: "...with an eye at once eager and jaundiced, which is pretty much the beau ideal for a journalist...He's an inventive reporter (meaning he digs up offbeat stories and has an original eye for detail, not that he's a fabulist), and his prose has a cocky zest that makes you think he loves his job."
Here's a bit of Carr himself:
"I think working in journalism beats having a real job. You make it as good as you can as fast as you can."
"Being a journalist, I never feel bad talking to journalism students because it's a grand, grand caper. You get to leave, go talk to strangers, ask them anything, come back, type up their stories, edit the tape. That's not gonna retire your loans as quickly as it should, and it's not going to turn you into a person who's worried about what kind of car they should buy, but that's kind of as it should be. I mean, it beats working."
Best cure for writer's block?   "Typing."
R.I.P. David Carr, and thank you, sir.

---
February 14, 2015    Shacking Up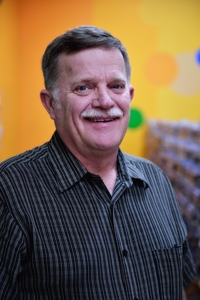 With this month's Radio Shack bankruptcy announcement, I visited and photographed Alan Best at his Raton Radio Shack store yesterday for a news feature that will run next week in the Raton Comet and The Chronicle-News. Five years ago I wrote a long profile of Alan and his wife Dorothy and their business. The news this week is that the Raton store will be largely unaffected by the national corporation's bankruptcy. The Bests own the store where they've successfully ridden the tidal waves of change in the electronics industry since they bought the business in 1981. Only 25% of their products are from Radio Shack. If the bankruptcy judge decides to kill the Radio Shack name, the Raton store will use the name Alan and Dorothy chose for their corporation when they started 34 years ago--Two-Way Electronics, named when the electronics business was dominated by walkie-talkies and CB radios. With flat-screen TVs, computer accessories, and a brisk business in cell phones (from all major brands including Samsung, LG, and Apple), the Bests have shown their ability to ride the waves of change. They're likely to be around awhile.

---
February 7, 2015    Mutt and Jett
Meet the newest member of our family--Jett, a Jack Russell terrier mix that we found at JRT Rescue of Fort Collins, Colorado. He'd been torn up at the throat by a coyote and left for dead near a stable in Colorado Springs last September. A horsewoman found him and, with her vet, nursed him back to health. In the three weeks we've had him, Jett's been working his way into our family of two people, two cats, and one other dog, and he's even contributed to the lack of blog posts here.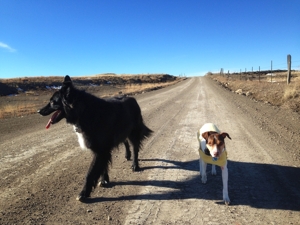 Over recent months I've fallen woefully behind on what I've intended to be weekly blog posting both here at TKA and over on the TKP side. Mostly it's been a matter of success as a freelance writer and photographer combined with full-time teaching--there's just not enough time to do everything. After I spend an entire Saturday or Sunday morning writing and submitting my articles, I'm spent. To add blog posting would carry me into the afternoon after I've already spent 5-6 hours at the keyboard.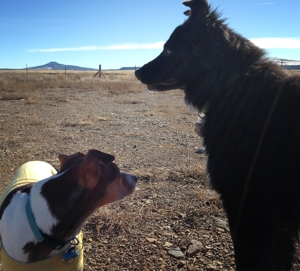 Every weekend afternoon I've been taking Jett and Django on long hikes. With the mountain trails iced and snowed over, or muddy, we've been doing an eight-mile out-and-back hike on Blosser Gap Road south of Raton, where we've seen an average of one vehicle per hour. Heavy traffic. The hikes get me away from the keyboard by midday, so Jett can accept a little bit of the credit, or discredit, or blame, for my falling behind on my blog posts. Of course the truth is that it's been getting harder for months to blog, which coincides with increasing work, which mostly coincides with adding the Raton Comet to my six years of work for The Chronicle-News, and doing both on top of regular features for New Mexico Magazine and Western Horseman. It's all good, but it wears me out, and a good hike is therapy. And just like Django, Jett's a great hiking partner.

---
January 31, 2015    Consolidation is a Euphemism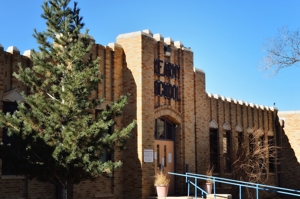 I took this photo for the Raton Comet's feature on Raton Schools' "consolidation," which means closing this school, Kearny, and maybe one other, Columbian, and moving their grades into other existing schools. Raton's school population has been shrinking and most of the schools date to the 1930s. Last fall a bond issue again failed--it would have created a new school that combined three old elementary schools--so there's no good solution. At the moment, the only thing certain is that Kearny School is closing in May.

---
January 1, 2015    The Road Ahead
I have three magazine features in various stages of completion as the new year dawns, an auspicious year for me as I leave teaching in May and turn more of my energies to writing and photography, developing stories for magazines and newspapers. I look forward to travel and discovery accompanied by storytelling in words and photos.
The April issue of New Mexico Magazine will carry my 1000-word feature on the Shuler Theater's centennial as seen through the eyes of Bill Fegan, who came to the Shuler in 1963. Arriving in late spring or summer, Western Horseman will publish my 1500-word feature on young Yankee Canyon cowboy Landon Berry, whose family has 17 horses and no 4-wheelers, a rarity in ranching these days. Michael Hearne's another throwback, a great singer-songwriter perhaps best known for writing "New Mexico Rain." The August issue of New Mexico Magazine will include my 1500-word profile of Michael on the occasion of his 13th Annual Big Barndance Festival at Taos Ski Valley.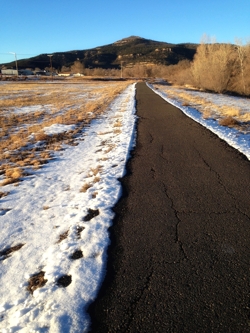 It's all a good way to launch my retirement. I figure that I have at least a decade of full-contact photography in me, and the writing can go on and on. Max Evans has finally slowed down at 90. Once I slow down from chasing magazine stories, I look forward to sitting here at the keyboard and writing a book, spending hours every morning typing away at a single project. I've no idea what it will be, whether a novel or long-form non-fiction, but it'll be fun. Making something entirely at the keyboard, without going out to chase the story, feels like retirement, and good. It's far ahead. Right now I'm out hustling, and hiking as much as I can. Last week's California hiking in shorts and t-shirts was sweet, but winter hiking in northern New Mexico ain't half bad. With the mountain trails snowed over and slick with ice, I've been walking the asphalt trails of Raton's Roundhouse Park. The trail above points straight toward our house at the base of yonder mountain. It's a new year, and it already feels like a great one.

---