---
February 22, 2015     Shooting in Snow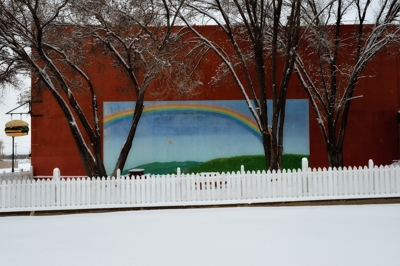 We've had more than six inches of snow fall today with another four or more due tonight. Because I had no feature article to contribute to either newspaper this weekend (and because I'm inspired by reading Lynsey Addario's new book, It's What I Do), I went to shoot photos in downtown Raton at midday. I got six that were good enough to submit to the papers for this week, four of which I'm posting here.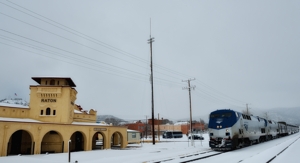 I called Amtrak to time my arrival to the day's arrival of the westbound Southwest Chief, running 60 minutes late because of the storm. I staked out my spot (framing the iconic Raton sign on Goat Hill in the background distance) and then stood still waiting for a half hour. The temperature was 14 degrees. Luckily I was dressed for it and comfortable. By the time the train pulled in, it was 90 minutes late but worth the wait for this photo (click it to see it large) and another of passengers taking smoke breaks outside in falling snow.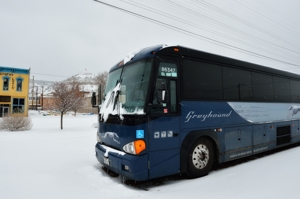 Nearby, a Greyhound bus waited in the cold to exchange passengers with the train--another photo I like, with the Marchiondo Building and Goat Hill behind the bus. If you enlarge this one, you can clearly see the snow coming down. Despite the overcast sky and snow, there was a lot of light so I dialed down the aperture to f/16 to slow the shutter enough to show the snow falling. I tried to avoid the power lines above the bus but now I think that the way they parallel the bus so perfectly adds some nice lines to the image.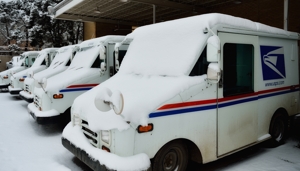 Speaking of nice lines, I dropped a Netflix envelope in the mailbox behind the post office and did a double-take at this line of mail delivery trucks. I lined up my truck and stood on it above ground level to get this shot of the inactive fleet. It suggests that they're stalled by the snowstorm but actually they were all parked in a line only because today is Sunday and they had the day off.
As I've been typing, the snowfall has intensified and schools announced a delay for the morning. If it keeps coming down like this, they won't open at all tomorrow. I'm glad I got out in the snow today for these photos, and just as glad that I'm inside with a crackling fireplace for the rest of the afternoon and evening.
---
February 15, 2015     "Stranger Portraits"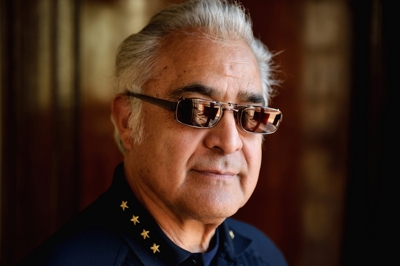 A popular genre and undertaking by photography hobbyists at Flickr, Instagram, and other photography posting sites is the "stranger portrait." One friend of mine set a typical goal of getting 100 portraits of strangers. She's been working on it for years and has yet to reach 100.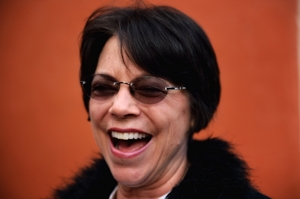 So imagine my good fortune as I approach the one-year anniversary of launching my Over the Pass feature in The Chronicle-News, where every week I not only have to get out and take six stranger portraits, but I get paid for it. I ask a question of the week of three people in Trinidad, Colorado, and three "over the pass" in Raton, New Mexico. I publish each response beneath a portrait taken right there, usually on the street or sometimes just inside a building. It's challenging--my subjects are often in a hurry and I never have more than seconds to set up a shot--but that makes the successes exciting.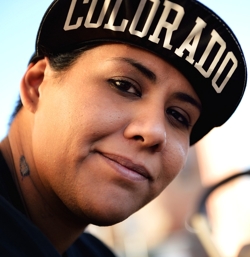 Here's a sampling of recent portraits taken in Trinidad, from the many that I'm fond of. At the top is Las Animas County Sheriff James Casias, photographed in one of my favorite spots, inside the east doorway of the Trinidad post office. Window light and century-old dark wood make fabulous portraits. Second is Harriet Vaugeois, director of SCRT--Southern Colorado Repertory Theatre--photographed at my other favorite spot to shoot these portraits in downtown Trinidad, at the pedestrian alleyway beside the entrance to Bella Luna pizzeria. That's one of my tricks for getting great portraits with no time to plan a shot: I simply stand by a good portrait spot and wait for people to walk by me. If they'll give me a couple minutes, I get my a response to my question and a portrait.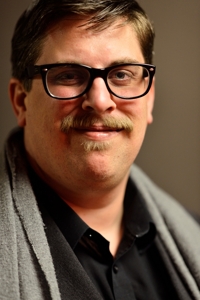 The third portrait is Mandy Rivas, wearing a Colorado cap next to a baby carriage in front of the Carnegie Public Library in downtown Trinidad. The fourth portrait, here at the right, isn't for Over the Pass at all, but it's closely related. I conceived the feature a year ago in collaboration with the then-editor, and my friend, Bruce Leonard. His successor, since last summer, is Eric John Monson, who's been a big fan and supporter of Over the Pass. One winter evening last month, I finished my OTP interviews and photos, then went out to a Friday night seafood dinner at What'a Grind with my wife, Christina. Eric came by to say hi. He'd hoped to get his own portrait taken earlier but missed his appointed time. From the bar, he picked up the check for our dinner. With that, he earned his own portrait! I walked him around the inside of the restaurant looking for a good spot and voila!, we got this shot.
Over the Pass (OTP) is published every Tuesday; they're all here at my online Chronicle-News archive.
---
February 14, 2015     Watch the Kids Roar!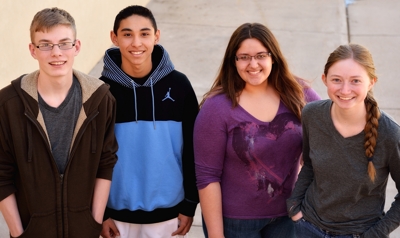 I'm the proud sponsor and advisor of The Raton Roar, the online student publication at Raton High School. The staff (above, from left) consists of freshman webmaster Noah Schoonover, freshman reporter Juan Sarinana, senior reporter Caylene Romero, and senior editor Kate Little. Click the link to explore the website and be as impressed as I am with what the students have accomplished in the project's first year.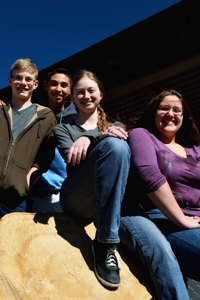 Last August, I was informed that I'd have a journalism class this year. "Maybe eventually you can put out a monthly newsletter," I was told. Instead, I suggested to the students that they make a website. I had to recruit Noah to do the web building. Kate is one of my honors senior writing students, and my teacher's aide this year, so she made the perfect editor. We had 11 students in the fall but most abandoned the project at semester break after they discovered that journalism is actually a lot of work. That's left this core group and they're proving better and more productive as a small team than the group of ten ever was.
The Raton Roar is an online student-run school "newspaper" that has the advantage of being able to add new content at a constant rate, sometimes several additions per week, while archiving everything from the past. No one has to stand in the hall selling monthly photocopied newsletters and you and I can sit at home and read the Roar from our computers. Give it a look now, then bookmark it and visit periodically for the ever-changing new content. (While you're at it, give the kids a shout out in the guestbook.) Kudos to Kate, Noah, Caylene, and Juan for an amazing job well done!
---
February 8, 2015     But the Dialog Was Kinda Wooden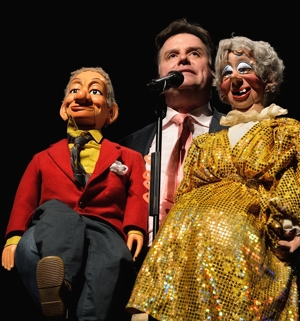 Like a lot of shows in RAHC's annual Performing Arts Series, I had low expectations for Todd Oliver & Friends at the Shuler Wednesday night. But as usually happens with that series, I was pleasantly surprised. Oliver is an accomplished ventriloquist and comedian who's honed his "modern variety show" over decades in show business, playing endless road shows punctuated by occasional stays in Nashville, Branson, and Las Vegas. He tours with three musicians, three ventriloquist's dummies, and one or more dogs who do the work of ventriloquist dummies. An opening B&W film produced to look like it came from the 1950s suggests that Oliver took an interest in ventriloquism as a kid but his mom told him to try something other than asking her to buy a $300 ventriloquist's dummy. He turned his gaze to the family dog, who appeared to be Irving, the co-star of Wednesday's show. (My photo above constituted almost the entire front page of Raton Comet. See my Comet preview and review or, with more photos, The Chronicle-News preview and review.)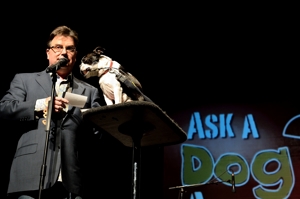 If you click to enlarge the image here of Oliver and Irving, you can see the prosthetic jaw that Oliver devised for creating a talking dog. Oliver controls it with his left hand. No one's fooled by it--even Irving mentions it--but that doesn't diminish its effectiveness or the fun. The pair did a long scripted comic conversation near the top of the show, then took audience questions in the "Ask a Dog" improvisation session near the end. (My favorite audience question, read from a slip of paper contributed in the lobby before the show, was "Where am I?")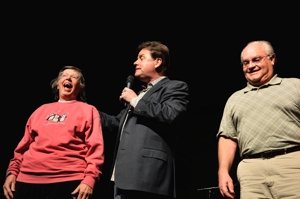 Near show's end, Oliver walked through the audience looking for just the right volunteers to help him on stage. He selected Pat (French?) and local attorney Ray Florsheim. Little did they know. Once on stage, he taught them to perform as his dummies: each time he squeezed their necks, they opened their mouths. He provided the words and a variety of sounds that they'd no doubt never made in their lives. It was a fun high point to an entertaining and laugh-filled show.
---
January 31, 2015     Yeah, Yeah, Yeah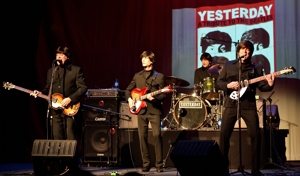 Yesterday - A Tribute to the Beatles was big fun at the Shuler Theater January 17. Neither the band nor the sponsoring Raton Arts & Humanities Council had good press materials available to preview the show so I dug through the Web for my research. This led to two interesting developments. First, I got a call from Don Bellazo, the Yesterday founder and leader and "John Lennon" at far right, who'd seen my review online from Minneapolis and wanted to talk about it. That was a first for me, and fun. (I'd gotten his age wrong, from a years-old online newspaper feature.)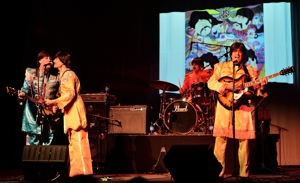 Second, the Raton Comet editor balked at paying me for finding, selecting, processing, and sending photos from the Web that weren't my own. After some email discussions, she ran the issue by industry friends the next day and then relented, saying they all felt that I should be paid for my time. While we can't violate someone else's copyrights, it's important to provide an image for each story. Without an image to illustrate the story and draw the reader's eye, a story is far less likely to be read. I prefer to use my own images, but when I don't have one, I search for one. When needed, I've contacted a photographer for permission to reprint.
As an independent freelance contractor, I create and provide my work to both Raton Comet and The Chronicle-News. The latter usually publishes more photos and, as a daily, publishes sooner; it also publishes the entire page to the Web, versus the Comet that archives only text with one small image. You can see my Yesterday Beatles previews and reviews at the newspaper links above.
---
January 1, 2015     Do Polar Bears Do It Like This?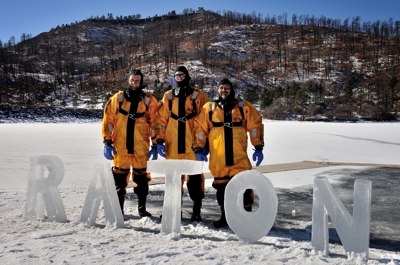 Today's 2nd Annual Polar Bear Plunge at Lake Maloya surpassed last year's big start with more participants and colder temperatures. 55 people paid $20 each for the privilege of leaping off the ice and into the frigid water below, where the men above were ready to make sure the jumpers got back to shore. That makes those park rangers acting lifeguards, though in my four years as a pool lifeguard, back in the day, I was never asked to suit up in anything like that. Hell, our pools, in Los Angeles and Petaluma, California, were heated.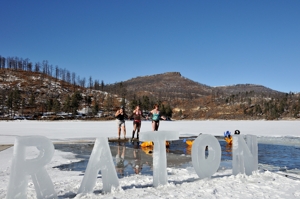 Three weeks ago, I hiked the six-mile trail west of the lake, in Sugarite Canyon State Park, and wondered what they'd do for the rapidly approaching Polar Bear Plunge: here it was mid-December and there was nary an ice cube in the lake. Christmas morning dawned that way, but over the next four days, the lake grew a 4" thick layer of ice across the top, according to park superintendent Bob McIvor, who carved the "2015 RATON" ice sculpture with a chain saw and lots of help. I think he's also the middle lifeguard above, but I couldn't recognize most people today with all their layers and ski caps and dark glasses.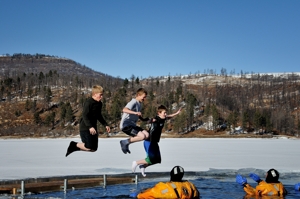 Above, my friends Santina Frank, Rhiannon Barela, and Jami Esquibel struggle with their thoughts before jumping. I'm sorry I don't have a photo for you of their faces as they flew out of the water. Next year I'm going to concentrate my camera more on the faces. If you click to enlarge the photo at right, these three boys have great faces that are about to change. I overheard one man who made the leap telling someone who was about to follow him that the water burned like jumping into a pool of battery acid. Yum.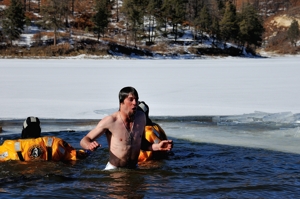 Landon Berry, left, traded cowboy boots and spurs for goose bumps and breathlessness. I'm preparing a feature on Landon for Western Horseman, due in mid-2015, and recently posted (with my November 22 TKA blog) an album of the first photoshoot for that story; in fact, those are the photos that sold WH on the story. Landon looks different on horseback than he does rushing to get out of ice water.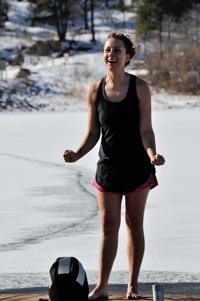 Event director Jared Chatterley says that about ten more people registered and paid than jumped. They thought better of it. Mostly they didn't show up. At right, Patience Romero wished for a moment that she had their wisdom.
Then she jumped.
Jared has a talent for dreaming up cool events and attractions like the Polar Bear Plunge and the Masters of the Mountains (M.O.M.) adventure race, and then, with his wife Lori, designing great logos and promotion.
Raton's Polar Bear Plunge will come to mark the start of each new year. This one, 2015, already feels good.
And I didn't even jump.
---