---
December 18, 2010      Running on Empty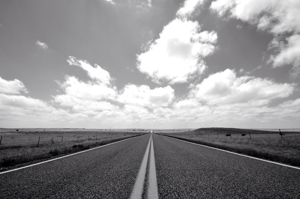 I received an e-mail yesterday from out in Gaston, Oregon, where writer and longtime journalist Ken Bilderback has just published his memoir of riding around America as a teenager on a Greyhound bus using an Ameripass.
A web search brought Ken to my memoir, Ameripass: Aimless in America, where he found enough resonance and enjoyment that he's written a beautiful and generous appreciation at his website: I hope you'll check it out. Continue from there to explore Ken's other writings: you'll find them well worth your while, as I have.
Back in the 1970s, Greyhound had a promotion where you could buy an Ameripass for fixed periods of time, such as one month, and it gave you unlimited travel -- wherever and whenever you wanted, without limit. You could get on the bus, and off the bus, wherever and whenever you pleased. No need to spend money on motels, either: just sleep on the bus. Boy, talk about being young and free!
We'd all just read Ken Kesey's adventures on the Merry Pranksters' bus "Further" in Tom Wolfe's The Electric Kool-Aid Acid Test: you were either "on the bus" or "off the bus". Carrying rucksacks like Gary Snyder and Jack Kerouac in The Dharma Bums, Ken Bilderback and I each spent countless miles traveling solo "on the road" via Greyhound and its magical Ameripass.

---
December 17, 2010      Big Boy's Hat -- Part III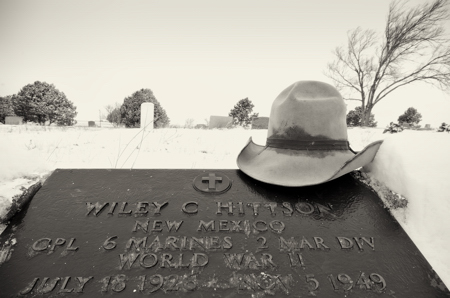 For my third installment of "Big Boy's Hat", I went over to the cemetery this afternoon as the snow stopped falling. Number 2 (December 12 below) has been getting lots of votes over Number 1 (December 5) and my guess it that Number 2 will remain the favorite. The snow photo is interesting, but Number 2 seems to me to keep the eye and mind best focused on Big Boy's hat.
This is likely the final shot of the series as I plan to return the hat to Max Evans next week; from there it will return to its home in the Max Evans Room at the Lea County Museum in Lovington, New Mexico. I hope you've enjoyed the little series. Let me know; while you're at it, tell me which shot you like best. Thanks.

---
December 12, 2010      Big Boy's Hat -- Part II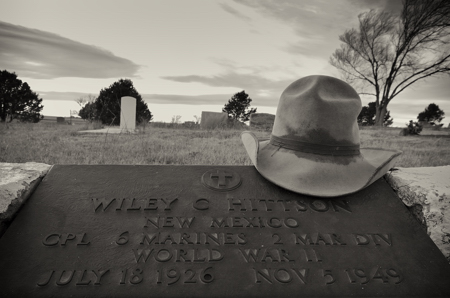 Being Wiley "Big Boy" Hittson's best friend, Max Evans found the Pryor saddle intrusive in last week's photo (below), saying that, even though it was in use on the neighboring ranch during Big Boy's lifetime, the saddle had nothing to do with Big Boy. Max thought I was missing the point, that Big Boy's hat said it all. Besides, we lost Big Boy's crush in the top of the soft felt last week when we kept having to replace the hat after the wind would blow it away.
So, we tried it again, just an hour ago, Christina again holding the reflector to bounce the setting sunlight back onto the letters and the front of the hat. This time, instead of shooting from a distance with a telephoto lens to bring in the volcanoes, I used a wide-angle lens and shot very close to accentuate the hat, getting up close and personal with Big Boy.
Something else this time. I talked to Big Boy, before and after I shot. Maybe it helped.
Christina just came in and looked over my shoulder: she says she likes the new shot better. Which shot do you like better?

---
December 5, 2010      Big Boy's Hat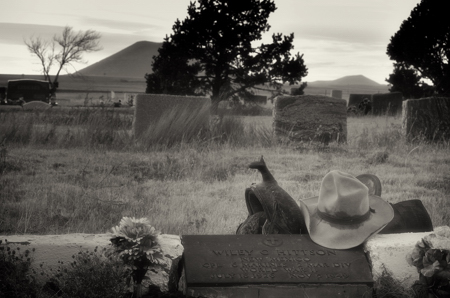 Here's a story I'm pursuing just for the fun of it, no commercial outlet in sight. When I read that Max Evans had Big Boy Hittson's hat and loaned it to James Gammon to wear in the film The Hi Lo Country, I included in a note to Max: "Speaking of hats, if you still have Big Boy's hat, I'd love to photograph that. (Oh how I'd love to photograph it on his headstone here someday!)"
The parenthetical comment piqued Max's imagination and he contacted the Lea County Museum where the hat resides in the Max Evans Room; he asked them to send it north on loan. Max sees in his mind's eye an "an iconic photograph", one that will be in demand among fans of his novel and the film. I was pleased, though it sure set the bar high!
As I pondered the image, I decided it needed a saddle, as well, and not just any modern saddle. I borrowed a saddle from Tom Pryor that belonged to his granddad, who settled here in 1907 -- right between the Hittson ranch on Weatherly Road and Max Evans's place out Blind Gap Road.
In the late fall of 1948, Big Boy helped Max move to Taos, Max's cattle ranch and art gallery both having failed here in Des Moines, or "Hi Lo". A year later, on November 5, 1949, Big Boy's younger brother shot him to death in a fight outside the family home. The story is retold in fictional form in Max's classic novel, The Hi Lo Country. At a reception after the funeral, Big Boy's mother gave his hat, which he was wearing when he was shot, to his best friend, Max Evans.
In the latest Western Writers of America survey, The Hi Lo Country continued a steady rise and is poised, according to Max, to pass his classic The Rounders, rated 19, in the next ranking of Best Western Novels. (Max himself is ranked number 11 on the list of all-time western authors.)
So, yesterday evening Christina and I worked in the bone-chilling wind around sunset to set up the shot at the Des Moines Cemetery one mile north of town. She held a reflector for me, bouncing a subtle bit of sunlight back onto the hat and grave marker. (As always, click the image to enlarge it. Christina is just to the right of the frame.) I'm going to try some more shots over the next couple weeks, including one in snow if we get some, and one at dawn and sunrise, but for now this one pleases me.

P.S. My February 2011 New Mexico Magazine six-page feature "Max Evans's New Mexico" will reach subscribers and newsstands in mid-January, five weeks from now. I'm currently working on a very different Max Evans story for Western Horseman magazine, focusing on the most important horses in Max's life; that will appear later in the spring.
---
November 28, 2010      Our Own Will Rogers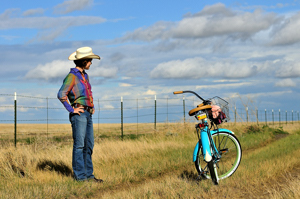 Mike Schoonover is giving his FolsomVillage.com a complete makeover and it's a hoot. Besides being a wonderful promotional tool for the village and surrounding region, it's sprinkled with liberal doses of hilarity, not all of which is politically correct for its environment.
If you're interested in the life of a small rural New Mexico community, you'll probably like this. Start at the Facts tab and branch out from there. Enjoy.

---
November 21, 2010      Horsing Around with Linda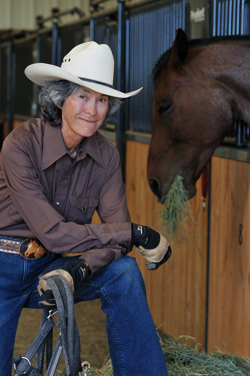 By the time I learned last week that my Linda Jackson feature was running in the December issue of Western Horseman, my subscriber copy was already late. When I got my pair of contributor's copies in the mail late in the week, it became clear that my subscriber copy was lost in the mail. Dang.
Well, I've got the two copies now. It's always a thrill to open a magazine to see my work for the first time. I never know which photo(s) will be chosen, and the work done by the graphic designers makes a huge difference.
Western Horseman is fast, so I haven't usually waited the several months I do with other magazines, and their graphic design team is right up there with New Mexico Magazine as the best I work with. In this case, they chose the photo here to accompany my Women of the West interview piece. I like it, though it had to have been a tough decision. I've posted two others here that I've liked equally -- 1, 2 -- and the editor told me more or less the same, that they were leaning toward one but might go with another.
Anyway, it's fun, and gratifying. Friday I'll be interviewing and photographing Max Evans for a new feature for Western Horseman on how the novelist's (The Rounders, The Hi Lo Country) horses have changed his life. In fact, Max credits Blackie, here at Des Moines, with turning him into a writer, and that's where we'll start.

---
November 13, 2010      Horses, Kids, and a Pirate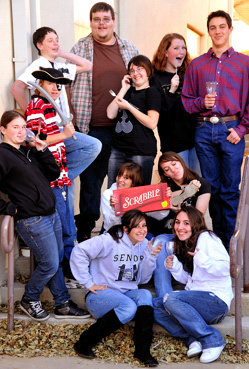 After six weeks of focusing so much on magazine work that I haven't prepared a single piece for The Chronicle-News, I finally had a story drop in my lap yesterday. The Raton High
School Drama Club is presenting a comedy at the Shuler Theater next weekend. As soon as I learned that, I arranged with sponsor Cian Hazen to gather the kids for a quick photo after school, then I drove home and wrote a preview of the play, to appear in the Chronicle next week. I'll also attend Friday night's performance to photograph and review it for the paper.
Also this week, I heard back from Ross Hecox, the editor of Western Horseman magazine, with two bits of good news. First, my Women of the West feature on Raton's Linda Jackson will appear in the December issue...which arrives next week! Second, Ross booked me to prepare a spring feature on New Mexico novelist Max Evans and his life with horses. Max and I plan to begin by tapping into his books The Rounders and For the Love of a Horse. I'll submit my feature to Western Horseman around New Year's, a couple weeks before the February issue of New Mexico Magazine arrives with my "Max Evan's New Mexico" feature.

---
November 7, 2010      Can I Get a Bid!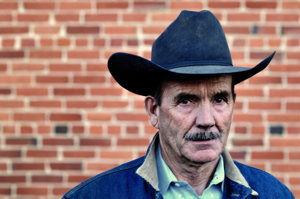 As my enchantment magazine feature on Jan Pryor recedes into the past, editor Susan Espinoza has booked me to create another Nos Vecinos feature, this time on Clayton auctioneer Walter C. Hall.
I first encountered Walter when I covered one of his monthly Clayton auctions for The Chronicle-News early last year. It was there that I met Brittany Rouse, who was working for Walter; that led to my Western Horseman feature on Brittany earlier this year.
My feature on Walter will appear in the February issue of enchantment, delivered in late January to the mailboxes of all rural electric co-op households throughout New Mexico. Walter will be in good Hi Lo Country company as my "Max Evans's New Mexico" feature will be New Mexico Magazine at the same time. I'm looking forward to interviewing and photographing Walter soon.

---
Want to see September/October?