All images © Tim Keller unless otherwise noted.
---
May 30, 2019    Timeless Terraces, Paradise Edition
Can you see why Christina and I are already planning a return to La Casa del Mundo on Lago de Atitlán next spring? Everything you see plus the chance to further use and improve our Spanish language skills, which atrophy when we stay away from Spanish-speaking countries too long.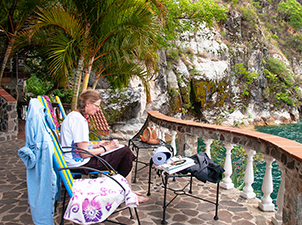 We spent five days at the lake this month, whiling away our time with swimming, reading, idle hammock time, walking up and down the steep stairs of the cliffside hotel, and enjoying food and drink in the informal but outstanding restaurant that, like the guest casitas, hangs out over the expansive lake view with its multiple volcanoes across the lake. I've enjoyed posting some of my photos and commentaries here and on my arts blog. Planting our summer garden has now fully grounded us at home, but we're dipping into our Spanish and enjoying daydreams of our spring return to Guatemala.
May 26, 2019    Ascension
La Casa del Mundo is essentially a vertical hotel, built by hand over 22 years and counting, scaling its way up the steep cliff from Guatemala's Lago de Atitlán near Jaibalito, a couple miles north of the dock at Panajachel, where we caught a lancha--water taxi--the only way to get to the hotel. Each room (they're up to 19 now) is in its own separate casita built into the cliffside among beautifully landscaped tropical foliage teeming with chattering birds. The only way up from the lake is by hand-built stairs.
Made of cliffside rocks embedded in cement, the irregular stairs range in height from six to fifteen inches. One day I counted them. From the dock there are 80 steps to the office and restaurant. From there up to our aerie in suite 11, there were 90 more steps. We felt all that climbing in our legs and our lungs. The elevation, at 5000 feet, wasn't a factor for us since our Raton home sits at 6800 feet, but those dozens of high steps gave us some great exercise. Arriving at our room, we had the view of two volcanoes seen in the top picture, taken upon arrival with my iPhone 7 from our porch beside the hammock.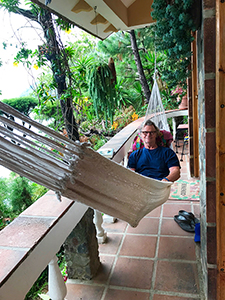 That's Volcán Tolimán on the left, Volcán San Pedro on the right, both standing 10,000 feet above sea level and 5000 feet above the lake, which itself is 1000 feet deep, filling the deep valley between several volcanoes. (Here's an extra of San Pedro from our room.) We learned of La Casa del Mundo when we stayed in Panajachel in 2004, then fell in love with it when we stayed several days in 2005. This was our first return after a 14-year absence. We stayed five days, racking up a bill that included our room plus daily coffees and teas, lunches with smoothies, nightly dinners with bottles of wine, and his and her massages at lakeside with glasses of wine. When we checked out, the bill for our entire stay, with all of our food and drink, plus a generous tip for all of the staff for the whole stay, totalled $200 per day. Paradise is a bargain. We won't wait another 14 years to return. We're making plans for next March. Can you see why?
May 21, 2019    Sweet Suite
For variety, we chose Suite 9 at Meson Panza Verde for our return to Antigua, progressing back toward the airport after our stay at Lago de Atitlán. Suite 7 is grand; Suite 9 is even better. Moments after our arrival, I photographed Christina marveling at our surroundings, including the fountain in the private garden outside our room. The next morning, Christina took a selfie in the garden, feeling sublime.
All international flights appear to leave Guatemala's only international airport between 5 and 7 a.m. We had to schedule a shuttle to pick us up at the hotel at 3 a.m. We set our alarms for 2:30. When our bags were all at our door at 2:50, I opened the door to begin carrying them to the front entrance. To our amazement, the hotel's night watchman was waiting outside our door, ready to carry our bags for us.
Meson Panza Verde was our first experience in a 5-star hotel. Being in Guatemala, its room rates are about the same as the Holiday Inn Express here in our hometown of Raton, New Mexico. We're already planning our return.
May 20, 2019    Meson Panza Verde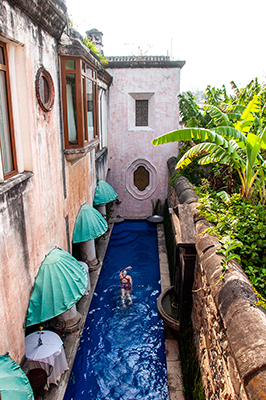 Christina and I are just back from a 12-day stay in Guatemala, my fourth since 1986 and Christina's third since 2005. It's been 14 years since the last time we were there. Now that we've got our Spanish rolling, or at least stumbling, off our tongues, we're tentatively planning to keep it going, returning to Guatemala next spring. We'll certainly be returning to Antigua's Meson Panza Verde, a fabulous hotel with 5-star restaurant and adjacent swimming pool.
That's Christina swimming in the top photo, taken from our bathroom window in Suite 7, the rectangular window in the right photo just above, where we stayed for five days before trekking off to Lago de Atitlán. On our way back toward the country's only airport, we stayed again at Meson Panza Verde, this time in Suite 9, whose bathroom is behind the oval window at the end of the pool in the other two windows. (Click any image to see it enlarged.)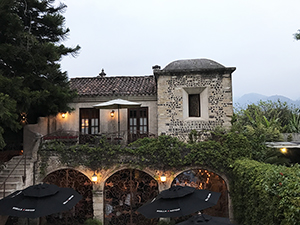 Here at left is the front of the upstairs Suite 7--that's the bathroom again on the right side, huge. To reduce the size and weight of my camera bag, I took my old Nikon D300 with four DX lenses, rather than my D4 or D5 with their big heavy FX lenses--and then I ended up using my iPhone almost entirely throughout the trip. The top photo here, of Christina's swim, was taken with the Nikon but the rest of these are from the iPhone 7 camera, a nearly perfect travel camera. In fact, I rarely saw traditional cameras on this trip: tourists and many photographers have simply replaced them with the far more portable and unobtrusive phone cameras. If I point a big Nikon at someone, they notice, which isn't always good when traveling, but no one pays much attention to a phone camera, they're so ubiquitous. People assume the phone camera is just taking tourist snapshots, but a good photographer can get great pro shots. I'll be posting a bunch of mine here and on my arts blog over the coming days.