Words & photos © Tim Keller
---
May 30, 2019    Drawing Big Circles in the Sky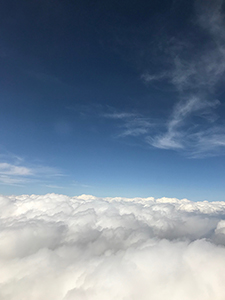 As we flew high over eastern New Mexico on our return from Guatemala, I enjoyed spotting villages, small towns, and physical features that I could recognize from my extensive travels making features for various magazines and newspapers. I was puzzled when we seemed to pass one area that we had passed minutes before. Then Christina asked about a long span of what appeared to be mud flats along a river below a small town. I told her that we'd passed it twice. Weird, huh? Then the pilot came on the PA to tell us that we were indeed flying a holding pattern because the National Guard had temporarily closed the Albuquerque Sunport runways. We later learned that the USAF Thunderbirds were practicing for an air show scheduled the next day, and that our American Airlines pilot was informed of the delay while still on the ground at DFW but decided we'd be better waiting nearby in the air than sitting on the tarmac in Dallas-Fort Worth. So we flew four big 10-minute circles over eastern New Mexico, each time passing the same small town and, north of it, this same cloud bank, until we finally landed at Kirtland Air Force Base and taxied to the adjacent Albuquerque Sunport, ready for dinner and the drive home to Raton and planting our summer garden.
Coincidentally, as I write this, the Thunderbirds are back in our area again this morning, flying over the USAF Academy graduation in Colorado Springs, closer than Albuquerque from our home along the Colorado-New Mexico border.

---
May 28, 2019    The Rising
Since our 2005 stay at La Casa del Mundo, the waters of Lago de Atitlán have risen 15 feet, submerging many of the terraces where we read books and swung from hammocks 14 years ago. The causes are uncertain and likely multiple; the effects reach only the few villages, homes, and hotels that have built down close to the water. They do provide a sobering harbinger for the world's coastlines as we look ahead to the coming effects of global warming.
Visually, here at La Casa del Mundo, the effects are stunning, suggesting some found Atlantis, yet these terraces held sunbathers just a few years ago. I took these photos with my iPhone. (Click any image to enlarge it.) If anything, the submerged terraces make La Casa del Mundo more fascinating, not less. There are still plenty of terraces, including what I assume are some that have been built higher since our last visit. Around the entire circumference of the lake, surrounded as it is by volcanoes standing 5000 feet above the lake surface, the shorelines abut steep cliffs. No one seems concerned about the rising water. For any terrace swallowed by the lake, La Casa del Mundo can just build another up higher, where I can still enjoy an afternoon of reading on a lakeside hammock, as you see in my last post immediately below...

---
May 23, 2019    The Hammock Life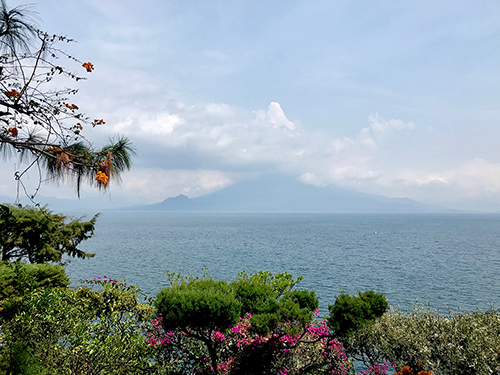 "How do you like being retired?" I hear that quite a bit. Well, I gotta say, it's pretty damned fabulous. Along with enjoying our home life and travels close to home--Denver, Santa Fe, Taos--we're taking a two-week trip each spring and fall to far-flung places.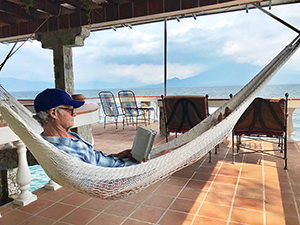 In our big grassy tree-shaded yard at home, I keep a hammock strung between a pair of towering elm trees, beside our solar fountain. I like to read books there in the afternoons. At La Casa del Mundo on Lago de Atitlán, I felt right at home. There are many nooks and terraces with comfortable chairs and hammocks. Our room was so high up the cliff that we had an amazing view across the lake but couldn't hear the lapping of the water on the shore below. I enjoyed reading down at the waterside.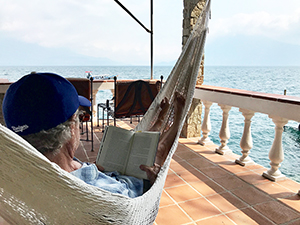 From this spot near the dock, Volcán Tolimán loomed across the lake to my left, seen in these pictures, while the more prominent Volcán San Pedro stood across the lake to my right. (I'll be posting more photos of the volcanoes and our room view on my photography blog.) Retirement should have some adventure, and we got that in returning to Guatemala, but it should also have lengthy doses of peace and quiet. We got that too. In sum, yes, I'm enjoying my retirement just fine.

---
May 21, 2019    Lago de Atitlán
Traveling from Antigua to Lago de Atitlán requires a shuttle ride of two to three hours, or a bus ride longer than that. The roads only get within about two miles of La Casa del Mundo, which we fell in love with during our stay in 2005. The hotel hugs the steep mountainside and no roads reach it. The only way there is by water taxi, known in Spanish as a lancha, which costs Q25 (25 Quetzales) per person, about $3. The ride can be rough, especially on the choppy waters of the afternoons. I carried my Nikon and got the first picture above of a local man on his handmade cayuca, but then I had to stash the Nikon as our speed picked up and I had to protect both the camera and my back from the pounding. I used my iPhone to get one picture of the young boatman ferrying us to La Casa del Mundo. (The boat pilot stands at the back of the boat.) We arrived more or less intact--Christina's suitcase nearly rolled off the dock before we caught it--and we proceeded to the office, which is 80 irregular handmade stairs above the lake, and then to our room 90 more stairs above the office at this extraordinary vertical hotel carved into the side of the cliff, surrounded by volcanoes, above the big lake.

---
May 20, 2019    Antigua
Antigua, Guatemala, is almost 500 years old with beautiful colonial buildings and ornate churches, all surrounded by towering volcanoes. The colorful town is among my favorites anywhere; Christina and I are just back from a 12-day visit, my fourth since 1986 and Christina's third since 2005. It's been 14 years since our last visit.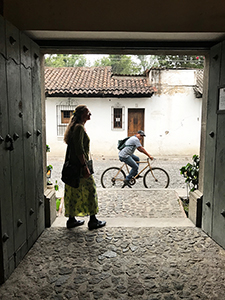 I'm looking forward to sharing some notes and photos both here and at my photography blog over the coming days. We stayed five days at the luxurious Meson Panza Verde, left, before shuttling out to the lake, Lago de Atitlán, for five days at La Casa del Mundo, which we fell in love with in 2005. Sated at the lake, we returned to Meson Panza Verde for two days before a 3 a.m. shuttle to the country's only international airport, in Guatemala City, for a 7 a.m. flight. We got home at 9:30 that night, Friday, travel weary and happy.
We'll be planting our garden this week and that will keep us home for the coming months, enjoying the garden and cooking with all that it produces. Even as we prepare the garden, which is always looking forward, I'll be looking backward to post more from Guatemala. Stick around and see why we keep going back to this most lovely country.

---