---
August 30, 2015   ArtoCraziness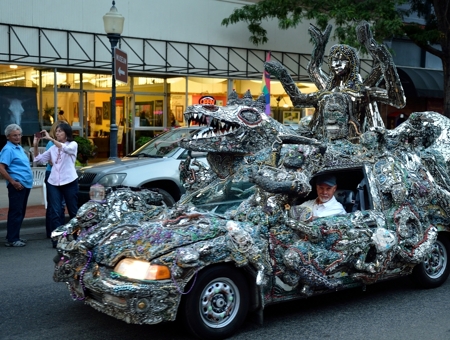 With this year's ArtoCade Art Car Festival now less than two weeks away, it was fun to photograph Trinidad's Art Trek for The Chronicle-News yesterday and see increasing evidence of art car activity, including founder/artist Rodney Wood driving home from work after it was over.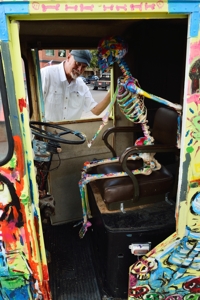 Rodney tended his cars, promoted his festival, and took photos of tourists with their phones as they stood next to his cars along Main Street in downtown Trinidad. The festival arrives September 11, 12, 13 with the highlight being the parade at noon on Saturday. Dozens of art cars will arrive from throughout the region--As I shot my own photos, did I overhear Rodney say 82 cars? It's a big deal with a long list of sponsors that includes Trinidad Tourism Board (motel rooms and parking spaces will be hard to come by) along with businesses that include Walmart, Phil Long Toyota, and La Quinta Inn.
Check the full schedule at ArtoCade's great website, but it includes Friday night "Vehiculart" with exhibits and presentations, "CarBash" with live entertainment Friday night, and "Cardango," an adults-only "gala dance, review & circus" Saturday night, a bacchanalia featuring aerialists, dancers, hula hoops, gypsy cabaret and more.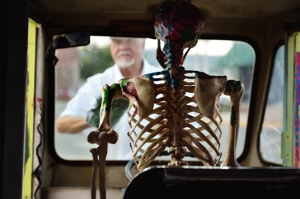 "The largest, funnest, silliest, wonderfullest art event ever to happen in southern Colorado or northern New Mexico," ArtoCade is a festival of art and cars and craziness like nothing else in the world. Look at some of the cars, and the artwork, on ArtoCade's website to get a sense of the festival's spirit and spectacle. Then make plans to be in Trinidad for the party.
---
August 28, 2015   New Mexico True Adventure Guide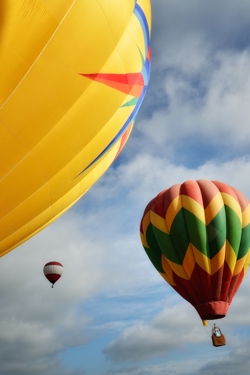 During a temporary lull in local activity between the end of summer and the September busyness of Indian summer, my annual call came in from New Mexico Magazine for images that can be used in the 2016 New Mexico True Adventure Guide, previously called the Vacation Guide and Visitor's Guide and distributed by the tens of thousands to hotels, restaurants, tourist attractions and travelers who request them from New Mexico Tourism Department; it's also available online. The adventure guide is a good-paying gig and it's always an honor to be included.
I spent eight hours sorting, processing, and sending 94 hi-res images on two DVDs, each with a PDF contact sheet of all the images. Image-file names gave the NM region and subject (Outdoors, Cuisine, Winter), while embedded EXIF data included titles, descriptions, photographer data, and lots of keywords (a.k.a. tags) that the magazine staff will use in the future to find stock images to illustrate future articles and guides. It's a fun project in which I immerse myself at this time each year. Now I try to put it out of mind until I learn, usually in mid-December, which of my images have made it into next year's guide. Will this one, from last month's Santa Fe Trail Balloon Rally in Raton, make the cut?
---
August 16, 2015    Picturing Swingtime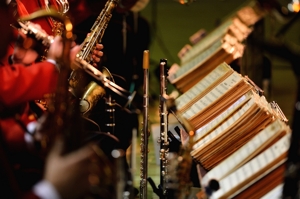 Although I did get a traditional establishing shot for my newspaper review, I approached last night's dinner/dance with the Glenn Miller Orchestra as a fun photographer's challenge to get some--any!--strong images despite terrible light and a subject that consisted of 19 people and their instruments. Imagine trying to get a good shot of that many people in a high school gym with its horrible lighting: I knew that's what I'd have at Raton Convention Center and I went accepting that challenge. Here's how I did, my best three images.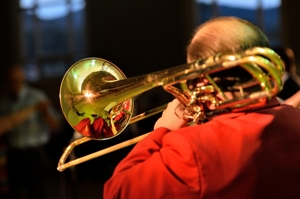 On the plus side, I had great access. While everyone else (including my wife) danced, I could get close and move around the band. I don't know how to take a great photo of a big group: My plan was to zero in on close-up images. Each player had music charts that stacked 12" high and I tried to show that in the top image. In the second image you can see the mountain twilight outside the windows past the dancers, and if you look closely (click to enlarge) you can see me reflected on the left side of the trombone's bell.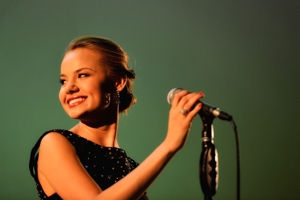 This last one was a no-brainer. Singer Natalie Angst would draw any photographer. This shot was one of many and my best success at overcoming the boring walls and ugly auditorium light (which was mixed with two columns of basic stage lights for the event). Because the orchestra usually plays concert halls rather than auditoriums, I took advantage of the opportunity to work close and see what I could do. It was fun to have that kind of access, and these three photos were my reward.
---
August 15, 2015    Can I Get a Witness
Eileen Gonzales and her family have lost count but my Chronicle-News preview this week says Lip Sync 2015 is the 38th annual event, and I based that on interviews from previous years. It's so popular that it fills Raton's Shuler Theater for two nights, and it's so unique that I've never heard of anything like it.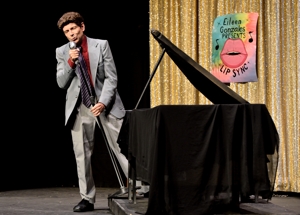 Local people of all ages, from infants to 80s, sign up weeks in advance to don costumes and sets and perform a song via lip syncing. The program names the song and the recording group but not the actual people on stage, who are sometimes unrecognizable. The four boys at top are channeling Maroon 5 to sing "Sugar" and if they win or place after the second night, tonight, I'll learn their names: they were fabulous. (Click photos to enlarge; notice how the boys are airborne in the second shot.) There were several other acts in the running to win, including KRTN's Billy D Donati as "The Killer" Jerry Lee Lewis singing "Great Balls of Fire," complete with piano and vintage microphone.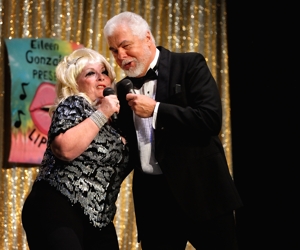 Jeannie and George Hagen sang "Islands in the Stream," complete with a row boat, as Dolly Parton and Kenny Rogers, with great joy and chemistry, making them a favorite to win, too. I'll be at the Glenn Miller Orchestra dinner/dance tonight so I've prepared my photos for tomorrow morning when I'll receive the Lip Sync 2015 results and compile a report for The Chronicle-News. One of my former students, Aaron Sena-Stevens, participated in three acts and did a short solo comedy bit, too, getting on his best Joe Tex. Great stuff, and easy to see why the annual Lip Sync show is so wildly popular with the community.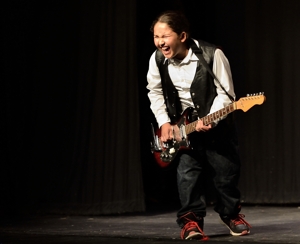 Here's another contender, and another boy who did multiple acts and whose name I don't (yet) know, but he could win with this performance of a medley by Freddie Mercury of Queen. He didn't dress as Mercury but boy did he work the guitar and the crowd--what a great photo. The whole show ran three hours and they'll repeat it tonight. Not all of the acts are as fun and entertaining as these, but there's plenty of great fun and great laughs, more than enough to keep bringing people back each night and each year.

P.S. The judges and I agreed: the first three acts I pictured above swept the top three places, with "Great Balls of Fire" first, "Islands in the Stream" second, and "Sugar" third. Congratulations to Billy D for his second Lip Sync win.
---
August 10, 2015    Stranger Series: Men on the Street
On Instagram, Flickr and elsewhere, many photographers set a goal of taking 100 "stranger portraits," which often takes them years to accomplish. Approaching a stranger in a public place to ask to take their picture can be daunting; doing it 100 times is a mission. Brilliant young Brandon Stanton has made a living and best-selling books out of it with his Humans of New York (HONY) on the web, Instagram, Facebook, Twitter and elsewhere. (Subscribe to HONY--it's brilliant.)
Stanton posts portraits of strangers, with their words, every day. I post six a week. Inspired by HONY, my Over the Pass (OTP) is published every Tuesday, taking up the top half of the back page of The Chronicle-News. It's become popular since I started it a year and a half ago. I photograph and ask a question of the week of three people in Trinidad, Colorado, and three in its sister city, Raton, New Mexico. Having a weekly paid feature makes approaching strangers for portraits relatively easy: I have no choice. As I result, I'm taking more than 300 each year.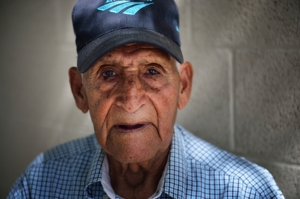 This wonderful portrait of Pete Vigil, taken along Raton's historic First Street Saturday morning, made me think of posting these men's photos here today. All were taken recently, half in Trinidad and half in Raton. All are older men (though many no older than me) in portraits that please me. A stranger portrait is taken with great limitations: the photographer works quickly with just the person and location they're presented. I scan for my best shot within a few steps of where we're standing. To varying degrees, the shots here have effective backgrounds and light. Each portrays a glimpse of great character, of a man that could tell many stories, stories we'd like to hear.
The group of six at the top are, clockwise from top left, Arthur Alcon, Henry Paul Garner Sr., Clayton Nelson, Richard Jones, Mike Glasman, and Mike Fiorenzi. Thank you, gentlemen, for talking with me and looking into my camera.
---
August 6, 2015    Sizing Up My Friends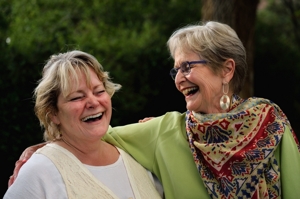 This was a lovely little photo shoot that was entirely unanticipated and spontaneous. Our friend Page Gandy and her mom Betty Gandy were over for dinner Monday when I spotted the beautiful evening light on them outside in our yard. I ran for my camera and got a series of shots that I've enjoyed giving to Page and Betty because they (ladies and photos alike) are so delightful. Betty's joy in flying across the yard on Christina's swing gave Christina as much pleasure as it did Betty.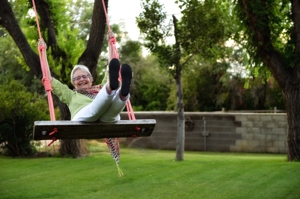 I learned later that Page doesn't have a computer so she views photos on her phone. For that reason, I sent her small image files. She replied that she would take them to Walgren's for 4x6 prints, which I should have anticipated: now I'm making her larger image files for higher-quality printing. For her phone, I'd sent files of about a half megabyte in size; now I'll send 1 or 2MB files for small prints. If we do archival pigment prints, I'll send 92MB image files to the professional that does my printing. One half, versus two, versus ninety-two: kinda puts size in perspective.
---
August 3, 2015     White Balance Under a Yellow Tent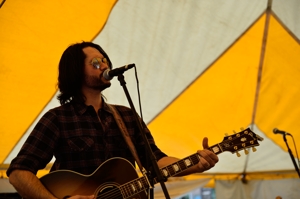 Several photographers shot Sunday's northeast New Mexico Country Showdown competition at St. Patrick-St. Joseph Parish Fiesta in Raton, won by Tyler Hammond, right, of Crandall, Texas. Held without lights in the deep shade of a big yellow tent, the contestants' faces were dark and everything had a yellow cast. Cameras can't adjust for color and light tints nearly as well as the human brain adjusts for our eyes, and one of the Nikon D4's weakest areas is automatic white balance. But even when I adjusted the white balance in post-processing, there was still the yellow cast to deal with. (Here is an unprocessesed image of the local gal who was the audience favorite but placed third, to give another view of the photography challenge.)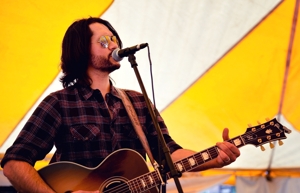 Shooting aperture priority at the foot of the low stage, the camera did poorly on the exposure, too. I had to add almost a whole step to lighten the image. I do all of this work in Nikon's Capture NX2 software rather than the more sophisticated layer tools of Photoshop, but there are enough tools to lighten specific areas and adjust saturation and color. The second take is what I sent for the next day's Chronicle-News. Though a processing nightmare, the image itself is dynamic for its use of diagonal lines--I was glad to get some positives to compensate for the negatives!
---
July 30, 2015     Dueling Marimbas
We had a fun photo shoot Tuesday afternoon on the Santa Fe Plaza with Polyphony Marimba, a nine-piece band that just finished its fourth annual summer 6-week, 6000-mile tour of the eastern U.S. including the Carolinas, D.C., NYC and Toronto. They played Santa Fe Bandstand on the Plaza Tuesday and they go into Frogville Studio tomorrow to start recording their third album.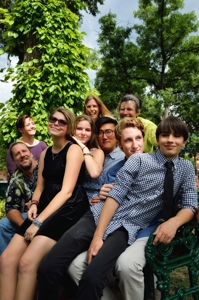 My sister-in-law and brother-in-law, Karyna & Peter Swing, are the bandleaders. Karyna's sister, my wife Christina Boyce, came along as my photo assistant for the shoot. Peter, in ponytail and long green & blue floral shirt, makes the marimbas and teaches most of the players. Karyna, in the white blouse, does the band's logistics including booking and promotion. They live on the Boyce property down the Turquoise Trail so we're neighbors whenever Christina and I stay in Santa Fe, and one night we hosted the entire band here at home in Raton, with sleeping bags scattered about in the morning.
The photos will be used for new CD graphics and other promotional materials like posters. Before shooting the band in performance, I shot whole-band group shots, then portraits of each member. They're each getting a CD with 40 images and this PDF contact sheet of all the images.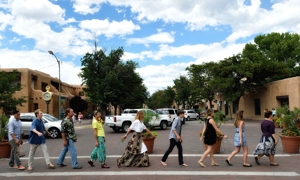 Before I started shooting, I gathered the band in a huddle and told them that our photo shoot would be collaborative and improvisational. We referenced Abbey Road here in the crosswalk with the big Plaza clock across the intersection at left. The shot below made me think of Reservoir Dogs, and West Side Story for the jump shot at top left. To loosen subjects, I sometimes have them jump. It's surprising how often the jump itself becomes a great shot. Here's a get-loose jump.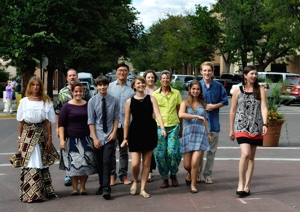 This was the largest group I've photographed; that may be why I kept thinking of movie references and other iconic images. That also helped keep everyone engaged, I think. We drew some attention on the Plaza, with tourists turning their cameras on us. Shooting such a large band in performance is a challenge. I borrowed the promotor's ladder to shoot from above, and I got some close-ups to bring the experience to life. I took three lenses including long and wide, but ended up using only my workhorse, the 24-70mm Nikon lens on my D4.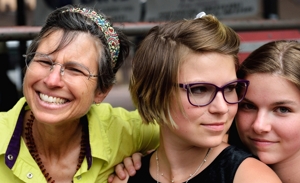 Along with individual portraits, I took some small groupings like this one of DeLaura Padovan and her daughters Tara and Maren. (See the PDF contact sheet for the other portraits. As always, click any image here to enlarge.) Others pictured include Raven Hennessey-Swing, Jesse Garcia, Jesse Larson, Mel Shapcott, Christa Stephens, and (at top right in the leaves with Tara) Keenan McDonald. Within the past 48 hours, I devoted about half that time to this project including driving, shooting and processing--and it couldn't have been more fun or satisfying or productive or successful.
---
July 24, 2015     A Quick Draw for Western Art
The fifth annual Quick Draw event last weekend was my first time to see and photograph it. What fun! The A.R. Mitchell Museum of Western Art in downtown Trinidad, Colorado, sponsors the fundraiser in which invited artists have exactly one hour to create a framed artwork that is then carried from the adjacent courthouse park to the museum itself where the new artwork is displayed and sold at auction, with the museum getting 30% of the proceeds to fund its non-profit mission--which is art with a liberal dose of history and culture thrown in.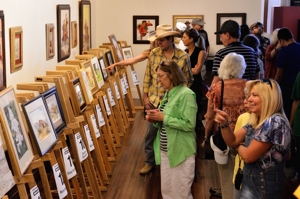 Clockwise from top left above (as always, click any image to enlarge it), Frank LaLumia paints a watercolor landscape of the Quick Draw scene itself; Doug Holdread smiles when he realizes that he knows the photographer clicking near his ear; Paula Little created the Quick Draw event when she was the director of "The Mitch" (an honor now held by my wife, Christina Boyce); and painter Ken Mackey of Pueblo works on the horseback cowboy painting that brought the auction's highest price, $1000. Museum president Suz Porterfield just posted a set of my Quick Draw photos here on the museum's Events Schedule page. You can also see a full set of 20 photos in a single PDF file here. Meantime, watch for next July's sixth Quick Draw--it's a couple hours of great fun and creativity and bustle, highly recommended.
---
July 15, 2015     A Midsummer Night's Laughter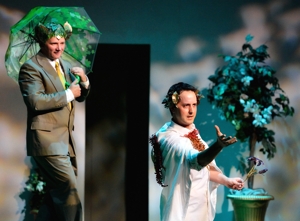 Four performances remain for the Shuler Theater's "A Midsummer Night's Dream," a rare and valued Shakespeare experience for Raton. I photographed two dress rehearsals last week, then enjoyed Saturday night's performance with a notepad but no camera. My review appeared in Monday's Chronicle-News, with an interesting twist happening due to the paper's new website: the print edition has these three photos but the online edition has all five that I submitted. Both are available here in my Chronicle-News archive; the online version requires a simple registration of a user name and password.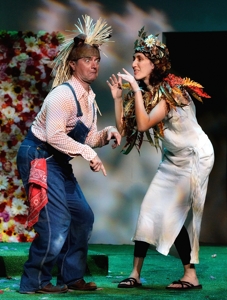 I've just had a spirited email exchange with Nora Leahy, who designed the costumes and sets for this show and the magnificent "Into the Woods." My review criticizes some of the choices she and the director made for "Midsummer," but it also makes clear how fast the time flew by and how much I enjoyed the show. Nora and I are both passionate about our work and--I get so little feedback on my reviews--I was excited to discuss the confluence of my work and hers, and to bat around our disagreements.
I do have a couple regrets. Because Nora didn't give herself costume credit in the program, I didn't then know who had costumed "Woods" and I let that review go without a mention of its wonderful costumes. (It was already such a glowing review that I wanted to avoid overdoing it.)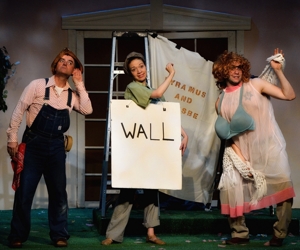 Secondly, I failed to credit Bussy Gower (and director Daniel Lendzian) for a late "Midsummer" scene in which Bussy's line reading made me laugh so hard and so long that I couldn't breathe. In "Pyramus and Thisbe," the play within the play, Gower's lion has a long speech but can't remember any of the lines so he keeps saying, "Line," to have someone backstage feed him his next line. I don't know how to convey how brilliant and hilarious her line reading was but it just kept going on and on, getting funnier and funnier. Try to imagine yourself getting laughs by simply reading the line, "Line." Not easy. She'll be doing it four more times, Thursday through Sunday. Go see!
---
July 14, 2015     Maintaining Possession of One's Work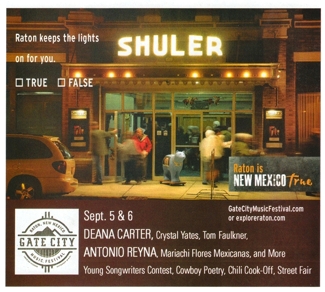 Christina brought home this ad from a magazine called Festivalia Guide 2015 that was an insert in a Colorado newspaper. The exciting New Mexico True ad campaign is again (the third time) using one of my images in national distribution to promote our state, but this time my photo appeared without credit, payment, or permission. The Shuler Theater night image is one of a handful of my photos that's been licensed for publication by four or more magazines or ad agencies, but the Raton official that gave it to New Mexico True didn't recognize it and gave it as a public domain image. Now informed, she's mailed a check, but it's too late to let Festivalia readers know who took the photo, which in turn reinforces its continued distribution as an anonymous image. This illustrates a widespread issue for all photographers in the digital age: hardly a week goes by that I don't find one of my images online without credit. I never let an image leave my computer without attaching comprehensive copyright and keyword (EXIF) data to the digital file, but that's easy enough to circumvent if someone wants to, or doesn't look.
---
July 5, 2015     Photography Field Day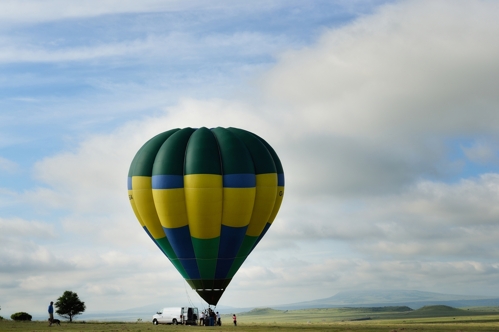 This weekend's 2015 International Santa Fe Trail Balloon Rally was more of a photographers' field day than usual as low clouds parted just enough to let the balloonists ascend against the picturesque backdrop of ever-shifting clouds. Paired with the gorgeous northeast New Mexico landscape surrounding Raton and the brightly colored balloons, it's no wonder that I saw nearly two dozen Nikons and Canons among the countless phone cameras wielded by the hundreds of spectators on the ground.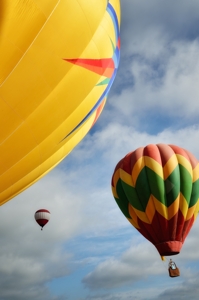 Despite the good cameras, I noticed that most of the people using them simply stood back and shot indiscriminate photos of balloons--snapshots. The balloons are so picturesque that it's easy to forget the necessity of composition, the importance of seeing each image within a rectangle--and filling that frame with the composition.
These are the three that I submitted to The Chronicle-News to accompany my feature on Raton's Fourth of July festivities. I'm most excited about the first two, finding it easy to imagine placing them in magazines and advertising. At the balloon rally, I usually juxtapose two or more balloons in each frame, but the green balloon above was alone at the far south end of La Mesa airfield and I rushed to get into postion to catch it against the magnificent cloud-shrouded landscape stretching south from Raton. I fired several frames and selected the one in which the man to the left, walking his dog, looks up at the balloon. (Click image to enlarge it.)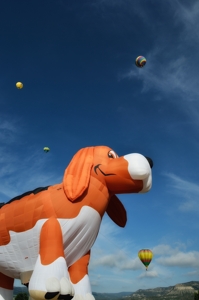 The second shot catches three balloons at varying distances, all blowing at different angles in the frame and backed by clouds that add to the image. They're pretty close--this was shot at 38mm with the Nikon 24-70mm lens in aperture priority at f/14 for the deep depth of field. I think the yellow balloon is still tethered to the ground, and Raton's hills are barely below the frame.
The 135-foot-long Beagle Maximus balloon was a new addition this year. Although it remained tethered to the ground, it was so prominent in the sky that no report on the event would be complete without a good picture that included it. Some of my photos were otherwise good but featured the Beagle's rear end, and that won't do. Three times I hiked up to the east hillside to frame other balloons with the Beagle's face in the frame. I also took plenty of the Beagle alone but, again, these pictures usually work best when combining balloons so this is the Beagle shot that I used.
This is the third year I've photographed the balloon rally for newspapers and last year's New Mexico Magazine feature, including several flights where I shot from the air. Type "balloons" into the Search feature at left to find troves of earlier balloon shots. It's hard to imagine a more picturesque subject to photograph.
---