---
Think your mom is tough on you?
Meet our M.O.M.
Master of the Mountains
Adventure Relay
Raton, New Mexico
September 13, 2014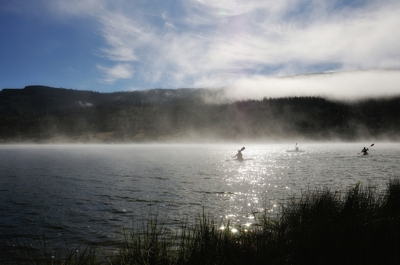 32 photos of the race in all four stages -- 6-mile mountain run, 3-mile lake paddle, 20-mile bike race, and timed 6-stage shotgun course -- with an effort at storytelling by showing some of the same contestants in various stages of the race. Click any image to see it enlarged.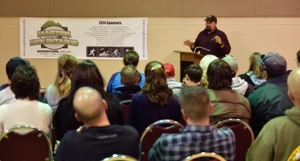 Signed museum-standard art prints, ready for quality framing, are available by email. Details available at the Purchase page.
Competitor's meeting the night before the race.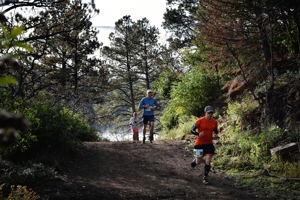 Last year, Sugarite Canyon State Park Superintendent Robert McIvor was the first runner to reach me around the lake, but he had a tight pack around him. This year, McIvor went through there already ahead of this pack of John Hayter, Ted Kamp, and Michelle Hopper.
John Hayter, of Conifer, Colorado, charged ahead and won this year's title, Master of the Mountains, winning the solo men's race in 2:37:23, more than five minutes faster than last year's winner, John Winkley of Aztec, NM, who placed fourth this year with a time four minutes better than his winning race last year. Yes, you counted right: this year's top four men were bunched within 76 seconds of each other!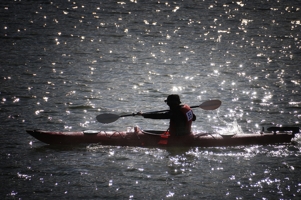 While Winkley cut four minutes off his 2013 time, McIvor cut 38 from his! Guess who put in the workout time this year! It was good enough to put McIvor in second place, just 40 seconds behind Hayter. Here, McIvor strokes across the lake in the second leg of the race.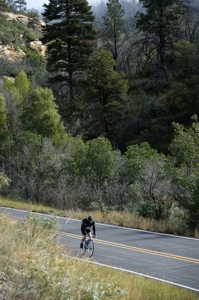 Like the other solo men and women racers, McIvor got a few minutes of relative rest after the Lake Maloya paddle when he jumped on his bike and raced down the long steep descent of Sugarite Canyon. He had 20 miles of bike race ahead, and this was the only part of it that was downhill.
A little beyond Soda Pocket Canyon, the runners reached this gorgeous tree canopy where, at that early hour, the fog rolls in and out. I shot there last year and couldn't resist repeating myself this year. Ted Kamp came through just a little ahead of the first woman runner, Zoya LoPata of the winning Carpe Diem relay team.
Christina Boyce, Raton's tourism coordinator (and my wife!), put her new Nikon to use in the Soda Pocket Canyon fog, while just above the Soda Pocket Canyon road, Carpe Diem's Amanda Wang raced her bike below sunny skies.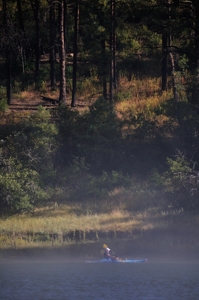 Christina photographed the kayaks from the dam just before she and I jumped in the truck to race down the canyon in time to catch the bikes racing down behind us. (Her photos will be used by the Raton Chamber of Commerce; these are mine.)
 
After they'd raced down Sugarite Canyon and through downtown Raton, Robert McIvor was ahead of John Hayter on Gardner Road as they approached this W.O.W. sign., the finish just three miles ahead out York Canyon Road.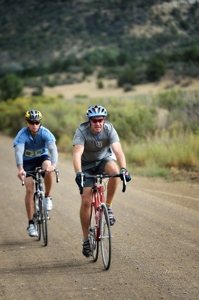 John Winkley came through next, barely holding off Ted Kamp.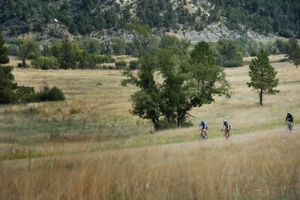 As they approached the finish line three miles later, they were still dueling, with Robert McIvor right behind.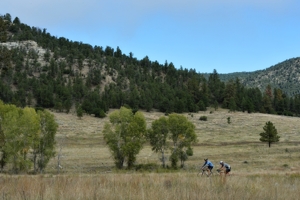 Kamp was now ahead, but as they approached the finish line, Winkley made his final move and finished the bike race ahead of Kamp. Kamp, though, beat Winkley by 18 seconds overall when all the scores were tallied. 
Carmen Kelling was the first woman to reach the finish line on a bike, riding for the second place relay team, Kelling Ranch Crew.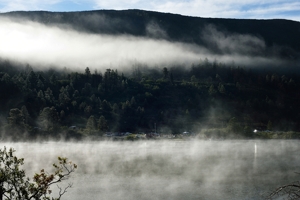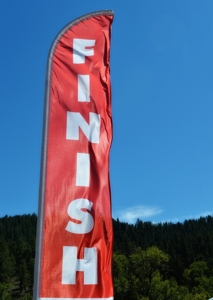 From the starting line above, at Lake Maloya in Sugarite Canyon, to the finish line 20 miles west in York Canyon, athletes--and regular folk acting for all the world like athletes--spent about three hours taxing their limits for the thrill of the race and the personal challenge of proving themselves Masters of the Mountains.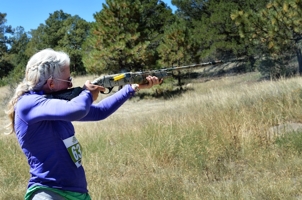 John Winkley and Trina Davis were among the solo entrants who passed the finish line and proceeded to the shotgun course. Shooting scores were factored into the race times. Results were announced and prizes awarded that afternoon at The Historic Icehouse Restaurant in Raton.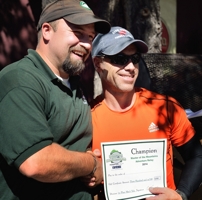 Race director Jared Chatterley presented the coveted Master of the Mountains award to winner John Hayter.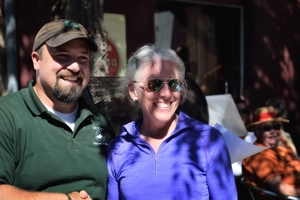 Trina Davis won the women's title.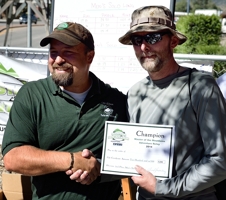 Robert McIvor finished in second place, just 40 seconds behind Hayter. His time was 38 minutes faster than his fifth place finish last year.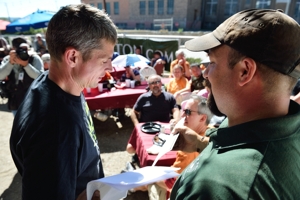 Ted Kamp won third place, finishing 18 minutes faster than his fourth place time last year.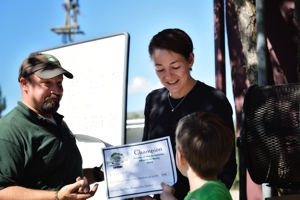 Jion Dietz took second place in the women's solo race.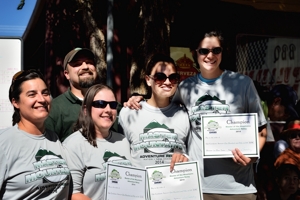 Albuquerque's Carpe Diem--Zoya LoPata, Sara Traub, Amanda Wang, and Gina Nunez--won the 2014 Masters of the Mountains Adventure Relay Race.
Tim's race coverage appeared in The Chronicle-News and on the front page of the Raton Comet.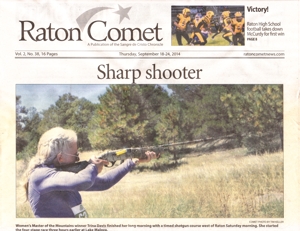 See Tim's 2013 M.O.M. online photo story here.
The third annual Master of the Mountains (M.O.M.) adventure race begins early in the morning on September 12, 2015. More information, rules, and registration are available from M.O.M.'s impressive website.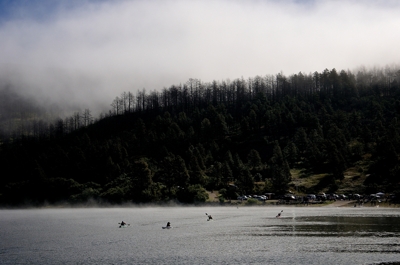 ---