---
October 20, 2014     Blame Oklahoma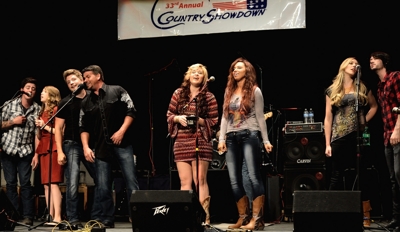 Saturday night was the fourth time Raton's Shuler Theater hosted the Country Showdown Southwest Regionals and the third time I'd photographed it. The Chronicle-News today published my review on the front page with the group sing-along on the front page and the pair of photos below on the page 5 continuation. The Raton Comet (and its sister newspaper, the Sangre de Cristo Chronicle) will run the same review Wednesday.
The Brothers Roberson--Rhett and Brendan, above--played last and came in first. In fact, they were the first clear consensus winner I've seen. The last two years, everyone picked a different favorite. This year, the Robersons of Springfield, Missouri, started winning over the audience almost the moment they walked on the stage and before they introduced their first song: "We're from Missouri. This song is about loving a girl in Dallas. It's called 'Blame Oklahoma.'" It was a winning combination.
---
October 11, 2014     Travel Photography: Catching the Light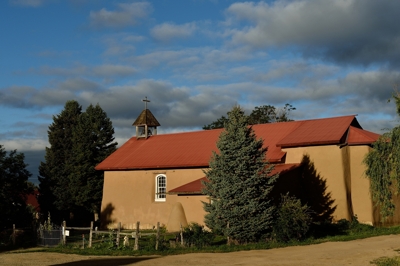 Heading home at sunrise from photographing Michael Hearne's Big Barndance Festival at Taos Ski Valley last month, I took advantage of that hour's great light to snag some travel photos as I passed through Arroyo Seco and, later, Cimarron Canyon. This photo of Holy Trinity Church is a special treasure: besides being pure gorgeous, the church itself is hidden down a narrow dirt lane behind the one-block business strip in Arroyo Seco, north of Taos. I was lucky to find it, and it happened only because I was looking for subjects to photograph in those few minutes of golden light. Otherwise, I wouldn't have tried that dirt lane.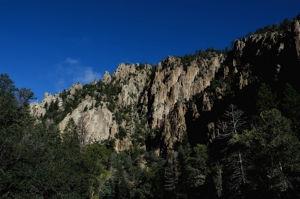 Continuing downhill through Taos, Angel Fire, and Eagle Nest, I descended Cimarron Canyon and reached the oft-photographed Palisades of the Cimarron when the light was still hitting it at an angle sharp enough to be attractive. Neither of the two photos here would look any good if shot later. Of course, that's true of most outdoor photographs, and why photographers do most of their shooting at first or last light. The camera gets put away during the day. When I'm planted in a place that's new to me, I spend midday scouting good photo subjects, considering the sun's movement and which light will be better for each image--evening or early morning. Then, when the sun is throwing its light at a low angle, my camera and I are out there with it.
---
October 5, 2014     Snaking Our Way Up Climax Canyon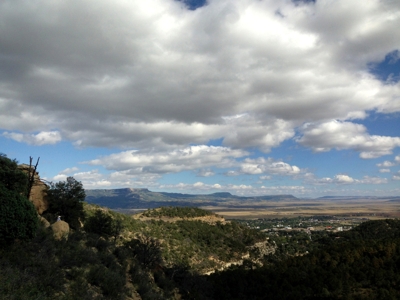 I hiked up Climax Canyon with best friend Peter Burg last Sunday and paused twice to take a photo with my iPhone 5. If you click and enlarge the photo above, you'll easily see Peter in his straw cowboy hat at the left side of the frame, enjoying the view of Raton from 7000 feet. Climax Canyon Nature Trail is a three-mile mountain hiking trail created by Raton Parks & Recreation Department and located entirely within Raton's city limits. Pretty amazing.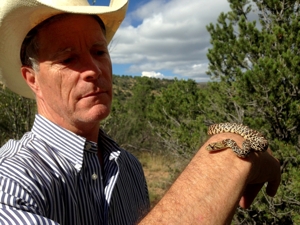 On our way down the south side of the West Loop, I encountered a baby snake trying to find its way out of the shade of the trail and into the nearby sunshine as the afternoon sun neared the south peak. Peter's a lifelong snake buff so he enjoyed picking up the baby bull snake (more properly called a gopher snake, I learn here on the Web). I know a local woman who says her boyfriend won't let her hike Climax Canyon because of the possibility of a bear attack. I've never seen a bear up there, but when I've encountered them in Sugarite Canyon, they've always run away from me, terrified. This picture of a (harmless) snake in Climax Canyon may help keep the trail in wonderful solitude for my regular hikes there, a nice counterbalance to all the publicity I've given the trail here and elsewhere.
---
October 4, 2014     Exercise and Music
Acclaimed piano virtuoso Teresa Walters presented her solo concert Thursday night at Raton's Shuler Theater, the opening of Raton Arts & Humanities Council's annual Performing Arts Series. Walters gave me lots to analyze and say in my review, due Wednesday in The Chronicle-News and Raton Comet. Walters's first set was technically impressive but rote and mechanical. Appearing sad and weary, it was as though she was playing from muscle memory established decades ago, driving on cruise control while asleep at the wheel. The second set, in a red dress (click any photo to enlarge), couldn't have been more different. Seemingly transformed, she played sublime, emotional music that was nuanced and obviously heartfelt. The first set was exercise; the second set was music. Check out my review to see how I've handled this for the newspapers.
---
September 28, 2014     Big Barndance Above Taos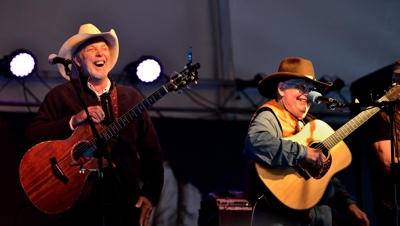 New Mexico Magazine sent me to Taos Ski Valley three weeks ago to photograph the 12th annual Michael Hearne's Big Barndance Music Festival for a profile of Michael that I'll write and they'll publish next August or September to coincide with next year's Big Barndance.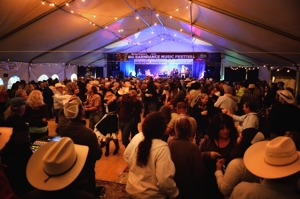 I shot 800 frames in ten hours and I've been so busy since then that's it's taken me until this morning to finish sorting and processing the images for the magazine. I just burned 40 hi-res CMYK Tiff files to a DVD; at 4.9 gigabytes, they barely fit on the single disc. (Yes, that's an average of more than 120 megabytes per image, for the magazine's high-quality printing.) I included a PDF proof sheet, a great tool made quick & simple with Adobe Bridge. I emailed the proof sheet to the editor and art director so they'll get a sneak peek tomorrow morning, then receive the disc a day or two later.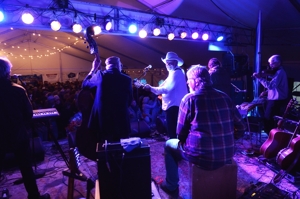 Here on the right, Michael Hearne is closing out the three-day festival with his band South by Southwest. He's looking back at the camera and justifiably happy as could be. Dancers fill the floor and all is right with the world. I took these shots during the same set, standing atop a row of straw bales at the back of the room to show the dancers (above) while Michael is bathed in white spotlights on the distant stage. They're complemented by the top photo where Michael shares an earlier onstage laugh with his uncle Bill Hearne. I took photos of performers on stage and backstage at an informal event in which everyone was having a great time. A sudden ferocious hailstorm just added to the fun while the music continued nonstop under the bigtop tent.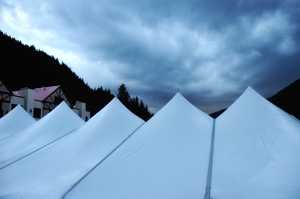 Art director Edie Dillman sent me up there with a shot list that included children, dogs, and wildflowers, along with shots to establish the location. I like this image of the festival's bigtop tent against the late afternoon sky, the mountains, and one of the Taos Ski Valley lodges. Under that quiet white tent, there was rollicking music and dancing going on. It was a fun scene, one I look forward to conveying in words and photos next year. It was so much fun, in fact, that I plan to return next year on my own dime just for the music and the grins.
---
September 21, 2014     Hurtin' Albertans Dip South to Folsom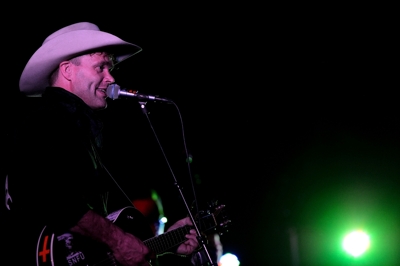 When I read a book and keep it, I pencil my initials and date on the first page. I just checked Ian Tyson's The Long Trail: My Life in the West and the pencil says "TK 3/12," so I read it two-and-a-half years ago. That's how long I've been listening to Corb Lund.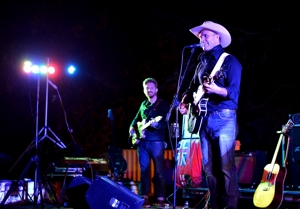 He's from Alberta, Canada, so imagine my surprise when I heard that he was bringing his band to Folsom, New Mexico, for an outdoor evening concert. Folsom is beautiful cattle country and Lund's a cowboy singer, among other things, but Folsom's population is south of 75. (I was still living in Des Moines when I read Ian Tyson's memoir--Des Moines is nine miles from Folsom and the big metro area out there with 150 people.) The local guys that produced the show shunned publicity from so far away as Raton, Cimarron, and Trinidad, but they still drew a good crowd of rancher stock from the Volcano Triangle communities of Folsom, Des Moines, and Capulin, and the outlying ranches.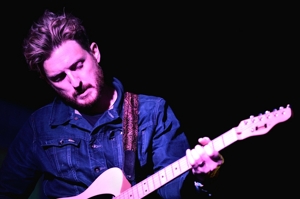 Like Folsom, Alberta's on the Front Range in the eastern shadows of the Rocky Mountains; both areas are prime grassland with lots of ranches and cattle grazing. Corb Lund's a great match for Folsom; he's also the biggest show out there in my 15 years in the area. He's got a seemingly endless bag of great original songs and he's an engaging entertainer, chatting up the audience between songs, keeping his whistle wet with a can of Coors beer clipped to his mic stand. (I'm not gonna hold the Coors against him: he's just too good in every other way.) He tours and records with his crack band, The Hurtin' Albertans, that includes a drummer ("a renowned vegetable farmer in Alberta") and upright bassist. Grant Siemens (above left) plays great Telecaster and another electric guitar, plus mandolin and pedal steel. He also has the best haircut I've seen in a long time. (Lund looks great in old photos with hair and occasional beard. Right now, well, he should see Siemens's hair stylist.)
Christina pointed out that it was impossible to dance on the gravel "dance floor." Me, I was busy taking pictures, then enjoying the music from the bleachers with my arm around her. You ask me, everything was right. At 9:15, it got even righter when a big freight train passed a hundred yards from the stage, steam whistle blowing its greeting. Sometimes country living is sublime. Last night was one of those times.
---
September 20, 2014     One Tough Mother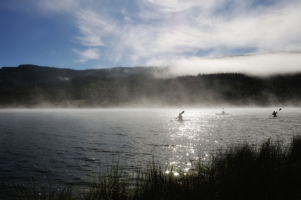 I couldn't have been more excited about last year's inaugural Masters of the Mountains (M.O.M.) Adventure Race and my photography that documented it. The second time around, last weekend, my goal was to match or top last year's photography without repeating it. As I hiked all summer in Sugarite Canyon State Park, I considered the options for seeing the race anew. While I did repeat two set-ups--the first rush of runners around the lake, then four miles later when they came through a foggy canopy of trees deep in the forest--the rest of the shots were new. The silhouettes of kayaks racing on Lake Maloya are the most dramatic and my favorite of the new photographs, but I'm again pleased with the whole project.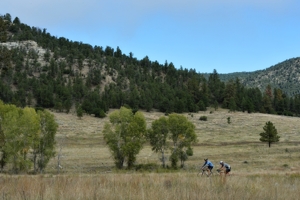 The races were incredibly close. Here John Winkley, last year's winner, challenges Ted Kamp as they near the finish line. This year, John placed fourth--but just 76 seconds behind winner John Hayter and six minutes faster than John's winning time last year. Ted placed third and Sugarite Canyon State Park superintendent Robert McIvor placed second. Trina Davis won the women's division. Albuquerque's Carpe Diem won the relay division, but I loved seeing the relay team from Raton's own Kearny Elementary School--how cool is that! I'm posting a page of photos and narrative here. Enjoy. See you all next year.
---